Hide Bonus Offers
| | | | | |
| --- | --- | --- | --- | --- |
| #1 | Bovada Sports | 50% Up To $250 | Visit Site | Bovada Sports |
| #2 | BetUS | 125% Up To $2,500 | Visit Site | BetUS |
| #3 | MyBookie | 100% Up To $1,000 | Visit Site | MyBookie |
| #4 | Everygame | 100% Up To $500 | Visit Site | Everygame |
| #5 | BetOnline Sports | 60% Up To $1,000 | Visit Site | BetOnline Sports |
Johnny Manziel Comeback: Which NFL Team is His Most Realistic Landing Spot?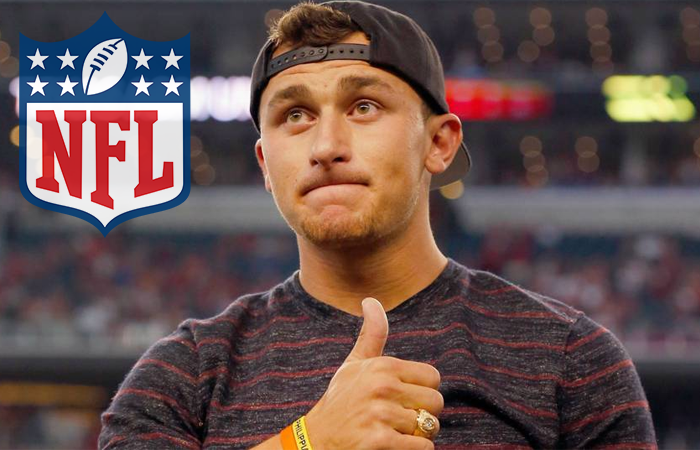 Former Cleveland Browns draft bust Johnny Manziel has once again made headlines, recently appearing on Good Morning America.
The former quarterback opened up about his brutal free fall out of the NFL and also revealed that he was officially diagnosed with bipolar disorder last summer.
As polarizing of a pro prospect as Manziel often was seen as, it's undoubtedly interesting to see just how candid the former star was about his personal issues. Manziel's' battle with depression kept bringing him back to alcohol and drugs, both of which the NFL hopeful has proclaimed he's now distanced himself from.
The revelation that Manziel wasn't necessarily just some arrogant kid and actually someone dealing with serious issues could actually be a good thing. After all, scouts and GMs always seemed to be fairly high on Manziel's' actual football talent, but seemingly couldn't trust him as a personality.
Of course, it's one thing to listen to (and possibly believe) Manziel's tortured journey, but it's another for his current dream to actually be realized.
Manziel is still awaiting a league suspension for his role in a domestic dispute and his next team would have to trust a guy who has admitted to having mental illness.
That's not usually the way a franchise quarterback is drawn up in the NFL, but while Manziel could be seen as damaged goods, he could also be a feel good story waiting to happen.
The Johnny Manziel comeback story has been two years in the making, as the man formerly known as Johnny Football hasn't touched a pro football field since 2015.
He seems very open to proving he is for real in his comeback plight, however. He's flirted with joining the CFL and recently announced on Twitter he would be participating in the Spring League in an effort to show just how serious he is:
The question now, of course, is which NFL team will help the troubled Manziel fully exorcise his past demons by helping him work his way back into the league?
In the past there had been odds for Johnny Manziel's next NFL team, with Bovada and other NFL betting sites taking bets back in both 2016 and 2017.
To this point, bettors haven't had the luxury of throwing money down on Manziel's immediate future. With Johnny Manziel comeback prop bets surely just around the corner, though, I take one final look at this most likely landing spots in 2018:
Dallas Cowboys
Back when the Browns first released Manziel, Bovada had the Dallas Cowboys leading the way with +200 odds to land him. Since then, Dak Prescott has emerged as the team's franchise passer – so much so that it got veteran gunslinger Tony Romo booted into retirement.
Prescott is probably untouchable as the 'Boys' top quarterback, but Jerry Jones loves him some Johnny Football. Dallas still needs a viable backup option and I still can't say for sure the Cowboys have fully quit on the idea of bringing in Manziel.
The problem here is Manziel would bring in a media circus. However, he'd provide an upgrade at backup quarterback and would provide fans with a hometown product. I don't think Dallas is the leader anymore, but they can't be ruled out just yet, either.
Buffalo Bills
The Bills are a legit threat to start over under center in 2018. Tyrod Taylor is probably going to be traded or released, while Nathan Peterman hasn't yet proven he's franchise passer material.
It's likely Buffalo spends a high draft pick on a young passer in this year's NFL Draft, but whether they do or not, they could be in the market for some added depth. It isn't crazy to say Manziel is an upgrade over Peterman, while he could serve as insurance in the event Buffalo's newly drafted passer doesn't pan out.
The Bills have yet to decide what they'll do under center, but as things stand, the door is wide open for them to move in a number of directions at the position.
Arizona Cardinals
Arizona is one of two teams (Minnesota is the other) without a single quarterback currently under contract for 2018. That's an odd position to be in, but with Carson Palmer officially retiring, it's also a chance for the Cardinals to start from scratch.
The Cardinals could draft a passer and/or bring Blaine Gabbert or Drew Stanton back, but they probably shouldn't stop there. Manziel is arguably more talented than both of those retreads, while they've both proven time and time again that they simply aren't starting material.
That isn't to see Johnny Football is. Manziel has been out of football for two years and even when active, he put inconsistent results on tape with the Browns. Still, Manziel was one regarded as a high level talent and in the right system he could still flourish
Manziel might not be a perfect fit for Arizona, but he's a talented passer and they currently don't have one. It wouldn't be too crazy for them to kick the tires and see if he's worth picking up.
New York Jets
The Jets have it as bad as anyone at quarterback, as they've been seriously flirting with bringing back Josh McCown for another year. McCown was actually solid in 2017, but at 38, he's merely a stop-gap.
Beyond McCown, the Jets do not have a viable plan under center. That should have them thinking long and hard about adding an elite young passer in the 2018 NFL Draft, but even if they do, bringing in a low-risk backup like Manziel couldn't hurt.
It's arguable the last thing that would be good for Manziel's sobriety is playing in the Big Apple, but this is one of the few spots where he could potentially take over and really prove himself.
I still think New York finds their next franchise passer in the first round this year, but it's not like Bryce Petty or Christian Hackenberg are worth holding onto. The Jets should get their guy in the draft, retain McCown and consider dropping their other passers in favor of the more talented Manziel.
Jacksonville Jaguars
The Jaguars made it to the AFC title game with Blake Bortles running their offense and for the moment, it seems they're content with him doing so again in 2018. Tom Coughlin is smarter than that, however, and should seriously consider bringing in someone to push Bortles.
That doesn't have to be Manziel, but for years the only guys the Jags could turn to were Chad Henne or Blaine Gabbert. Henne proved last year he'll never be a true alternative option, so looking outside the organization may make some sense.
Bortles did a fine job during Jacksonville's playoff run, but the Jaguars need someone who can avoid mistakes and consistently make the right play. Manziel hasn't been able to prove he can do that yet, but a strong showing in the Spring League could open some eyes (and doors).
Denver Broncos
The Broncos are Manziel's last realistic shot at meaningly playing time in 2018, as they are another franchise in desperate need of answers under center.
Denver finally realized that they need to make a move at quarterback, as GM John Elway listed quarterback as the team's top priority going into the offseason. That shouldn't shock anyone, as the collection of Brock Osweiler, Paxton Lynch and Trevor Siemian offered borderline inept results.
I'm not sure Elway sees Manziel as the cure to all that ails the Broncos, but Broncos star pass rusher Von Miller has publicly vouched for his former Texas A&M teammate in the past.
Manziel may not necessarily be much more consistent than what Denver has, but he surely offers more big-play ability. That being said, it certainly sounds that the Broncos – who pick early in the year's draft – intend on spending a draft pick on a signal caller.
Los Angeles Chargers
If Manziel can't find his way onto a field early on in 2018, he may opt for a good situation where he can learn on the sidelines and prove himself in the process.
There are three interesting landing spots for him that meet this criteria and one is in his current hometown of Los Angeles. Nobody is forcing Philip Rivers out of town before he's ready to retire, but it's been no secret that the Bolts don't have a long-term insurance plan in place.
That isn't to say Manziel is for sure worth the investment, but if he can prove himself and stay out of trouble, there are worse backups to take a stab at. After all, the Chargers currently have just Cardale Jones behind Rivers.
Manziel could come in and push Jones for the top backup job and if he worked out, he could potentially give the Bolts a suitable starter to turn to when Rivers finally hangs'em up.
New Orleans Saints
The Saints might make even more sense. The 39-year old Drew Brees is literally a free agent as I write this and it's unclear what his future holds in New Orleans.
Even if the Saints bring Brees back, he's obviously close to serious regression or simply calling it a career. New Orleans presently doesn't have much of a fallback option if he leaves within the next two years and they'd be wise to search one out.
That could easily end up being Manziel, who Sean Payton at one point talked to following his release from the Browns. If Payton believes Manziel has cleaned up his act and could come in and run the system like Brees has, he could land a diamond in the rough.
New England Patriots
The Patriots have always stood out as a very interesting landing spot for Manziel, while last year's trade of Jimmy Garoppolo to the 49ers may make this marriage even more likely.
Manziel has been quite public about being a fan of Tom Brady and the Pats, while New England has been notorious for giving washed up or troubled players their last chance in the league.
Bill Belichick and co. gave Tim Tebow of all people a hard look, so you know they have no qualms about turning every stone over to see if they can find gold.
On top of that, Tom Brady is now over 40 years of age and it's anyone's guess when he'll finally call it quits. Whether or not that's coming soon, the Pats traded away their backup plan and now have to start over in their search for Brady's eventual replacement.
While it'd be hilarious to see Manziel on the sidelines with former Browns teammate Brian Hoyer again, this would be an amazing comeback story and quite the move by the Pats.
Will Manziel Play in the NFL in 2018?
As stated, there are no active Johnny Manziel comeback wagers right now. However, this is something for bettors to start analyzing, seeing as there have been fun props involving Manziel's future in each of the last two seasons.
With recent prop bets involving Nick Foles, Alex Smith, Kirk Cousins and so many others, it's only a matter of time before some of the top football betting sites let you wager on where Manziel will land.
Ultimately, I do think Manziel gets one last shot to prove he belongs in the NFL. His road may require the Spring League and a dipping of his toe in the CFL, but eventually, I think he'll get a second chance.
Manziel will be lucky to get even the mildest of looks after his free fall, but fans have seen the likes of Michael Vick, Greg Hardy, Josh Gordon and so many others make it back to the league from far worse.
The big knock on Manziel was he wasn't mentally equipped to handle a starting quarterback gig. That was obviously true in the past, but he's still just 25 years old. If he's truly over his past issues and has grown up, the league would be foolish to not at least bring him into the preseason and see if he can earn a roster spot somewhere.
If it's going to happen somewhere, I think New England is the best bet. Nobody is better at unearthing gems than Bill Belichick, while the Pats do need insurance for an aging Tom Brady now that Jimmy G is in San Francisco.
That doesn't mean Manziel is bound to start for the Pats one day or will even go on to enjoy a successful NFL career. However, if he's serious about a comeback, I think he has the talent to at least find a backup gig. For now, I like the Patriots as his most likely landing spot for 2018.
Pick: New England Patriots