Hide Bonus Offers
| | | | | |
| --- | --- | --- | --- | --- |
| #1 | Bovada Sports | 50% Up To $250 | Visit Site | Bovada Sports |
| #2 | BetUS | 125% Up To $2,500 | Visit Site | BetUS |
| #3 | MyBookie | 100% Up To $1,000 | Visit Site | MyBookie |
| #4 | Everygame | 100% Up To $500 | Visit Site | Everygame |
| #5 | BetOnline Sports | 60% Up To $1,000 | Visit Site | BetOnline Sports |
Joey Gallo and 4 MLB Home Run Champion Value Prop Bets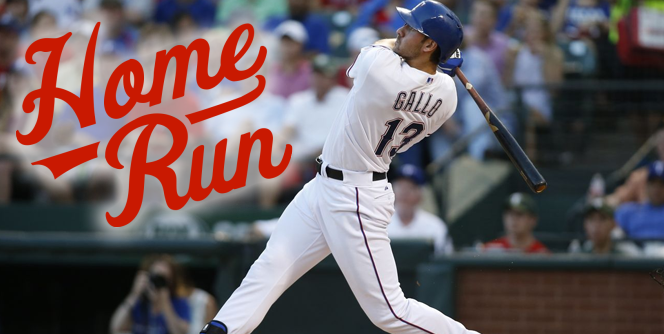 When you go to a baseball game as a casual fan, the thing you're most likely interested in (other than a hot dog and a beer or three) is seeing some dudes thwack some dingers. Pitcher's duels can be fun every now and then, but when you go to the ballpark you want to see homers; preferably several of them.
The advent of Statcast and the introduction of revolutionized statistics has not only changed the way we watch and analyze baseball, but it's changed conventional thinking with players and coaches, too. Rather than trying to smash grounders and line drives, lots of players nowadays are trying to drive the ball and hit fly balls. With defenses constantly shifting to take away ground balls that used to go for singles, hitters have adjusted their approach to just straight-up hit it over the heads of those infielders.
The results have been drastic. Last season, there were 5,610 home runs hit during Major League Baseball's regular season. That was way up from the 4,909 that were hit in 2010. In fact, the 5,610 dongs that were slugged last season were the second-most in the history of the sport, trailing only the year 2000, which, of course, was in the middle of the Steroid Era. So far this season, we've already seen 1,319 longballs, and we're only halfway through May. There were 52 home runs hit across baseball on Sunday May 14th, alone, which was the second-most in a single day over the last decade.
Players are now going into at-bats legitimately trying to hit the ball over the fence, and it's working. We haven't had a player hit 50 homers in a single season since 2013, but we may be on our way to seeing it again. BetOnline is currently giving you the chance to try and predict which player will finish the season as baseball's regular season home run king.
Why not break this down and try to identify some strong values, shall we? First, we'll list the odds for every player listed, then highlight a few of our favorites.
Khris Davis, Oakland Athletics +1800
Eric Thames, Milwaukee Brewers +750
Bryce Harper, Washington Nationals +750
Giancarlo Stanton, Miami Marlins +550
Aaron Judge, New York Yankees +550
Nelson Cruz, Seattle Mariners +2500
Nolan Arenado, Colorado Rockies +1800
Mike Trout, Los Angeles Angels +1000
Miguel Sano, Minnesota Twins +1600
Freddie Freeman, Atlanta Braves +1800
Manny Machado, Baltimore Orioles +1800
Chris Davis, Baltimore Orioles +2500
Anthony Rizzo, Chicago Cubs +4000
Ryan Zimmerman, Washington Nationals +2000
Adam Duvall, Cincinnati Reds +3300
Kris Bryant, Chicago Cubs +3300
Edwin Encarnacion, Cleveland Indians +4000
Joey Votto, Cincinnati Reds +3300
Jay Bruce, New York Mets +3300
Paul Goldschmidt, Arizona Diamondbacks +2500
Joey Gallo, Texas Rangers +2500
Mark Reynolds, Colorado Rockies +3300
Yonder Alonso, Oakland Athletics +3300
Marcell Ozuna, Miami Marlins +3300
Miguel Sano, Minnesota Twins +1600
If I was forced to take one player from this list and bet my life savings on him leading the Major Leagues in dongs this season, I would take Sano almost immediately. The hulking third baseman of the Minnesota Twins checks just about every box you'd want from a home run leader. He's already smacked 10 homers on the season, which puts him just four behind the current league leader, Aaron Judge. That's a margin Sano should easily be able to make up, especially as pitchers become more familiar with how to attack the inexperienced Judge at the plate.
Once you dig deeper into the numbers, though, there's plenty more to like about Sano's chances. His isolated power (ISO) over his first two big league campaigns was .262 and .227, respectively. According to Fangraphs, any ISO north of .250 is considered "excellent," which is the top tier the site grades. So far this season, Sano's ISO checks in at an absurd .369. That'll obviously come down as the season progresses, but his power is very real. Since 2007, Giancarlo Stanton has the highest ISO in the league at .273.
Sano is also just hitting the crap out of the baseball right now. If we go back to Fangraphs, they tell us that an amazing "hard contact" rate is 40% or higher. Average is 30% for a hitter. Through his first 139 plate appearances in 2017, Sano's hard contact rate is an incredible 54%; fifty-four percent! He's also making soft contact just 1.6% of the time. So, if he's hitting the ball, it's likely getting crushed right now.
Sano's Achilles heel through the first several years of his career has been his proclivity to strike out. That's really the lone hole in his offensive game right now. He struck out 35.5% of the time as a rookie, 36% of the time last year and is at 34.5% so far this season. That's the sixth-worst mark of any qualified hitter in the league at this point. If he goes through a lull at some point, it'll likely just be a deluge of Ks for Sano.
Baseball Savant is another useful tool for analyzing hitters. Exit velocity is one of the more popular new stats that Statcast has given us, and Sano checks that box, too. So far this season, Sano's average exit velocity for batted balls is an ungodly 99 miles-per-hour. Khris Davis currently ranks second in the league, and he's not particularly close at 94.7 miles-per-hour on average.
As you may imagine, hitting a bunch of fly balls is also conducive to hitting a bunch of home runs. Sano's getting great lift on the ball so far, as he ranks 11th in the Majors in fly ball percentage (49.2%) so far.
Are all of these numbers sustainable over the course of a full season? Doubtful, but there's no reason to believe Sano can't keep mashing all year long. Sano's home park, Target Field, is also surrendering 2.56 homers per game so far this season, which as the fourth-highest total in the American League thus far. It certainly helps to play home games in a hitter-friendly environment, as Sano does.
Assuming he's able to stay injury-free, which has been something of a problem through his first two big league campaigns, Sano is an amazing value bet at +1600 to lead the big leagues in dingers in 2017.
Bryce Harper, Washington Nationals +750
This one isn't going to shock you, obviously. Ya know, because it's Bryce freaking Harper. He was clearly injured for most of last season, which was the cause of his down year after lighting the league on fire during his MVP campaign back in 2015. Clearly, the MVP version of Bryce Harper is back and possibly even better here in 2017. Picking Harper to lead the league in homers is far from a bold call.
We're really only listing him here because of his +750 odds. It almost feels like a misprint that he doesn't have the best odds. Sure, he's not the league leader at the moment, but he's still mashed 12 taters already. He hit 42 homers when he won MVP two years ago, which is his career-high by a wide margin. Yet it doesn't seem unreasonable to expect the 24-year-old to set a new mark this season.
His hard contact rate isn't as high as it was two years ago (down to 35.7% from 40.9%), and the absurd .419 BABIP is sure to come down to more normal levels as this season progresses. The ISO is way up, though (.368 from .319 in '15), and Harper currently has the same number of dongs at this point of the season as he did that year.
There's really no need to expand much further with this one, though. Nationals Park isn't the most favorable setting for hitters, but Harper has more than enough power to make it play like Coors Field. He's terrorizing both lefties and righties (.482 wOBA vs. LHP, .519 wOBA vs. RHP), so as long as that shoulder holds up he's going to be in the mix for the home run title all season long. Betting against Bryce Harper tends to be a fool's errand. You can get decent bang for your buck here with Harper at +750.
Joey Gallo, Texas Rangers +2500
As is the case with Sano, Gallo's problem up to this point has been simply making contact. The 23-year-old has been one of the Rangers' top prospects for the last handful of years, and we've heard endlessly about his reportedly legendary power. Now that he seems to finally be in the big leagues to stay, we're seeing that pop routinely.
Through the first 39 games of the season, Gallo leads the Rangers with 12 big flies. If you remember Adam Dunn, Gallo is essentially a clone. Dunn was perhaps the game's most potent home run threat for the majority of his career, but he'd also strike out and walk a ton. Dunn's ISO was almost always well above .250, but his K-rate was also at or above 30% for several seasons later in his career. So far, Gallo has profiled very similarly.
So far in 2017, Gallo's ISO is sitting pretty at .341, but the strikeout rate is also a ghastly 39.6%. That's the worst mark in the league so far by a pretty substantial margin. Of course, it's also an improvement for him. When Gallo came up to the bigs for a cup of coffee in 2015, he struck out an insane 46.3% of the time. We don't shame strikeout-heavy hitters like we did in the past, but a K-rate that high simply can't play at the Major League level. 39.6% is still too high, but it's somewhat encouraging.
Gallo is always going to strike out a lot. He's just one of those guys. If he can offset that by hitting for as much power as he's shown, though, he should stick around for a long time. He's also been fairly unlucky so far, as the BABIP's sitting at just .222 so far. Gallo's hard contact rate isn't as lofty as Sano's right not, but he's not far behind. Gallo's barreling the ball over 48% of the time so far, and his fly ball rate is a hilarious 59.1%. If he makes contact with a pitch, he's hitting it hard, and he's hitting it in the air. That's how you hit homers, folks.
The Statcast numbers back it up. Gallo's average exit velocity so far this year is 94.2 miles-per-hour, which ranks fourth behind Sano, Davis and Joc Pederson.
We also can't underestimate the positive impact of his home park. Globe Life Park has always been one of the league's best hitter parks, especially for lefty power. There seems to be a constant jet stream blowing out to right field. Not that Gallo really needs the help, but it can't hurt to have the ballpark factors in your favor. There have been 52 homers hit at Globe Life so far this season, which is second in the American League behind New York and Houston.
Gallo's been playing third base so far, but there's a question of what the Rangers will do with him whenever Adrian Beltre comes off the disabled list. One thing that isn't an option is sending Gallo back to the minors. He's essentially been the lone constant source of offense for this ballclub, so taking that bat out of the lineup is off the table. They'll find a place for him to play every day, be it third, the outfield, first or at DH.
Gallo will slump at some point this season, but it's tough to imagine him not continuing to slug homers along the way. The odds are way too low at +2500. Gallo is right up there with Sano as my favorite value bet of this group.
Freddie Freeman, Atlanta Braves +1800
Freddie Freeman hasn't gotten much pub over the course of his career. He's played for the Braves, which certainly hurts his familiarity on a national scale. They've been awful for the majority of his big league career, so few people have been paying attention to him. While he's been an excellent hitter for Atlanta, he hasn't yet had that one eye-popping season that makes people take notice. That might be changing this year, though.
So far in 2017, you could easily make the argument that Freeman has been baseball's top overall hitter. Sure, Mike Trout and Bryce Harper might have something to say about that, but taking Freeman's side wouldn't be a losing proposition. He's slashing .344/.461/.736 and his 19.1% strikeout rate is the lowest of his career.
Freeman's career-high for dongs is 34, set last season. He's still only 27 though, and he might be starting to get that power stroke down. Two years ago, it took the lefty 481 plate appearances to hit 18 homers. Through just 152 PAs this year, he's already at 12. His ISO is a crazy .392, which ranks third in the league behind Aaron Judge and Ryan Zimmerman. It would also be a career-best by well over 100 points.
It didn't help that Freeman used to play half of his games at Turner Field. Turner was a cookie cutter ballpark that favored pitchers and suppressed power pretty well. There were 130 homers hit in 80 games in that ballpark last season. Only Marlins Park and AT&T Park saw fewer dongs among Major League stadiums. 15 of Freeman's 34 homers came at Turner.
Fortunately, the Braves ditched Turner Field over the winter in favor of sparkling new SunTrust Park. So far, the tables have turned (pun VERY intended). Through 13 games, there have been 2.46 homers on average hit at SunTrust. While that's not as high as places like Chase Field or Coors Field, it's still WAY up from the 1.62 mark last season at Turner.
We don't have a huge sample size with which to work yet, but early indications are that SunTrust is a particularly good park for lefty pop. Obviously, that suits Freeman perfectly. Five of his 12 homers have come at home this season, but the Braves have only played 13 home games and 21 road games. Once that evens out, Freeman will hit far more home runs at home than on the road if his current pace continues.
Is he powerful enough to hit more homers than some of the other names we've already mentioned? We'll see. His track record for power isn't great, but it's clearly been there over the last two seasons. Freeman's fly ball rate isn't as gaudy as guys like Sano or Gallo (37.5% this season), but he does have a natural uppercut in his swing that should play well at SunTrust.
———————-
In terms of sheer likelihood to lead the league in homers, we'll rank the four players Harper, Sano, Gallo and Freeman. Harper has the lengthiest track record and seems to profile as the best overall hitter. Sano's and Gallo's strikeout tendencies could prove fatal in their pursuit of the dong crown, but they have as much natural power as any two players in all of baseball. Sano, Gallo and Freeman are very appealing value bets with far longer odds than Harper at +750.