Hide Bonus Offers
| | | | | |
| --- | --- | --- | --- | --- |
| #1 | Bovada Sports | 50% Up To $250 | Visit Site | Bovada Sports |
| #2 | BetUS | 125% Up To $2,500 | Visit Site | BetUS |
| #3 | MyBookie | 100% Up To $1,000 | Visit Site | MyBookie |
| #4 | Everygame | 100% Up To $500 | Visit Site | Everygame |
| #5 | BetOnline Sports | 60% Up To $1,000 | Visit Site | BetOnline Sports |
Joel Embiid and Ben Simmons Are Leading the 76ers – Ranking the Top Five "1-2 Punches" in the NBA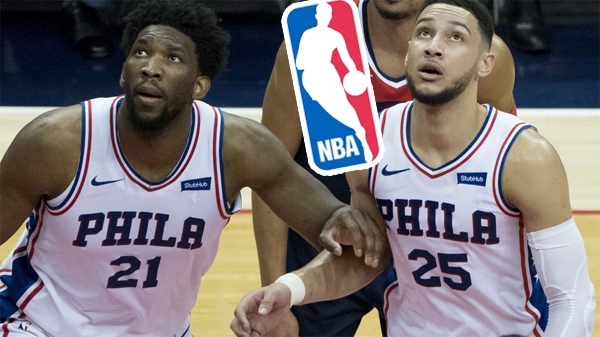 Joel Embiid can flat-out ball. This kid they call Ben Simmons looks like a reincarnation of Magic Johnson.
It's a fearsome duo that has taken the league by storm since the start of last season, but does it give the 76ers enough to be a contender in the East?
Philly traded for Jimmy Butler just 15 games into the year in hopes that they could challenge the likes of Toronto, Milwaukee, and Boston.
J.J. Redick can drill shots from the perimeter, and they'll hopefully get Markelle Fultz back sometime in the near future.
But Philadelphia can only go as far as their two budding superstars are willing to take them. When considering the skill sets of both Embiid and Simmons, it's rare to find a pair of teammates as gifted as these two men.
It got me thinking, who are the other best 1-2 punches in the NBA?
I thought long and hard when I set out to create my list and made sure to really give credit where I thought credit was due.
For example, I think LeBron James, Kawhi Leonard, and Giannis Antetokounmpo are the top three individual players in the NBA. Heck, I'd even peg Anthony Davis at #4, yet you won't find any of these names on the list below.
That's because I really thought about what complementary duo of players make up the best 1-2 punches in the league instead of just taking the best players and picking the next best player on his team and calling it a day.
So without further ado, here is my ranked list. And I saved the pair I believe is best for last.
#5 – James Harden and Chris Paul – Houston Rockets
Some of you probably think the backcourt in Houston should be higher on the list, but at least hear me out. This is going to sound like a bashing, but that's not at all what my intentions are. I just don't consider this duo quite as good as many others might think.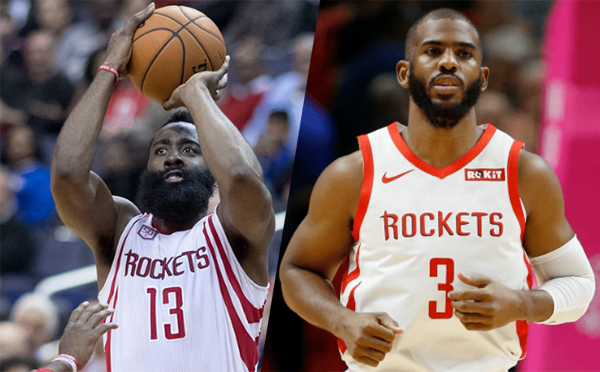 There's no doubt that the twosome still has earned a right to be on this page, and quite frankly, pairing anyone with James Harden could probably be justified at this point. But I'm not ready to put them in the top three or four duos, and here's why.
Chris Paul just returned to action on Sunday after missing 17 games with a wounded hamstring. At 33 years of age and coming off another injury, things aren't trending in the right direction for CP3.
After playing 74 games in 2015/2016, Paul was limited to just 61 games the following season. That number shrunk to 58 last year, and who knows how many games Paul will suit up in for the Rockets in 2019?
He's most certainly lost a step on both offense and defense, not to mention he and James Harden both need the ball in their hands to do damage.
Speaking of James Harden, I mean, there's not much one can say right now, as "The Beard" is in the midst of one of the most impressive scoring streaks we have witnessed in NBA history.
I don't want to take anything away from what Harden has achieved, but the only thing that has really been "turned up a notch" is his volume.
Harden is shooting worse from the floor this year compared to last, his three-point percentage is literally identical, and he's turning the ball over a league-high 5.52 times in 2018/2019.
If the Rockets think they can get back to the Western Conference Finals, they might be right. But if they think James Harden and Chris Paul are enough to challenge Golden State, they've got another thing coming.
#4 – Nikola Jokic and Jamal Murray – Denver Nuggets
Those of you chuckling because I have Nikola Jokic and Jamal Murray slotted ahead of James Harden and Chris Paul on my list of the NBA's best 1-2 punches, go ahead, giggle. Let out a howl if you want to.
But I bet that Houston isn't laughing at the fact that they're staring directly up at Denver when they look at the Western Conference standings as we turn the page to February.
And the reason that the Nuggets are playing such fantastic basketball isn't because Michael Porter Jr. is making a huge impact. It has nothing to do with signing Isaiah Thomas over the offseason.
In fact, those two dudes haven't even touched the hardwood yet, and Denver is still in second place in the West, trailing only the two-time defending champs.
If you thought that Nikola Jokic was an "up-and-coming" player who has a chance to be great, clearly you aren't paying any attention. The Joker has already arrived as part of NBA's elite, and he's leaving his footprint in every city he stops at.
Keep in mind that no center in the NBA averages more than 4.7 assists per game, except, of course, for Jokic.
With a season clip of 20.1 points, 10.4 rebounds, and 7.7 assists per game, he's the only player other than Russell Westbrook to average 20-10-7. Plus he hits threes and shoots 84% from the line.
Seriously, folks, the guy is shooting the same percentage from beyond the arc as James Harden is. He just doesn't take a whopping 13.2 treys each contest!
And now, for Jamal Murray. Here's a 21-year-old baller who missed a total of one game in his first two seasons combined, so we don't have to question his durability (i.e., Chris Paul).
And now in his third year from the University of Kentucky, Murray is exceeding the expectations even John Calipari had set for him when he was drafted at seventh overall.
His scoring (18.5 PPG), rebounding (4.4 RPG), and passing (4.9 APG) are all career highs, and he's shown he can have huge nights when needed most. He poured in 48 in a victory over Boston, and I've seen him score 46 in a clutch performance to beat Phoenix.
I'm telling you guys, this Jokic-Murray duo is no joke.
#3 – Joel Embiid and Ben Simmons – Philadelphia 76ers
As I prefaced in the introduction, Joel Embiid and Ben Simmons are the real deal. Centered around this core of two players, the 76ers should be in the mix for many years to come.
And while this might not be the single most explosive combo in the entire NBA, it's certainly up near the top.
Embiid averaged 20 and 8 as a rookie and upped that to 22.9 PPG and 11.0 RPG during his sophomore campaign. So when you now look at his season line of 27.2 PPG to go along with 13.3 RPG, you realize you are looking at one of the undeniable top ten players in the league.
How many centers can bang like him down low but also shoot over 80% from the charity stripe? As Joel continues to develop and blossom his game, he's only going to get better. And that's a scary thought.
In terms of Ben Simmons, playmakers like him don't grow on trees. They come around once every 10 or 20 years, so be appreciative of what we are witnessing. How is a guy who is 6'10" scaling up and down the court as seamlessly as Ben does?
How does someone with that size have that good of court vision?
Simmons obviously needs to continue evolving his shooting mechanics, and I'm sure that'll be the next step this summer. If and when the left-handed Aussie starts knocking down shots from the outside, the 76ers won't just be on the brink of joining the cream of the crop.
They'll be as "heavy whipped" as any one team there.
#2 – Paul George and Russell Westbrook – Oklahoma City Thunder
Have you been watching Paul George play lately? He has "loudly" inserted his name squarely into the MVP conversation, and he's doing so with a teammate averaging a triple double!
There isn't a team in the NBA that is more dependent on two specific players than Oklahoma City is with these two men, and that's why I have Paul George and Russell Westbrook as my #2 duo in basketball.
I'll start with George, because he has been on an absolute tear this season, especially since December began. After averaging 22.7 points during the month of November, George soared during the final month of the year, tallying a 30.8 PPG average over 14 games played.
He has maintained the pace throughout January and has put his team on his back in the process. And believe me, others are taking notice. Here's what the Greek Freak had to say about Paul George after the Thunder defeated the Bucks on Sunday night.
"He was doing everything. Making 3s, mid-range, dunking, floaters. It was a little of everything. He was playing amazing."
This video sums up how clutch PG13 was in the game.
Don't think this is all about Paul George, though.
I didn't forget about Russell Westbrook; it's impossible to do so. The walking triple-double is averaging a more than 20-10-10 for the third consecutive season, and he's making it look easy.
Some of the numbers he puts up are reminiscent only of when you play a video game because it doesn't seem possible in real life.
24 points with 24 assists and 13 rebounds in a single game? Come on.
23-17-16 less than 48 hours after logging a 29-14-10 game? And then he followed up those two performances with another triple-double in his next game.
The dude is freakishly talented, and nobody can get in his way when he wants to get to the basket.
It's almost impossible to imagine a better tandem in the NBA, but it's safe to say I think I found one.
#1 – Kevin Durant and Steph Curry – Golden State Warriors
I think you could throw Klay Thompson's hat into the ring as well here as another top-five duo in the NBA, but that wouldn't be fair. Then again, who said the Golden State Warriors were playing fair this year?
Kevin Durant and Steph Curry are both top ten players in the NBA by all accounts, and they happen to play on the same team. I think Durant is the better overall player, but I think Curry is the more valuable piece to the Golden State puzzle.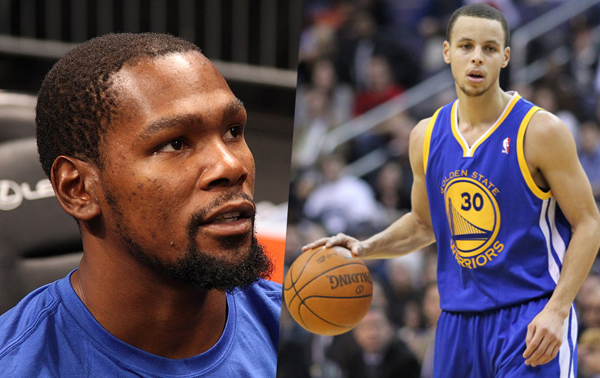 With both firing on all cylinders, this team is essentially unbeatable.
I could go on and on proclaiming Steph Curry as the greatest shooter of all time, but NBA analysts all around have already done that for me. Steph is averaging more than 29 points per game this season, all while chipping in with more than five assists and five rebounds per.
He's shooting a shade under 45% from "trey-ville" and clocks in at 93.1% from the free throw line (second-highest percentage in the NBA). He gives the fans at Oracle Arena exactly what they need to be pumped up and energized on a nightly basis, and he's the heart and soul of basketball in the Bay Area.
Kevin Durant is just an absolute killer on the court, and he's been that way since he entered the league back in '07. Guys like Stephen A. Smith tout KD as the second-best player on the planet (behind LeBron James), and I have no qualms about a statement like that.
I'd personally lean toward Kawhi or Giannis, but hey, what's the difference between Lamborghinis and Ferraris anyway? The point is, Kevin Durant is a superstar and on the short list of candidates for being a top-five player in the NBA.
His 27.9 PPG mark this year is hovering just above his career average (27.2), but he's dishing out a career-best 5.9 assists per game this season. He's long, athletic, clutch, plays great defense, and is one of the best offensive players in basketball – period.
Add all that up with what Steph Curry brings to the table, and you're looking at the most premier 1-2 punch in the NBA.
Going Away
Damian Lillard and C.J. McCollum are terrific. When John Wall is healthy, he and Bradley Beal are dynamite. But when ranking the five best 1-2 punches in the NBA, some studs are going to have to be left off the list.
Do you think I made any glaring mistakes? Did I leave off a tandem that you feel absolutely needs to be on this page?
Please leave a comment and let the debate begin!