Hide Bonus Offers
| | | | | |
| --- | --- | --- | --- | --- |
| #1 | Bovada Sports | 50% Up To $250 | Visit Site | Bovada Sports |
| #2 | BetUS | 125% Up To $2,500 | Visit Site | BetUS |
| #3 | MyBookie | 100% Up To $1,000 | Visit Site | MyBookie |
| #4 | Everygame | 100% Up To $500 | Visit Site | Everygame |
| #5 | BetOnline Sports | 60% Up To $1,000 | Visit Site | BetOnline Sports |
Top Joe Burrow Prop Bets to Target Ahead of Super Bowl 56

Super Bowl 56 is almost here, and while the game is highly anticipated, one thing a lot of people are thinking about is all the prop bets.
Maybe it's because it's such a huge game or that it's the final football game of the year. Perhaps it's because there are so many fun Super Bowl props to consider.
You can get weird with it and bet on crazy Super Bowl 2022 props, or you can stay grounded and just bet on some of the key players. One of the biggest faces in this game is none other than Bengals quarterback Joe Burrow, and he's created loads of intrigue.
While most are concerned with whether or not he can lead Cincinnati to a title, you can also cash in via Joe Burrow Super Bowl props. Take a look at the best Matthew Stafford Super Bowl props, and then dive into my favorites for Burrow in Super Bowl 2022.
Joe Burrow to Throw More than 36.5 Times (-125)
I think Mr. Burrow is going to be busy in this one. He's got a lot on his plate, after all.
Not only is Burrow carrying the weight of a city that's never won a Lombardi Trophy, but he's learning as he goes with this happening in just his second season.
It's worth noting the pressure hasn't fazed him yet, but still.
On top of that, he has to go up against a nasty Rams pass rush, and a L.A. defense that also happens to have a stud corner in Jalen Ramsey in their secondary.
Whether or not you believe Burrow thrives in this spot, you could still make money betting on him. I'd start your Joe Burrow props list off with this bet, which asks him to throw the rock 37 or more times. He's certainly been letting it fly lately.
| | | |
| --- | --- | --- |
| Date | Opponent | Passing Attempts |
| Jan 30 | Chiefs | 38 |
| Jan 22 | Titans | 37 |
| Jan 15 | Raiders | 34 |
| Jan 2 | Chiefs | 39 |
| Dec 26 | Ravens | 46 |
Burrow has topped this mark in each of his last two games, and he's done it four times over his last five. If he's facing pressure all day like I think he will, he's going to be launching the ball all over the field.
In what could be a high-scoring shootout, I'd hammer the Over at the best sites for betting on Super Bowl 56.
Burrow to Top 11.5 Rushing Yards (-110)
While most of my favorite Joe Burrow prop bets deal with him slinging the football around the field in Super Bowl 56, he can also do damage on the ground.
Some will forget, but one of Burrow's first big moments in the NFL was a wild touchdown run.
JOE BURROW. #SeizeTheDEY

?: #LACvsCIN on CBS
?: NFL app // Yahoo Sports app: https://t.co/5o8cWoN1yf pic.twitter.com/7daXXQlp8Y

— NFL (@NFL) September 13, 2020
Crazy Legs Joe could be at it again, and let's not ignore that his running ability was crucial for Cincinnati in the AFC title game.
Burrow still only ran the ball 37 times as a rookie, and returning from a shredded knee this year helped limit him to 40 totes in 2021. However, the athleticism is there for Burrow to access, and constantly being under duress could end up flushing him out of the pocket.
His rushing yardage totals are expectedly ho-hum, but Burrow has still run for 10+ yards in four of his last six outings.
Joe Burrow's First Pass to Be Incomplete (+200)
I think the value is good across the board when it comes to this Joe Burrow prop at BetOnline. You can also bet on it being complete (-220) or even intercepted (+1200!).
Any of these things could happen, but the value lies with this thing just falling to the ground on Burrow's first try.
Burrow is very accurate (70% passer this year) and he has loads of weapons. However, the combination of Super Bowl jitters and the tough matchup make an incomplete pass at +200 stand out.
Burrow to Throw Over 1.5 Passing TDs (-149)
I like the other Joe Burrow Super Bowl prop bets so far, but I really like this one. The bar isn't very high despite this touchdown prop coming in at a nice -149 price.
To be specific, Burrow needs two touchdowns to cash this bet, and that's something he's done 13 times on the year.
L.A. is not an easy matchup for anyone, but the Rams did give up 27 points against the Buccaneers (as well as 329 passing yards), and even Jimmy Garoppolo hit this mark in the NFC title game.
In the biggest game of his life, I expect Burrow to show up. Whether he coasts to the Over or backs into it as the Bengals come from behind, two passing scores feels very doable.
While I am pretty enamored with the Over when it comes to the best Joe Burrow prop bets, keep in mind that isn't always a good practice. That little nugget is one of the most common betting mistakes to avoid when betting on the Super Bowl.
For more, check out the post below.
Joe Burrow to Win Super Bowl 56 MVP (+225)
In the interest of full disclosure, I will say that I actually think the Rams win the 2022 Super Bowl.
Naturally, that means I would bet on Matthew Stafford to claim the game's MVP trophy. The early Super Bowl 56 betting lines tend to agree.
Of course, I'm not blind to what this game could mean for Burrow and Cincinnati. I don't know if I'd go to the lengths Michael Irvin did, though.
.@michaelirvin88 says Joe Burrow winning a Super Bowl for Cincinnati would be bigger than LeBron winning the NBA Finals for Cleveland ? pic.twitter.com/cNes2dODqu

— First Take (@FirstTake) January 31, 2022
Irvin does have a point, though. This would be massive for Burrow and the state of Ohio. It also would make Burrow a borderline lock to win the 2022 Super Bowl MVP.
While my vote is still for Stafford, that takes nothing away from this being one of the best Joe Burrow prop bets going into Super Bowl 56.
Burrow offers interesting value at this +225 price, and there is absolutely an argument for him getting it done. It just comes down to whether or not you believe he will.
For a closer look at the latest Super Bowl 56 MVP odds and some analysis, check out the post below.
Burrow to Pass for Over 276.5 Yards (+145)
As I've mentioned, Burrow should be busy in this game. Either he's going to find ways to exploit the Rams down the field, or he'll be forced to take it to the air as the Bengals try to rally from behind.
One way or another, Burrow is going to put the ball up, and I don't think it's too much to ask to demand 277 passing yards from him.
This price is honestly absurd for this low yardage total. Just look at what Burrow did in 2021.
4,611 passing yards in 16 games
Averaged 288 passing yards per game
Los Angeles has major star power on defense and can get after the quarterback, but they still gave up yardage through the air all year. Brady lit them up coming from behind in the playoffs, and the Rams gave up the 9th most passing yards during the regular season.
Burrow is going to be busy, this isn't a crazy total, and the price is to die for. Hammer the Over.
Joe Burrow to Throw an Interception (-130)
Need more Joe Burrow props for Super Bowl 2022? I have one more I really like, and that's for the surging second-year passer to get picked off.
Don't worry, Bengals fans, I also predicted the same to happen to Stafford. But really, this is just such a huge stage, and something tells me neither side will be firing on all cylinders right out of the gates.
Burrow is very accurate, but he's still had some shaky moments, and this is still just his second season in the NFL.
He also tossed 14 picks this year, and he's been intercepted in each of his last two playoff games.
This has been an insane run, but what if it ends horribly? If so, it's likely due to Burrow not playing quite up to par, and a pick could be in the cards.
Betting on Joe Burrow Props for Super Bowl 56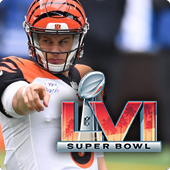 Hopefully, my top Joe Burrow Super Bowl prop bets look good to you. Ideally, if you go with my picks, they also end up winning you some money.
Whether they do or not, Super Bowl 2022 is going to be en fuego, and the rising star of Joe Burrow is a massive reason why.
To enhance your viewing pleasure, betting on Joe Burrow and how he plays could be a lot of fun. If you roll with the Joe Burrow props above, it also could be rather profitable.
Of course, there are a lot of ways to bet on the 2022 Super Bowl. To get you fully prepared, be sure to read through this Super Bowl 56 betting guide.
Super Bowl 2022 Betting Guide