Ja'Marr Chase Draft Odds and Prediction – When Will He Be Selected?

For the second year in a row, the NFL ushers in an absolutely stacked wide receiver draft class.
Yes, the 2021 NFL Draft is undeniably saturated with quarterback talk at the start of the draft. Still, before long, all everyone will be talking about is this collection of explosive receivers.
Perhaps the biggest name is LSU product Ja'Marr Chase, who had such an amazing 2019 campaign that sitting out an entire season of college football hasn't killed his draft stock.
Or has it?
Sports bettors get the opportunity to both predict his fate and cash in from it. Chase is one of the big names the top NFL betting sites are featuring in their 2021 NFL Draft prop bets. Specifically, you can bet on when he hears his name called.
Have a good feeling as to when Ja'Marr Chase will get drafted? Then join me for a look at his draft range odds and humor me as I hand out my ultimate prediction.
Odds for When Ja'Marr Chase Will Be Drafted
Under 6th Pick (-250)
Over 6th Pick (+170)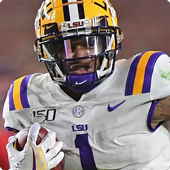 Ja'Marr Chase is an interesting case when looking at the 2021 NFL Draft, as he opted out of the 2020 college football season.
He's not alone in that regard, but doing that could have ultimately hurt his draft stock.
For now, it's pretty clear that the top NFL betting sites view him as a legit threat to go well inside the top-10. His talent and upside demand that the interest be there, and if you look at all of the mock drafts online, that logic checks out even more.
When you look at the pricing, the -250 odds indicate it's pretty likely the uber-talented Chase will be plucked off of the draft board before the 6th pick.
That's not a terrible price if you believe it's a lock, but what if you don't? On the flip side, +170 is a fantastic price considering there is a viable path to Chase sliding out of the top-six.
To decide how to bet on when Ja'Marr Chase will be drafted, let's explore both sides of this wager and come to a conclusion.
Why Ja'Marr Chase Will Be Drafted Before 6th Pick
The obvious reason to back Chase being a top-six pick is the talent. Chase has elite athletic traits, ideal size, fantastic ball skills, and dominant overall ability.
Put simply, the dude is a game-changer, and he's quite arguably the most complete and most physically dominant receiver prospect this draft has to offer.
Most of the top draftniks agree, too, with Jon Ledyard ranking him #1 in his 2021 NFL Draft wide receiver rankings.
I've watched all of the top WRs (consensus top 12-15 or so) and I have a clear cut top 4

1. Ja'Marr Chase
2. Jaylen Waddle
3. Devonta Smith
4. Elijah Moore

After that it gets a little bit pick-your-poison for me. Still like a few guys, but not on the level of the top 4.

— Jon Ledyard (@LedyardNFLDraft) April 23, 2021
The case is pretty compelling. Most of the NFL Draft experts are extremely high on Chase, he has all the physical tools of a dominant chain-mover, and the odds even lean toward him being a top-six lock.
But what if he slides?
Why Ja'Marr Chase Will Be Taken After 6th Pick
There is a direct path to Ja'Marr Chase not being the obvious top-six lock some experts, and his odds, might say he is.
Obviously, the guy is talented, but missing an entire year of football is a pretty big deal.
Two reasons pop up as to why; some teams will question a player's commitment to the game, and being away from football can impact your game shape, rhythm, and general approach.
Another detractor to buying into Chase as a top-six lock is team need. The first three picks in the 2021 NFL Draft appear to be spoken for.
Those are likely going to be quarterbacks, and one could argue that another team or two could move up and reach for another signal-caller or two.
Additionally, it can be argued that – as dominant as Chase was in 2019 – a year has passed, and he simply is not the best wide receiver in this draft now.
In-house NFL expert Michael Wynn certainly thinks so, and he details why in his 2021 NFL Draft wide receiver rankings.
Whether Wynn is right or not, it only takes one team to think the same way. Just look at last year. CeeDee Lamb was the consensus #1 receiver, but he was not the first wide receiver chosen in the draft.
Maybe it's one of these things that force Chase to slide, or perhaps they all work together. Far-fetched or not, they paint a possible future where Chase isn't a top-six lock.
Predicting When Ja'Marr Chase Will Be Drafted
You came here to get some advice about when and where Ja'Marr Chase will be drafted in the 2021 NFL Draft. It's a popular thought, whether for betting purposes, entertainment, or general rooting interest.
I lean toward Chase going right at 6th overall, which is where the Miami Dolphins reside. That's my floor for his draft range right now.
Why? Because he's that good. He's the best overall wide receiver in this draft, and taking it easy for a year doesn't change that in my mind.
I think he's safer than DeVonta Smith or Jaylen Waddle, and he excels in every major area.
The other thing is even within the top-six, I think he has multiple landing spots. The Falcons could always trade down, but both Miami and Cincinnati are very interesting and logical options, even if they don't.