Hide Bonus Offers
| | | | | |
| --- | --- | --- | --- | --- |
| #1 | Bovada Sports | 50% Up To $250 | Visit Site | Bovada Sports |
| #2 | BetUS | 125% Up To $2,500 | Visit Site | BetUS |
| #3 | MyBookie | 100% Up To $1,000 | Visit Site | MyBookie |
| #4 | Everygame | 100% Up To $500 | Visit Site | Everygame |
| #5 | BetOnline Sports | 60% Up To $1,000 | Visit Site | BetOnline Sports |
Jacksonville Jaguars Draft Predictions for 2021

The fanbase in Jacksonville can put their disastrous 2020 campaign behind them – it's time to get excited about the future in northeast Florida.
Urban Meyer has arrived, Trevor Lawrence is on his way, and the Jags own five picks inside the top 65.
To help put "5 picks inside the top 65" into perspective, know that one of their rivals in the AFC South (Texans) won't make their first selection until #67.
The 56th slot is the Seahawks only pick inside the top 125. Jacksonville undoubtedly has a golden opportunity to set itself up for the foreseeable future.
Starting with their five early picks, here is a look at a full list of Jaguars draft predictions in 2021.
Round 1 – Pick #1
Selection: Trevor Lawrence
Position: Quarterback
School: Clemson
Many of the best sites to bet on the NFL have removed the #1 pick prop off the board entirely. The ones who haven't have Trevor Lawrence priced around -10000 to be the first name called.
Despite QB gurus like Chris Simms proclaiming that Zach Wilson is the clear-cut #1 prospect, Trevor is signed and sealed to the Jaguars with the top pick in the draft.
It's been that way since the moment Lawrence set his eyes on the pro level.
To piggyback on that notion, some experts around the league believe that Trevor's availability was the catalyst behind Urban Meyer stepping out of retirement and taking on this job.
As far as what he brings to the table, there is no need to continue extolling Lawrence's abilities at this point.
He's arguably the most polished quarterback prospect that scouts have assessed in the last 20 years.
Round 1 – Pick #25
Selection: Azeez Ojulari
Position: EDGE
School: Georgia
In need of an off-the-ball linebacker to play alongside Joe Schobert and Myles Jack, why not pluck the top-graded pass rusher in the entire 2021 class?
Azeez overcame inconsistent fundamentals with noticeable athleticism and heavy hands upon engaging with blockers.
While Ojulari profiles as an outside linebacker, he can easily adapt and play in a three-point stance ala a traditional defensive end.
Just 20 years old, the redshirt sophomore credits the professionalism in Athens for his preparedness for the jump to the next level.
"Georgia is top notch in everything we do. They want the best out of you with everything no matter what it is – being on time, not missing a meal. It's just straight business, straight work."
Round 2 – Pick #33
Selection: Rondale Moore
Position: WR
School: Purdue
The Jaguars feel good about their top trio of receivers, but Rondale Moore is simply too gifted to pass on at pick #33.
Inserting Moore into the slot would enable Jacksonville to kick Laviska Shenault out wide – thus creating all sorts of room for DJ Chark to operate outside.
Moore missed a chunk of time during his final two seasons in West Lafayette, but 35 catches in just three games this past year reminds us of the impact he can have on an offense.
Rondale has been on the radar of NFL GMs ever since he exploded as a true freshman at Purdue (114-1,258-12), and he's squarely in the conversation of being a first-round pick after putting on a jaw-dropping performance at his pro day.
On the heels of posting a 4.29 40 and a 42.5" vertical, I'm ready to call this kid "Tyreek Hill 2.0."
Round 2 – Pick #45
Selection: Jevon Holland
Position: Safety
School: Oregon
Hailed as the top safety prospect going into the 2020 college football season, it made sense for Jevon Holland to opt-out and protect his status. While Trevon Moehrig has passed him as the #1 safety according to most big boards, Holland is likely to find a home no later than the middle of the second round.
Considering the obvious leaks in the back end of the Jags defense, he'd be a no-brainer selection at #45.
Possessing the resourcefulness and football IQ to play either safety position, Jevon's suppleness and athleticism are also among his noteworthy attributes. Entering the league with a fresh set of legs, Holland can be tossed into the fire right away upon his arrival.
Round 3 – Pick #65
Selection: Brevin Jordan
Position: Tight End
School: Miami (FL)
Schooled at Bishop Gorman in Las Vegas, one of the perennial powerhouse high school football programs in the country, Brevin Jordan got better and better during his three seasons in Coral Gables.
Brevin Jordan – Career Stats with the Miami Hurricanes
Year
Games
Receptions
Receiving Yards
Touchdowns
Yards/Reception
2018
9
32
287
4
9.0
2019
9
35
495
2
14.1
2020
8
38
576
7
15.2
Jordan's 8-96-2 line in the Cheez-It Bowl capped off a brilliant junior season in which he has established himself as one of the top-3 tight ends in the 2021 class.
Urban Meyer pointed out that inking Chris Manhertz to a deal solidifies the "Y" tight end – essentially an extra offensive lineman who stays into block.
On the other hand, he wasn't shy about telling si.com that there's still a need for a pass-catching tight end.
"The next one is the 'F' and that's the primary pass catcher, but also a functional blocker. We have not addressed that yet."
Brevin Jordan can do it all, although utilizing him in the seams and as a downfield weapon would maximize his potential.
Jaguars Draft Predictions in Rounds 4-7
Round 4, Pick #107 – Ben Cleveland, G, Georgia
Round 4, Pick #131 – Marvin Wilson, DT, Florida State
Round 5, Pick #146 – Kylin Hill, RB, Mississippi State
Round 5, Pick #171 – Kary Vincent Jr., CB, LSU
Round 7, Pick #251 – Luke Farrell, TE, Ohio State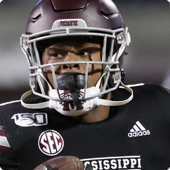 As we approach Jaguars draft predictions on day three, they'll be looking to add some bulk to the offensive line and defensive front right away.
Ben Cleveland stands 6'6" and tips the scales around 350, plus he's incredibly determined and quick off the snap.
In other words, he's exactly what Urban Meyer will be looking for in an interior lineman at the outset of day 3.
Easily worth a day 2 grade, but Ben's poor showing on the first day of the senior bowl was exacerbated by sustaining an ankle injury that prevented him from getting back onto the gridiron.
Snagging Marvin Wilson in the fourth-round means addressing the need for more depth at the tackle position on D. Joe Cullen, the Jags new defensive coordinator, will be looking for a guy just like Wilson to insert his flexible formations.
When asked about what type of scheme he'll be running, Cullen says "The best way to describe it is we're going to be an attacking defense that will have multiple looks of a 3-4 and a 4-3."
It just so happens that Marvin's best fit is as a rotational defensive tackle on an "attack-style" defense.
Kylin Hill opted out in 2020 and has slipped down some draft board as a result. However, Jacksonville's need for another running back to pair with James Robinson is glaring. The Mississippi State product can fill that void.
Hill rolled over defenders to the tune of 1,350 rushing yards in 2019 – one season after he ripped off 734 yards on just 117 totes (6.3 yards/carry).
Kylin is a violent north-south runner who doesn't waste time dancing behind the line of scrimmage.
How will Kary Vincent Jr.'s game translate to the National Football League? Chris Trapasso of CBSSports' NFL Draft analyst team called Kary "the best pure slot cornerback in this class."
One of the key ingredients on LSU's dominating defenses in 2019, Vincent Jr. uses above-average footwork and proficient ball skills to position himself to contest any ball thrown his way.
Urban Meyer made sure to nab plenty of SEC talent; it's only fitting that the final pick in this Jaguars mock draft is awarded to a guy from Columbus.
Between Meyer's ties to Ohio State and the need for depth in the tight end room, Luke Farrell's best opportunity to hear his name called is in round seven by Jacksonville.
Having said that, Farrell's commitment to blocking could be enough to carve out a lengthy career playing football on Sundays.
Final Thoughts on My 2021 Jaguars Mock Draft
Urban Meyer cleaned house and was able to handpick his staff.
The Jags have a boatload of picks in the first two days and are getting ready to welcome the most intriguing quarterback prospect in as long as I can recall.
There are no more excuses; Jacksonville will have serious aspirations of obtaining a spot in the AFC Playoffs in the upcoming year.
DJ Chark and Laviska Shenault are promising young receivers.
Marvin Jones comes in as a wily veteran who has an established rapport with Darrel Bevell (Jacksonville's new offensive coordinator). James Robinson balled out as an undrafted rookie RB.
Plug in Trevor Lawrence under center and surround him with additional weapons like Rondale Moore and Brevin Jordan. Suddenly the Jags offense becomes one of the most exciting units in football.