Italian Grand Prix Betting Preview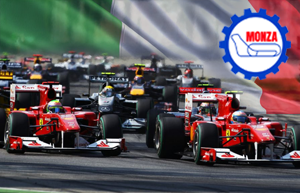 It's time for the magic of Monza! Fresh off the back of an exciting Belgian Grand Prix, the Formula 1 road show heads to Monza for the Italian Grand Prix.
The picturesque Autodromo Nazionale Monza, located 30 minutes north of Milan, is the oldest race on the Formula 1 circuit, and, as the home of Ferrari, it's a race overflowing with passion and pride for the Prancing Horse.
The home fans will be hoping that Championship leader Sebastian Vettel can remain at the front of the pack, but following his win at Spa, Mercedes' Lewis Hamilton is ready to pounce. The Briton is just seven points behind Vettel, and victory in Italy will at the very least bring Hamilton level with his German rival.
The Track
For many, Monza is the venue that embodies Formula 1 like no other; beauty, speed, history, and grandstands packed to the brim with fanatics – it's hard to beat! 'La Pista Magica' (that's 'The Magic Track' if you skipped your Italian lessons), is a circuit steeped in history. As just the third permanent race track ever built, it's seen its fair share of breath-taking races, but has also been tainted by a number of tragedies.
While famous for its high-speed straights, the corners and chicanes of Monza are just as well known; Curva Grande, Lesmo, Ascari, and Parabolica have provided a challenge for generations of Formula 1 drivers.
Speed means engine power will be key at Monza, which is music to ears of the Mercedes-powered cars in the field. Monza is low on tire wear, so don't expect the Pirellis to be too much of a factor, with one stop the likely go-to strategy.
All you need to know about Monza:
Circuit length: 5.793km (3.6 miles)
Laps: 53
Race distance: 306.72km (190.587 miles)
Lap record: 1min 21.046secs (Rubens Barrichello, 2004)
Fastest lap in any session: 1min 19.525secs (Juan Pablo Montoya, 2004, qualifying one)
2016 pole position: Lewis Hamilton (Mercedes) 1min 21.135secs
2016 winner: Nico Rosberg (Mercedes)
2016 fastest lap: Fernando Alonso (McLaren) 1min 25.340secs
Number of corners: 11 (four left/seven right)
DRS zone/s: Start/finish straight and straight to Ascari
The Contenders
It seems hard not to take the cynical approach and view this as a three-car race, if we're being generous throw in Kimi Raikkonen to make it four. The Mercedes and Ferraris are so far ahead of the rest of the grid that everyone else is fighting for the minor places. While Ferrari has reason to feel optimistic even at a circuit where fast straights are punctuated by a few corners and chicanes, unless they can be more competitive in qualifying then Mercedes are likely to have the run of it.
As a result, Vettel will have his work cut out trying to match Hamilton and Valtteri Bottas. Bottas looked out of sorts at Spa and will be looking to prove he still has a shot at the title, but unless one of Hamilton or Vettel is struck by a mechanical issue.
I think the Finn is racing for third, as is his compatriot Raikkonen.
The problem from a punter's perspective heading to Italy is that there isn't much value in backing Hamilton (-133) for the race win. As a result, if you, like I, fancy the Briton to wrestle back the lead in the World Championship – or at least draw level – and grab pole position (breaking Michael Schumacher's pole record in the process), then the bet to go for is the full house of pole position, race win, and fastest lap. You can back any driver to achieve that feat at +250.
Vettel will be buoyed by the fact that he was largely able to shadow Hamilton at Spa, and with a feverish crowd willing him on and a Championship lead to protect there is no shortage of motivation. However, at +333 to take the victory I'm not swayed.
Fighting for Points
Force India's Esteban Ocon isn't the first driver to accuse a competitor of trying to kill them after tempers boiled over on the track – but he's one of only a few to level such an accusation at a team-mate! The Frenchman couldn't contain his anger at team-mate Sergio Perez after the pair came together not once, but twice during the Belgian Grand Prix. To make matters worse, it's not the first time that the team-mates have been the architects of their own downfall.
While all this leaves the Force India hierarchy with a considerable headache – and new rules of engagement have now been put in place – it provides the racing public with a nice little sideshow to keep an eye on. Both drivers will be looking to prove their worth this weekend and won't be giving an inch to anyone. Powered by Mercedes, the Force India's will fancy their chances of getting among the top six, with Perez at odds of +120 to do so, and Ocon slightly further back at +150.
With two sixth-place finishes in the last three races, Nico Hulkenberg is starting to put together an impressive little run for Renault. On the other side of the garage, it's been a rough ride this season for Jolyon Palmer. However, the Briton showed signs of a recovery at Spa, and that's more reason than any to think that Renault has made a leap forward that's worth taking note of. Palmer has yet to finish in the points this season, but if he can put in a strong qualifying performance again in Italy (he qualified 10th at Spa) then a double points finish for Renault may be on the cards. At +450, that's not a bad wager to make.
Struggling for the Finish Line
I'm not one who takes too much joy in profiting off the suffering of others, but…Fernando Alonso's horror season has presented some opportunities to cash in. The McLaren driver has had one engine disaster after another since rejoining the Honda-powered outfit and was forced into his fifth retirement of the season last time out. With another engine-heavy circuit looming in Italy, it could mean a sixth DNF for Alonso.
McLaren has already said that Alonso is likely to incur further engine penalties in Italy in order to have a clean slate heading to the Asian swing of the season where the team hopes to be more competitive, so there appears little hope for the two-time World Champion. Alonso is +900 to be the first driver to retire and barring early drama, it could be a brief afternoon for a driver who ten years ago took the checkered flag at Monza with none other than
McLaren.