Hide Bonus Offers
| | | | | |
| --- | --- | --- | --- | --- |
| #1 | Bovada Sports | 50% Up To $250 | Visit Site | Bovada Sports |
| #2 | BetUS | 125% Up To $2,500 | Visit Site | BetUS |
| #3 | MyBookie | 100% Up To $1,000 | Visit Site | MyBookie |
| #4 | Everygame | 100% Up To $500 | Visit Site | Everygame |
| #5 | BetOnline Sports | 60% Up To $1,000 | Visit Site | BetOnline Sports |
Islam Makhachev and More UFC Stars Set for a Breakout Year in 2022

Although there are no magical changes that occur when the calendar hits January 1, the beginning of a new year can act as something of a psychological boost to those in the fight game.
The top fighters to watch in the UFC in 2022 are those looking to push ahead and make good on their potential. Regardless of whether last year ended with a whimper or a bang, these guys are paid to go out there and make things happen.
Most of the UFC fighters set for a breakout year in 2022 will be familiar to you. But there might be a few that aren't on the radar just yet.
The new year could see a new champion crowned in the lightweight division, with Islam Makhachev favored by some to take the crown. But with stellar prospects emerging across the board, the following fighters should be set for big things in '22.
Here are the fighters to look out for in the UFC this year, in no particular order.
Islam Makhachev
Division: Lightweight
Record: 21-1
Nationality: Dagestan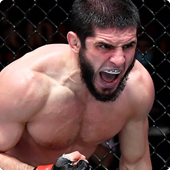 First, there is an argument to be made for Makhachev breaking through in 2021. I get that.
The Dagestani put Drew Dober, Thiago Moises, and Dan Hooker away to register the best twelve-month period of his career. But given the expectation surrounding the 30-year-old, you can make a counterclaim that 2022 will be the year when he is finally comfortable at the top table.
It must be difficult to be touted as the natural replacement for perhaps the greatest UFC fighter of all time. That being said, it's tough not to be coddled into comparing Makhachev with his friend and training partner, Khabib Nurmagomedov.
After all, both are wrestling-heavy cardio machines from the Caucasus that exercised the same strangulatory methods inside the cage with similar results.
Although "The Eagle" retired unbeaten, both men are cut from a similar cloth. Like Nurmagomedov before him, Makhachev has shown little to no shortcomings in a UFC record that now stands at 10-1.
Khabib attained iconic status in a short space of time. His growth as a celebrity was unexpected, yet heavily aided by his rivalry with Conor McGregor. Who will Makhachev's McGregor be? Could it be "The Notorious" himself?
While the Dubliner sets his sights on recovering from a broken leg, Makhachev will be aiming to reclaim the 155-pound title for Dagestan. And let's be clear from what we have seen — would you back against him to do it?
I've put together my predictions for all UFC champions at the end of 2022. You'll have to read the following piece to find out who I see taking lightweight.
Tom Aspinall
Division: Heavyweight
Record: 11-2
Nationality: England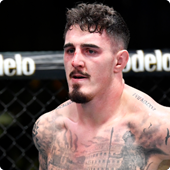 These days, fans are content to drool over Francis Ngannou's best knockouts in the UFC.
One day in the not-too-distant future, those same MMA heads could be fawning over the best stoppages of Aspinall's UFC career. If the Englishman has his way, there might be a few highlight-reel submissions and KOs worthy of a few playbacks.
Standing at 6'5″ and weighing 247 pounds, Aspinall is a monster. But contrary to his size, the guy is technically brilliant and certainly no one-trick pony. A black belt in Brazilian Jiu-Jitsu, the Manchester-born giant also possesses serious pop to his shots.
Coming into the year on a seven-fight win streak, Aspinall looks nailed on for a breakout year in the UFC in 2022. Ranked at #10 by the promotion, he is just a couple of wins away from major fights with the top dogs at heavyweight.
England's last UFC champion was Michael Bisping, who lost his middleweight title in 2017 to Georges Saint-Pierre. Can Aspinall change that in 2022?
"That was good man, I got goosebumps watching it."

Tom Aspinall watches his #UFCVegas36 KO win for the first time and talks about his rise up the @UFC heavyweight ranks ?⬆️

All #UFCVegas36 Results and Highlights ⬇️:

— UFC News (@UFCNews) September 4, 2021
Muhammad Mokaev
Division: Bantamweight
Record: 6-0
Nationality: England-Dagestan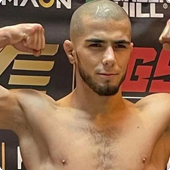 Although the Khamzat Chimaev and Khabib Nurmagomedov comparisons are way too premature, Mokaev is one of the top fighters to watch in 2022 in the UFC.
The Dagestan-born Brit, who is unbeaten as a professional, and was snapped up by the promotion in November. At just 21, he is among the youngest fighters on the UFC roster and carries a lot of expectations on his shoulders.
With a flawless amateur record, Chimaev urged Mokaev to turn professional. His move into the paid ranks was expected to go well, and it has. As things stand, he is 6-0 on the regional circuit but will be favored to improve that record before the year is out.
As for the pressure he takes into the Octagon? According to the Wigan-based fighter, it's not a factor whatsoever.
"Of course the UFC is huge but it's not going to distract me. In the morning, I'm grinding and at night time, I'm training. I feel excited but this is not my final step, this is not my final goal. My final goal is to be the youngest UFC champion.
Do you know what's funny, when I won my first championship in 2018, he [Chimaev] fought on Brave Combat Federation and that's when we met.
He told me, 'What you doing? Go professional, you are good enough. I said, 'Hey, give me one more year'."
There's no doubt that Mokaev will be a welcome addition to the promotion. If all goes well, he could end up among the top fighters in the UFC set for a breakout year in 2022.
Jack Shore
Division: Bantamweight
Record: 15-0
Nationality: Wales
I've been a huge fan of Aberitillery's Shore for quite some time.
The former Cage Warriors bantamweight champion has gone 4-0 in the UFC since joining the promotion in September 2019. In 2021, the Welshman registered a record of 2-0 with wins over Hunter Azure and Liudvik Sholinian.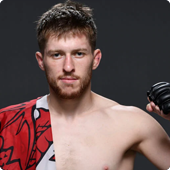 Of all the fighters in the UFC set for a breakout year in 2022, this guy is up there with the best of the crop. Like many of his peers, however, the global pandemic has stunted his chances of making a bang. But he should find more opportunities coming in his way over the next twelve months.
The first goal for Shore will be to break into the top-15 at 135-pounds. As things stand, he will need to get past the likes of Raphael Assuncao, Song Yadong, Ricky Simon, and Sean O'Malley before he can kick his way into the official UFC rankings.
A quality fighter and such a cool guy, I've been a fan since meeting Jack back in 2016. But even as an unbiased observer, it's hard not to like the lad.
Could Shore become the first Welsh UFC champion? I'd say he has an excellent chance of doing so in the future. For now, I'll mark him as a very worthy addition to this list of UFC fighters set for a breakout year in 2022.
Ilia Topuria
Division: Featherweight
Record: 10-0
Nationality: Georgia/Spain
Fighting out of Alicante, Spain, Ilia Topuria is one of the best-kept secrets among true MMA fans. But don't expect his ability to fly under the radar to last.
For me, Topuria will be among the top breakout fighters in 2022. The first Georgian to receive a BJJ blackbelt, the slick submission artist is also a creative striker with about as much flair as can be packed into human skin.
I remember urging everyone within earshot to watch out for this guy in his UFC debut. At the time, betting sites were offering excellent odds on him to beat Youssef Zalal. He passed that test with flying colors, but it has been his recent stoppage wins over Damon Jackson and Ryan Hall that have caused some to sit up and take notice.
Topuria has all the makings of a future champion. That's not to say that he is guaranteed to go all the way to the top, but I would not be surprised to see this guy challenging for UFC gold in the next couple of years.
Will "El Matador" be one of the top breakout fighters in the UFC in 2022? I think so. I'm certainly looking forward to seeing how he gets on. Perhaps we will see the 24-year-old shake up the existing picture.
Paddy Pimblett
Division: Featherweight
Record: 17-3
Nationality: England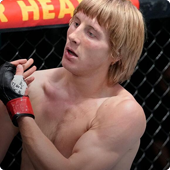 Before I get into why 2022 Paddy Pimblett's breakout year in the UFC, I have a few things to say about the Scouser.
First, I don't hate him. He is a fun, exciting fighter that fits the mold of what many of us expect from guys of his ilk. He likes to trash talk, has a ridiculous haircut, and is not afraid to go out there and put on a show for his fans.
However, I don't rate the chances of "Paddy the Baddy" becoming a UFC champion highly at all. In fact, I believe Pimblett is overrated and will never win a title in the promotion. Why? Because he is nowhere near good enough to do so.
Again, just because I don't rate him does not mean I hate him. I believe he will be one of the top fighters to watch in the UFC in 2022 because of his charisma and ability to get under the skin of pretty much anyone.
You will rarely see Chael Sonnen get pissed with a fighter. But guess who got under the skin of the "American Gangster" recently?
The bottom line here is that Pimblett is a fun fighter that will draw attention. That translates to pay-per-view buys and, in turn, a nicer piece of cheese for the UFC. With that in mind, they are not going to look to throw him in the deep end just yet. So, Pimblett could finish the year with a couple of wins against inferior opposition.
As soon as he meets almost any of the top-10, however, he will be smoked. And it won't be pretty.
Ian Garry
Division: Lightweight
Record: 8-0
Nationality: Ireland
We started this list of the best UFC fighters set for a breakout year in 2022 by comparing Islam Makhachev to Khabib Nurmagomedov.
On the opposite side of the coin, some are looking to draw comparisons between rising star Ian "The Future" Garry and a certain Conor McGregor. But do such comparisons extend past these obvious factors?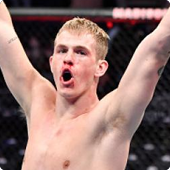 Garry and McGregor are from Dublin, Ireland.
Both men are former Cage Warriors champions.
Garry, like McGregor, is highly ambitious and super confident.
Both are known for their knockout power.
That's really about it.
Still, Garry makes this list of the top UFC fighters set for breakout years in 2022 on account of his credentials. Although any Irish fighter that wins their debut in the promotion will draw lazy comparisons with McGregor, there is real interest in the 24-year-old.
With guys like Henri Hooft and Kami Barzini behind him at Stanford MMA, he is not stuck in the SBG Ireland frame of mind. He is his own man with his own ideas about things, and these factors have caught the eye of many fans of the sport.
"I don't want this fast rise to the top. I'm not looking for a couple of fights, get a world title and get out. I'm looking to beat the sh*t out of people. I want to get in there and prove and leave. You know when people are saying, 'Oh he jumped the ladder, he skipped a couple' – I never want that.
I want to earn every single step so that when I get to that belt, when I get to that title shot and when I do win the title, that not one person on the planet can say, 'Oh well, he didn't fight this guy,' or, 'He didn't do this.
He can talk the talk. He's Irish. He jumped the queue.'"
Amen to that!
Khamzat Chimaev
Division: Welterweight
Record: 10-1
Nationality: Sweden
Like Makhachev, some might roll their eyes at seeing Chimaev classed as one of the fighters set for a breakout year in the UFC.
That's fair. But I would suggest taking a few things into account before you go all "Just Bleed" on me and start pelting your screen with the top of your Tapout shirt.
First, Chimaev is one of the hottest prospects in the UFC right now. But his career trajectory has been stalled a little by factors beyond his control. First, the pandemic got in the way of his rise to the top, and a nasty bout of COVID compounded a dire situation.
Khamzat Chimaev Career Statistics
Strikes Landed per Minute
8.68
Striking Accuracy
77%
Strikes Absorbed per Minute
0.08
Striking Defense
75%
Takedown Average
4.65
Takedown Accuracy
66%
Submission Average
5.8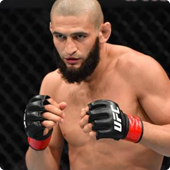 With a bout with former title challenger Gilbert Burns on the cards, 2022 could very well be the year of Khamzat Chimaev. This guy is phenomenally talented and is guaranteed to light up any card he appears on.
If Chimaev can beat Burns convincingly, I'm not sure that there could be any UFC fan worth their salt that would object to him challenging Kamaru Usman. My UFC fighter of the year for 2021, Usman is the best of the best in the promotion right now. A bout with "The Nigerian Nightmare" is, without making a lazy pun, the stuff of dreams for MMA purists.
Fighting just once in 2021, "Borz" reminded everyone not to doubt his class when he locked Li Jingliang in for one of the best UFC submissions of 2021. You can read more about that, and the rest of the top submissions of the year, below.
Song Yadong
Division: Bantamweight
Record: 18-5-1
Nationality: China
When discussing fighters set for breakout years in the UFC in 2022, you won't find anyone as deserving as Song.
Despite just turning 24, the "Kung-Fu Monkey" has already competed 24 times as a professional. He is 10-1-1 from his last 12 and coming off a stunning TKO head kick over Julio Arce back in February.
Yadong has it all — striking nous, power, grappling, and such an old and wise head on young shoulders. Song is set to be a star, make no bones about it.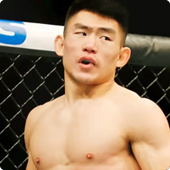 If he can continue to chip away at the competition put in front of him, we could potentially see him better his #14 position in the current UFC rankings.
If I had a chance to pick his next fight, I would love to see Yadong vs. Jack Shore. Both fighters are set for breakout years in 2022, so why not make it happen?
Failing a bout between Song and Shore, perhaps the Chinese star would like to test himself against Sean O'Malley?
Regardless of who is up next for Song Yadong, the man has options.
Alex Pereira
Division: Middleweight
Record: 4-1
Nationality: Brazilian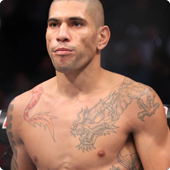 I'll excuse newcomers to the game for not recognizing former GLORY middleweight and light heavyweight champion, Alex Pereira.
Still ranked as the best kickboxer on the planet in both divisions, the Brazilian is now focusing on becoming the next middleweight champion of the UFC. That title is currently the property of a certain Israel Adesanya, so good luck beating him, right?
Well, Pereira already has a win over Adesanya. That was the only time in the lengthy combat sports career of "The Last Stylebender" where he has been sparked. It was a nasty shot that landed from Pereira, and one that the Kiwi will never forget.
If I need to tell you to get excited by the prospect of a rematch between Adesanya and Pereira inside the cage, you might want to check yourself for a pulse.
While a middleweight title shot might be some way off, Pereira is one of the best UFC fighters set for a breakout year in 2022. In his promotional debut in November, "Po Atan" finished the fight with an awesome flying knee to punches stoppage over Andreas Michailidis.
Can Pereira climb the ladder and secure what would be one of the most eagerly anticipated fights in UFC history? If he has a 2022 to remember, the answer just might be yes.
Where to Bet on UFC Breakout Stars in 2022
That brings us to an inevitable end of my list of the top UFC fighters set to break out in 2022.
But as for the potential glory ahead of some of these guys? Well, we are only just getting started. All ten mixed martial artists are likely to compete this year, barring injuries or any unforeseen circumstances. The best part is that you can follow them, and their odds, over on the top MMA betting apps.
If you missed them the first time around, you can catch my picks of the best knockouts in the UFC for 2021. This should get you in the mood for what promises to be another year of non-stop action in the greatest fight promotion on the planet!