Hide Bonus Offers
| | | | | |
| --- | --- | --- | --- | --- |
| #1 | Bovada Sports | 50% Up To $250 | Visit Site | Bovada Sports |
| #2 | BetUS | 125% Up To $2,500 | Visit Site | BetUS |
| #3 | MyBookie | 100% Up To $1,000 | Visit Site | MyBookie |
| #4 | Everygame | 100% Up To $500 | Visit Site | Everygame |
| #5 | BetOnline Sports | 60% Up To $1,000 | Visit Site | BetOnline Sports |
Is Ohio State a Good Bet to Win the 2021-22 College Football Playoff?

The Ohio State Buckeyes have been one of college football's top schools for what seems like forever.
Ohio State won the inaugural College Football Playoff in 2015. While they haven't won a Championship since then, they do have three appearances in the College Football Playoff.
I know it wouldn't surprise me to see the Buckeyes make another run at a National Championship.
Let's examine their chances and determine if they're a good bet to win it all.
Ohio State Buckeyes College Football Playoff Odds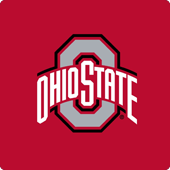 Ohio State isn't the favorite on most college football betting sites, but they are among the top four teams.
Of course, we are still over four months away from the College Football Playoff. Heck, the regular season hasn't even started yet.
Because of that, the odds will change throughout the season. For now, BetOnline gives you the best value at +700.
The pricing suggests Ohio State needs to be taken seriously as a title threat, but should you bet on them?
Let's explore the Buckeyes from both sides going into the 2021 NCAA football season.
Why Ohio State Can Win the College Football Playoff
Everyone knows the Ohio State Buckeyes will be in contention for a spot in the College Football Playoff.
Let's check out the reasons they'll win the National Championship.
An Elite Group of Pass Catchers
Last season, the Ohio State Buckeyes lost in the National Championship to the Alabama Crimson Tide. A big reason for that loss is that they couldn't stop Heisman-Trophy winning wide receiver DeVonta Smith.
Smith essentially only played in the first half and still put up 12 receptions, 215 yards, and three touchdowns.
This season, Ohio State has an elite wide receiver group of their own and it starts with Chris Olave.
Olave surprised a lot of people this offseason by not declaring for the draft and staying at Ohio State. I'm sure Ohio State fans were happy with that decision.
He has been the Buckeyes top wide receiver for the last two seasons. Check out his stats from 2019 and 2020.
| | | |
| --- | --- | --- |
| Stat | 2019 (13 Games) | 2020 (Seven Games) |
| Receptions | 48 | 50 |
| Yards | 840 | 729 |
| Yards Per Game | 64.6 | 104.1 |
| Touchdowns | 12 | 7 |
The stats show he took on a much bigger role last season. He led Ohio State in all the major categories.
Garrett Wilson essentially served as Ohio State's 1B last season. Wilson opened the 2020 season with four straight 100+ yard games. He finished with 43 receptions, 723 yards, and six touchdowns.
Together, the two players help form one of the most explosive college football offenses in 2021.
Tight end Jeremy Ruckert may not have been a big reception or yardage player, but he is a big factor in the red zone. He had five touchdowns on 13 receptions last season. Fellow tight end Luke Farrell went to the NFL, so Ruckert should see an expanded role in his senior season.
Losing Justin Fields is tough for the Buckeyes, but a strong group of pass-catchers will help the transition.
Olave and Wilson are dark horses to win the Heisman Trophy. A big season from either player could win you some money.
Top Shelf Recruiting Class
The Ohio State Buckeyes are always at the top of the college football recruiting rankings. The 2021 class is no different.
They landed number one overall prospect Jack Sawyer. Sawyer is a local prospect, playing his high school ball in Pickerington, Ohio. The defensive end recorded 13.5 sacks and 19 tackles for loss in 2019. He opted out of the 2020 season.
Continuing with the defensive line, the Buckeyes landed number four prospect J.T. Tuimoloau. The top defensive tackle in the country won a pair of state titles in high school.
Ohio State's third top 10 recruit comes on the offensive side of the ball. Running back TreVeyon Henderson looks to add his name to a list of elite Ohio State running backs.
Henderson posted monster stats in the 2019-20 season at Hopewell High School.
198 carries
2,424 yards
12.2 yards per carry
161.6 yards per game
45 touchdowns
When you look at those numbers, it's not hard to tell why he is the number one running back in the 2021 recruiting class.
Trey Sermon came on late last season, but he is in the NFL now. Master Teague will likely open the season as the starting running back, but I could see Henderson taking on a major role at some point.
All in all, Ohio State has 18 recruits in the ESPN Top 300. They all won't make a big impact this season but there's a good chance that a few of them will be difference makers.
Among the rest of the recruits are quarterback Kyle McCord and wide receiver Marvin Harrison Jr. The two played together at St Joseph's Prep School in Philadelphia.
Harrison Jr. is the son of NFL Hall of Fame wide receiver Marvin Harrison.
The strong recruiting class should keep Ohio State in National Championship contention.
Ryan Day is an Elite Head Coach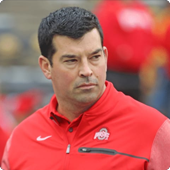 The Ohio State Buckeyes have had some of the greatest head coaches in college football history. From Woody Hayes to Jim Tressel to Urban Meyer, they've had their fair share of legends.
Ryan Day has been in charge of the Buckeyes since 2019., and he's undeniably one of the best head coaches in college football. He served as their Offensive Coordinator and play-caller in 2018. Day acted as the Head Coach for three games that season.
In his first season as full-time Head Coach, Day led the Buckeyes to their first undefeated regular season since 2013.
They won the Big Ten Championship and went into the College Football Playoff as the number two seed. The Buckeyes held a 16-0 lead in the first half, but they wound up losing 29-23.
Last season, Ohio State only played six regular-season games. Nonetheless, they went undefeated for the second straight season, entering the College Football Playoff as the number three seed. They matched up against Clemson for the second straight season.
The Buckeyes got their revenge, blowing out Clemson 49-28. Ohio State went on to lose the National Championship.
For his Ohio State career, Day is 23-2 with a 92.0-win percentage. Check out where that ranks among other Ohio State coaches.
Ryan Day: 23-2 (92.0 Win Percentage)
Urban Meyer: 82-9 (90.1 Win Percentage)
Carroll Widdoes: 16-2 (88.9 Win Percentage)
John Eckstorm: 22-4-3 (81.0 Win Percentage)
Jim Tressel: 94-22 (81.0 Win Percentage)
I know it's a small sample size but it's impressive what Day has accomplished in his two seasons as Head Coach.
I'm sure some people will say it's the players that make the Head Coach look good. While the talent certainly helps, it's hard to put up great numbers with an average coach.
College football has so much turnover, so it's important to have a great coach with a great system.
Why Ohio State Won't Win the College Football Playoff
There are usually five or six teams that separate themselves from the rest of the field every season. However, only one team can win it all, and Ohio State has its challengers.
Let's talk about why they won't win the National Championship.
Question Marks on the Defensive Side of the Ball
Last season, the Ohio State Buckeyes had one of the best offenses in the country. They ranked top 10 in yards per game and points per game. However, they had their troubles on defense.
Their passing defense was downright horrendous. They allowed the sixth-most passing yards per game at 304.0. Ohio State did have one of the top run defenses, but we can't ignore how bad their secondary was.
I guess the good news is there's nowhere to go but up.
Shaun Wade was the only player for the Buckeyes to record more than one interception last season. He is now in the NFL.
Ohio State will return the majority of their secondary with Sevyn Banks and Josh Proctor leading the way. They have a plethora of freshmen joining the secondary this season. Among the top contributors this season should be Denzel Burke and Ryan Watts.
The Buckeyes linebacker core is a bit of a different story.
They played a big hand in the Buckeyes elite run defense last season. Unfortunately for them, their top four linebackers in terms of tackles are now in the NFL. Outside of those four players, just one linebacker had more than 10 tackles last season.
Dallas Gant was that one player, but he missed time this Spring with a foot injury. Who knows how that will affect him for the upcoming season?
Senior Teradja Mitchell will likely lead the linebacker core alongside Gant, but those two players can't do it all. Ohio State will need other players to step up on defense.
Last season, Alabama had 621 total yards in the National Championship. I know they were a great team, but the Buckeyes defense can't allow that many yards and expect to win.
Improving their defense is a necessity. If not, I can't see Ohio State winning the National Championship or even making the College Football Playoff for the matter.
Losing Justin Fields
Justin Fields was one of the top quarterbacks in the country in 2019 and 2020.
The former number one overall recruit began his career at Georgia but transferred following the 2018 season. He joined an Ohio State team that needed a quarterback after Dwayne Haskins Jr. went to the NFL.
In 2019, Fields showed everyone why he was a top prospect. Check out what he accomplished in 14 games.
67.2 completion percentage
3,273 passing yards
41 passing touchdowns
3 interceptions
484 rushing yards
10 rushing touchdowns
His great season earned him a spot on the All-American Second-Team.
Last season, Fields played in eight games so naturally, his numbers came down. However, he continued to perform like an elite quarterback.
He threw for 262.5 yards per game. That marked a big jump from his 233.8 in 2019. Fields also passed for 22 touchdowns and six interceptions.
Fields saved his best performance for the end of the season. He passed for 385 yards and six touchdowns in the Buckeyes College Football Playoff Semifinal victory over Clemson. The team ultimately fell short in the National Championship Game.
With Fields leaving for the NFL, C.J. Stroud takes over as the starting quarterback.
Ryan Day just announced that CJ Stroud is officially Ohio State's starting QB, per @BruceFeldmanCFB

They open against Minnesota on 9/2 pic.twitter.com/vwFKPpn73e

— PFF College (@PFF_College) August 21, 2021
Stroud isn't the same big recruit that Fields was. He ranked outside the top 100 in the 2020 recruiting class. He did have a strong senior season in high school, passing for 3,878 yards and 47 touchdowns.
One thing going for him is he was on the Buckeyes roster last season. He probably learned a lot from Fields.
Even so, the move from Fields to Stroud is likely a downgrade. Even with the great wide receiver room, you have to wonder about Stroud's ability to lead Ohio State to the promise land.
Are the Buckeyes a Good Bet to Win the 2021-22 CFP?
There's no doubt the Ohio State Buckeyes will be one of the top teams in the country.
However, I have my doubts about the quarterback position. Because of that, I would hold off on betting on them now.
If Stroud looks like an elite player during the season, then I could definitely see myself throwing down a few dollars. For now, I would err on the side of caution.
Wondering about other top shelf NCAA football team's title odds? Check out some more CFP odds breakdowns below.