Hide Bonus Offers
| | | | | |
| --- | --- | --- | --- | --- |
| #1 | Bovada Sports | 50% Up To $250 | Visit Site | Bovada Sports |
| #2 | BetUS | 125% Up To $2,500 | Visit Site | BetUS |
| #3 | MyBookie | 100% Up To $1,000 | Visit Site | MyBookie |
| #4 | Everygame | 100% Up To $500 | Visit Site | Everygame |
| #5 | BetOnline Sports | 60% Up To $1,000 | Visit Site | BetOnline Sports |
Is a Mayweather vs. Nurmagomedov Fight Going to Happen?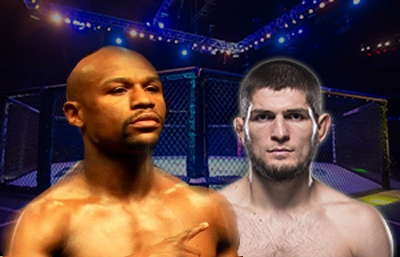 Don't get too excited just yet.
If the UFC lightweight champion were to follow Conor McGregor's steps and cross over into the boxing world, a lot would have to happen first.
Khabib Nurmagomedov currently has more than enough problems on his plate to even think about stepping into a boxing ring with Floyd Mayweather.
One of my colleagues has written a blog post with his less-than-serious thoughts on why this fight must take place. It's a good read, so I recommend checking it out.
I'm taking a more orthodox approach to the subject with my post about this potential encounter. Here are my thoughts on whether the fight will happen and what it might look like if it does.
To start out, I've recently recapped the big fight between Nurmagomedov and McGregor. The publicity surrounding this was at least partly responsible for the Mayweather vs. Nurmagomedov fight becoming a possibility.
Nurmagomedov vs. McGregor Revisited
Back on October 6th, in the T-Mobile Arena in Las Vegas, one of the biggest and most heated rivalries in the UFC took place. If you're a Conor fan, you were taking in the fight with your jaw dropped and probably with your eyes closed.
The horror unfolded with Conor nearly getting knocked out, but eventually, the Irishman showed his toughness. He later ended up tapping to Khabib in the fourth round, though.
Khabib's fans enjoyed watching the Russian put a beat-down on Conor, even if the champ didn't exactly try to put Conor away early. He allowed the Irishman to stand up a few times, and both guys were throwing haymakers at one another.
Overall, the fight didn't really live up to its hype.
This contest was mainly one-sided, and Conor was just trying to survive as soon as Herb Dean told them to fight. The post-fight brawl was way more exciting, but because of the actions of both camps, both fighters are now facing long suspensions and fines.
At the end of this long-anticipated fight, Khabib should've been standing with his arms raised high in victory. Instead, it was as if the fourth round never ended, with the "Eagle" sprinting towards Conor's corner and leaping over the cage. A barrage of attacks followed immediately.
Unfortunately for the Bellator welterweight, Dillon Danis found himself in a controversial moment being attacked by Khabib. Inside the octagon, the chaos continued with McGregor making it back up to his feet, only to be attacked by at least two members of Nurmagomedov's team.
McGregor was shown taking a shot to the back of his head, but other footage revealed later that McGregor was the first one to throw a punch. Either way, it was very unprofessional and not a good look for either side.
The UFC has become somewhat of a soap opera in today's world, so we would have to be fools to truly believe that a rematch between these two won't happen in the future.
Is Khabib likely to face Mayweather before that happens, though?
Is Mayweather vs. Nurmagomedov a Realistic Prospect?
Now that we're all caught up on the drama that unfolded a few weeks back, let's focus on Khabib and Floyd.
It was back in 2016 when rumors of the first "super fight" between Conor McGregor and Floyd Mayweather startling swirling around. Fast forward a year later to the summer of 2017, and the million-dollar fight actually happened.
It ended with Conor losing in the tenth round due to TKO, but no one knew what to expect, and it was entertaining as hell. To me, the entertainment standpoint came from the fact that leading up to the fight, Conor kept creeping up with some favorable odds on his side.
Not long before the fight, both fighters went on this horrendous tour to promote their super fight with live shows in Los Angeles, Brooklyn, Toronto, and London.
Every tour sold out, but it got pretty raunchy at times.
Both Floyd and Conor reached a new low during the pre-fight circus. They quickly got personal, and you could even argue racist. If Khabib were to form a plan on how to act in the run-in to this potential Nurmagomedov vs. Mayweather fight, it should be to do the complete opposite of what McGregor and Floyd did.
But could Khabib vs. Mayweather REALLY happen?
It was Khabib who initially threw out the challenge to Mayweather, who accepted almost immediately.
Both fighters have a few hurdles to leap over first, though.
Mayweather has the option to face Manny Pacquiao or Canelo Alvarez again. If you ask me, I'd rather watch Floyd fight Khabib. It's fresh, it's interesting, and we all know that it'll sell.
I wanted to see the first fight between Manny and Floyd back in 2010, not in 2015, and I definitely don't want to see an older Pacquiao have a rematch with Floyd, either.
The money man already has a victory over a young, green Canelo Alvarez, but a rematch with the Mexican superstar would not be smart in my eyes. In terms of the payday, yes, but Canelo would steamroll Floyd with the way he's been fighting lately.
For the sake of your 50-0 record, stay away from Canelo, Floyd.
Here are some of my final thoughts before we head into the breakdown of both fighters.
I'm all on board for this fight. Dana could be on national TV and repeating a million times that this fight won't happen, but let's face it: money talks.
If Floyd really wants to do this fight, I don't see how Dana says no. Especially as Khabib threw out the challenge first.
The only reason that would prevent Dana from pulling the trigger would be because he doesn't think Khabib would stand a chance.
For that reason alone, if true, Dana would do whatever he could to avoid this fight.
Putting the suspension aside, my only concern about a super fight this time around is the fact that Nurmagomedov isn't really a marketable guy.
I could be wrong, but I haven't seen it. His last fight sold out, but you could argue that the majority of those people were drawn in by Conor. The Irishman sells out PPVs. Floyd sells out PPVs. Khabib… I'm not sure if he's at that level. At least not yet.
I know Russia is the biggest country on the planet, but is Khabib enough of a household name to have thousands of Russians fly in from Russia to Vegas to attend this fight with Floyd? Probably not.
I also can't see a world tour with these two if this fight were to happen. ESPN does have an exclusive deal with the UFC for their Fight Pass and for their paid subscription, so this would be a huge deal for both sides.
Mayweather Fight Record and Fighting Style
Assuming this fight happens within the next year or two, let's break down both fighters' win/loss records and their fighting styles.
Floyd Mayweather has 49 wins over professional boxers under his belt and one win over the current MMA superstar McGregor. He will look to add a second victory against a mixed martial arts specialist in the boxing ring.
Mayweather is known for his defensive counter-puncher style. He is excellent when it comes to getting into the heads of his opponents and making them pay for it in the ring.
He's patient when it comes to choosing his shots. Throughout the years, this hasn't sat well with the fans, but Floyd sees this from more of a "business" standpoint.
Mayweather is all about winning as efficiently as possible, so you won't see him trying to get into a brawl.
It's always the same stance that's won him 50 fights. Standing on the side of the fighter, left foot forward with his legs spread to keep his balance.
Floyd keeps his left arm low to protect his body, and he always keeps his chin tucked in behind his left shoulder. It's frustrating for his opponents because he hardly leaves any area for the opposing fighter to attack. Even when they start their attack, Floyd is always ready to make them pay.
His boxing I.Q. is on another level. It's like Julio Jones challenging LeBron James to a one-on-one basketball game. Sure, Julio Jones might have superior athleticism, but it's a different situation when you step into another world with one of the best in the game.
Floyd's patient when it comes to ducking away from harm and uses very little foot movement when dodging his opponent's shots. That's something that has served him well in the past, but it might not be as effective against the aggressive Nurmagomedov.
Nurmagomedov Fight Record and Fighting Style
The 30-year-old Russian shares something with Floyd. They're both undefeated in their respective sports.
Khabib now owns an undefeated record of 27-0. Eleven of those wins were in the UFC. The remaining were from other promotions and his amateur bouts.
Just like we saw in his previous fight with Conor, Khabib is a takedown and wrestling specialist. His endurance is at an elite level as well.
This is a fighter that has no issue standing toe-to-toe with his opponent and trading bombs in the middle of the octagon. But we've also seen the patience and skills that have helped the Russian claim his way to the lightweight division in the UFC.
He'll start picking his opponents apart with brutal body shots, kicks, and turning the opposing fighter's face to hamburger meat. If that doesn't work, his grappling skills will wear anybody out, and his opponents will find themselves tapping out or passed out.
If you need any more convincing on his unique style, Khabib Nurmagomedov set the UFC takedown record for a single fight with 21 takedowns. That's insane.
As much as I enjoy watching Nurmagomedov beat up on his opponents, though, I don't think it's very wise of him to take this fight with Floyd.
Mayweather vs. Nurmagomedov: Does It Happen and Who Wins?
I'm actually going to say that this fight does happen sometime in the future.
Why do I think that? Simply because of money.
Seeing and hearing Nurmagomedov speak, you can tell that he's a very serious guy when it comes to fighting, and he's even more serious when it comes to his ego and reputation. But I'm not going to sit here and believe that he won't take this offer if there's life-changing money involved.
Just look at the results of the fight with McGregor and Mayweather. Floyd knew he was going to win, and so did everybody else watching. Even Conor knew his chances of winning were slim, but he was all in it for the money.
Another reason why I believe this is a real possibility is because Dana was acting the same way in 2016 and early 2017 before the announcement of Mayweather vs. McGregor was made. He kept preaching about how Tony Ferguson was the next man up against McGregor.
That's exactly why I'm not buying anything that Dana says. Not with Mayweather claiming that it's happening. There's got to be some contact going on between the two camps at some point.
Khabib is certainly not shying away from anything. He went to his Instagram and posted a video to initiate the fight.
"Hey, let's go, Floyd. We have to fight now. 50-0 vs. 27-0. Two guys never lose. Let's go. Why no? Because in the jungle, only one king. I am the king because he cannot drop McGregor, but I drop him easily."
Now, if you ask me, those sound like fighting words right there.
Assuming this fight happens, then how would it pan out?
If it's under Mayweather's rules, I don't really see how he loses. Floyd will not get into trading blows with an MMA fighter, as that's never been his style.
Khabib will probably come out swinging early on, though, and then gas himself out. This will allow Floyd to just toy with Khabib until he sees the perfect opportunity to put this bout away.
For those of you who love the betting numbers, Mayweather is already leading the way, opening up as the 20-1 favorite at -2000.
Summary
Just like the last time, this situation is ultimately in the hands of Dana White and the UFC.
As a fight fan, I'd rather see Khabib serve out his suspension and return to the octagon to defend his title against Tony Ferguson, but at the end of the day, this is a money-driven machine.
Talks about this fight are going to heat up all the way into next year until Khabib's suspension is lifted or he works out something with the Nevada Athletic Commission allowing him to fight in Vegas, since that would be Floyd's preferred spot.
If Floyd was serious about making double the money compared to what he first made with Conor, then look for this fight to be announced mid to late 2019 and take place in early 2020. That's my prediction on this whole situation.