Hide Bonus Offers
| | | | | |
| --- | --- | --- | --- | --- |
| #1 | Bovada Sports | 50% Up To $250 | Visit Site | Bovada Sports |
| #2 | BetUS | 125% Up To $2,500 | Visit Site | BetUS |
| #3 | MyBookie | 100% Up To $1,000 | Visit Site | MyBookie |
| #4 | Everygame | 100% Up To $500 | Visit Site | Everygame |
| #5 | BetOnline Sports | 60% Up To $1,000 | Visit Site | BetOnline Sports |
An Introduction to Pachinko – Japan's Favorite Gambling Game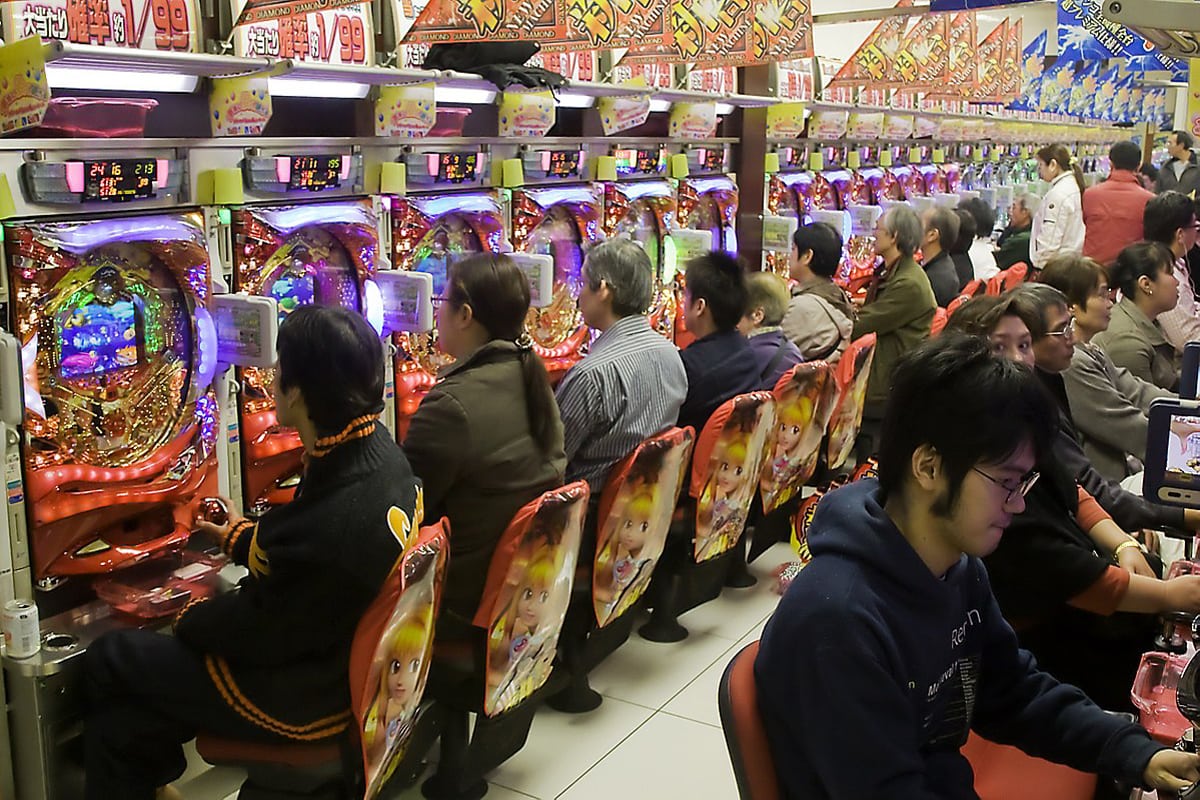 Pachinko. Japan's most popular game but a word that means little in the West.
Almost no one I know of has heard of pachinko, let alone tried it.
Could that have something to do with the fact that you need balls of steel to play this game?
No, seriously. Pachinko is literally played with little steel balls that are inserted into machines that resemble a slot/pinball machine hybrid.
These machines — that you can access in parlors around Japan — are known as "pachislo" or "pachislots," and you can win more balls than you put in.
These balls can then be exchanged for prizes. If you're not too keen on the prizes, then you can swap them for cash.
You can't directly win cash playing pachinko due to Japan's strict gambling laws, which I'll get into a little later.
With 1 in 10 Japanese people playing the game on a regular basis and generating more gambling revenue than Las Vegas, Singapore, and Macau COMBINED, pachinko is a big deal.
Would you like to find out why? Let's take a look, starting with how pachinko is played.
Pachinko – How Does It Work?
Picture the scene.
You're in central Tokyo, absorbing the serene beauty of the city before you wander into a pachinko parlor.
Rows and rows of men and women sit in lines, slamming thousands of steel balls into bright, loud, flashing machines in order to win more… balls. So, it's almost like playing slots, but without the cash.
Each ball is typically worth 4 yen (around $.35), and players deposit around 500 yen into a machine at any one time for 125 balls. The more balls you win, the more prizes you can collect. Or you can just play for amusement.
Balls are shot vertically into the machine from the handle located in the bottom right corner of any pachinko device.
If a ball falls into the "Start Chucker" on the pachinko board, the screen located in the center of the machine will animate. Now, there are a few different things that can happen here, with small bonuses won or even the chance to win the jackpot.
Most modern machines have this kind of setup, especially when it comes to the jackpot. If you win the jackpot, a large hole will open in the center or to the right of the machine, and you will essentially receive a ton of balls.
From here, you will be declared the "King of the Balls!" and everyone is obliged to jump up and do a little dance for your coronation…
Yeah, that doesn't really happen. But you have to agree that it would be hilarious to watch.
How About Them Prizes?
So, yeah, prizes. Want to hear more about the prizes? Sure you do.
Okay, so this is how it works — the balls you win are fed into a machine that prints a ticket. Then, this ticket can be exchanged for prizes. These prizes can then be exchanged for cash at places that are not overtly connected to the parlor you are playing at.
It gets even more interesting. You can actually exchange the tickets for cash, providing that transaction is not completed on the same premises that host the machines.
There is a very logical reason for this.
You see, most forms of gambling for cash are still illegal in Japan.
Things like lotteries and some forms of sports betting are legal, but casinos and slot machines are not. But a ruling by the Japanese government in 2018 has changed things forever.
By the mid-2020s, the "Land of the Rising Sun" will have its first set of casinos, which will bring it more in line with places like Las Vegas and Macau. Pachinko parlors, machine designers, and anyone else with a financial interest in the game is naturally a little worried about losing revenue as a result.
Still, this game is crazily popular, so would it be wiped out by the arrival of slots, roulette, poker machines, blackjack, and the like?
Hmmm… well, pachinko did kind of die off in Japan once already.
The History of Pachinko
You're probably reading this thinking, "These Japanese guys sure know how to make crazy games." The funny part of pachinko is that its origins can be traced back to the good old U.S. of A.
Chicago, to be exact.
In the early 1920s, Corinth, the antecedent of pachinko, was developed in the "Windy City." This was around the same time that famous bootleggers and gangsters such as Al Capone, "Lucky" Luciano, and Arnold Rothstein were doing their thing in Prohibition-era Chicago.
Well, if you can't have a drink, you have to find something else to do, right?
I probably would have found a way to sneak in a quick whiskey, but who are you to judge?
Anyway, Corinth, based on the 18th-century bagatelle, was developed to entertain children. In fact, pinball can also be traced to bagatelle and is considered as a kind of cousin of pachinko.
Corinth replaced the wooden pegs of bagatelle with brass nails and made a couple of other adjustments. The game was very popular for a while, even finding its way to Japan.
Korinto Gemu
In the 1920s, a new game appeared in the Far East.
This game was known as "Korinto Gemu" in Japan, a name that translates to "Corinthian bagatelle."
Early versions of "Korinto Gemu" appeared in children's candy stores as a means to keep them entertained. Well, there was a sneakier reason to keep them in the store, obviously, and that was to buy more of the sweet stuff.
The game slowly evolved and became known as "Pachi-Pachi," which references the onomatopoeic sounds that the machines made.
Unsurprisingly, the game took off and developed as the years went on. Surely, many of the kids who had now grown into adults would have looked back at the simpler versions of the game the same way we do with Ataris, the Sega Mega Drive, and Super Nintendo.
The Rise of Pachinko
By the 1930s, "Gachinko," an early version of pachinko, was developed.
The Japanese manufacturers of the game had borrowed heavily from the British game "Circle of Pleasure" as well as adding a few modifications of their own.
One of the things that they had inherited from the "Circle of Pleasure" was an efficiency with space. In other words, they made the machines smaller so that they could stack more of them into any parlor or area that hosted players.
Perhaps the most remarkable improvement was that the game was turned upright. No longer was it marketed to kids in candy stores but to adults in parlors.
Now, with ball shooters, bumpers, and flippers, the game was looking more like a closer ancestor of pachinko. Small tokens and medals were presented to players who had done well in the game, with prizes available to the luckiest who had hit jackpots.
Metal machines then replaced the old, wooden upright ones. However, with the Second Sino-Japanese War and World War 2, most of the pachinko machines were scrapped to aid the Japanese military.
The game pretty much disappeared until the late 1940s and saw another evolution around this time. With a surplus of metal ball bearings in the country following World War 2, these balls found an unsurprising home.
In 1948, the "Masamura gauge" was added to increase the chance of winning at better odds. As time progressed, more enhancements were added. Arguably the greatest of them all was the digitalization of the machines in the 1980s that fell in line with the video game craze of that decade.
Pachinko – A Game of Luck or Skill?
Given that pachinko players in Japan spend an estimated $200 billion on the game each year, you would have to think they fancy their chances of winning big.
But how much of this game is controllable? Aside from choosing the machine you play at, is there any evidence that a player can influence the game with skill? Or, just like slots, is this purely a game of chance?
Well, depending on who you discuss this with, the answer to that question might differ. I mean, if you approach the average pachinko parlor owner, you're probably going to be told a different story than the guy that lost everything he had playing the game.
Objectively, there does not seem to be much in the way of skill when it comes to the modern version of pachinko.
Sure, you can blast the balls in at a particular rhythm with two dials on the knob in a specific place, but does this make any difference to your chances of winning? Well, the answer is no.
On the other hand, some machines are said to be "fixed up" by parlor owners to pay out while the majority of others are set to simply take as many balls as they can by paying out as little as possible.
Sure, you can read the thousands of publications, online message boards, and "expert" tips on how to apply the right techniques. Logic dictates that, if these techniques were guaranteed to win, pachinko parlors would go bust overnight.
You can apply particular techniques when aiming the balls towards the center, where the big wins occur. The difference between those balls almost entering that hole and falling into it is monstrously larger than the tiny gap that separates a win from a loss.
If this game was focused on skill, surely the use of mechanics could be forfeited in place of exclusive technology.
Luck > Skill
Most Japanese players will undoubtedly be aware that this game is big business.
Parlors rake in huge sums each year, and the government collects a nice little tax, too. This is made possible by the millions of players who flock to machines in search of that big, lucky win.
And that's the word that truly matters here — luck.
When playing the game, very few players will be applying pachinko betting techniques or pachinko strategies to help them win. The majority will be hoping that Lady Luck strolls into the parlor and sits on their lap, showering them with… balls.
That didn't come out quite as I had hoped.
Anyway, the point is that — just like slot players in the US, the UK, or Singapore — luck is the elemental quality here. Very few slots players walk into a casino concerned with strategy, and if they do, it is usually centered on the type of machine they play, where it is located, and the variance.
With pachinko, things are no different.
Can You Lose Big on Pachinko?
Unlike high risk/high reward games, you probably won't lose a lot of money playing this game. Well, unless you are playing for hours on end.
You would be surprised that many people in Japan do, from what I have found in my research.
These machines are very, very addictive. Most come with bright, flashing lights, loud sounds, and an LCD display that, when triggered, plays mini-games. And, of course, the allure of the clanking sound of winning those small balls is perhaps the most majorly addicting sound.
Can you lose big on pachinko? Sure, you can. It all depends on how much you play the game, I guess. Much like any other game out there, you can only lose as much as you are playing with.
Final Thoughts
In Japan, pachinko is a game like no other.
With over $200 billion spent on pachinko annually, takings for the game make up around 4% of the country's GDP. Crazy stuff.
Sure, the game will continue to evolve as it has done throughout the 20th and 21st centuries, but you have to wonder how much further it can go.
With Japan set to welcome major casinos into the country in the mid-2020s, some believe that pachinko's unique allure could be threatened. Given that the game is simply embedded into the culture and history of the country, it is difficult to see it being wiped out among the Japanese.
Pachinko symbolizes luck and fortune to the people of the "Land of the Rising Sun," and it would take something truly remarkable for that sun to set on the country's favorite game.
But I guess only time will tell.