How Will Stephen Curry Fare at the Ellie Mae Classic?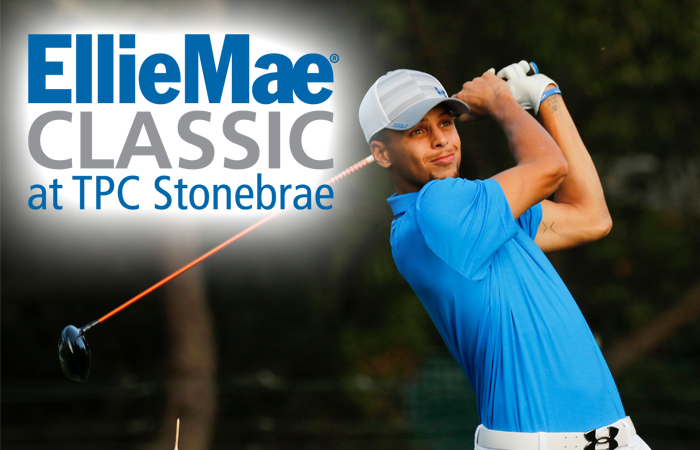 There is a lot of elite golf to be played this summer. As this is written, some of the best golfers are competing to win the 2017 Greenbrier Classic. Not too long after that, we'll be looking at odds and making predictions for even more compelling events like the Irish and British Open.
Come August, we might simplify things a bit and have some fun when the Ellie Mae Classic arrives. While not a prestigious event to track for die hard golf enthusiasts, the 9th annual Ellie Mae Classic is still a ton of fun and this year will give Golden State Warriors star point guard Stephen Curry a big stage to show his golfing talents, while making money for charity.
Overmatched?
Curry has gained entry into the 2017 Ellie Mae Classic due to a special sponsor exemption and he will battle some of the top rising golf talents on the Web.com Tour when the event goes live at TPC Stonebrae.
Needless to say, there's no guarantee he fares well here. Most of the players on the Web.com Tour are PGA Tour hopefuls, are quite good and/or have loads of golfing experience at a high level. The same can't be said for Curry, who is a huge fan of golf and enjoys playing, but spends much of his time trying to dazzle opponents in the NBA.
Last year we saw Germany's Stephan Jaeger come away with first place, while big PGA names like Tony Finau (2014) and Kevin Chappell (2010) have won here, as well. For frame of reference, Finau later took his talents to the next level and in 2017 alone has three top-5 finishes on the PGA Tour. Chappell has been even better, as he actually won this year's Valero Texas Open and finished 7th at The Masters.
That begs the layered question; will the star Dubs guard embarrass himself in the name of charity, or will he prop up a golf future beyond his hardwood days?
Stephen Curry Prop Bets
While it will be interesting to see how Curry fares when the event goes live on August 3rd, what's even more appealing is the fact that you can win cash betting on how he does. Per top golf betting site BetOnline, there are actually two different Stephen Curry prop bets we can all take advantage of:
Stephen Curry 1st Round Score
The first Stephen Curry prop bet at the 2017 Ellie Mae Classic allows you to wager on how he'll fare in round one. In a report by Business Insider, it's revealed that Curry could have had a golf career ahead of him as his high school's #1 ranked player, while he is also graded well by Golf Digest and even once shot a 70 at the Pebble Beach Golf Links.
None of that means he actually has a career in professional golf or will perform well at the Ellie Mae Classic, but it's enough to suggest that he could. The real question is whether or not it's enough to get you to bite on him being competitive to get the ball rolling in round one. BetOnline sets his Over/Under for strokes at 82.5 for the first round:
Stephen Curry Round 1 Score
Prop Bets
Over 82.5 Strokes
><
-135
Under 82.5 Strokes
><
+105
To put Curry's opening-round strokes in perspective, Jaeger shot a record 58 in round one to get things going in 2016. He'd go on to win, but that's obviously a long ways off from where BetOnline has Curry starting out.
Considering how low his betting line is, it's at least mildly surprising that we're not getting a lot more value in betting the Under here. That would mean Curry performs a little better than expected and possibly even is among the top performers in round one.
The par is set at 70 at TPC Stonebrae for round one and that does feel a bit ambitious for Curry, as he simply isn't as experienced as most of the other golfers here. He could shock, but considering the talent at this level and how unproven Curry really is, the safer bet is the Over.
Pick: Over 82.5 Strokes (-135)
Will He Make the Cut?
The other bet is whether Curry makes the cut. Assuming he struggles in round one like we're betting he will, he's going to be very much behind in trying to make the cut. Here's his odds, per BetOnline:
Does Stephen Curry Make the Cut?
Prop Bets
Obviously BetOnline isn't a fan of Curry's upside and if you go with our logic on how he could start things out, he's probably not a great bet to go the distance. Still, he could get off to a shaky start due to nerves, the talent pool, rust – or whatever excuse you want to use – and then his natural talent could eventually kick in.
Curry can golf; we know that. The only question is once he calms down and really dials it in, can he actually hang with some of the best PGA Tour hopefuls this tourney has to offer? Probably not, but we get zero value betting against him here. We don't love his upside in round one or the tourney as a whole, but the value with Curry is too great to ignore. I'd either flat out avoid this bet or just swing for the fences and hope he scrapes by well enough to stay in this thing past the cut.
Whether Curry deserves to be here is one conversation, but debating whether or not it's kind of cool that a star athlete from another sport gets to test his ability in another sport against high level talent isn't under discussion; it's simply awesome.
We'll surely be tuning in for the 2017 Ellie Mae Classic, if only to see how Curry holds his own and to see how this "yes" bet lands. If it misses, big deal, we got to see Curry try his dream at a high level and got entertained in the process. If he makes the cut, though, we all could be cashing big money, depending on the bet.