Hide Bonus Offers
| | | | | |
| --- | --- | --- | --- | --- |
| #1 | Bovada Sports | 50% Up To $250 | Visit Site | Bovada Sports |
| #2 | BetUS | 125% Up To $2,500 | Visit Site | BetUS |
| #3 | MyBookie | 100% Up To $1,000 | Visit Site | MyBookie |
| #4 | Everygame | 100% Up To $500 | Visit Site | Everygame |
| #5 | BetOnline Sports | 60% Up To $1,000 | Visit Site | BetOnline Sports |
How to Pick Underdogs in March Madness Games

There's a reason why NCAA Men's Division I Basketball Tournament is called March Madness. The best college teams in the country face each other in a wild shootout until a champion is declared.
The desire to fight for the ultimate prize in college basketball and the competition's knockout format often lead to surprising wins.
That opens the door to some great betting opportunities if you know how to pick underdogs during March Madness.
I share my best tips on recognizing the teams that might upset the odds in this post.
Before I proceed to my strategies, let me clarify something real quick. Betting on March Madness underdogs is not easy. Even if you do a good job, you might still end up losing.
That's why I recommend you to look for more than one of the factors I discuss below. The more of them are relevant, the higher your chances to win.
Form Going into March Madness Is Important
One of the most obvious factors is to check the form of the teams going into March Madness first. Even the best NBA franchises have their weak moments, so it's only natural to expect the same from younger athletes.
The conference tournaments that usually take place at the beginning of March are an excellent start to your preparation. If the favorite underperformed, that might be an indication of a slump.
Some teams buy their own hype and then pay the ultimate price, while others simply can't handle the pressure that comes with the "favorite" tag when it matters the most.
At the same time, we've often seen how colleges that are weaker on paper slowly improve during the season and peak when the conference tournaments and March Madness arrive.
When such teams gather enough momentum and confidence, they can beat almost anyone.
There's a good argument that UMBC's historic win over Virginia was at least partially the result of that. The Retrievers won the America East Tournament and that gave them the belief to knock out the strongest team in the country.
Of course, there were plenty of other factors that contributed to this shocker, but confidence always plays a huge role and that's where you should start when picking March Madness underdogs.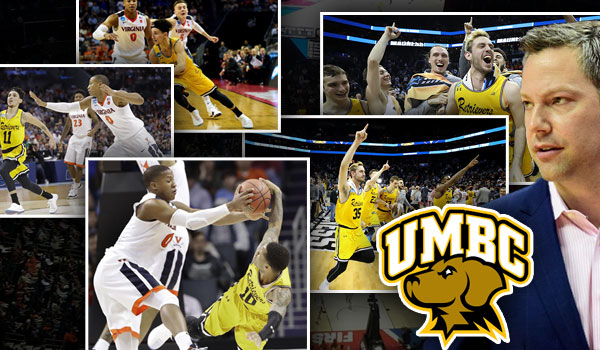 Favorites Relying on Three-Pointers Are Vulnerable
One of the goals of college basketball is to prepare young players for the NBA.
Since the professional league has seen a rapid increase in outside shooting recently, it's only natural that we see the same tendencies in NCAA games.
Many college basketball teams live and die by three-pointers which can be a problem in March Madness due to the single-game format.
March Madness is not a best-of-seven series like the NBA Playoffs. One bad night can see a team out of the tournament, and teams that rely mostly on threes can easily have a bad night.
The increased volatility that comes with such an offense creates good conditions for surprises. Favorites that are shooting a lot from downtown are more likely to underperform, while underdogs who do the same have a higher chance of punching above their weight.
If both are true, that's definitely a game to consider when picking March Madness upsets.
Underdogs with a Strong Defense Are Dangerous
Any team with a strong defense could be tough to beat, especially in one game. Underdogs who excel on that end of the floor can upset anyone during March Madness.
Let's take a look at the numbers from March Madness 2018 and March Madness 2019. Here's what they show us.
18 Underdog Wins: I consider a team an underdog where the difference between the seeds of both sides is larger than three.
12 Cases of the Favorite Scoring 65 Points or Less: The top sides were held to 65 points or less in 66% of the upsets and they were held to 60 points or less in 7 of those games too.
4 Cases of the Favorite Scoring 70 or More: Only four times in these two seasons a big team was beaten after scoring 70 or more. No favorite that lost scored more than 76 points.
As you can see, keeping the opposition at bay has been part of the blueprint. You should definitely look for March Madness underdogs that can do that.
Checking the specific matchup can also help you in this direction. If a favorite with a strong backcourt faces a team known for its perimeter defense, that's a good start.
That's only one obvious example, but if you go the extra mile to evaluate both rosters properly, you might find such key indications of a potential surprise. The official NCAA website has an excellent section with stats that can help you prepare.
Injuries and Depth Have a Major Impact
Finally, let's talk about injuries and depth.
Most of the favorites have a player or two that simply can't be replaced because of their influence.
It could be a point guard that's running the offense, a juggernaut under the rim, or an elite lockdown defender who usually takes care of the opposition's star.
Missing a player of high caliber can be a huge problem at March Madness, especially if the team also lacks the depth to make up for that.
It's also worth considering that any college that's relying on a small group of players is always risking elimination if a few of them have a bad game on the same night.
Since March Madness comes with a lot of pressure, these things happen reasonably often.
Make Your March Madness Upset Picks Carefully
The most important factor when picking underdogs during March Madness is to be able to picture how the weaker side can win. If there are some plausible scenarios and the odds are high enough, you should go for it.
There are two options when you feel you've found a potential surprise in the NCAA Division I Men's Basketball Tournament. The safe one would be to bet against the spread, but the odds will be around the -110 mark.
That's the better decision when you feel like the underdog has a fighting chance, but you're not fully convinced that a surprise might happen.
If you feel confident that the favorite is about to go down, though, you should take the more adventurous path and place your wager on the outright win for the weaker side.
I hope that my tips on how to pick underdogs during March Madness have been helpful. If you want more gambling advice, I recommend you to check our betting guide for the tournament.
We also have a college basketball betting picks section where we publish our predictions throughout the season and during March Madness.