Hide Bonus Offers
| | | | | |
| --- | --- | --- | --- | --- |
| #1 | Bovada Sports | 50% Up To $250 | Visit Site | Bovada Sports |
| #2 | BetUS | 125% Up To $2,500 | Visit Site | BetUS |
| #3 | MyBookie | 100% Up To $1,000 | Visit Site | MyBookie |
| #4 | Everygame | 100% Up To $500 | Visit Site | Everygame |
| #5 | BetOnline Sports | 60% Up To $1,000 | Visit Site | BetOnline Sports |
How to Make Money Betting on the Preakness Stakes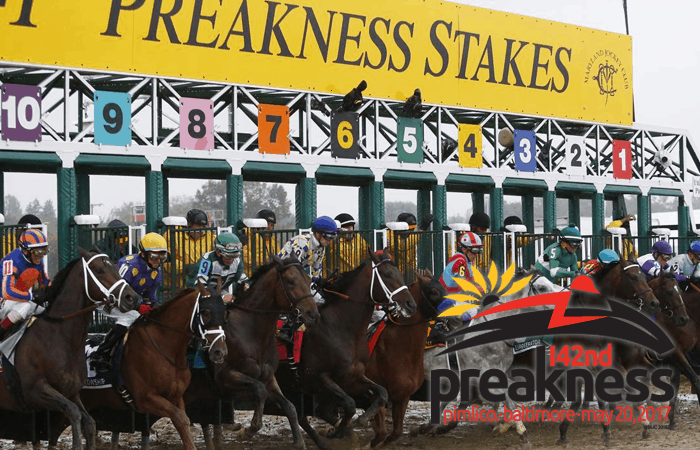 One of horse racing's biggest yearly events arrives shortly, with the Preakness Stakes hoping to deliver an encore after the always exciting Kentucky Derby. Whether you're backing one of the top favorites or gunning for a deep sleeper to win big, the Preakness Stakes makes for great entertainment and an awesome betting experience.
Of course, the big question every year is which horse will win and how can we, as bettors, turn a profit? While we can't hand you the exact winner every single time, we can certainly nudge you in the right direction and remind you of some useful tips to picking horses to win, place or show at the Preakness Stakes.
To get you revved up for the big race, let's rehash some Preakness Stakes betting tips to make sure you have a chance to exit in the green ahead of the Belmont Stakes:
Learn the Field
Ahead of anything else, you're going to want to know what you're doing. A huge part of that will be knowing all the prospective horses that could race at the Preakness Stakes. This almost always means whatever horse won the Kentucky Derby, some of the top contenders in that race and other top contenders that chose to sit out the Kentucky Derby.
How horses run on different tracks, how they perform in bad weather and how they've fared against stiff competition can help you decide how to bet. Knowledge about horse pedigree, ownership, training jockeys, talent and running style all play a big hand in how you should bet, as well.
You can certainly make bets without knowing a single thing about the specific horses or horse racing in general, but if you want to win, that isn't a desired strategy. Eliminate luck and bad bets – just like with all sports betting – by doing the research yourself and seeing what the top horse racing experts think.
Learning the field each year can solidify the odds on favorite for you, elevate a secondary challenger or make a deep sleeper a hard "all in" bet.
Tip: Fast starters can get an early leg up at the Preakness Stakes, which is the shortest race in the Triple Crown.
Note the Odds
The next step toward making money at the Preakness Stakes will be finding the most updated Preakness Stakes odds. This can be a good initial indicator of where each horse stands. Obviously, the exact location of where you place your bets will solidify the odds for you, but even before you head to Vegas, go to Pimlico Race Course or find your favorite online Preakness Stakes betting site, you're going to want to formulate a plan.
That plan will ideally include a finalized field, final post positions and the most updated odds. Once you have all the information together and what the odds are, you can lean hard on a favorite or have you more open to taking a shot on a sleeper.
Bet Early
Betting early is an option for a lot of races, as you can often place bets months in advance. This is obviously not usually the case at a race like the Preakness Stakes, as it comes just two weeks after the Kentucky Derby and typically has a more concentrated field.
In other words, nobody has a clue which horses will even make the cut for the Kentucky Derby for the longest time, so figuring out which horses will bleed into the second leg of the Triple Crown is a waste of time.
Regardless, you can still bet early on the Preakness Stakes by locating odds the second they come out (following the final results of the Kentucky Derby) and if you act fast, that puts you a good two weeks ahead of the final Preakness Stakes odds.
This can understandably backfire with horses backing out due to fatigue, poor performance or injury, but it also can inflate odds that a week or two later won't be nearly as good. Betting early carries some risk, but depending on the bet (and how much), it can be one of the most profitable plays ahead of one of the biggest horse racing events of the season.
Locate Value
Betting early doesn't mean you need to stop betting or put up all of your allotted cash in one sitting. That's never a good move in the betting world, and it certainly doesn't become one here. The volatility of early betting demands you to be somewhat careful, while the value you can find by waiting can often be just as alluring as betting right when odds first come out.
Odds can dip considerably for some of the deeper sleepers we might have our eye on, while some Preakness Stakes betting sites might take a little longer than others to issue their own odds for the race. This all plays into the waiting game, and also is a big reason you always want to hunt for value.
If you haven't noticed in the past, most online sports betting sites stay roughly around the same odds, but that definitely isn't always the case. Searching for the right odds at the right side can give you much more playability on different bets, depending on where you're coming from and what you want to do.
Ultimately, value is key in all betting, as merely betting blindly on a favorite (even if they win) is either going to be risky or not overly rewarding. Sometimes a horse racing favorite will return bad odds (-110 or EVEN), which makes it a heavy favorite depending where the rest of the field grades out. That takes a considerable investment to make betting on that horse worth your while.
You can still do that, but a great idea is to first find the site that offers the most upside in terms of odds for the favorite, as well as the best overall odds for the rest of the horses. Finding that value can increase the payout of your bet, simply by picking the right site and targeting the right horse.
Past Success
That part about "targeting the right horse" is forever tricky, as sleeper horses can emerge out of nowhere, bad weather can complicate things for a heavy favorite or a nagging injury can slow a horse down. There are always going to be hidden variables we can't see, but hopefully the time spent on learning the field (priority number one, as we discussed) clears most of that up.
That can include tracking past success for owners, trainers and jockeys at most events, and that naturally should include the Preakness Stakes. You never want to bet strictly off pedigree or past results from people who owned, trained or rode horses that aren't the horse you're betting on.
While true, you also don't want to completely ignore data like that, either. For instance, Todd Pletcher is a renowned horse trainer and he's had a ton of success at the Kentucky Derby and other high level horse racing events. However, as of 2017, he hadn't yet won at the Preakness Stakes.
Does that mean Pletcher for whatever reason hasn't figure out how to correctly train a horse that can go the distance or win multiple high level races consecutively? Perhaps, but on the other angle of that argument, we also want to consider the "they're due" narrative.
In other words, we want to know everything we can, but not lean on any one piece of data/evidence harder than the rest.
Diversify Your Options
This might be the top thing to take away before you bet on the Preakness Stakes. As fun as it is to ride the favorite or target that one sleeper horse you're enamored with, the best play going into horse races is to give yourself multiple outs.
You can do that by conducting a variety of bets, or simply hedging your bets by betting on a handful of horses. While you want to consider all options and cover as many bases as possible, you don't want to bet on every horse or get carried away here. Hedging and getting careless can quickly go hand in hand, so we always want to avoid taking every single flier there is to act on.
Instead, learn the field, locate the best odds that promote the most value, mix up early and late bets and make firm decisions on which horses you truly feel can make a run at first, second or third place. Once you have your select options, you can move ahead with some big, firm bets that – if correct – will reward you handsomely.