Hide Bonus Offers
| | | | | |
| --- | --- | --- | --- | --- |
| #1 | BetOnline Sports | 60% Up To $1,000 | Visit Site | BetOnline Sports |
| #2 | Bovada Sports | 50% Up To $250 | Visit Site | Bovada Sports |
| #3 | BetUS | 125% Up To $2,500 | Visit Site | BetUS |
| #4 | Everygame | 100% Up To $500 | Visit Site | Everygame |
| #5 | MyBookie | 100% Up To $1,000 | Visit Site | MyBookie |
How to Find Your Way Around a Casino Sportsbook

You've seen them every time you've visited Vegas. Numerous excited football, baseball, and bowling fans clustered in an area of the casino that boasts big-screen TVs, all of which are turned to NFL, MLB, and NBA games (depending on the season), as well as several of the world's horseracing tracks.
You'll also see NASCAR, tennis, cricket, and many other sports on the big screens.
You are tempted to enter, to see what all the excitement is about, but you have questions. Can I go in without placing a bet? If I want to place a bet, how do I do it? Do I need reservations?
Here are the ins and outs of visiting casino sportsbooks, in Las Vegas and beyond.
A Typical Vegas Sportsbook Layout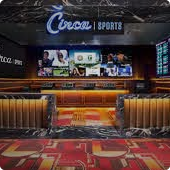 In almost every sportsbook you will find the following features.
Televisions streaming live sports from around the world
General seating
Cashier
Some sportsbooks also have individual seats with their own televisions for horse racing bettors.
Seating in sportsbooks is nearly always "first come, first serve." Generally, this is not an issue. Even in what is currently the largest and most buzz-worthy sportsbook, the Circa in Las Vegas, you can find a seat.
However, there are exceptions.
Super Bowl Sunday
On Super Bowl Sunday, some fans will arrive at the sportsbook eight hours before the game to stake out their front-row seats.
If you arrive close to game time on Super Bowl Sunday, you will likely not even be able to wedge yourself into standing room. Yes, it's that packed.
Why do people prefer to watch at the sportsbook rather than from home? Two reasons.
First, until the recent advent of legal online sportbooks, you had to take your cash into the casino in person to place your bets.
Secondly, the energy in the sportsbook is exuberant, happy, uplifting. Your reactions to the game are multiplied by your fellow spectators.
UFC Fights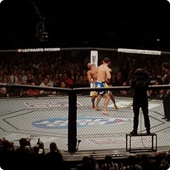 No one expected the UFC to take off like it has.
As recently as the early 2000s the organization experienced difficulties and struggled to stay alive.
Now, however, many fights are standing room only, and only if you get there early enough to claim a one-foot square of floor space.
Think about it. If there is something that you want to see, chances are that others feel the same way.
UFC betting is hugely popular, so the sportsbooks will be busy.
College Sports
Now that betting on college sports is legal, you'll find college games on the sportsbook screens, usually with fans of those colleges watching the games.
Oregon Ducks should give you no trouble as you look for a seat. Crimson Tide? Better get there early.
The Sportsbook Cashier
First, let me say that cashiers at sportsbooks tend to be quite friendly.
Most are willing to explain bets, up to a point. It pays to learn a few of the most basic bets before arriving, though.
The moneyline is the simplest bet. Choose a team to win the game, or a horse to win the race, and put down some money. Ask the cashier what the odds are. If, for example, the odds on the Raiders to win a football game are +150, then you will win $150 if you bet $100. You will be handed $250 (your initial bet + your winnings) if the Raiders win the game.
Point spreads are almost as easy as betting on the win. Let's say that two football teams are facing each other on Sunday. One of them has been winning every game, while the other has really been struggling. The statisticians at the sportsbook have decided that the better team will probably win by 10 points. You can bet on that team to "beat the spread," which means if the team wins by 11 or more points, you win that bet.
Prop Bets are side bets that are not based on the outcome of a game. For instance, you can bet on the coin toss at the Super Bowl. Will it be heads or tails? You can bet on the length of the National Anthem (Over two minutes? Under two minutes?) You can bet on which celebrities will show up to the game, etc. These are among the most fun of all the bets available.
Note that you don't HAVE to bet at casino sportsbooks. Typically, they don't require you to bet in order to sit down, sip a drink, and watch the game. They are doing their level best to entice customers through their doors, after all.
They know, and it's true, that once you get wrapped up in the excitement of the game/race/boxing match, you will be itching to place a bet or two.
Other Locations with Sportsbooks
It used to be that Las Vegas was just about the only place a person could think of to put some money down on sports.
Of course, there are numerous racetracks throughout the country, where a person can bet on the horses, but for the NFL or college ball? You were pretty much restricted to flying or driving to Nevada.
Now, however, there are sportsbooks scattered throughout the country. In New Mexico, you can find one in the Santa Ana Star Casino, between Albuquerque and Santa Fe. In Mississippi, the Pearl River Resort in Choctaw opened a sportsbook in late 2018.
You can also find a few sportsbooks in Atlantic City, New Jersey. Bally's, the Golden Nugget, and the Tropicana are just a few that have dedicated areas of their casinos for sports betting.
The sportsbooks in Las Vegas tend to be large, dedicated areas within casinos. If you are looking for the Vegas experience elsewhere in the country, you may be disappointed.
Reviews of Atlantic City sportsbooks, for instance, tend to bemoan how dinky and ill-placed are that city's sportsbooks. This may be because New Jersey only recently authorized sports betting, and thus had to quickly "wedge" sportsbooks into pre-existing casinos.
The Last Word
Given the ease and availability of online betting, in-person sportsbooks are going to have to work hard to attract and retain customers.
This can be a good thing, since it gives you options, and it means that bonuses and other "perks" will be aimed your way by both online and bricks-and-mortar sportsbooks.