How to Find Great Sleepers for Your Fantasy Football Draft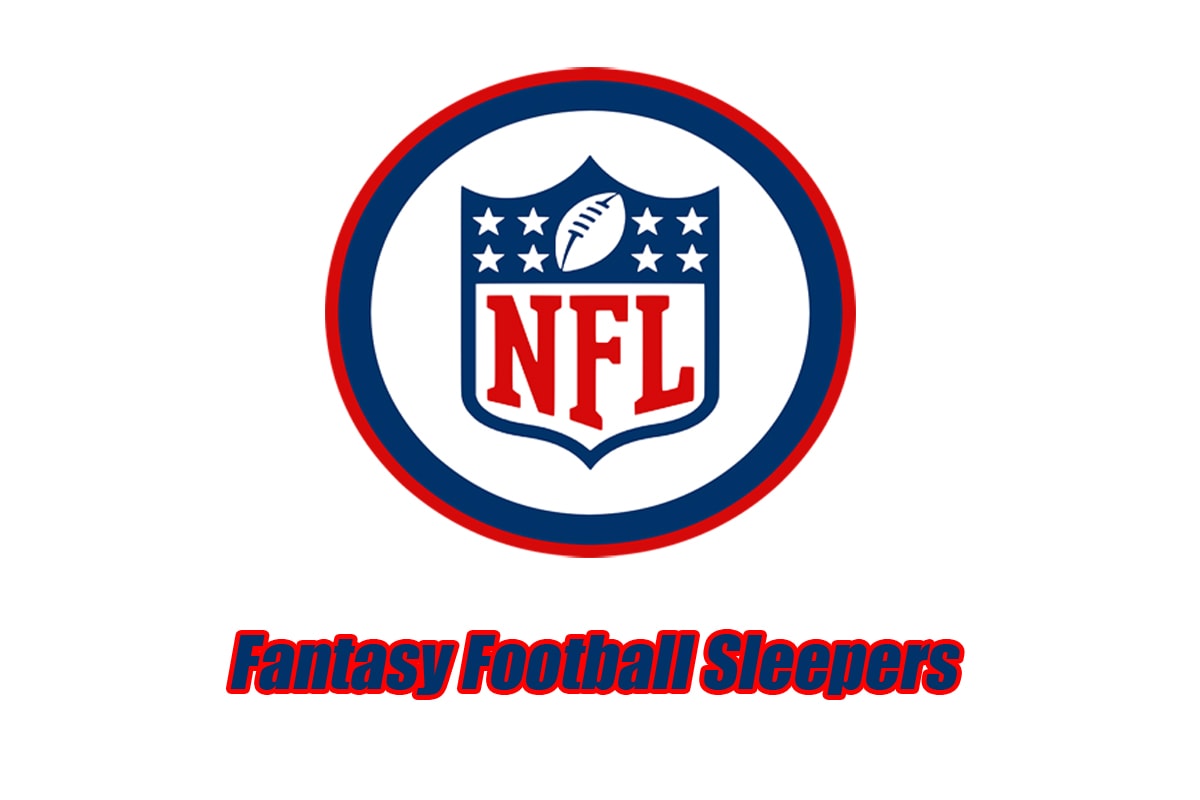 Fantasy sports is a year-round gift from the sports gods.
Thanks to daily fantasy sports specifically, you can risk your cash on a regular basis deep into every single league's playoffs.
Showdown contests and a variety of DFS game types allow for that. It'd probably just be easier to place some bets at the best sports betting websites online, but I fully understand the appeal of drafting real players to perform on your fake roster.
But I really get excited for redraft leagues.
There is always going to be a time and a place for daily fantasy sports; don't get me wrong. However, nothing beats rolling back the sleeves and doing the necessary research to piece together a title-winning fantasy squad.
You can argue for your favorite fantasy sports genre, but studying for a new fantasy football season, drafting well, making the right waiver wire pickups, and ultimately being crowned champion is one of the greatest feelings ever.
Well, knowing how to win at the casino sure has its perks, too.
I'm much more equipped to help you dominate your yearly fantasy football draft, though, so let's stick with that. More specifically, let's focus on the best way to get ahead of the competition: nailing those mid-to-late round fantasy football sleepers nobody sees coming.
What IS a Fantasy Football Sleeper?
I truly believe that fantasy football sleepers come in all shapes and sizes. There can be fantasy sleepers in the early stages, mid-rounds, and of course the late rounds of your fantasy football draft.
Most would agree that a true "sleeper" is an NFL player that is not already a huge star and could be poised for a big year.
I agree with this way of describing fantasy football sleepers, but I think it's also pretty layered. In addition to that sleeper definition, I also view stars who can be had at a discounted price in fantasy drafts as sleepers.
In short, basically anyone that is potentially being drafted later than their talent, role, and/or potential production suggests they should will qualify as a potential fantasy football sleeper.
Sleepers, at least arguably, are as follows.
Players that will out-produce expectations
Lesser known players who will become stars
Quality players you can get late in drafts
High risk/high reward players to take late in drafts
The same, but different, right?
That being said, what a sleeper is to you could be different, and I think the whole thing is pretty subjective.
What a sleeper is not, however, is anyone taken in the first round. Unless, of course, you reach so astronomically high that you do in fact draft a sleeper in round one when you positively should not.
For the most part, though, you're looking at rising or undervalued talent that has a high chance of greatly outperforming their draft range and/or general expectations.
Advice for Landing Fantasy Sleepers
All too often, you have a group of players you flat-out love, and by the time your next pick rolls around, they're gone.
I'm sure this has happened to you. You're on your favorite fantasy draft site, and you load up your queue with all the guys you hope nobody else is enamored with.
As every person takes every second of the allotted time to make their pick, you slip further and further into a deep depression as all of your favorite sleepers come off the board.
It's a maddening development, and it never gets easier. But it happens to us all.
The best way to prepare for that awful run of fantasy sleepers being drafted is to just widen your scope in terms of who you actually like and are willing to draft.
That brings me to my first of many tips for nailing fantasy football sleepers on a regular basis.
Have a Long List of Sleepers You Love
You can't go wrong with a long list of fantasy sleepers. I don't think you should make it as long as possible just for the sake of length, though. There are only so many players that you'll want to draft in a given year.
The goal is to give yourself plenty of options to work with and stick to these two ideals.
Have a long list
Love every player on your list
You are going to have a handful of sleepers you plan on targeting at different portions of your draft. But so will everyone else, and if they're doing it right, the odds are good your competition will be in on the same sleepers you're eyeing.
Accept that and embrace it. Lengthen the list of viable sleepers you want and manipulate their perceived value and your specific draft position to try to get the guys you want the most.
Just don't buy into players you don't feel good about just for the sake of adding more names to the pile. Put in the research, and those sleepers will show themselves.
Manipulating Average Draft Position Data
The best way to start figuring out which players actually fit the "sleeper" label is to scout how fantasy football drafts are playing out.
This involves fantasy ADP (Average Draft Position) and conducting mock drafts. You are going to get a really good feel for how other people value players based on the mock drafts you run through, but that process also produces actual data you can lean on.
Mock your exact draft
Study and monitor ADP
The mock experience will keep you aligned with how your exact draft might play out. There are numerous mock draft websites and fantasy football tools to use to practice this from just about every angle, too.
Nothing is ever going to 100% prepare you for how everyone in your league will draft, but it's the best thing you can do to get ready to dominate your draft. It's also pretty imperative if you want to rack up a bunch of fantasy sleepers.
Mock your draft, take notes on player ADP, and adjust for your real draft.
Ideally, you're going to have a great idea as to how most of your competition views the players you love and when/where you'll want to draft them.
Compile and Research Player Rankings
Another great way to tap into the top fantasy football sleepers every year is to go through all kinds of fantasy football player rankings.
A fantastic idea is to first start with your own fantasy rankings. Once you have a good idea of how you personally look at the player pool for the year, it's time to seek out other opinions.
I wouldn't even just reserve that to fantasy football rankings you find here, or other fantasy expert rankings. To be honest, even the would-be experts are wrong a lot, and there are a lot of people out there that simply don't know what they're talking about.
In a lot of cases, fantasy gamers you find on Reddit, Twitter, and various social media outlets end up being a lot more thoughtful than the pros. Soaking up all of that free information can be key in getting as much information as possible.
Rankings are all about informing and prioritizing, in my opinion. Relying on any one expert's rankings can quickly misguide you, while just combining all of the rankings in some big composite list doesn't tell the whole story, either.
I can tell you that sometimes when I think my rankings are set, I'll go back and disagree with myself. It sounds weird, but ranking one player over the other left and right can quickly get very confusing, and in the end, the difference is not always great in terms of raw production.
That can be part of the process, and it can take weeks (if not months) before you're truly set leading into your draft. This is key, though, because the ranking process helps you decide which players you like over another.
Since you're choosing one player during each turn of your draft and picking them over the remaining players in the draft pool, this ends up being very important.
In the end, all you can really do is use rankings to gauge the players you like and where they're being placed going into the new season. If you love guys that are lower than you think they should be, you're looking at some fun fantasy football sleepers you can target.
Reach and Adapt
Rankings, ADP, and mock drafts are crucial to building a great team through fantasy football drafts. But even a concrete fantasy draft strategy needs to be allowed to reshape itself going into each specific draft.
This is why I really don't have a problem with mild reaches at times. Depending on how you value a certain player or position, you may find yourself in a position where taking a guy 1-2 rounds ahead of their listed ADP is quite necessary.
Even when you're not reaching, be prepared to constantly adapt.
Fantasy sleepers are only sleepers until they're gone. Once off the draft board, they're of little use to you unless you were fortunate enough to get them on your roster.
Tilting over a sleeper that got away isn't something you can afford to do. It's okay to reach for a sleeper you love, and it's okay to be miffed about missing out on one. Nailing the balance between the two notions, of course, is part of the difficulty of mastering each unique draft.
Don't Get Swept up in Rookie Fever
There is a wave of impressive rookies that rolls over fantasy drafts every season. Make no mistake about it; there are absolutely some guys worth reaching for in their first season as a pro.
But all too often, there aren't very many of them.
Historically, quarterbacks, tight ends, and even wide receivers struggle to adapt to the speed, level of competition, and complex systems of the NFL. There will absolutely be outliers that bust out and have a string of big performances or even a strong overall season.
It simply isn't something that is overly predictive.
If you plan on drafting a rookie relatively early (and even if it's later), consider the following criteria before doing so.
Elite talent
Key role
Good coaching and system
Favorable schedule and division
Favorable playing conditions
It's true that you don't always need to be good to produce in fantasy football.
However, the best players in terms of fantasy production really are the top talents in the league. Eventually, the guys that aren't good that are producing are going to lose their jobs, and their production will be meaningless.
You want talented players who offer upside and can get the job done on a regular basis. That's giving you monster potential every single week, throughout the year.
If they're good enough, they probably have a big role. Even if they're not an elite talent, having a huge role early on would be reason enough to show interest, though.
Talent and role are the most important aspects for all fantasy players, but the coaching, system, schedule, and playing elements all contribute to their weekly success.
Veterans of the NFL are easier to gauge, so the talent and role really need to stand out if you're going to trust in a rookie early in your fantasy draft.
It is very rare that you'll feel good about spending a first- or second-round pick on a rookie, but it's not unheard of. I'd just temper expectations when it comes to first-year players. If you're completely infatuated with a rookie and feel compelled to draft them, at least try to get them at a bargain rate.
Ideally, you're taking your stabs on high-upside rookies in the middle or late rounds of your draft. Due to the immense risk you're taking on, it's better to waste less valuable draft picks in an attempt to land that huge rookie sleeper.
You will certainly whiff on a good chunk of those late-round picks, but nabbing that one stud rookie that exceeds expectations immediately can often be worth it.
Hunt for Breakout Stars
While there are always going to be a few stud fantasy rookies to target early (and plenty to rack up before your draft is up), they all come with considerable risk.
There is less risk in using proven data and results to try to project a player already in the NFL. The idea is to use statistics the player has accrued while also analyzing his role in his offense moving forward.
This isn't always a simple process, largely because a lot of players can flash ability and then fail to capitalize on a bigger role the next season.
Still, we can look at offensive systems, player usage, and how they produce in given situations.
As I said before, a huge part of success in fantasy football is talent meeting opportunity. If teams are ready to hand big roles to elite athletes, good things can happen.
That alone should get a number of players on your radar.
Actual production at any point that looks positive can be helpful in your scouting process, while you can also lean on coach feedback, beat writer reports, and progression in practices and preseason games.
You're obviously taking a risk on any potential sleeper you draft just because of the unknown. But there is almost always some type of writing on the wall that certain players are destined to break out.
Monitor Changing Roles and Schemes
The best way to look for these breakout stars is to pinpoint which players are going to be in favorable situations. To do that, you should know what type of systems their team runs and how they'll be used.
This also ties into your specific fantasy league's settings.
If your league puts an onus on scoring touchdowns, you'll want to prioritize that. If running backs and receivers rack up points per reception (PPR), you'll perhaps put less weight on touchdowns and care more about overall target volume.
Every system is different. Some teams run more, others pass more, some use specific players more or refuse to use fullbacks or tight ends at all. Some offenses feature one main running back or wide receiver and funnel them targets, while others go with more of a committee approach.
Usually, the top star already stands out for these offenses, but there is always room for a sleeper to emerge behind them even when that is the case.
Studying these systems, coaches, and personnel enough to know which players are in line for big roles and productive schemes is crucial to finding these elusive fantasy football sleepers.
Injuries can also play a huge hand in the changing of roles within schemes. If a star player goes down, players that otherwise wouldn't be on your radar are suddenly thrust into a bigger role.
Overall, you're looking for talented players working their way into a big role in a productive system. But you can't locate those players until you know how the teams operate and which positions they utilize the most.
Research Sleepers by Position
You can look at fantasy football sleepers from a broad lens, but I like to break things down by position each year.
Quarterback sleepers are mostly about value. Which passers are sliding in drafts due to the position being devalued, or which players at this position offer a little more upside due to their ability to tack on points with their legs?
In addition, fantasy quarterbacks are often severely downgraded based on how they fared the year prior. Going back to coaching and systematic changes, though, few positions can be positively impacted as much as quarterback.
If a quarterback is young, they obviously have room to grow. They can mature in a system, and their talent can shine through, while the talent around them can also improve and assist them in putting up better numbers.
Improving quarterbacks are less likely to turn the ball over as much, too, while adding in enhanced weapons and offensive concepts can raise their level of play even further.
Talent is probably the biggest key at the quarterback position, though. Everything else is usually just noise if they can't limit their mistakes, read the defense, and respond appropriately to pressure.
Running back is simpler.
Are the proposed running back sleepers good enough to hack it in the NFL, and what is their role? Do they have a path to any type of volume (whether it be rush attempts and/or receptions), and will they have opportunities to score near the goal-line?
If you can safely nod along to these questions, you're talking about tantalizing upside. Running backs seen as handcuffs in committee attacks will also be worth keeping tabs on, as an injury would vault them into relevancy in a hurry.
Wide receiver is similar in terms of volume. Even if a wide receiver isn't particularly good, he could still offer value based on a key role and targets coming his way.
A bad wide receiver will struggle to actually catch the ball and do anything of merit with it, but in PPR leagues, he's still getting you points every time he hauls in a pass.
If the wide receiver is actually talented, however, a big role can quickly see that player morphing into a star. Talent + targets = quality production.
The same is the case for tight ends, but not every system utilizes tight ends at an elite rate. This often has people prioritizing the position early, but a good portion of tight ends tend to be devalued simply because they're not necessarily elite.
There is always going to be a group of fantasy tight end sleepers almost by default. Scout them, rank them, and assess how long you can wait to draft them.
Kickers and team defenses can also offer sleeper appeal, although I traditionally wait to draft both until the last two rounds of my draft. That doesn't mean you can't find sleeper options, but they're less of a priority.
Keep Updating That Queue
Earlier, I mentioned how annoying it can be to have your draft queue loaded up with all the players immediately within striking distance. Then they all disappear.
One very easy way to make sure that doesn't happen? Keep updating the queue.
It's important to be diligent throughout your fantasy season, but it's also crucial to be the same way through your entire draft.
A lot of people get swept up in the star names through the first 2-3 rounds and slowly get bored of the draft. That can't happen if you want to land a slew of fantasy sleepers.
After all, if even one of them can turn into the next Patrick Mahomes, wouldn't it be worth it?
Do You Need Fantasy Football Sleepers to Win?
I have certainly conducted a few fantasy football drafts where I didn't put in enough research or simply wasn't able to land the fantasy sleepers I coveted.
Typically, I do invest a lot of time in my prep for leagues that matter to me. Work leagues, any leagues where I'm facing people I know, or paid leagues — these are all situations where I'm coming prepared.
But sometimes you start the research process early and do some mock leagues, and you're rusty. Whatever the case, you don't know which fantasy football sleepers to look for or just aren't too concerned yet with who you get beyond the first few picks.
The latter is much more realistic for me and most people hoping to learn how to find fantasy football sleepers on a yearly basis.
No matter which side of the fence you lie on, I don't think you absolutely need fantasy sleepers to find success. But if you don't plan for it, apply your fantasy draft strategy, and execute it, you're definitely making it harder on yourself.
I firmly believe you can win without drafting amazing fantasy sleepers. It's just ill-advised.
You can win despite a slew of injuries and a terrible draft in general, too. Adaptation is king in season-long fantasy football, after all.
Those late-round fantasy football picks should often be darts that offer serious upside and/or amazing depth. You can draft however you want to draft, but guys like Carson Wentz, Patrick Mahomes, and so many others blew up and won people fantasy championships.
And nobody was drafting them.
If they were, it wasn't until incredibly late in the draft. Do the work, put your list of favorite fantasy sleepers together, and get as many as you can. If you want to win your league, you'll probably be glad you did.