Hide Bonus Offers
| | | | | |
| --- | --- | --- | --- | --- |
| #1 | Bovada Sports | 50% Up To $250 | Visit Site | Bovada Sports |
| #2 | BetUS | 125% Up To $2,500 | Visit Site | BetUS |
| #3 | MyBookie | 100% Up To $1,000 | Visit Site | MyBookie |
| #4 | Everygame | 100% Up To $500 | Visit Site | Everygame |
| #5 | BetOnline Sports | 60% Up To $1,000 | Visit Site | BetOnline Sports |
How Past Point Spread Results Can Help Us Bet on Super Bowl 53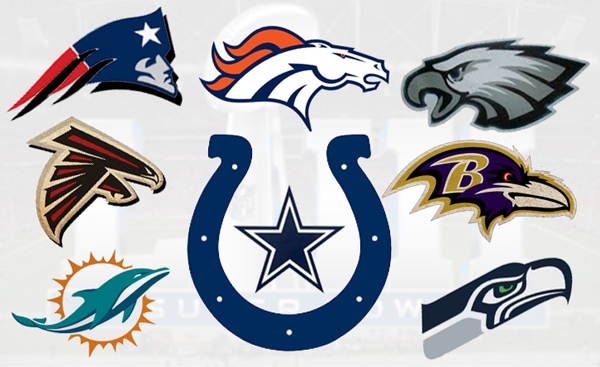 The hype around Super Bowl 53 is pretty unreal.
I find myself wondering how different or better it might be if things in the AFC and NFC title games went a little differently.
I mean, Chiefs vs. Rams and Saints vs. Patriots sounds pretty amazing.
As crazy as those games could have been, though, Super Bowl 53 gives us about all we can ask for.
New England is a true staple in the NFL and will appear in their third consecutive Super Bowl.
They're so good that I literally just got done writing about the best Super Bowls in NFL history, and they cracked the top-five three times.
To be honest, there would be a pretty compelling argument to have Tom Brady and company fill all five slots.
I know, I'm feeding to the ego of every Bostonian out there, but hey, sometimes you just need to acknowledge a dynasty when you see it.
Regardless, that shouldn't have anyone ignoring the Rams. They're mild -2.5 underdogs and even started as the favorites before the Super Bowl 53 betting lines settled down.
After all, history tells us that bypassing the underdog in the Super Bowl can often be a pretty big mistake.
In the last 17 Super Bowls, the underdog has at the very worst kept things interesting, going a startling 13-4 against the spread.
Recent history supports the idea of throwing some cash behind the underdog in some regard, but due to a tight spread, I wondered what similar Super Bowl spreads produced in the past.
Let's take a look back at every Super Bowl that held a -3 spread or smaller and see how they panned out.
Super Bowl V – Cowboys (-2.5) vs. Colts (+2.5)
One of the early Super Bowls, this epic battle between Dallas and Baltimore was low-scoring but still pretty intense. Dallas entered as the mild favorites but fell in the event's first ever game-winning play in a 16-13 loss.
The end result was the underdog Colts stealing one of the 25 underdog wins in Super Bowl history (25-25-2).
In the end, Vegas and the betting public had this one pretty close. The Colts were respected enough with the line, but it was still a little surprising that they won.
Super Bowl VII: Dolphins (-1.5) vs. Redskins (+1.5)
Miami was oddly enough barely favored for this game, even though they entered the contest undefeated. They barely won, too, but did so and completed the NFL's lone perfect season in history with a 14-7 victory.
It was obviously weird for the Dolphins to have such a tiny line, but bettors should have jumped at it with such solid value staring them in the face.
Miami stayed perfect and would have rewarded loyal bettors in the process.
Super Bowl IX: Steelers (-3) vs. Vikings (+3)
This was a pretty ugly Super Bowl, with Pittsburgh not covering at the break (up 2-0). But they ultimately covered in a 16-6 win.
It was still a close game, though, with a late Steelers touchdown cementing a cover for Pittsburgh. It otherwise could have been a push.
Minnesota has never had much success in Super Bowls, but the spread suggested their third try would be their best bet yet. It wasn't, and bettors probably should have just assumed so.
Super Bowl XV: Eagles (-3) vs. Raiders (+3)
The Raiders took down the Eagles to become just the second underdog to snag a win in the big game, and they did so convincingly.
Philly's first trip to the NFL's title game went pretty badly, as things weren't that close in a 27-10 defeat.
Vegas liked Philly here, but they couldn't have been more wrong. Oakland was the better team by a mile and would have been an excellent pick ATS.
Super Bowl XVI: 49ers (+1) vs. Bengals (-1)
This game was appropriately priced even though it was virtually a pick'em. San Francisco initially made everyone look silly, as they stormed out to a 20-0 lead at the break.
That probably should have been expected with Joe Montana operating one of the best offensive systems ever.
Cincinnati wouldn't go away, however. The Bengals raced back to cut the score to 26-21 with just seconds to go. It wasn't enough in the end, unfortunately, and anyone betting on the favored cats would shake their heads in disbelief in the end.
Super Bowl XVII: Dolphins (-3) vs. Redskins (+3)
Washington had a chance at some revenge in the second Super Bowl meeting between these two sides, and they ultimately got it in a 27-17 win. This game featured the iconic play by John Riggins to seal the deal.
Riggins stepped up in a big way, amassing 166 yards on the ground and delivering the knockout punch. This was another spot where the underdog didn't just beat the spread but also got the win.
Super Bowl XIX: 49ers (-3) vs. Dolphins (+3)
This was actually one of the more disappointing Super Bowls, seeing as Dan Marino blasted the league and had Miami looking like a very interesting underdog.
Ultimately, though, the mighty Niners made quick work of the Dolphins and wasted them in a 38-16 blowout.
Super Bowl XXXV: Ravens (-3) vs. Giants (+3)
Vegas got this one right, as Baltimore's elite defense and smashmouth running game was way too much for the Giants to handle.
Baltimore took a sizable lead early and ran away with an easy 34-7 victory.
It was an ugly Super Bowl where Trent Dilfer of all people was one of the stars, but bettors probably should have known to bet in favor of the Ray Lewis-led Ravens.
Super Bowl XLV: Packers (-2.5) vs. Steelers (+2.5)
This Super Bowl was appropriately priced, as the Packers and Steelers were very evenly matched and produced a thrilling title game. Aaron Rodgers and co. stepped out to a big 21-3 lead early and survived a Charles Woodson injury to hold on late for the 31-25 win.
Ben Roethlisberger and his Steelers had one last drive to steal the win but came up short and burned any bettors backing them as fun +2.5 underdogs.
Super Bowl XLVI: Patriots (-3) vs. Giants (+3)
New England attempted to take down the G-Men for a second time but was again unsuccessful. New York had their number a few years prior and got them again in a clutch 21-17 win.
The Pats were actually up by eight late in the third quarter but couldn't hold on and fell to 0-2 against Big Blue in the biggest game of the year.
Super Bowl XLVIII: Broncos (-2.5) vs. Seahawks (+2.5)
Another favorite falls in this epic clash between elite offense and elite defense. Denver's offense was flat-out historic, but the Broncos would ultimately go down as one of the best offenses never to win a Super Bowl.
Peyton Manning tossed an NFL-record 55 touchdowns during the regular season but mustered just one in a brutal 43-8 blowout loss to Seattle. Bettors who backed the Broncos with even this tiny spread were woefully disappointed.
Super Bowl XLIX: Patriots (-1) vs. Seahawks (+1)
Seattle returned to the Super Bowl the very next season and even looked en route to a repeat with a 10-point lead late in Super Bowl XLIX.
Tom Brady displayed some classic heroics to take a 28-24 lead, but the Seahawks still had a chance with the ball inside the five late in this one. A questionable play call by head coach Pete Carroll delivered another Pats title and this iconic moment.
Seattle probably should have just handed Marshawn Lynch the ball. They didn't, however, and New England secured their fourth Lombardi Trophy.
Super Bowl LI: Patriots (-3) vs. Falcons (+3)
The Patriots went for championship number five in this one, where they battled a high-powered Falcons offense. Anyone betting on the Patriots felt pretty silly early on, as Atlanta climbed to a seemingly insurmountable 28-3 lead.
New England looked completely lost, but they battled back and actually forced overtime before clinching the win in the extra stanza.
The ferocious comeback served as the biggest in Super Bowl history, while the extra period also went down as the big game's first OT thriller in league history.
Backing the Pats was ultimately the right call in Super Bowl 51, but anyone betting live on the Super Bowl could have actually nabbed them at underdog money.
Final Results
I think it's very helpful to go back and look at every single Super Bowl. You can't let any one game dictate how you bet, and you also want to consider the various eras, styles, and talent on hand. You should also assess how Vegas has adapted over the years.
Some of these games had egregious point spreads, and they often went the exact opposite direction the betting public (and also Vegas) felt they would. In the end, these games have gone straight down the middle (25-25-2) in terms of underdog versus favorite, and it's difficult to gauge how that might impact Super Bowl 53.
That's why I wanted to focus solely on games with similar spreads. The 13 Super Bowls with point spreads closing at -3 or better date back as far as 1971 and are as recent as two years ago.
Feel free to tack on a handful of Super Bowls that were relatively close in spread (-3.5 to -6.5), but I wanted to really hone in on this exact spread or better.
From these 13 games, we saw that the favorite went 7-6 straight up, and the underdog went just 5-8 against the spread. Just like data from every single Super Bowl can't necessarily dictate this year's outcome, of course, I'm not sure this information should sway you one way or another.
Fade the Public?
Most experienced bettors know about fading the betting public. Generally speaking, if most of the bets are on the favorite, you have to seriously consider going the opposite direction.
This is because Vegas allows the public to dictate how games are priced, and a good portion of the time, regular people making bets can be wrong. That can create leverage for experienced bettors, and it can also alter prices when they otherwise shouldn't have been.
This year could be a terrific example of this, as the Rams actually opened as slight -1 favorites, but public interest in the storied Patriots shifted the line greatly. New England now enters Super Bowl 53 as the favorite, albeit by a very small margin.
The big question is if Vegas had it right the first time with the Rams as the favorites, or if they altered the line and now want the public to bet on the Pats to win Super Bowl 53. There's really no way of knowing for sure, while history might not give us all of the information we desire.
Summary
It's one thing to break down all 52 previous Super Bowls, but with Super Bowl 53 almost here, I felt it'd be particularly helpful to look at the big games with the tightest spreads.
The big takeaway when looking at Super Bowl underdogs is obviously that they have a 50% chance of keeping this game competitive. I don't know what changed in recent history, either, but spread aside, a lot of the big games have been very close.
There have been a lot of mismatched Super Bowls in the past, but it hasn't really been like that for about the last 20 years. Bettors need to consider the underdog, and with the Rams carrying a point spread as thick as +3 at some NFL betting websites, they do look pretty attractive.
In the end, I still like the Pats to win this one. The line movement is both interesting and troubling, but New England has so much experience.
You can make a case for backing the underdogs to win Super Bowl 53, and some would say the Rams offer value. But I'd probably prefer a slightly better moneyline or a thicker spread to get on them.
New England is playing in their third straight Super Bowl and will be out for blood for two reasons: they want to eradicate last year's debacle, and they want to prove to everyone that their so-so regular season wasn't reflective of the team they really are.
The Rams might be special, but they also got gifted a blown call that allowed them to get here. Look for New England to exploit their weaknesses and march to their sixth Lombardi Trophy.