How Hard Is it to Get Good at Poker? – 9 Tips to Help You Improve

There are few things cooler than playing poker. If I close my eyes and picture some of the most iconic figures in history, Steve McQueen, Matt Damon, and Doc Holliday come to mind. And that's just some of the best poker players in movies.
In real life, the shine doesn't fade so easily, either. The legendary poker players have unshakable confidence, undeniable auras, and killer strategy.
Getting to that level of poker player may feel impossible, but there's no doubt you can at least improve from where you are now.
If you'd like to start trying, I've got a few helpful tips to make you better. Wondering how to get good at poker, or curious just how hard it is? Read on for my top poker tips to find out.
Practice Makes Perfect
You're probably not going to play a poker player in the movies, but you can strive to be one of the best poker players of all time in real life.
If that's your goal, though, the first tip you need to welcome is the idea of playing a ton of poker; i.e., practicing your tail off.
It sounds silly and perhaps even lazy, but practice makes perfect with most things. Don't know how to throw a spiral? Read up on the best way to do it, go in your backyard, and let it rip 500 times, Uncle Rico style.
But really, repetition is a thing, and it works.
You can apply that logic to improving as a poker player, too, seeing as there is so much that goes into that process.
Whether it's the rules of poker, understanding different strategies, or simply trying to morph into a steadier player at the table, practicing can and will make you better.
Like anything, just do all you can to make sure you're practicing good poker habits. Albert Einstein has that legendary quote, after all.
"The definition of insanity is doing the same thing over and over again and expecting different results."
This should hit home for anyone who keeps playing online poker or heads to casino tables and doesn't come prepared.
But Einstein was only half right. Repeating things, the correct way, can produce positive results.
Simply playing poker over and over can by default make you a more experienced player, to be sure. But practicing and playing the right way consistently is undeniably the better way to go about becoming good at poker.
Fully Understand the Rules of Poker
Let's put a major emphasis on fully understanding the rules of poker.
A lot of people think they know poker. Even more, they think they know how to control a table, and how to trick opponents.
"The beautiful thing about poker is that everybody thinks they can play."
That's a harrowing and sobering quote from a legend. And it's true. Most poker fans think they're the next king of poker, but they often don't know enough to live up to that dream.
Before you can actually grasp the rules, of course, you need to decide what style of poker you're trying to master.
Becoming a better poker player across the board sounds great, but picking one lane to dominate in can be crucial to your success.
To help you decide your "lane," consider some of the most popular types of poker.
Hold'em
Omaha
7 Card Stud
Razz
5 Card Draw
Mixed
If you want a full breakdown, just check out our guide to different kinds of poker.
Once you pick the poker style you want to get better at, learn the rules and strategies, and then practice as much as you can.
On top of learning the rules of all of the different kinds of poker, there are unwritten poker rules to be aware of, like poker table etiquette, and how to carry yourself around other players.
To brush up on the etiquette side of things, check out these 11 tips.
Get Good at Math – Know the Percentages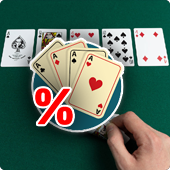 I'm not good at math. I hate that fact, but I'm not afraid to admit it. If you're in the same boat, you may have to work a little harder to fully grasp probability and percentages in poker.
Assuming you can figure it out, though, there is an edge to be had if you can have a good idea of what cards are in play – and which could be coming – based on probability.
The annoying thing? Most of the good poker players already can do this very well, and with striking accuracy.
That doesn't mean you shouldn't try to be really good at it. In fact, if you ignore poker percentages, you're just allowing your competition to have a constant advantage over you.
Having a basic understanding of poker hands and percentages should be the bare minimum if you want to get good at poker.
Mastering this aspect of poker is necessary should you have legit aspirations of making it to an elite level, however.
Learn the Ropes at Trustworthy Poker Sites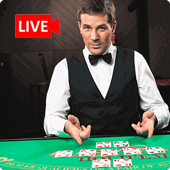 If you want to get good at poker, you need to battle good players, and for long-term positive results, you need to hit the tables at your local casino and bump elbows with the big boys.
That's all in due time, of course.
When you first start out, learning the rules, practicing, and developing your poker strategy can all come a bit easier by utilizing some of the best online poker sites.

Top Tip
There is a downside to playing poker online, of course. You can't identify your own flaws as easily, people often play as if the money isn't actually real (they do things they wouldn't normally do), and/or you can't read the players.
All of this is true, but the upside – at least initially – makes online poker playing worth it, and potentially a key contributor to becoming a better poker player.
Playing poker online allows you to perfect your craft, test out strategies, play at your own pace, and get used to (technically) being at a table. To make it a bit more life-like, you can try your hand at live dealer poker games.
If you're at all hesitant about taking your game to real, live tables, this is a fine first step to get yourself fully acquainted with the poker style you hope to master.
Identify Your Tell If Possible
This is a classic tip for improving your poker game. Basically, everyone has a tell, which can reveal to the table what you may be holding, or at least what your intentions are.
What could your tell be? The possibilities are endless.
Push glasses up on the nose
Excessive blinking or eye twitching
Touching face, neck, eyes, or ears
Itching head or arms
Adjusting clothing or accessories
Shifty eyes/looking around the room
The list goes on and on.
Some tells have only to do with your own body, others are giveaways in relation to your surroundings, and perhaps your tell directly ties to what you often do next, depending on what your hand is.
The key isn't masking the tell. It's finding out what it tends to be, and either eradicating it, or using it to manipulate your opponents.
What's better than not having a tell?
Making the other poker players think they know yours.
There is an art to manipulating tells and fooling your opponent, and this plays into the art of bluffing.
While tells can be used to help make you a better poker player, you're better off simply playing poker as cool, calm, and collected as you possibly can.
Get Out of Your Own Way
Here's an extension to going on tilt; be less predictable. Identifying your tell is part of that, but this is on another level.
Two easy ways to improve your ability to be unpredictable? Fading your favorite hands, and not always trying to predict what your opponent has.
"If you can't spot the sucker in the first half hour at the table, then you are the sucker."
You don't want to be the sucker. To help prevent that from being the case, you need to be a little less predictable, and that means diving into your tendencies and weeding them out.
Percentages and projecting the table is a huge part of poker, but sometimes it can be a waste of energy to try to predict the exact hand a player has.
It also can be a great disservice to yourself if you always play your favorite hand. Perhaps the most iconic hand is the "Doyle Brunson hand" (10-2), and even for a legend, that can be a trap.
Maybe if you reach the status of an icon, you can brand yourself that way. Until then, refrain from trying to get too clever with your hand predictions, and try not to fall too much in love with any hand, yourself.
Face Top Shelf Competition
Maybe not at first, but in short order, you should hone your craft in tense situations, facing the best poker players you can find.
It sounds counter-intuitive, but it's not. Becoming a good poker player can take time, but it may take even longer if you're only feeling like you're improving as you beat up on weaker players.
There are two key reasons why facing good poker players will make you better.
People play down to the level of their competition
You can learn a lot from other quality poker players
You also will probably lose a good deal at first, and you'll want to keep the stakes as low as possible.
Finding that sweet middle ground, however, should allow for you to chase a little upside in games, get in that practice, and learn from some of the best players you can get yourself around.
Fold Way More Than You Want to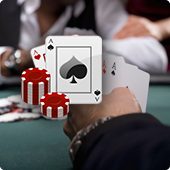 This isn't something a lot of poker plays want to talk about, admit, or practice. Why? Because folding doesn't make it feel like you're playing poker at all.
That couldn't be further from the truth, however.
Poker is an art form. It's math, its patience, it's trickery, it's poise, and it's stubbornness. You aren't simply trying to get the best hand every time, and you aren't just playing your opponent.
You're trying to outlast everyone else. Doing that is increasingly more difficult by playing every single hand – especially if you're routinely getting hands that are difficult to work with.
Folding can keep you alive in games when you're down, it can be used deceptively, and it can slow a tilt as you regain composure to battle back from a deficit.
Everyone wants to play every hand, and all too often, good poker players get impatient and want to win right away. Be patient, fold the bad hands – sometimes even the good ones – and take control over when and how you play.
Manage Your Bankroll
This doesn't necessarily have anything to do with being good at poker at the table, but it can.
Managing your poker bankroll can be huge for two reasons.
It helps you realize your limitations
You don't go broke trying to realize your dream
Even if you get good at poker, you still may run into some bumps along the way. Bad beats do exist, there are always going to be better players out there, and even executing everything perfectly can still lead to losses.
Keeping a tight bankroll makes sense to allow you to get through early growing pains without losing money you can't actually afford to.
Managing your bankroll also keeps you honest as a player. It helps negate the impact of tilting and problem gambling, and it should assist you in being a more detailed, disciplined poker player.

Top Tip
Limiting the money you put in (at least at first) will lower your winnings ceiling, but it slows down the rate of loss, and it gives you time to build a positive foundation of smart poker playing.
As you mature in your plight to get good at poker, you can make changes to the way you manage your bankroll. However, keeping a strict budget and adhering to it shouldn't be seen as crippling for your poker journey, but more as a defined map that will help you get to where you want to go.
For a more detailed breakdown of how bankroll management can be good for all types of betting, check out this bankroll management guide.
Is it Hard to Get Good at Poker?
Is it difficult to get really good at poker as far as being on an elite level? Clearly. If it were easy, everyone would do it.
Heck, if it weren't difficult to even simply be a fringe professional or make money playing poker consistently, there would be a lot more people at the table in the casinos.
But can you for sure get good at poker, and/or see serious improvement from where you are now? Absolutely.
These tips should help you get good at poker, at least to some degree. However, it may not be totally realistic to hope for poker to be a full-time job, and only so many people can make it to the top of the mountain.
Until you get there, you can at least try to make money playing poker online and with your buddies. And hopefully the poker advice you see here can help you along the way.
If you're really serious about consistently winning and becoming better at poker, be sure to read through our comprehensive poker guide below.
Complete Guide to Poker
September
Casino of the Month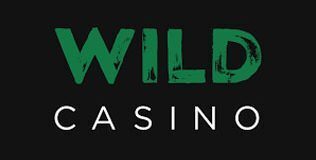 Welcome Bonus
250% up to $5,000