Hide Bonus Offers
| | | | | |
| --- | --- | --- | --- | --- |
| #1 | Bovada Sports | 50% Up To $250 | Visit Site | Bovada Sports |
| #2 | BetUS | 125% Up To $2,500 | Visit Site | BetUS |
| #3 | MyBookie | 100% Up To $1,000 | Visit Site | MyBookie |
| #4 | Everygame | 100% Up To $500 | Visit Site | Everygame |
| #5 | BetOnline Sports | 60% Up To $1,000 | Visit Site | BetOnline Sports |
How Can I Make Money Betting on the Kentucky Derby?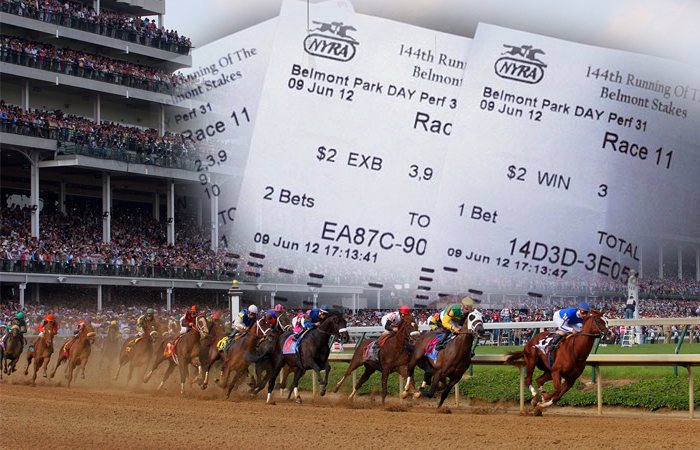 Every year the Kentucky Derby rolls around, horse racing fans want to know two things, simultaneously: who is going to win and how do I make some money?
The first part isn't always easy to answer. There is always a favorite entering every horse race, but as we've all come to find out, favorites don't always win. Even if they do, betting on the favorite isn't always necessarily the best path to big winnings.
The two can obviously work hand in hand, but often it can pay to go after horses with long odds or at least weaker odds that for one reason or another might be a viable sleeper in the horse racing world. Perhaps you have your own secret path to success when it comes to betting on the Kentucky Derby. But if so, I have two questions for you; why are you here and what is it?
On the off chance you're here for some extra insight or are a horse racing betting beginner, join us as we touch on all the basics for successful Kentucky Derby betting:
Do Your Research
Above all else, the first step to making money betting on sports of any kind is to actually know what you're doing.
Actually, quick sidebar here. For something like the KD where the experts often look like fools and the longshot contestants pay mad cash, it might not be a terrible idea to put a blindfold on, throw a dart and use the horse your dart lands on.
But not really. That'd be fun, but you wouldn't have any real confidence going into the event and you also wouldn't feel overly comfortable piling on the cash in a huge bet.
Doing your own research can boost your knowledge, comfort and confidence, however. Part of that will be literally pilfering through the data yourself, but to just get the ball rolling you'll want to do the following:
Listen to the Experts
Understand the Track
Consider Past Winners
Vegas has some strong insight to how each horse race can go down, so before you do anything else, pay some mind to the latest Kentucky Derby odds. Don't let them completely dictate how you perceive the field and don't blindly allow them to influence how you bet, but know them, track them and exploit them if possible.
For instance, if the top contenders aren't locks to you and the odds they present aren't amazing, why bet hard on them? And if there is a sneaky sleeper near the bottom of the field you find intriguing, why not toss a cursory bet (or even bet hard) and increase your profit margins?
How you use the odds can depend on just how extensive your other research is. Horses merely doing well in past races doesn't tell you everything, but what types of tracks they've excelled at (or had problems with), how weather has impacted them, who their trainers/owners/jockeys are and how successful they've been and how they've fared against other top shelf competition – pause for a breath – that all can go a long way in telling you which horses are the true favorites, which might be frauds and which could be the sneakiest of sleepers.
Wager Accordingly
Your research can lead you to a lot of different bets, which means you don't need to go all in on your favorite sleeper. Doing so can be highly profitable if you're correct, but if you do the wrong wager type, your genius knowledge (and research) could go wasted.
To avoid horrible instances like that, be sure to brush up on all of the horse racing wager types you'll find at the KD.
Common Bets
Win (Your horse places 1st)
Show (Your horse is in the top 1st, 2nd or 3rd)
Place (Your horse is 1st or 2nd)
Across the Board (Your horse gets three outs)
These are all pretty self-explanatory until the Across the Board wager. For this wager, you're betting on your horse for 1st, 2nd and 3rd (three separate bets rolled into one).
If your horse takes first you win the entire wager, but you still win two bets if they place second and win your last bet if they take third. You understandably win nothing if they do not place inside the top three.
Exacta Bets
You can also make bets that really test your knowledge as to precisely how specific horses will finish and in what order. These Exacta Bets leave very little room for error, but can be highly profitable if pulled off:
Perfecta
Box
Trifecta
Superfecta
Twin Trifecta
Key
Box
Not every Exacta bet needs to be perfect for you to win, but the Perfecta naturally does. The Perfecta bet requires the bettor to correctly pick the first two horses to finish the race, in exact order.
You can be less precise with a Box bet, which allows a bettor to simply select the horses they think will finish in a specific spot (first and second) and the order doesn't matter for your bet.
Trifecta bets are much like Exacta bets, but you stretch your picks out to the top three finishers. You're betting you can nail which horse finishes 1st, 2nd and 3rd in the race. This is obviously very difficult to accomplish, but the payout can be massive. Superfecta is the same bet, but adds a fourth horse.
Twin Trifectas are unique, as they bleed into multiple races. You're basically trying to correctly predict the exact finish for the first three horses for two straight races.
A Key bet allows you to back one horse to win the race, while your other two picked horses to finish in the top three can finish in any order, provided they are second or third.
Lastly, a box bet is one of the more common complex bets, as it has you picking the top three horses to finish, but you don't need to pick the winner. This is a great bet if you feel strongly about the top three contenders, but aren't sure how to pick who will actually place first.
Multi-Race and Combination Wagers
Another great way to rack up cash at the KD and other horse races is picking winners of consecutive races.
Daily Double (Pick the correct winners for two consecutive races)
Pick 3 (Same bet, but for three straight races)
Pick 4 (Same, but for four races)
Boxes and Wheels (combines several bets all on one ticket)
A Partial Wheel (allows for combinations betting)
These are all self explanatory, as the Daily Double allows for two correct winner picks across two consecutive races, the Pick 3 extends across three consecutive races and the Pick 4 does the same bet for four straight races.
Wheel bets are a little more complicated and can depend on the actual bet you want and what is being allowed. Boxes and Wheels can combine all of your bets on one ticket, however, while a Partial Wheel should allow for fewer options but comes at a cheaper price.
Build a Strategy
No matter what you plan out, a great start is to really focus on your favorite horse and probably diversify your bets. That doesn't necessarily mean hedging your every move, but hedging bets (betting against your own bets) in some spots can be profitable or at least protect you from serious loss.
But starting with that first horse you love is key. Whether it's the main favorite to win, a sleeper or a longshot, you should center most of your betting around that horse and work your way from there.
The first step would undoubtedly be betting on this horse to Win, Place or Show. Maybe you're betting on all of them or just a few, but either way, you're throwing some money at the top horse.
From there, you can add in some Pick 3 and Pick 4 bets and start covering a little more ground by adding other horses in with your favorite horse. You can take it a step further and even add some flier bets for horses with longer odds to win, place or show, as well.
The main idea here is all of that time and research you spent trying to get into a comfortable zone for this race doesn't go to waste. The horse you narrowed down is center stage in your bets and if your data and analytics point to that horse being the winner (and it is), you're going to come out pretty happy.
Just make sure you do hedge your bets a bit with a bet or three that doesn't include your top horse and maybe even one or two bets that don't even include your top three favorites horses. Overall, you certainly want to lead with your best hand, so to speak, but on such a thrilling day (that ironically goes by in a flash), you want upside and you want numerous outs.
That being said, what your exact strategy ends up being is completely up to you.
Find a Place to Bet
You've done your research, you know which horses you like and you even know the wager types you want to test out. Next up is finding a place to lay down some cash. Luckily there are a ton of options:
Top Kentucky Derby Betting Sites (mentioned below)
KentuckyDerby.com
Local Bookie
Live at Churchill Downs
Where you place your bet is up to you. That can range from your local sportsbook, live at the track itself, on the Kentucky Derby website or finding one of the best horse racing betting sites that are out there.
Most of the top KD sites offer bets to USA bettors and usually allow for the most versatile bets and the most updated odds, so finding a good, reputable betting site online is usually the way to go. For us, Bovada and BetOnline are without a doubt two of the best options you can consider.
Summary
There isn't any one sure fire way to make money betting on the Kentucky Derby. We sincerely hope you didn't come here to get tricked or lied to, and with that hope we're also being honest with that statement.
This basic advice should help nudge you in the right direction, but predicting how all 20 horses will finish is impossible and even picking the winner of any given horse race is usually pretty difficult.
Still, you can certainly give yourself a better chance by knowing how to bet, knowing which bets to target and knowing (at least based on your research) which horses might give you the most safety and/or the most betting upside.
Taking a stab at your favorite sleepers or that horse with the worst possible odds might not bring home the cash, but if your research leads you that way, it can't be seen as a bad risk. Besides, merely going with Vegas or what you read in one horse racing expert article can lead you down the wrong path just as easily.
Ultimately, you need to put in the time to feel comfortable with the bets, the horses and the money you're putting on the line. As a rule of thumb, never bet with money you can't afford to lose and make sure any horse racing betting is more about entertainment than breaking the bank.
With that, we wish you luck at this year's Kentucky Derby. Enjoy the race!