Hide Bonus Offers
| | | | | |
| --- | --- | --- | --- | --- |
| #1 | Bovada Sports | 50% Up To $250 | Visit Site | Bovada Sports |
| #2 | BetUS | 125% Up To $2,500 | Visit Site | BetUS |
| #3 | MyBookie | 100% Up To $1,000 | Visit Site | MyBookie |
| #4 | Everygame | 100% Up To $500 | Visit Site | Everygame |
| #5 | BetOnline Sports | 60% Up To $1,000 | Visit Site | BetOnline Sports |
How an Amateur Poker Player Won $537,710 at the 2018 WSOP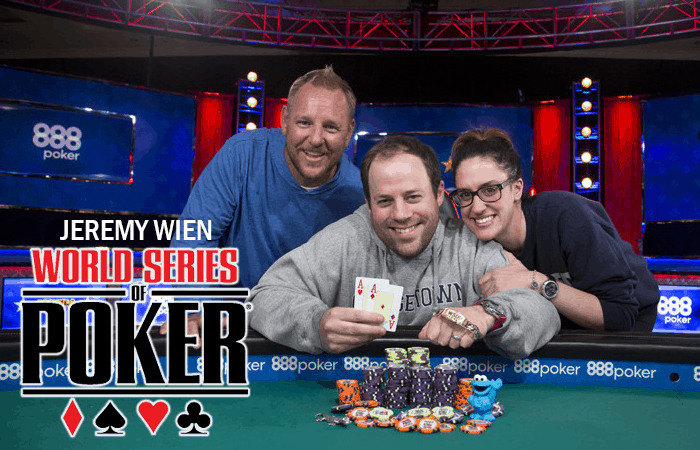 I have some good news for all aspiring poker players. Those of you who think you have to quit your day job and play poker full time in order to taste the glory that is shipping a bracelet, think again.
This post is dedicated to all the individuals who are passionate about the game of poker but don't make it their livelihood.
I want to show you a first-hand example of "David beating Goliath" on the felt and let you know that you could be the next one who shines under the bright lights of the Rio.
It just happened at a 5k-buy-in at the WSOP, and there's plenty of time left on the schedule for it to happen again.
Keep in mind that we have seen plenty of stories of the amateur player outlasting a room full of professionals, especially at the World Series of Poker in Las Vegas.
We saw it happen 15 years ago when a "Joe-Schmoe" ordinary accountant from Tennessee saw his wildest dreams come true. When Chris Moneymaker captured the 2003 WSOP Main Event, he changed the landscape of poker forever.
It gave the average person hope that he or she could also win money playing the card game they loved. I understand it's no longer 2003, and winning money in the game of poker is a heck of a lot tougher than it was in 2018. But guess what?
Non-professional and recreational poker players still beat the pros in big spots all the time, and as I alluded, it just happened again in a big event at the World Series of Poker.
Take solace in the section below, knowing that you don't have to spend your entire summer playing 14-hour days at the Rio in order to reach your ultimate goal.
Here is the remarkable journey of a hard-working man who just plays poker as a hobby.
Jeremy Wien Wins Event #20 for $537,710
Are you still fighting the battle on whether or not you should quit your job and pursue poker full time? Let me help you out a bit. If your goal is just to win a big tournament this summer at the World Series of Poker, hold your horses, because you don't have to be sending your two-weeks notice in just yet.
Just ask New York-based derivatives trader Jeremy Wien how he approaches each summer. The 33-year-old married man and resident of Mt. Kisco, NY, comes to Vegas every June to play a handful of events before flying back east and getting back to the "real world."
He had always dreamed of winning a gold bracelet and grabbing hold of that pile of cash that comes with it. In fact, Jeremy even joked during his post-tournament interview that he had already practiced his victory speech in his head; he just never assumed he'd actually have to deliver one in real life.
Well, Mr. Wien, it's time to wake up, because this is real life and you just shipped that gold bracelet you had been dreaming about.
It's time to actually make that speech. I'm sure the $537,710 that comes with it eases the pain of having to tell your boss why you weren't at work this past Monday.
But back to the moral of the story.
Jeremy came to Vegas, as he has done in the past, to play his normal slate of a few events in hopes that something awesome would happen. Either way, after his fun in Vegas was over, it would be back to New York and back to crunching numbers at his desk.
However, this time, it was different, thanks to the 20th event on the bracelet schedule, the $5,000 Big Blind Ante No Limit Hold'em.
The Start of the Run
Event #20 on the 2018 WSOP schedule was a $5,000 NL Hold'em event, with a new twist that has been implemented to several events.
In big blind antes tournaments, rather than have each player at the table be responsible for tossing in their ante before the cards are dealt, whoever is in the big blind just "antes for the table." This is intended to speed up play and avoid confusion as to who didn't post their ante.
For this specific event, there was 518 entrants in all, with 170 of them bagging up and moving on to Day 2. Of those 170 survivors, Jeremey found himself with a healthy and above-average stack, ready to do some damage on "moving day."
Rather than be the captain of the table and the loudest player in the room, the 33-year-old stuck to his self-proclaimed "nitty style" and flew under the radar for the most part.
By the time the announcement was made that Day 2 was completed, just 24 players were left. Of the 23 men and women standing in the way of Jeremy capturing the coveted gold bracelet, Wien was in the middle of the pack. He'd need to wake up on the right side of the bed the next morning if he planned on advancing to the final table.
Call it the luck from the poker gods, or call it good, solid poker. Quite frankly, you can call it whatever the heck you want, because it doesn't change the facts of what occurred.
Despite being in a room full of uber-talented and extremely successful tournament pros, Wien ignored what was supposed to happen and kept moving up the chip counts.
Moving Forward
By the time Day 3 had ended and only 8 remained, he and Canadian world beater Shawn Buchanan were leading the pack as the only men with more than 2 million chips. The rest of the final table was a "who's who" in professional poker, including high-stakes regulars David Peters and Jake Schindler.
These two poker behemoths have more than $40 million combined in live tournament cashes, compared to the less than $214,000 that Wien had cashed for on the felt up until this point.
Incidentally, a buddy of mine was also at the table and was trying to add onto his already-impressive resume of tournament results. Eric Blair was a force to be reckoned with and just another one of the incredibly-skilled professionals that Wien had to contend with.
On to the Final Day
So here he was. Jeremy was at that final table of a World Series of Poker bracelet event he had dreamed about getting to for so long. Ever since his days grinding online tournaments back at Georgetown University where he completed his undergrad, Jeremy had fantasized about this very day.
Now, Monday morning had arrived, and Jeremy was supposed to be well into his workday as a portfolio manager at Graham Capital Management, all the way on the other side of the country.
Instead, he was one of 8 men who had already locked up more than $45k and was playing for the grand prize of more than half a million bucks, plus the sought-after piece of jewelry.
If you think this was part Jeremy's realistic plan all along, you'd be sorely mistaken.
Jeremy was scheduled to fly back home over the weekend in preparation for work on Monday morning. His wife actually made the cross-country flight to Sin City on Sunday evening to not only support her husband at the final table the next day but to bring him a fresh pair of clothes so that he had something to wear!
Seriously, folks, I'm not making this stuff up. This is how it played out for the recreational poker player.
The Final Table
Wien not only had a unique style of play at the "FT," but he approached it much differently than you would expect from an amateur player who was clearly stacked up and overmatched by notable pros.
Not only did Jeremy not want to look up any of the players' past results online, but he also had no plans to adjust or change his style of play. After the win, when asked why he didn't want to know anything about the other players, this is how Jeremy replied.
"I don't want to change how I play. I feel like I have a different style that's very different from them. I'm very nitty. It's obviously different in heads-up, but in general I play a little nitty and try to pick my spots. It hasn't always worked but it worked out this week."
Indeed it worked this week, and Monday started off with a bang. Just a few minutes into the day, Jeremy's ace-king held "all in preflop" against the king-ten of short stack Richard Tuhrim.
The next elimination wouldn't come for another three hours or so, with stud David Peters falling in 7th, much to the delight of the other players at the table.
It wouldn't take long for the 6th-place victim to fall, and it was start-of-the-day chip leader, Shawn Buchanan. The very next hand, Eric "blizair" Blair took care of John Amato and his final 13 blinds when he called Amato's shove from the button correctly with ace-ten from the small blind.
And the hits just kept coming, with 28-year-old Jake Schindler being the next causality to fall just 10 hands later. When David Laka's ace-king cracked the pocket kings of Schindler, there were only 3 players remaining, including the quiet and unassuming Wien.
When Laka, the 21-year-old heads-up specialist living in London, knocked out Blair, he held a commanding 5-1 chip advantage over Jeremy. It was looking pretty tricky for Wien, and it looked as if his run at the title would come up a hair short.
Except that's not how this story would end.
After scratching away and eating into the deficit, the big moment for Wien came when his ace-nine offsuit was all-in preflop against the pocket 10s of Laka. Needing to spike an ace to avoid finishing second, Wien did just that and overtook the chip lead.
Then, the final hand came, and it was a scenario that you couldn't even dream of if you were writing this story in a novel. David Laka picked up pocket queens, an incredibly strong hand in general, let alone in heads-up play.
The only problem was that Jeremy was sitting on the other side of the table staring down at "American Airlines," "Bullets," or whatever other nickname you want to give for the best hand in poker.
Jeremy had pocket aces, and when the flop came J-8-2 rainbow, all the chips went in the middle. The turn and river cards were meaningless, and it was all over. Jeremy Wien had not only overcome a massive chip disadvantage, but he did so against a professional poker player who makes a living playing heads-up poker.
The gold bracelet, the $537,000+, the glory, the euphoric feelings. They all belonged to a 33-year-old trader from New York who just came to Las Vegas to play poker for fun.
Recap
When you get to the World Series of Poker in Las Vegas, it doesn't matter what your credentials are and what's on your resume. Whether you have cashed for $20 million like a couple of Wien's final table opponents have or you've never even registered for an event before, it doesn't matter once you sit down.
That saying of a "chip and a chair" rings true because I can promise you that the cards that are being dealt don't know what the poker accomplishments of each player at the table are.
Perhaps playing a unique style that is dissimilar from what the top pros are used to seeing ends up baffling them more than if you were to play a style that they were familiar with.
The point is, don't be afraid to stick to what you know and what has gotten you this far. Don't be intimidated if the player with all the chips is raising 80% of the hands and showing all his bluffs. Don't try to be someone you're not.
If you have a full-time job and are here for the thrill of playing in the WSOP, that's all fine and dandy. If you know you play a tighter and more passive style than these "new-age heroes," that's okay, too.
You can make a final table and win a bracelet just like Jeremy Wien did.
Good luck chasing that dream, and I hope you end up calling in to miss work next Monday!