Houston Texans Draft Predictions for 2021

Bill O'Brien left a mess behind when he was canned from his leadership role within the Texans organization.
Believe it or not, the Houston franchise has turned into an even bigger debacle in the six months that have passed.
The team is worse off and there is even more chaos.
Between giving J.J. Watt away for free and signing a bunch of bottom-tier NFL players, David Culley inherits the most undesirable roster in football.
They've lost all leverage in any trade discussions with Deshaun Watson as all signs are pointing toward Tyrod Taylor being under center in week 1.
To make matters worse, Houston doesn't own any first or second round picks in the upcoming draft. Seven of their eight selections come on day 3 – not exactly the ideal scenario for Nick Caserio in his first go-around as the team's GM.
With that in mind, let's dive into a Texans mock draft and try and gauge what this squad will look like when September rolls around.
Round 3 – Pick #67
Selection: Pat Freiermuth
Position: Tight End
School: Penn State
There is a gaping hole at the quarterback position. The defensive line and secondary are both in shambles, and the wide receiving corps is among the most undesirable in the league.
Leave it to the organization in Space City to spend their lone pick inside the top 100 on a tight end.
In fairness, Pat Freiermuth is an absolute beast who relishes contact after the catch.
The Penn State TE is a menace as a run-blocker and will assume a role as an every-down player from the outset.
Described as a physical "bully" who plays determined on every snap, the excitement surrounding Freiermuth stretches well beyond his usage on the end of the line in the run game.
Pat is a big-time pass-catcher who hauled in 15 TDs during his first two seasons in University Park. With a firm second-round grade according to most touts, Freiermuth could very well be the best player available when the Texans are on the clock.
Pat Freiermuth didn't drop a single pass in the redzone across three seasons at Penn State (30 targets)April 13, 2021
Despite the clear deficiencies at positions deemed "more important," it'd be awfully hard to fault Caserio for spending the 67th pick on the former Nittany Lion.
Predicting the Texans Day 3 Picks in 2021
Round 4, Pick #110 – Adetokunbo Ogundeji, EDGE, Notre Dame
Round 5, Pick #148 – Anthony Schwartz, WR, Auburn
Round 5, Pick #159 – Drake Jackson, C/IOL, Kentucky
Round 5, Pick #196 – Feleipe Franks, QB, Arkansas
Round 6, Pick #204 – Trey Norwood, CB/S, Oklahoma
Round 6, Pick #213 – Jonathan Adams Jr., WR, Arkansas State
Round 7, Pick #234 – Darren Hall, CB/S, San Diego State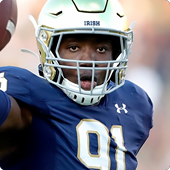 With needs for improvement at essentially every position on the depth chart, pinpointing Texans draft predictions on day 3 is nothing more than a crapshoot.
Having said that, obtaining an edge rusher and a defensive back are absolute musts.
Adetokunbo Ogundeji is a moldable defensive lineman who offers tons of versatility at the position.
Lovie Smith arrives as Houston's defensive coordinator and plans on shifting to a base 4-3 D – Ogundeji can blend in on either side and present consistent pressure off the edge.
A defensive end by trade, Adetokunbo's trajectory in college demonstrates that he can evolve into an interior defensive lineman if needed.
The Michigan native enrolled at Notre Dame weighing a modest 225 – he left South Bend tipping the scales north of 260.
Perhaps the fastest player in the draft, Anthony Schwartz is starting to boom up draft boards thanks to clocking a lightning-quick 4.26 40 at his pro day.
Randall Cobb is not getting any younger and is coming off a significant toe injury that ended his season prematurely. Inking the likes of Andre Roberts, Donte Moncrief, and Chris Conley hardly makes an impression.
Plucking Schwartz off the board at the very least gives Culley a shiny new toy to play with.
Only three players recorded more yards after the catch on screens than the Schwartz did in 2020. And it is a pretty good list.
Travis Etienne
DeVonta Smith
Amari Rodgers
Nabbing Drake Jackson next would add depth to the interior of the offensive line, another area on the gridiron that the Texans front office must address.
Trading for Marcus Cannon (to play right tackle) can kick Tytus Howard inside, but this team lacks a reliable center who can also slide over and play guard.
Jackson, a three-year starter at center for the Wildcats, turned down offers from the likes of Alabama and Ohio State to stay home and play for Mark Stoops.
Born and bred in Lexington, Drake shed 20 pounds in 2020 while displaying excellent hand placement and total body control.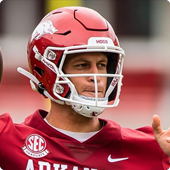 Unless there's a dramatic shift in the Deshaun Watson saga, it's hard not to highlight a quarterback when generating Texans draft predictions.
The QB depth chart behind Watson consists of Tyrod Taylor and Ryan Finley, and that's it.
Feleipe Franks is a sturdy 6'6" who played his best football this past season with the Razorbacks. The Florida transfer completed nearly 69% of his throws in 2020 and sported an impressive 17/4 TD/INT ratio.
Franks possesses dual-threat abilities and uncovered a new level of confidence in Fayetteville.
By no means is he a finished product, although a mentorship with Tyrod Taylor would help groom Feleipe into an intriguing long-term option.
Moving into rounds six and seven, it's time to replenish a secondary that's simply just not up to par.
Trey Norwood and Darren Hall each have experience playing both cornerback and safety – either guy can play in the nickel and cover up the slot.
Norwood picked off five passes in his final six games in 2020, including one in the Big 12 Title game and one in the Cotton Bowl Classic. Hall intercepted three passes in his final four games in 2020; he led the nation in pass deflections (16) in 2019.
Adding 180-pound speedster Anthony Schwartz to the mix could certainly go a long way, but it's worth mentioning that the current starting trio of wideouts in Houston each stand under 6' tall.
David Culley is surely thirsty for a towering WR, which is exactly where Jonathan Adams Jr. enters the picture.
The 6'3" target started off slow at Arkansas State before blooming into a massive contributor.
Jonathan Adams Jr. – By the Numbers with the Red Wolves
Year
Games
Catches
Receiving Yards
Touchdowns
2017
7
8
77
1
2018
10
17
267
3
2019
13
62
851
5
2020
10
79
1,111
12
Adams Jr. is lining up to be one of the steals in the 2021 NFL Draft.
The Texans Mock Draft Looks Bleak
How ugly is it going to be in Houston in the upcoming year?
Well, the top betting sites installed their win total at a paltry 4.5 games (in a 17-game season) – the lowest among all 32 teams.
It's unlikely anything that transpires during the draft changes the perception.
The hope within the organization is that things magically clear up for Deshaun Watson, but even then, this is a group that won four games in 2020 with Watson at the helm.
No matter how you slice it, it's going to be a long and arduous battle for Houston to regain supremacy in the AFC South Division.
The other rosters are much better off, and the teams have a lot more draft capital to play with.