Hide Bonus Offers
| | | | | |
| --- | --- | --- | --- | --- |
| #1 | Bovada Sports | 50% Up To $250 | Visit Site | Bovada Sports |
| #2 | BetUS | 125% Up To $2,500 | Visit Site | BetUS |
| #3 | MyBookie | 100% Up To $1,000 | Visit Site | MyBookie |
| #4 | Everygame | 100% Up To $500 | Visit Site | Everygame |
| #5 | BetOnline Sports | 60% Up To $1,000 | Visit Site | BetOnline Sports |
Hosting the Proper Poker Game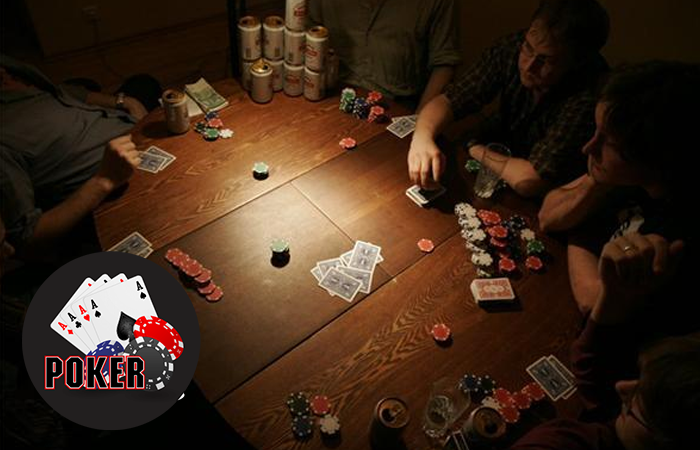 "That was so much fun! Same time next week?"
If you want to be the guy or girl who hosts that awesome weekly poker game that all your friends want to keep coming back to, you landed on the ideal page. I have a lot of experience playing poker at the casinos in Vegas and at the online sites.
Before I was doing any of that, I was playing home games — games at my friends' houses and hosting my own — I was playing as much as I could. I am going to provide you all the detailed information you need to be able to host not only a successful game, but a game that is entertaining and fair, and that keeps people interested.
Whether you want to host an occasional tournament or a weekly cash game, I am here to be your source of guidance throughout the entire process. Follow the organized sections below to make sure you have "all your ducks in a row" when it's time to play a home game.
Getting Started
First things first, figure out your goal. Are you trying to host a cash game every Tuesday night that the same seven or eight buddies play in? Maybe you want to host a huge, high-stakes multi-table tournament (MTT) with 50+ people.
Both are perfectly okay options, but what you are trying to achieve is going to factor in the type and amount of equipment you are going to need. Another decision you will have to make is how nice you want to make the experience.
Is this going to be a poker game where people show up expecting there to be food and drinks, with a nice felt table and a big television?
That transitions into the next big question — are you going to charge a rake?
Take a deep breath before you send a group text out saying, "Poker game at my house." Before you start scrambling around for a set of chips and a deck of cards, you need to establish what kind of poker game you want to host.
What Do I Need?
Once you have decided on the type of poker game and how many people you anticipate coming, you can start preparing. Let's say you want to host a weekly cash game with six to nine players. You'll want to make a good first impression so when the group is thinking about where to play next week, there won't be any discussion. Even if you are going to rotate amongst the group whose home you play at each week, it's still nice to host a game that everyone raves about.
I will talk about the "extra bonuses" you can offer to make your game stand out in the section below. For now, I am going to focus on the basic supplies you will need to get the game started.

A Poker Table
This can be optional. Not the "table" part, that is required. You will need some sort of table, preferably a rounded one for more than six people to play together. An ideal setup would consist of an actual poker table with a felt top, as this would provide a similar feel to if players were playing at a casino.
I have seen on the big shopping websites some pretty formidable ones that come fully equipped with a foldable stand for as little as $90. You can get the felt tops with all the writing (essentially a table without a stand) for as little as $40-$50. If you prefer, you can spend about $2,000 and get a wood and leather finished octagon-shaped one with matching chairs.
Obviously, the more you spend, the better quality of a table you will get. If you don't feel like buying a table, you can still make due. A long, rectangular shaped kitchen table or, even better, a rounded table, will be perfectly fine. Covering the surface of the table is a good idea for two reasons.
For starters, you don't want everyone putting their hands, cards, and whatever else they have with them all over the table you eat your food on.
Secondly, the cards and chips won't slide across many surfaces very smoothly. Even buying some felt cloth for a few bucks and spreading it over your table can do the trick. If you want to be creative, you can use paint and customize the surface of your table.
In either case, the more time, effort, and money you put into your playing surface, the better it will be for all parties involved.

Cards
This one is easy. I shouldn't have to tell you where to buy a deck of cards; however, there are cards made of certain materials that make dealing and playing poker more enjoyable. I am referring to KEM cards. Typical cards you find most places are made out of paper, and coated in plastic.
KEM's on the other hand, are made from a very fine material called cellulose acetate. They will make dealing, shuffling, and handling the cards in general much easier. You can find KEM cards all over the internet.
In either case, you are going to need at least two decks. Even if you are only playing one table, having a backup deck is always a good idea. Over time the cheaper types of cards will become bent and ripped, so replacing cards is inevitable. The KEMs will certainly be more durable and last longer than a standard deck of playing cards.

Chips
When you are hosting a poker game, you will obviously need a set of chips. The good news is that they are inexpensive and easy to find. A great thing about buying a nice set of poker chips is that many of them are equipped with the buttons. Try and find a set that includes the dealer, small blind, and big blind buttons, as that will save you time from trying to create them yourself.
If you are just going to strictly be hosting a weekly cash game, then one set with at least 4 colors of chips should do the job. For example, I found a great 500-piece set that came with the three buttons and two decks of cards, and it was packed in a nice silver briefcase that came with a key — all for $39.99.
It had 200 red chips, 150 white chips, 100 green chips, and 50 black chips. Let's say you were hosting a $2-$5 no-limit Texas hold'em cash game. I would suggest making the white chips $1, the red chips $5, the green chips $25, and the black chips $100.
Obviously, you can make the colors whatever amount you want based on the stakes you are playing.
On the other hand —
If you are going to attempt to host a tournament with more than a couple tables, be meticulous in your preparation. Blinds and antes go up as a tournament progresses, so having enough chips and enough colors is going to be important.
Buying two or more sets of the same chips will assure that you have enough chips should you get more people than expected.
The Bonuses Everyone Appreciates
The segment above covered the essentials. It would be pretty tough to host a fun poker game without having a deck of cards, poker chips, and some sort of table to play on.
This section is going to focus on the bonuses. There are things you can provide to your guests that will make the experience of playing in your game one that they don't want to miss. Remember that when playing poker, most players are going to be folding the majority of the time.
Having some "extras" to keep the players amused throughout the night is a going to make a big difference at how memorable your game is. Take a look below and you will see what I am talking about.

Food and Drinks
Anytime you are going to be having guests over at your house, offering some sort of beverage and a snack is the right thing to do. Inviting people over for a fun night of poker is the exact situation where providing some food and drinks makes the most sense.
How far you take this is up to you. Perhaps ordering some pizza and wings with some beer and soda is right up the alleys of the people you invited. Some groups may just want some water and chips to snack on, while others want two types of red wine and a meat and cheese plate.
Figure out what the people you invited over enjoy, and try to plan accordingly.

Good Camaraderie
Speaking of the people you invited over, think about this carefully. Playing poker at your house means you are going to be spending multiple hours with a group of people. The better the interaction amongst the group is, the more easily the night will flow.
If you know one specific player just brings headphones, plays tight and doesn't say a word, he might not be the best candidate to invite over for a friendly setting like a home poker game. You will want to invite people that enjoy having a conversation and are easy to get along with.
People that share common interests are good examples of who to select when compiling a roster of names. If there is a big football game or boxing match and you intend on having a television on, think about which of your friends also want to watch the contest.
You want everyone to be laughing, talking, and having a good time. The type of people you choose to invite will have a lot to do with that.

Comfortable Chairs
This is found in the "bonuses" section because, while it is not a requirement to have chairs made of leather that recline back, it sure is nice to have chairs that aren't uncomfortable to sit on for long periods of time.
As alluded to, some of the nicer poker tables actually come with chairs that match the table, but that isn't really needed. You can be sensible about it. If you anticipate seven players playing in the game, make sure you have a sufficient chair for each player to sit on. You don't want one or two people forced to sit on the ground or have to stand, so just make sure you have enough chairs.
How nice, fancy, and comfortable those chairs are will be up to you. Just don't forget that the most important thing is to have enough chairs.

A Dealer
This really comes down to what type of experience you are trying to create for yourself and your guests. When playing a single cash game with just one table of players, it isn't completely necessary to have a separate dealer, but it sure makes things nice and easy.
Whether this is a relative, friend, or a professional dealer you pay, having someone who is not playing in the game deal the cards is just a win-win situation for everybody.
No one has to worry about taking the time to shuffle and deal the cards, as some people are less experienced at shuffling than others. Having a separate dealer means you don't have to worry if a player is cheating or doing any funny business while he or she is dealing. The dealer can pull in the antes and the bets, therefore keeping track of the pot and the action.
A separate dealer promotes an equal playing field and it makes the game go by much faster. If you are hosting a tournament with multiple tables, then having separate dealers in place for each table becomes even more important, for the same reasons I mentioned above.

The Automatic Shuffler
If you want to speed up play, the alternative to having a dealer is to just have an automatic shuffler machine like you see pictured. This will promote a much faster and less confusing way to play, as opposed to having each player take turns dealing the cards.
You can find card shufflers all over the shopping networks for as little as $5. Have two decks of cards present so that you can be dealing one while the next set is waiting in the shuffler.
A quick press of the finger and the cards will be shuffling, with no risk of human error. As cheap as these are, it's a good idea to have one. Your poker friends will appreciate how many more hands per hour you are able to play by utilizing an automatic card shuffler.
The Takeaway
Looking to host a fun and exciting poker game? It's all about preparation. The first thing to do is figure out what type of game are you trying to host. Obviously, more planning is involved when you host a multi-table tournament than if you are just having six or seven friends over to play a cash game.
Once you decide what you want, plan accordingly. After you know you have a reliable table in place, you will need to make sure you have more than one deck of cards, along with poker chips that include the dealer, small blind, and big blind buttons.
Those are the basic supplies you will need to get a game started, other than the people, of course. Think carefully about who you want to invite, as the camaraderie between the people playing is a significant portion of the overall experience.
Nobody wants to come over to your house and feel intimidated or get made fun of if they misplay a hand.
Choose people that enjoy the same things and will get along well.
A good way to get everyone comfortable is by offering a selection of drinks and food. Whether that's a few types of alcoholic beverages like wine and beer or just some water and lemonade, having some drinks is a good way to play towards a social atmosphere.
Having some shareable plates of food or some pizza is also a great tool to get people communicating and on the same page about just wanting to have a good time.
Finally, I strongly suggest thinking about having a separate dealer or an automatic card shuffler handy so that players aren't forced to shuffle and deal the cards. People want to come over to have a nice time, and hopefully make some money. Not everyone is comfortable shuffling and cutting cards, so keep that in mind.
If you follow the guidelines I have laid out in this blog, you'll have no problems hosting a successful game. Go out of your way and provide some of the bonuses and your game will be the one people gush about. Just be prepared when suddenly more friends want to come take part in this awesome game everyone has been talking about!