Hide Bonus Offers
| | | | | |
| --- | --- | --- | --- | --- |
| #1 | Bovada Sports | 50% Up To $250 | Visit Site | Bovada Sports |
| #2 | BetUS | 125% Up To $2,500 | Visit Site | BetUS |
| #3 | MyBookie | 100% Up To $1,000 | Visit Site | MyBookie |
| #4 | Everygame | 100% Up To $500 | Visit Site | Everygame |
| #5 | BetOnline Sports | 60% Up To $1,000 | Visit Site | BetOnline Sports |
Hawaii Rainbow Warriors vs. Louisiana Tech Bulldogs – Betting Preview for the 2018 Hawaii Bowl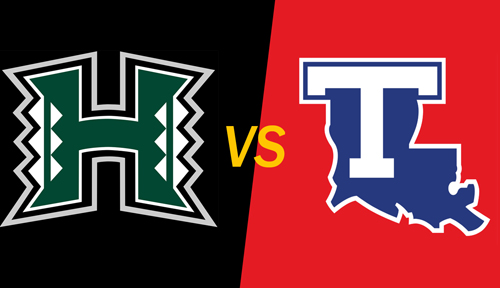 Some people will already be in bed by the time this game starts, but that won't stop others from betting the SoFi Hawaii Bowl this Saturday night.
Those of you on the east coast seeking some late-night entertainment when you return from your Saturday evening shenanigans need to look no further than this betting opportunity.
The Hawaii Rainbow Warriors play a quasi-home game in their own stadium when they square off against the Louisiana Tech Bulldogs in the Hawaii Bowl.
The Rainbow Warriors hit a rough patch, losing four consecutive games, but rebounded nicely with a pair of victories to end the regular season at 8-5. After enduring a painful 2017 campaign in which they only won three times, Nick Rolovich and his men have a chance to cap the year off in style.
But in order to do that, they'll have to find a way to defeat Skip Holtz in a bowl game. Since taking over the Bulldog program in 2013, Skip has been unbeatable in bowl games, and I mean that quite literally. Louisiana Tech is "going bowling" for the fifth straight year and is "4 for 4" so far under Holtz's guidance.
Something's got to give here despite it appearing to be an evenly-matched game. Given that this contest is listed as a "Pick'em" almost everywhere you look, it'll just come down to who you think has the edge.
Here's what I think.
The 2018 SoFi Hawaii Bowl
Records: Hawaii Rainbow Warriors (8-5) vs. Louisiana Tech Bulldogs (7-5)
Where: Aloha Stadium – Honolulu, Hawaii
When: Saturday, December 22nd – 10:30 pm EST – ESPN
ESPN's matchups predictor says Louisiana Tech wins this game 51% of the time.
Given that there is no real point spread here to speak of, this is really the true definition of "anybody's ball game." The more I look at this one from the inside out, the more I'm realizing that trying to pick a winner isn't the best approach.
Hear me out.
Hawaii is keen on throwing the football – that's their bread and butter.
Quarterback Cole McDonald ranked seventh in the country with 3,790 passing yards and was one of seven college QBs to throw 35 or more touchdown passes. Junior wideout John Ursua led the nation with 16 receiving touchdowns while catching 89 balls for 1,343 yards.
There's no denying that Nick Rolovich's decision to go back to the run-and-shoot offense has made this unit dynamic and fun to watch. The problem is they really lack balance, finishing the season ranked 121st out of 130 FBS (I-A) schools in rushing yards per game.
And here's the issue in this tussle.
While Louisiana Tech is fairly average at stopping the run, they are relentless at shutting down their opponent's air attack. Skip Holtz will have had two full weeks to prepare for McDonald, Ursua, and the rest of the Rainbow Warriors' talented supporting cast. That's not a good sign for Hawaii.
As I was diving into this matchup, I noticed something quite apparent with Hawaii and their performances. While they were able to manhandle the weaker opposition and rack up stats, their offense struggled to muster up points and sustain drives when facing pesky defenses.
I focused on the five defensive opponents on the Rainbow Warriors schedule who I would categorize as having solid D's, and here's what I found. Against the likes of San Diego State, Utah State, Fresno State, BYU, and Wyoming, Hawaii averaged under 22 points per game.
Louisiana Tech allows just 193.6 passing yards per game – fewer than any of the five schools I just mentioned.
I hope Rolovich and his coaching staff have a few tricks up their sleeve for this one because the Bulldogs defense is a stingy and ferocious bunch. With Hawaii's inability to run the football consistently, we might see their offensive output be curbed, at least enough to keep this one from turning into a shootout.
Hawaii Rainbow Warriors vs. Louisiana Tech Bulldogs Lines and Pick
In order for 61 points to be scored, Hawaii is going to have to be firing on all cylinders on offense and somehow fall apart on D.
The Bulldogs score just 24.2 PPG and really pride themselves on playing smart and reliable football. LA Tech is ninth best in all of college football in terms of accumulating penalties, and they hardly turn the ball over.
Given that Hawaii forced just nine turnovers in 2018 – only Oregon State (8) forced less – it's safe to say that Louisiana Tech employs a disciplined game plan and doesn't get careless.
I don't see Hawaii having enough legitimate scoring opportunities, nor do I think LA Tech has enough firepower on offense for this to turn into a high-scoring back-and-forth affair.
In the Bulldogs 12 regular-season games, only once did the total surpass 59 points. And that came way back on September 8th against Southern. I know Hawaii likes to get out and sling the ball around, but I think Skip Holtz and his team have too much pride to let that happen.
Going Away
Are you interested in betting the SoFi Hawaii Bowl this Saturday? What about any other games? Check out my complete guide to all the college football bowl games and start firing away when you see a line you like.
When it comes to the Hawaii Bowl, I know the average fan wants to see lots of touchdowns and will probably be rooting for the over. And that's a fine strategy if you're purely seeking enjoyment. However, the data and my analysis have pointed me in another direction when it comes to placing a wager.
I'll be back with some more individual previews concerning other bowl games, so be sure to bookmark our blog homepage if you care to stay in the loop. Free information, valuable insight, and betting recommendations are included.
Doesn't sound too bad to me!