Hide Bonus Offers
| | | | | |
| --- | --- | --- | --- | --- |
| #1 | Bovada Sports | 50% Up To $250 | Visit Site | Bovada Sports |
| #2 | BetUS | 125% Up To $2,500 | Visit Site | BetUS |
| #3 | MyBookie | 100% Up To $1,000 | Visit Site | MyBookie |
| #4 | Everygame | 100% Up To $500 | Visit Site | Everygame |
| #5 | BetOnline Sports | 60% Up To $1,000 | Visit Site | BetOnline Sports |
Guide for Betting on the 2022 Pro Bowl – How and Where to Bet

The 2022 Pro Bowl arrives this Saturday. It's not the Super Bowl or even playoff football, but it's still football.
Kind of.
It's true that few care what happens at the Pro Bowl every year. The game literally means nothing, as the winning team doesn't get a championship, and the stats are borderline fraudulent.
The lack of defense or intensity contribute to a lackluster affair, to be sure. However, there is still star talent on hand at the Pro Bowl each year, and you can also profit from this game.
Yes, you can bet on the Pro Bowl at the top NFL betting sites, and after years of ineptitude, that may be the sole reason to tune in. It's still a pretty great reason, though, which is why I put together this 2022 Pro Bowl betting guide.
Where to Bet on the 2022 Pro Bowl
Before you can bet on the Pro Bowl, you need a site to call home for your Pro Bowl betting. Usually, you can just go to your favorite NFL sportsbooks, but some Pro Bowl betting sites stand out more than others.
Personally, I prefer to use the most reputable NFL betting sites across the board, but with something as volatile as the Pro Bowl, the real onus should be on value.
The Pro Bowl betting sites listed above definitely check that box. Not only are you getting pristine customer service, elite experience, and reliability, but you're also getting versatile wagers and some of the best pricing in the business.
When deciding where to bet on the Pro Bowl this year, put an emphasis on finding the best wagers and odds.
The Pro Bowl can be incredibly difficult to predict, so you want a number of unique ways to bet on the NFL's all-star game, as well as the best odds you can find online.
You can stop short at locating the top sites for betting on the Pro Bowl, but there is more to consider. If you need a little more information before placing your bets, continue on with my 2022 Pro Bowl betting guide.
Key Details for the 2022 Pro Bowl
When: Saturday, February 6, 2022, at 3:00 pm ET
Where: Allegiant Stadium, Las Vegas, NV
Watch: ESPN, ABC, and Disney XD
This year's Pro Bowl will be broadcast by Disney via three huge platforms. The league suspended the game due to the global pandemic last year, but it's back and ready to rock.
Unlike many past iterations, the 2022 edition of the Pro Bowl will take place in the United States, too.
The Pro Bowl had historically been hosted in Hawaii, but it's moved to the mainland, and will go down in Las Vegas, Nevada this weekend.
It's only fitting, then, that you're here for advice on how to bet on the 2022 Pro Bowl.
Speaking of which, casual bettors may go into this weekend looking to bet on the AFC. They've won each of the last five Pro Bowls, after all.
The festivities get started at 3 pm ET and will be hosted by Allegiant Stadium, with the Monday Night Football crew – Steve Levy, Brian Griese, Louis Riddick, and Lisa Salters – calling the action.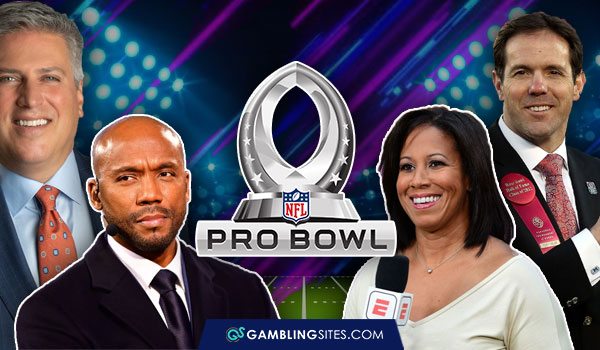 Who Is Playing in the Pro Bowl in 2022?
Before you bet on the 2022 Pro Bowl, you should get familiar with this season's product.
Whether you want to bet on the game itself or player props, familiarizing yourself with the 2022 Pro Bowl rosters is a pretty good idea.
There are bound to be some players to drop out, and I've already personally swapped out players that are set to appear in this year's Super Bowl.
For now, here are the top stars for the AFC and NFC that are listed as starters for the 2022 Pro Bowl.
Top AFC Starters
Justin Herbert, QB, Chargers
Jonathan Taylor, RB, Colts
Tyreek Hill, WR, Chiefs
Mark Andrews, TE, Ravens
Myles Garrett, DE, Browns
T.J. Watt, OLB, Steelers
It's tough to peg the official 2022 Pro Bowl rosters, to be honest. With the AFC and NFC title games out of the way, the dust has yet to officially settle as far as who will play in the Pro Bowl this year.
All we know for sure is that players from the Rams and Bengals won't be partaking in the festivities.
For now, Justin Herbert leads the charge for the AFC.
He could be joined by Jonathan Taylor and some of the other players listed above. It remains to be seen if Tyreek Hill shows up, as he's been dealing with nagging injuries as of late.
Top NFC Starters
Kyler Murray, QB, Cardinals
Dalvin Cook, RB, Vikings
Justin Jefferson, WR, Vikings
George Kittle, TE, 49ers
Nick Bosa, DE, 49ers
Chandler Jones, OLB, Cardinals
I'd keep an eye on who starts under center for the NFC. Aaron Rodgers was the top vote-getter, but he's already made it known that he won't be playing in the Pro Bowl.
Kirk Cousins was named as an alternate, but it's possible Kyler Murray is the one who gets the nod.
Dalvin Cook and Justin Jefferson are poised to start, as well, especially with Davante Adams bypassing the Pro Bowl. He's seeking $30 million per year on the open market, so playing in a meaningless game probably doesn't intrigue him.
Report: Davante Adams asking for $30M annually https://t.co/wHNXGbymQF

— NBC Sports EDGE Football (@NBCSEdgeFB) January 29, 2022
By the looks of it, the AFC is a total stack job.
The NFC loses some key pieces to the 2022 Super Bowl, while some of its biggest assets will probably bow out of the game due to injury or lack of desire to take part.
All things considered, the AFC has the superior roster, from top to bottom.
That puts the AFC in line to come out on top in this one, while they should play a hand in this game being pretty explosive. The only question will be if the NFC can put up enough points to keep it interesting.
Who Is Coaching in the 2022 Pro Bowl?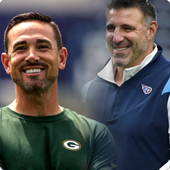 The players are just one part of the process when betting on the Pro Bowl, of course. You should also consider the coaching on the sidelines.
For 2022, Mike Vrabel will roam the sidelines for the AFC, while Matt LaFleur will put the headset back on for the NFC.
Both coaches led their respective teams to the #1 seed in their conference, and both were ousted at home in the Divisional Round of the NFL playoffs.
Vrabel's toughness and defensive edge could go under-utilized in this type of setting. LaFleur, meanwhile, has the scheming and creativity to do serious damage, even with a less imposing roster to work with.
Tips for Betting on the 2022 Pro Bowl
As I write this, there are no listed odds for the Pro Bowl this year. There also aren't any other 2022 Pro Bowl props to take advantage of.
It's early, of course, so it may be just a matter of time before the Pro Bowl odds and wagers start pouring out. Once that happens, you could use some 2022 Pro Bowl betting tips to hang your hat on.
Here are my top tips for betting on the Pro Bowl.
Remember Stars Don't Play Full Games
A top tip for betting on the Pro Bowl is that the star talent involved doesn't always want to risk their livelihood for a little all-star game.
Many of the best players voted into the Pro Bowl ultimately drop out of the game, and that's one of the first things to consider when piecing together your Pro Bowl betting strategy.
Another is that the ones that do suit up probably won't be around for long.
There was no Pro Bowl last year, but the last time one of these games occurred (2020), six quarterbacks ended up taking snaps.
Starters do not play the entire game, and depending on player preference and coaching decisions, many will play a quarter at most.
This can impact how you bet when trying to predict who will win the Pro Bowl, the game total, the spread, and also how you look at Pro Bowl player props.
Teams Won't Run That Much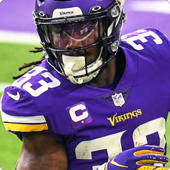 Another obvious nugget, especially looking back to 2020, is that teams won't (and probably shouldn't) run much during the Pro Bowl.
Running between the tackles leads to a lot of unnecessary contact, and can lead to a lot of injuries players and coaches would otherwise prefer to avoid.
In 2020, the NFC ran the ball a grand total of four times. Dalvin Cook was a monster for the Vikings that year, yet he was "featured" to the tune of three carries for 17 rushing yards.
That same year, the AFC had just one running back top four carries in the game, as well.
If you can bet on running back stats or team rushing totals, I'd hit the Under pretty hard.
Bet the Under on Player Props
Let's keep running with that logic. This game has had some high-scoring clashes throughout its history, but it's tough to really get a firm grasp as to what to expect out of the individual players.

Top Tip
Seriously, due to the desire to avoid injury and give all of the players a chance to play in front of the fans, hammering the Under on Pro Bowl player props is typically wise.
This is especially true for running backs, as noted, as well as quarterbacks.
Wide receivers and tight ends can be a bit trickier. They're easily the two positions that tend to thrive at the Pro Bowl, so if you're betting on the lower end for their stats, you'll want to pick your spots wisely.
Need more advice for betting on NFL props? Check out the guide below.
The Game Doesn't Actually Matter
On top of everything else I've said, keep in mind that the Pro Bowl is 100% about fun. The NFL is making money off this game, but nobody actually wins anything beyond a little extra cash.
Players may want to selfishly put-up big stats if they get the opportunity, but nobody is really eyeing records here, and winning the game doesn't move the needle for most of these guys.
Because of this, players aren't likely to play through injury, the effort level will be much lower, and the game won't be nearly as intense.
In addition, the teams will punt, and kick less, and probably wouldn't play for overtime. In other words, it's a totally unpredictable setting that you flat out can't trust as a bettor.
Hammer the Over Due to No Defense
One last Pro Bowl betting tip? Bet on the Over.
While you can absolutely bet the Under for a variety of Pro Bowl props, the final score does have major upside. The game is volatile by nature, but the lack of intensity trickles into the physicality and effort on defense, which can allow for big plays and a lot of scoring.
It doesn't always translate to an insane amount of points, but here's a quick look at how the game has fared dating back to 2010.
2019: AFC 38, NFC 33
2018: AFC 26, NFC 7
2017: AFC 24, NFC 23
2016: AFC 20, NFC 13
2015: Irvin 49, Rice 27
2014: Irvin 32, Carter 28
2013: Rice 22, Sanders 21
2012: NFC 62, AFC 35
2011: AFC 59, NFC 41
2010: NFC 55, AFC 41
This is just the last 10 Pro Bowl scores. In this grouping, you'll notice five games were decided by just one score, while seven games had a total of 47 or much higher.
There was definitely a troubling stretch there where some games were extremely low-scoring, and the Pro Bowl has also been notorious for some horribly lopsided affairs.
However, there have been some wild Pro Bowls in the past. The 2003 Pro Bowl ended in an insane 55-52 shootout, while this game has produced 50+ points from at least one side five different times.
How to Bet on the 2022 Pro Bowl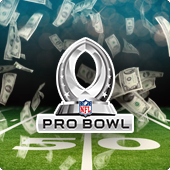 If you're just here wondering how to bet on the 2022 Pro Bowl, hopefully I've covered all the bases.
The process of signing up, depositing, and placing a bet is really simple. If you need a walk through, just check out this guide to betting on sports.
Whenever you gear up to bet on an event like the Pro Bowl, just realize that it's mostly for fun. Trying to gain any kind of a reliable edge with Pro Bowl betting is incredibly difficult.
That said, it's still football, and you can make some money betting on the 2022 Pro Bowl.
The real thing is just around the corner, of course. After you've had your fun with the Pro Bowl, look ahead to the Super Bowl with our guide below.
Guide for Betting on the Super Bowl