The Greatest Trash Talkers in Boxing and MMA History

When it comes to compiling the best trash talkers in the history of sports, you just know that boxers and mixed martial artists are going to top the list.
After all, it's part of the game, right? Therefore, instead of dedicating a piece to the best smack talkers in sports history, I did the inevitable and made it all about the fighters.
With that said, not every combat sports athlete is an expert in throwing barbs, witty remarks, and the overall art of trash-talking we so dearly honor. Oh no.
Some have tried to imitate the great talkers of boxing and MMA but have failed epically. Tito Ortiz, for example, pretty much trademarked incomprehensive insults that confuse, rather than amuse, when he was fighting. The likes of Dillian Whyte and Derek Chisora weren't much better.
But the following legends of trash talk have never had such problems expressing themselves through well-crafted insults, hilarious jibes, and even poetry. Yes, poetry.
Allow me to introduce the greatest trash talkers of all time.
James Toney
Arrogant, abrasive, and never afraid to speak his mind, James Toney was also a hilarious trash talker.
A boxing great, Toney's skills inside the ropes meant that a lot of value was invested in what came out of his mouth. As ridiculous as some of it was, he would usually aim his smack talk with the same precision used to land his elite jab.
But Toney's tongue-bashing wasn't always reserved for outside the ropes. He would often talk to his opponents mid-fight as a means of winding them up and poking them for a reaction. Even sparring partners wouldn't escape his barbs.
Luckily, Toney had one of boxing's greatest chins. Otherwise, he might have had his jaw wired shut.
When Toney was the IBF super-middleweight champion of the world, he appeared on a British late-night talk show via satellite feed. Fellow super middleweights Chris Eubank and Nigel Benn were gearing up for a huge domestic fight, but Toney was only happy to give them a piece of his mind.
The footage is a little blurry, but this clip sums up just how hilarious "Lights Out" was with his trash talk.
In addition to claiming that he would beat both Benn and Eubank in the same night, he told Eubank that when he saw him, he would "beat him and his momma's ass."
Toney was one of the best boxers of the 1990s. But he will always be remembered for his excellent ability to wind up his peers and say things that should not be said. He understood the entertainment side of the sport as good as anyone and was a master of one-liners.
But he was also capable of sending out a serious message of intent when he wanted to.
"I'm not gonna box, Ruiz…I don't box, I knock holes through people. I'm gonna cut Ruiz up. I'm gonna butcher him. He ain't gonna last five rounds. Either he winds up on the canvas or in the hospital. It's his choice."
Toney would test his mettle in the UFC. But let's just say things didn't exactly go to plan for the Michigan-born great…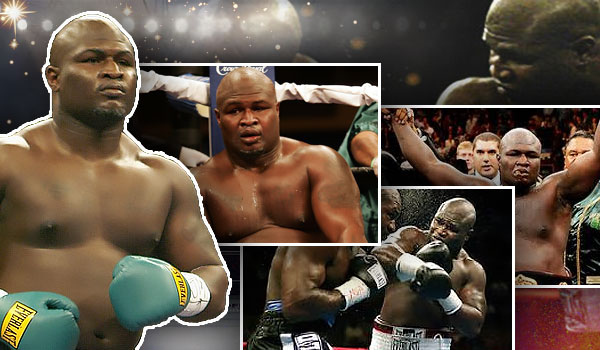 Mike Tyson
"Everyone has a plan until they get punched in the mouth."
As one of the most terrifying heavyweights of the 20th century, Tyson's intellect was easily underestimated by those who painted him as nothing more than a savage and brute inside the ropes.
But under the tutelage of the great Cus D'Amato, the native of Brownsville, New York, became a voracious student of all things boxing. In addition to Cus, Teddy Atlas, and Kevin Rooney around him, he also had access to a huge library of fight footage. Tyson had everything he needed to learn about the "sweet science."
But Tyson's greatest trash talk emerged when D'Amato passed away. He also went off the rails, culminating in a prison sentence for the alleged sexual assault of a beauty pageant contestant. He discussed most of his shocking stories in his book (and later, his one-man show) The Undisputed Truth.
Mike Tyson's Greatest Wins
Opponent
Method of Victory
Date
Michael Spinks
KO Round 1
June 27, 1988
Tony Tucker
Unanimous Decision
August 1, 1987
Trevor Berbick
TKO Round 2
November 22, 1987
Pinklon Thomas
TKO Round 6
May 30, 1987
Larry Holmes
TKO Round 4
Jan 22, 1988
Still, Tyson is regarded as one of the greatest trash talkers in the history of boxing. As an active heavyweight, he knew how to intimidate his opponents with his unique choice of words and delivery.
Sometimes he stepped over the line, and sometimes — such as his callout of Lennox Lewis following his 38-second destruction of Lou Savarese in 2000 — he caught everyone by surprise.
"Lennox is a conqueror? No. I'm Alexander. He's no Alexander. I'm the best ever. There's never been anybody as ruthless. I'm Sonny Liston. I'm Jack Dempsey. There's no one like me; I'm from their cloth. There's no one that can match me."
"My style is impetuous. My defense is impregnable. And I'm just ferocious. I want your heart. I want to eat his children. Praise be to Allah."
Tyson saved perhaps his most shocking trash talk for a pre-fight press conference against Lewis in 2002. You can find it online, but it's not something that I would recommend looking, as it is a little shocking.
When it comes to sport's best trash talkers of all time, Tyson is up there. There is no doubt about that.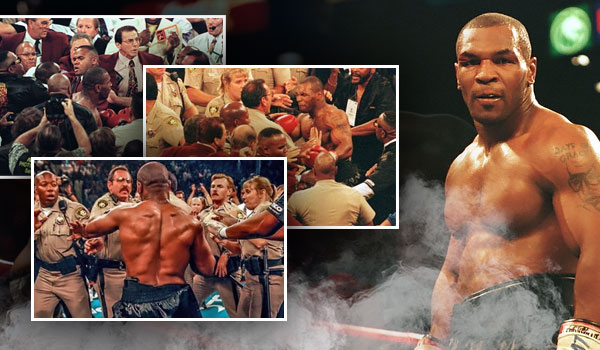 Chael Sonnen
Sonnen is MMA trash talk royalty.
He is one of the best to ever do it in any sport and puts most others to shame.
It goes without saying that "The American Gangster" was highly influential on another great UFC trash-talker on this list. But we'll get to that later.
First, let's talk about this guy. Let's look at some of the best smack-talk that has ever been delivered in the history of the fight game.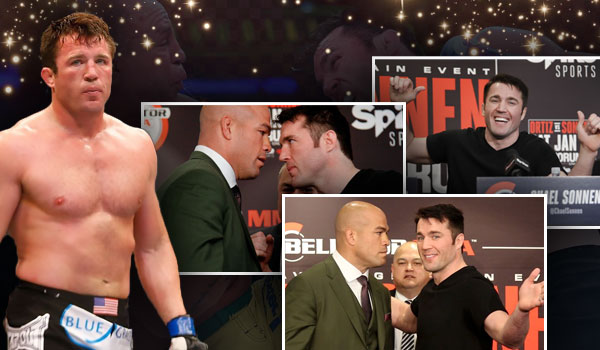 "Listen, Wanderlei, I will do a home invasion on you. I will cut the power to your house, and the next thing you'll hear is me climbing up your stairs in a pair of night-vision goggles I bought in the back of Soldier of Fortune magazine.
"I'll pick the lock to the master room door, take a picture of you in bed with the Nogueira brothers working on your 'jiu-jitsu.' I'll take said quote unquote photograph, post it at dorksfrombrazil.com, password – not required, username – not required. That, Wanderlei, is how you threaten someone. Dummy."
I could pick out most of Sonnen's greatest lines and fill this piece with them if I could. The guy was phenomenally inventive and so quick-witted when it came to throwing barbs.
Although he appeared to save his venom for Brazilian legends such as Anderson Silva, Wanderlei Silva, and, of course, the Nogueira brothers, no one escaped the UFC star's acerbic tongue.
When it comes down to it, Sonnen's best trash talk is up there with the funniest verbal shots I have ever heard.
Conor McGregor
The most "Notorious" fighter in UFC history, anyone with even a remote understanding of trash talking in MMA would have surely bet on Conor McGregor making this list.
From the early stages of McGregor's UFC career, you could just tell that you were witnessing something special.
The livewire, slightly crazy Irishman seduced the world of MMA with his cocky demeanor and hilarious wit. It's not as if he invented trash talk, but he certainly had a hand in making it great again. His comedic timing and hilariously outrageous subject matter boosted his popularity among pretty much everyone in the sport.
Not long after his now-famous "Dana… sixty G's, baby!" comments following his win over Marcus Brimmage in his UFC debut, McGregor had reporters, and fellow fighters, in hysterics at the post-fight presser.
Having explained how he would have to stop taking social welfare checks after the win, McGregor then explained how his desire for luxuries would see him back in the cage, knocking fighters out.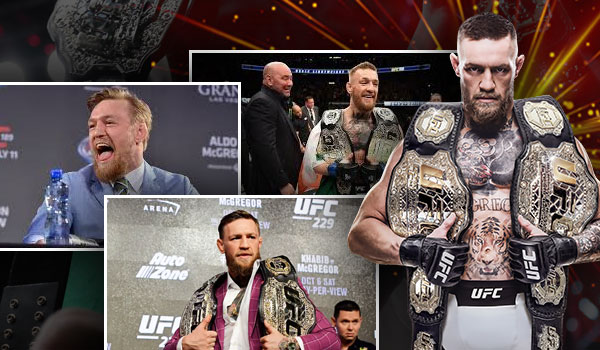 "Custom made suits aren't cheap, you know what I mean? This solid gold pocket watch… three people died making this watch."
As McGregor's profile exploded, so did his smack talk. From telling Chad Mendes that he could rest his balls on his forehead to his campaign of verbal destruction against Jose Aldo, McGregor quickly took over from Chael Sonnen as the greatest trash talker in MMA history.
My favorite moment of McGregor's has to be his incredible roasting of Jeremy Stephens in 2016.
Poor Stephens…
Muhammad Ali
There's no doubt that "The Greatest" will go down as the eternal emperor of trash talk.
When the 1960 Olympic gold medalist arrived in the paid ranks, he already had a reputation as being a cocky, braggadocious, and super confident boxer with unquestionable talent. But those who could see nothing but a gigantic ego didn't take too well to the man formerly known as "Cassius Clay" making such a rumble.
One fighter that was no fan of Clay's was the terrifying, indomitable, and downright ruthless heavyweight world champion, Sonny Liston.
Right up until his suspicious death, Liston was a fearsome character. In his pomp, he had a reputation for brutalizing his opponents. He had won two consecutive fights against all-time great Floyd Patterson in the first round and was seen as pretty much unbeatable prior to facing Ali.
Ali showed Liston no respect, even turning up outside his house in the middle of the night in a bus, honking his horn, and talking smack. It was unheard of for anything like this to ever happen in the fight game.
But Ali got into Liston's head and "shook up the world" with a sixth-round stoppage that crowned him as the new heavyweight champion.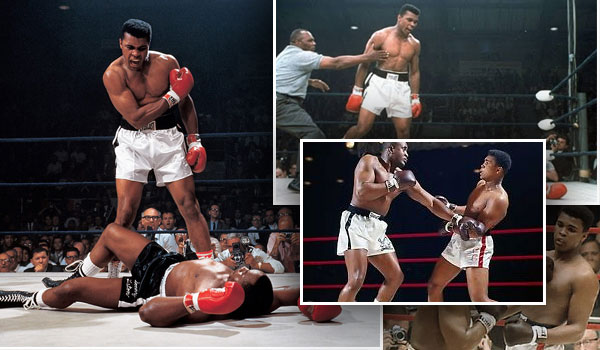 Suddenly. Everyone was taking Ali a lot more seriously. His claims of being too fast, too slick, and too powerful were being backed up. His charisma and ethereal, god-like qualities suddenly saw him become the most recognizable face on planet earth.
The Kentuckian went through his entire career entertaining crowds with his incredible verbal gifts. Mostly at the expense of his opponents, of course.
Take, for example, the trash talk before the "Rumble in the Jungle" against another heavyweight behemoth in George Foreman. "That sucker ain't nothing," he assured the crowds that had gathered to hear him speak. "George got everybody scared; there ain't nothing to be scared of."
Muhammad Ali's Greatest Performances
Opponent
Method of Victory
Date
George Foreman
KO
October 30, 1974
Sonny Liston 1
RTD
February 25, 1965
Cleveland Williams
TKO
November 14, 1966
Joe Frazier 2
RTD
October 1, 1975
Ernie Terrell
Unanimous Decision
February 6, 1976
Despite appearing like a superhero, Ali was, of course, human. There was certainly a discernible look of fear on his face when he spoke about Foreman, at times. But his bravery was unmatched, and this is what made him the man he was.
Before the Foreman fight, Ali delivered one of his most celebrated poems.
"I've wrestled with alligators, I've tussled with a whale. I done handcuffed lightning, and throw thunder in jail. You know I'm bad; just last week I murdered a rock. I injured a stone, hospitalized a brick. I'm so mean, I make medicine sick."
Muhammad Ali will always be the king of the ring. No one will ever match the man's spirit inside those ropes, nor that slick tongue outside of them.
Final Thoughts
I'm pretty satisfied with my list of the greatest trash talkers of all time.
I mean, we could have added a few more names to the list, but I like it just the way it is. Of course, no one is going to come close to knocking these five smack-talking fighters from their perches, so we would have had to accommodate a few other folks.
But sometimes, less is more. I guess that's the lesson we learned today.
For more boxing content, you should definitely peruse our boxing and MMA blogs. We cover all kinds of boxing-related subjects on there, from betting on the fights to covering stories that deserve to be told.
I'll leave you with a piece I know true fight fans will enjoy reading about.
AUGUST
Casino of the Month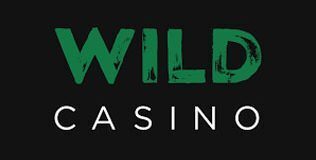 Welcome Bonus
250% up to $5,000
Read Review
Visit Site