Ranking the Top 10 Greatest Snooker Players of All Time

Ranking the best snooker players in history is no easy task. Countless top snooker players have graced the sport over the years.
From past legends like Alex Higgins and Ray Reardon to modern-day superstars such as Mark Selby and Ronnie O'Sullivan, there are plenty of candidates to choose from.
In recent years, the best snooker betting sites have enabled us to wager on the sport's biggest names. But what about the guys who dominated the green baize long before online gambling was even a thing?
Join me as I share my take on the top 10 greatest snooker players of all time.
10. Alex Higgins
There was a time when Alex Higgins was widely regarded as the best snooker player on the planet.
Between 1972 and 1982, the Northern Irishman reached four World Snooker Championship finals – triumphing on two occasions. He also claimed two Masters titles during that period before winning the UK Championship in 1983.
Consequently, Higgins is one of only 11 players in snooker's modern era to have completed a career Triple Crown.
For those unaware, a career Triple Crown is achieved by winning the sport's most prestigious tournaments – the World Championship, the UK Championship, and the invitational Masters. Only the top snooker players are able to complete the feat.
Nicknamed "The Hurricane" due to his fast-paced style of play, Higgins will always be remembered as one of the greatest snooker players of all time.
9. Allison Fisher
Allison Fisher isn't just one of the best female snooker players ever; she's one of the top snooker players – period. To say that Allison Fisher dominated women's snooker throughout the 1980s and 1990s would be an understatement.
Believe it or not, Fisher won SEVEN Women's World Snooker Championships in TEN seasons between 1985 and 1994. During that time, she claimed back-to-back titles on three occasions – emphasizing her dominance.
WORLD WOMEN'S SNOOKER CHAMPIONSHIP TITLES (1985–1994)
Player
Titles
Allison Fisher
7
Ann-Marie Farren
1
Karen Corr
1
Between 1991 and 1995, "The Duchess of Doom" added another 11 snooker titles to her collection. Most notably, she won both the World Masters Mixed Doubles and World Mixed Doubles Championship alongside Steve Davis (more on him later).
Fisher swapped snooker for pool in 1995. Unsurprisingly, it didn't take her long to dominate the pool scene. The Englishwoman clinched three consecutive WPA Women's World Nine-Ball Championships between 1996 and 1998 before triumphing again in 2001.
Not only is Fisher among the best snooker players of all time, but she is also one of the greatest pool players in history. Check out the post below to find out more about where she ranks.
8. John Spencer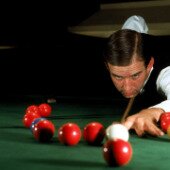 When John Spencer won the 1969 World Championship as a debutant, it was clear that they would become one of the greatest snooker players of all time.
In fact, the legendary Englishman won three World Snooker Championships across his glittering career. He went on to triumph again in 1971 and 1977, suffering a defeat to Alex Higgins in the 1972 showpiece along the way.
On top of that, Spencer was the inaugural winner of both the Masters and Irish Masters.
A few years later, he complied the first-ever 147 maximum break in a professional tournament at the 1979 Holsten Lager International.
Spencer is renowned for his unusually long backswing, which gave him unrivalled cue power. His distinctive technique also enabled him to create many of the special shots that we see the top snooker players use today.
As one of the sport's true pioneers, Spencer has to go down as one of the best snooker players in history.
7. Mark Williams
Mark Williams turned professional all the way back in 1992. Remarkably, he is still active today. That tells you everything you need to know about his consistency and longevity.
The Welshman's best years came around the turn of the millennium. He was the world's #1 player for three seasons (1990-00, 2000-01, 2002-03) and even secured the Triple Crown in 2002-03.
After becoming only the third player in history to win all three Triple Crown events in the same season, Williams became the first-ever player to win all three versions of the professional World Championship. Pretty impressive, huh?
"The Welsh Potting Machine" reached three World Championship finals between 1999 and 2003, losing the first before winning the next two. However, he failed to reach any of the next 14 showpieces.
Many believed Williams would never claim the sport's top prize again, but he proved his doubters wrong. In 2018, he beat John Higgins 18-16 to clinch his third World Championship title – cementing his status as one of the best snooker players ever.
The left-hander has won a total of 24 ranking tournaments over the years, including two UK Championships and two Masters titles. Naturally, that puts him among the top snooker players in history.
6. Mark Selby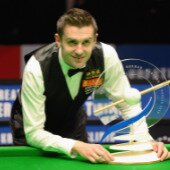 It wouldn't be unfair to say that Mark Selby made a relatively slow start to his professional career. I mean, "The Jester from Leicester" failed to win a tournament from his debut season in 1999-00 to the 2006-07 season.
Since then, however, the 39-year-old has not stopped winning tournaments.
The floodgates opened when Selby won both the Masters and Welsh Open in 2007-08. He went on to claim the Masters title in 2010 and 2013 before picking up the first of his two UK Championship titles.
Still, Selby's greatest era of dominance came between 2014 and 2021. During that period, he achieved four World Championship triumphs in eight seasons – sealing his standing among the greatest snooker players ever.
Selby is also a professional pool player – and a good one at that! Having won the World Eight-ball Pool Federation Championship, he is the only man to have been a world champion in both snooker and pool.
Granted, Selby still has a long way to go before he can be regarded as one of the best pool players ever. But he is undoubtedly among the greatest snooker players of all time.
5. Ray Reardon
Ray Reardon became snooker's first-ever world #1 when the official rankings were introduced in 1976. To this day, he remains one of the best snooker players in history.
Nicknamed "Dracula" because of his characteristic hairstyle, Reardon dominated the sport throughout the 1970s. He claimed no fewer than six World Championship titles in nine years, beating five different opponents in finals.
The Welshman also reached four of the first nine Masters finals. Although he only managed to claim one Masters title, just five players have participated in more Masters showpieces than Reardon.
In addition to being an amazing snooker player, Reardon was a true entertainer. He often interacted with the crowd and cracked jokes throughout matches, bringing his unique sense of humor to a serious and formal sport.
Few would argue that Reardon is not among the greatest snooker players in history.
4. John Higgins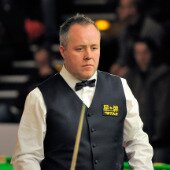 When it comes to discussing the best snooker players of all time, John Higgins' name is always one of the first on the list.
Since turning professional in 1992, "The Wizard of Wishaw" has secured nine Triple Crown titles. He is one of the sport's most decorated players, having won four World Championships, three UK Championships, and two Masters titles.
In fact, only three men have claimed more Triple Crown titles than Higgins. No prizes for guessing who ranks between #3 and #1 on my list!
MOST TRIPLE CROWN TITLES IN SNOOKER HISTORY
1. Ronnie O'Sullivan – 21
2. Stephen Hendry – 18
3. Steve Davis – 15
4. John Higgins – 9
5. Mark Selby – 9
Higgins won the first of his World Championships in 1998 before clinching three titles in five years between 2007 and 2011. He also reached three successive finals between 2017 and 2019 but failed to add another title to his collection.
The Scotsman's UK Championship triumphs came in 1998, 2000, and 2010, while his Masters triumphs came in 1999 and 2006. In truth, he has enjoyed cast success for the best part of three decades.
Read on to learn about the top three greatest snooker players of all time.
3. Steve Davis
The world of professional snooker belonged to Steve Davis throughout the 1980s.
Between 1981 and 1989, the iconic Englishman reached eight World Championship finals in nine years – winning six and losing two. First, he claimed three titles in four years. After that, he secured three consecutive titles.
Davis dominated the UK Championship, too, featuring in nine finals across 11 years. After securing back-to-back UK Championship triumphs in 1980 and 1981, he won four in a row from 1984 to 1987.
Oh, and Davis also claimed three Masters titles for good measure – winning his first in 1982 and his last in 1997. Talk about longevity!
Davis made his professional debut all the way back in 1979 before retiring in 2016, meaning his remarkable career spanned five decades. He won a record 84 professional titles – 28 of which were ranking event victories – and also finished as a runner-up on 38 occasions.
Need I say more?
2. Stephen Hendry
While the 1980s belonged to Davis, the 1990s were dominated by Stephen Hendry. And when I say dominated – I mean dominated!
Hendry reached eight of the ten World Championship finals in the 1990s, triumphing on no fewer than seven occasions. He even secured five straight titles in that time, beating Jimmy White in the showpiece for three years running.
Since the beginning of snooker's modern era in 1969, no player has won more World Championships than Hendry.
The legendary Scotsman also claimed six Masters titles and five UK Championships between 1989 and 1996. He is the only player to have chalked up five straight Masters titles and one of only two players to have won three consecutive UK Championships.
Hendry retired in 2012, having accumulated a whopping 75 professional titles. However, he came out of retirement in 2020. Can he add any more silverware to his bustling trophy cabinet?
The superstar has picked up many nicknames during his career, including "The Golden Boy," "The Ice Man," and "The King of the Crucible." Whatever you choose to call him, don't forget to also refer to him as one of the best snooker players ever.
1. Ronnie O'Sullivan
Who is the greatest snooker player of all time? Well, in my eyes – and the eyes of many snooker fans worldwide – Ronnie O'Sullivan is the greatest snooker player of all time.
O'Sullivan has won more Triple Crown events than any other player, having clinched seven World Championships, seven UK Championships, and seven Masters titles. With 21 triumphs to his name, he sits three clear of Hendry on the all-time leaderboard.
As the table below details, "The Rocket" has dominated the World Championship since winning his first title in 2001.
WORLD SNOOKER CHAMPIONSHIP TITLES (2001–2022)
Player
Titles
Ronnie O'Sullivan
7
Mark Selby
4
John Higgins
3
Mark Williams
2
Peter Ebdon
1
Graeme Dott
1
Judd Trump
1
Shaun Murphy
1
Neil Robertson
1
Stuart Bingham
1
More than two decades after his first triumph, O'Sullivan became the oldest world champion in snooker history. At the age of 46, he clinched a record-equaling seventh World Championship.
Best known for his fast and attacking style of play, O'Sullivan has the ability to humiliate any opponent. But only when he can be bothered. The enigmatic Englishman is renowned for doing things on his own terms and has even missed major tournaments for no apparent reason.
Not only is O'Sullivan widely regarded as the greatest snooker player of all time, but he is also viewed as one of the best sportspeople of his generation.
The term "legend" gets thrown around like confetti nowadays. However, there is no denying that O'Sullivan is a bona fide sporting legend.
More Top Snooker Players
As I mentioned at the beginning of this piece, whittling down the top 10 greatest snooker players of all time is a tricky task. For that reason, several top snooker players narrowly missed the cut.
Here are some more of the best snooker players ever.
Judd Trump
Paul Hunter
Jimmy White
Joe Davis
Dennis Taylor
Neil Robertson
Fred Davis
John Pulman
Walter Donaldson
That concludes my take on the greatest-ever snooker players. If you're looking for more content like this, head over to our sports blog. We cover all the popular sports, but we also love to cover obscure sports.
If all this talk of snooker has gotten you in the mood for wagering on snooker, be sure to use only the best sports betting sites and online sportsbooks.
AUGUST
Casino of the Month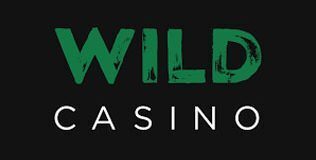 Welcome Bonus
250% up to $5,000
Read Review
Visit Site