Ranking the Top 5 Greatest Bluffs in Poker History

Would you care to join me as I revisit some of the best poker bluffs ever?
I was playing a few hands online last night and pulled off a convincing one of my own. Rest assured, I won't be giving in to temptation and writing about that today. As much as I would love to regale you with how I let a player with a superior hand walk into the trap I set for them; I doubt you want to hear about it.
Instead, I'll be looking over the biggest poker bluffs in history. The ones revered by players and fans alike are probably the source of numerous nightmares for the players who bought them.
Naturally, you can learn a lot about the art of bluffing here. Perhaps you can try some of the techniques this piece shows at the best online casinos. While these bluffs were sold and bought on the physical tables, that doesn't mean you can't bluff online!
Anyway, let's start this list of the greatest poker bluffs in the history of the game with the one that mattered most. We'll be working from the best down, but I wouldn't invest too much in the order of things. They're all spectacular!
1. Chris Moneymaker's Bluff of the Century
Event: 2003 World Series of Poker
Venue: Binion's Horseshoe – Las Vegas, Nevada
Opponent: Sammy Farha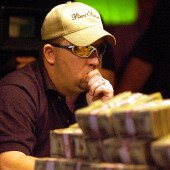 It's been almost two decades since Chris Moneymaker pulled off one of the best poker bluffs ever.
When you put it like that, I guess there's no option but to feel old. It certainly doesn't seem that long ago that fans were tuning in to watch a guy seemingly emerging from the ether putting it up to a seasoned veteran in Sammy Farha. But he did. And he came away smelling of roses.
And over $2.5 million. But it's not all about the money, is it? It's not as though this guy could help because he was born Christopher Moneymaker. After all, his ancestors — who adopted the surname as an English modification of the German name Nurmacher — made gold and silver coins. Hence the name. And why he was born to make money.
Of course, if you believe that I have a bridge to sell you. Rather than being put on the planet to make money, perhaps it would be more apt to suggest that Moneymaker, born Christopher Bluffington III, was born to bluff.
I was just kidding. As incredible as it sounds, Moneymaker is his real name. Seriously. Look it up.
Anyway, moving on from talking about Moneymaker's World Series of Poker bio, let's discuss his iconic moment in 2003 that goes down as the best bluff in World Series of Poker history.
Not only did it net the former accountant from Tennessee a record grand prize, but it was also the point when poker exploded globally. Suddenly, everyone and their pet lizard were heading to online poker sites to try to emulate this randomer's success.
Although he walked away with $2.5m, Moneymaker had paid just $39 to buy into a qualifying event that would eventually culminate in a place on the final table.
With 839 entrants, the odds were against the amateur from the start. But as opponents kept falling out, he kept moving on. Pretty soon, it was just Moneymaker and Farha playing for the win.
The Greatest Bluff in the History of Poker?
As the final river card was face up on the felt, it looked as though the fairytale ending many had wanted to see was not going to happen.
With nothing resembling anything close to a strong hand, Moneymaker still went in anyway. Rookie error? Perhaps it would have looked that way to any master poker player observing the turn of events.
Farha was holding a pair of nines but incredibly folded. Instead of entertaining the idea of a bluff, the Lebanese legend could not get a read on his opponent at all.
Moneymaker had out-mastered the master in the game of bluffing. More than this, the man with the most outlandish aptonym in the history of poker had just lit a spark that would engulf the minds of amateur poker players across the world.
While the novelty has worn off a little, Moneymaker has assured his place on any list of the most memorable poker bluffs of all time.
Think that was easy? Perhaps you want to follow in the footsteps of Moneymaker and win a World Series of Poker Main Event using the same tactics? Let me tell you; it's a tall order for anyone. Never mind an amateur from out of nowhere.
2. Tom Dwan Bluffs Eastgate and Greenstein to Submission
Event: High Stakes Poker Season 5 (2009)
Venue: Golden Nugget – Las Vegas, Nevada
Opponents: Peter Eastgate and Barry Greenstein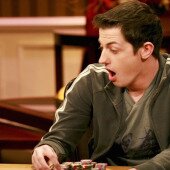 One of the most imaginative bluffers of his day, players knew there would be drama when Tom Dwan turned up.
Known as "Durrr," the internet and live-circuit standout were regarded as a sound player with a penchant for bluffing. While he met his maker at times, there is no doubt that he also built a track record of walking players into traps. Sometimes, with considerable amounts of money on the line.
Dwan is the last guy you would want to meet on the top online poker sites or any table in the world. This is because he is one of the most accomplished masters of the dark arts of poker that has ever taken up the game.
If I were to name one of the top bluffs in poker off the top of my head, the chances are that I would namecheck his famous three-way pot score against Peter Eastgate and Barry Greenstein back on the High Stakes Poker Season 5 tournament. Remember this one?
Even aspiring bluffers who looked up to Dwan would have probably considered this a step too far. But for the bluffing maestro, it was nothing more than a challenge that he knew could be pulled off.
The way it worked was magical.
Greenstein had opened under the gun with a pair of aces. Picking up several pre-flop calls, the "Robin Hood of Poker" looks unperturbed at the prospect of maximizing his advance from such a strong position. What Greenstein doesn't know is that Dwan has a Q and 10 while Eastgate holds a 4 and 2 from the small blind.
Eastgate would have been clearly delighted to see the flop produce 2, 10, and 2. That gives him Trip 2s, to which he checks. Of course, Greenstein — known for his tight and cerebral style of play — backs his pair of As for ten grand. Dwan raises, taking it up to $37,000, with a bluff. Eastgate called with Greenstein just behind him.
Now, the turn comes with a 7 of diamonds followed by two consecutive checks. Dwan shoots and barrels for $104, 200 which forces Eastgate and Greenstein to fold. Can you imagine folding on a pair of Aces? Well, that's exactly what the veteran did.
Tom Dwan can not believe Peter Eastgate's hand at showdown https://t.co/iuk206hdTn

Featuring another classic durrrr facial expression. pic.twitter.com/aLsOXFGwRT

— Doug Polk (@DougPolkVids) December 29, 2016
So, was this simply a case of brass balls winning the day? Nope.
There's more to it than fortune simply favoring the brave. Dwan had worked out from the call from Eastgate that there is a high chance his opponent has a stray 2. By his style and character, Greenstein is only going to be there if he has an overpair. He was paying attention to previous hands and used this information to his advantage later on.
Like I said. One of the best bluffs in poker history from one of the most famous poker players of all time.
3. Isaac Haxton Breaks Ryan Daut with a Classic Poker Bluff
Event: 2007 Poker Stars World Poker Tour Caribbean Adventure
Venue: Atlantis Resort & Casino – Paradise Island, Bahamas
Opponent: Ryan Daut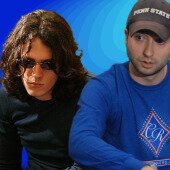 Who saw this one coming? Would you agree that is up there with the biggest poker bluffs of all time if you remember it?
I don't care if you're a US legend or one of the best Canadian poker players in history. It doesn't matter who you are or where you come from. You cannot deny that Isaac Haxton's gutsy work of genius deserves to be commended, even close to two decades after it went down.
Moneymaker's was probably the best bluff in poker history for numerous reasons. The same can be argued about Dwan's, which we just covered. But I loved the absolute brass neck of Haxton in this one, as he dared to push the pace against a guy who presumably knew what he was playing at.
The clash went down at the Poker Stars World Poker Tour Caribbean Adventure in the Bahamas in 2007. Haxton and Ryan Daut went heads up with Daunt limping with a hand of 7-5. Haxton would check the big blind holding a 3 and 2 of diamonds. When the flop landed, a Q of hearts, 4 of hearts, and Ace of clubs hit the table. What would happen next would go down in folklore as one of the greatest double bluffing contests in the history of poker.
Wow. Look at poor Daut's face. You would have no heart if you didn't hear Simon & Garfunkel's "The Sound of Silence" opening bars watching his soul break.
As you can see, Haxton had nothing. Nada. He took his time to reflect on the situation when the turn presented a king of diamonds when he had his opponent checked. But when the river showed a Queen of clubs, Daut gave away his position when he checked on the turn, making a $700k bet. Daut responded by raising $2m to smother Haxton's bluff.
But this is when he knew he had him, going all in for $7 million. Daut folded, and fans witnessed one of the most amazing poker bluffs ever. If you are to have success in this game, you must study the various ways how to spot bluffing in poker. The following piece will help!
4. Dwan's Incredible Poker Bluff Beats Phil Ivey
Event: High Stakes Poker Season 6 (2010)
Venue: Golden Nugget – Las Vegas, Nevada
Opponent: Phil Ivey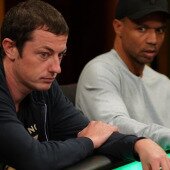 We've seen some of the most sensational bluffs in poker history take up the top three positions in this piece.
However, there is plenty of space left to discuss some of the other incidents I consider among the best poker bluffs ever. One that was always set to take a spot on my list is Tom Dwan's standoff with Phil Ivey on Season 6 of High Stakes Poker.
Durrr has already appeared on this list for his shamelessly slick bluff over Eastgate and Greenstein. As awesome as that was, some fans believe this to be the crowning moment in his run as one of the most prolific bluffers on the poker circuit.
It's not difficult to catch amateur players out with a well-crafted trap. But trying to employ the same techniques against arguably the greatest poker player of all time, Phil Ivey, takes another type of outrageousness altogether.
You could argue that Dwan's bluff over Sammy George holding a 7-2 in the Million Dollar Challenge was more impressive than this one.
Maybe it was. After all, Dwan had already confirmed his hand with George, up an Ace and 6, believing he was lying. George had a pair of aces following the flop and raised to $27,000. But Dwan forced the fold, despite holding nothing. Of the greatest ever poker bluffs, that will go down with the most golden.
But I do believe Durrr's genius in this showdown with Ivey also deserves some credit. So, I'll leave it up to you to decide which was better.
5. Phil Ivey's Bluff vs. Bluff in Monte Carlo
Event: 2005 Monte Carlo Millions
Venue: Casino de Monte Carlo – Monaco
Opponent:Paul Jackson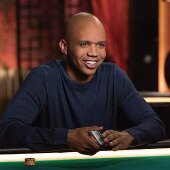 Before I get to why this is one of the most incredible poker bluffs in history, I got a little bit of trivia.
Did you know that the Monte Carlo Millions marked the first ever poker tournament to be held in Monaco? Yes, that Monaco. The world-famous gambling hotspot is as synonymous with betting as James Bond with tuxedos.
The first event was staged in November 2004 and slayed by future legend Phil Ivey. The American had seemingly done everything there was to do but was ultimately pipped at the last hurdle by Jani Sointula, who went on to win $400k and the first ever Monte Carlo millions final.
However, the following year would see another historic tournament take place. In addition to record prizes and historic showdowns was one of the most memorable bluffs in poker history. I am, of course, talking about the showdown between Ivey and Paul Jackson.
Now, the grainy quality might be far away from the super HD you're used to these days.
But remember, this was filmed back in 2015. And although it seems like that was just yesterday, it was, in fact, 17 years ago. I know, I know. We're old. Quit talking about it.
Anyway, this still stands as one of the best poker bluffs in history due to Ivey's ridiculous ability to read exactly what was happening here. If you check out the video, you'll see that Jackson limps in with a 6 and 5 before Ivey proceeds to check the big blind with a Q and 8 of hearts. The flop hits at 7 and J of clubs and a J of hearts.
Now, most players in the same position as Ivey would see that as a worthy opportunity to take. Jackson senses something is not right. He is not far off, of course. But there is no way he would have considered that he would be part of one of the greatest bluffs in poker history.
Even thinking back to the tension in that game as both hold air and raise before the grand all-in makes me feel queasy. The way the legendary Ivey takes this one, however, has to be seen to be believed.
Even the Best Poker Bluffers Get Caught Out!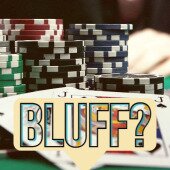 So, you've seen the best poker bluffs ever and are getting some ideas.
Perhaps you believe that learning the ins and outs of the game is a fruitless endeavor, given you can just BS everyone at the tables and collect the dough. Now, I sure hope that isn't what you are actually thinking. If you are, take a hand and slap that idea out of your mind.
Although these top poker bluffs in history might give the impression that you can masquerade your way to riches, that is not the case. All the players above have proven themselves to be iconic poker players who are superb tacticians and readers.
The culmination of their wins might have been through the bluff, but that's not what got them there now, is it?
While bluffing is an integral part of poker, it's only effective when a player has an adequate skill set. It's kind of like trying to trash-talk a professional fighter and beat them into submission by playing the psychological game. That could work. That is until they figure out you can't throw a straight punch. You'll be eaten alive.
More than this, even the greatest poker bluffers of all time have been caught out. What makes you think it's a clear pathway to mega riches?
AUGUST
Casino of the Month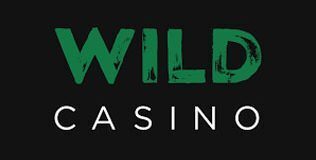 Welcome Bonus
250% up to $5,000
Read Review
Visit Site