Ranking the Top 20 English Premier League Players in History

Who are the best Premier League players of all time? Frankly, you could spend hours trying to answer that question.
Ever since the league's inauguration back in 1992, countless world-class stars have showcased their talents in the top tier of English soccer. For that reason, ranking the best EPL players in history is a thankless task.
But someone's got to do it, right?
Since this is a highly subjective topic, I am 99% certain that you will not agree with all of my picks. Anyway, join me as I share my take on the top 20 Premier League players of all time.
Best EPL Players of All Time (20-11)
Let's kick things off by counting down from #20 to #11. Before we get stuck into the top 10 Premier League players of all time, let's find out which players just missed out on the top ten.
20. Tony Adams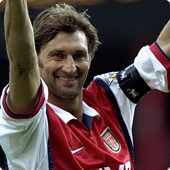 Club(s): Arsenal
EPL Appearances: 255
Goals/Assists: 12/7
EPL Titles: 2
Across 19 years, Tony Adams racked up a whopping 550 appearances for Arsenal. The towering center-back won two First Division titles with the Gunners before claiming a further two Premier League titles.
Adams captained title-winning teams for three decades while playing under legendary managers such as George Graham and Arséne Wenger. Few would argue that he is not among the best Premier League players of all time.
19. Nemanja Vidic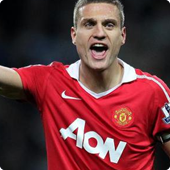 Club(s): Manchester United
EPL Appearances: 211
Goals/Assists: 15/4
EPL Titles: 5
Nemanja Vidic embodied the phrase "no-nonsense defender." Between 2006 and 2014, the valiant Serbian struck fear into the hearts of his opponents as he commanded Manchester United's backline.
Vidic helped the Red Devils to win five Premier League titles in seven seasons, including three in a row from 2007 to 2009. Alongside Rio Ferdinand (more on him later), he forged one of the toughest center-back pairings in EPL history.
18. Mohamed Salah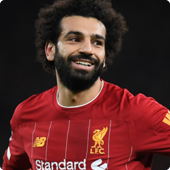 Club(s): Liverpool, Chelsea
EPL Appearances: 186
Goals/Assists: 117/48
EPL Titles: 1
One of the best English Premier League players of all time is still playing today. If Mohamed Salah carries on the way he's going, he will almost certainly propel himself towards the top end of the all-time EPL player rankings.
At the time of writing, the "Egyptian King" has netted an outrageous 117 goals in 186 Premier League appearances (0.63 goals per game). He also holds the record for most EPL goals scored in a 38-game season (32).
17. Petr Čech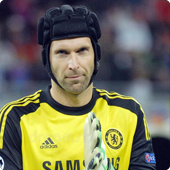 Club(s): Chelsea, Arsenal
EPL Appearances: 443
Goals Conceded/Clean Sheets: 367/202
EPL Titles: 4
Not only is Petr Čech among the best goalkeepers in EPL history, but he is also one of the top Premier League players of all time – regardless of position. As the table below details, he has kept more EPL clean sheets than any other goalkeeper.
MOST CLEAN SHEETS IN PREMIER LEAGUE HISTORY
Goalkeeper
Clean Sheets
Appearances
Shutout Rate
Petr Cech
202
443
45.60%
David James
169
572
29.55%
Mark Schwarzer
151
514
29.38%
David Seaman
141
344
40.99%
Nigel Martyn
137
372
36.83%
Čech's phenomenal shutout record helped Chelsea win four Premier League titles between 2005 and 2015. Although he ended his career at Arsenal, he will always be remembered for his achievements with the Blues.
16. Vincent Kompany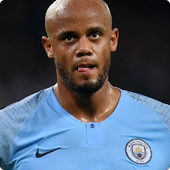 Club(s): Manchester City
EPL Appearances: 265
Goals/Assists: 18/9
EPL Titles: 4
Believe it or not, Manchester City paid just £7.65 million to acquire Vincent Kompany from the German side Hamburger SV. Given what he achieved at the Etihad Stadium, that transfer has to be classed as one of the biggest bargains in EPL history.
Kompany was there right at the beginning of the Man City revolution. The legendary center-back captained the club for eight seasons and won four top-flight titles, cementing his status among the top English Premier League players of all time.
15. Peter Schmeichel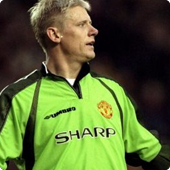 Club(s): Manchester United, Aston Villa, Manchester City
EPL Appearances: 310
Goals Conceded/Clean Sheets: 287/129
EPL Titles: 5
Widely regarded as the greatest goalkeeper in Premier League history, Peter Schmeichel guided Man Utd to five top-flight titles in seven seasons between 1993 and 1999. Let's not forget that he also played for United's "noisy neighbors"!
The giant Dane was an absolute colossus between the sticks, covering the goal with his trademark "star jump" saves. On top of that, his cat-like reflexes and unrivaled shot-stopping ability made him almost impossible to play against.
14. David Silva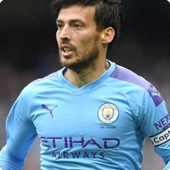 Club(s): Manchester City
EPL Appearances: 309
Goals/Assists: 60/106
EPL Titles: 4
When a small and skinny Spaniard arrived in the Premier League back in 2010, few would have predicted that he would become one of the best EPL players of all time. However, David Silva didn't just prove his doubters wrong – he turned them into fans.
Across a glittering decade-long career at Man City, the gifted playmaker chalked up 60 goals and 106 assists in 309 Premier League games. He left the club in 2020 with four EPL titles to his name, along with multiple domestic honors.
13. Dennis Bergkamp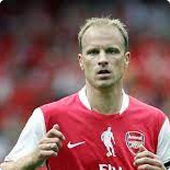 Club(s): Arsenal
EPL Appearances: 315
Goals/Assists: 87/80
EPL Titles: 3
From one classy player to another. It could be argued that Dennis Bergkamp is the silkiest player in the history of the Premier League. The smooth operator boasted an immaculate touch and masterful vision despite standing six feet tall.
Bergkamp's record of 87 goals and 80 assists in 315 EPL games tells you everything you need to know about his style of play. Ultimately, he loved creating goals just as much as he loved scoring them.
12. Patrick Vieira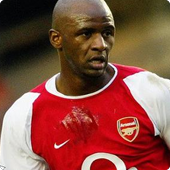 Club(s): Arsenal, Manchester City
EPL Appearances: 301
Goals/Assists: 31/31
EPL Titles: 3
They don't make 'em like Patrick Vieira anymore. The tough tackler dominated Arsenal's midfield for the best part of a decade, winning three Premier League titles along the way. He even captained Wenger's "Invincibles" – the only team in history to go an entire EPL season unbeaten.
That said, Vieira was much more than just a tough tackler. The box-to-box midfielder covered EVERY blade of grass EVERY time he played, enabling him to contribute 31 goals and 31 assists in 301 Premier League appearances.
11. Rio Ferdinand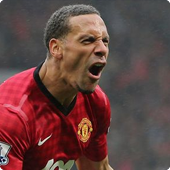 Club(s): Manchester United, West Ham, Leeds, QPR
EPL Appearances: 504
Goals/Assists: 11/8
EPL Titles: 6
When discussing the best Premier League players ever, it's always the creative midfielders and goal-hungry strikers that receive the bulk of the praise. However, Rio Ferdinand bucks that trend.
The supreme center-back won six EPL titles during his 12-year stay at Old Trafford, establishing himself among the world's top defenders in the process. Despite playing for one of the worst teams in EPL history (QPR), Ferdinand's achievements at Man Utd make him one of the best Premier League players of all time.
Now it's time to dive into the top ten of my all-time Premier League player rankings.
10. Eric Cantona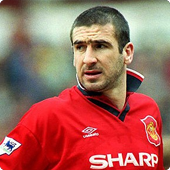 Club(s): Manchester United, Leeds
EPL Appearances: 156
Goals/Assists: 70/55
EPL Titles: 4
When Eric Cantona arrived at Old Trafford in 1992, Man Utd had not won a top-flight title in more than a quarter of a century. Under the guidance of iconic manager Alex Ferguson, Eric Cantona transformed the club into a winning machine.
The imperious Frenchman fired Man Utd to four EPL titles in five years, registering 20+ goal involvements in all but one of his seasons with the club. No wonder United supporters nicknamed him "King Eric"!
Unfortunately, Cantona will always be remembered for his infamous kung-fu kick moment at Selhurst Park. But I think he should be remembered for being one of the greatest English Premier League players in history.
9. Sergio Agüero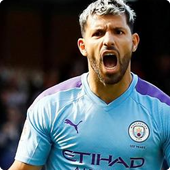 Club(s): Manchester City
EPL Appearances: 275
Goals/Assists: 184/55
EPL Titles: 5
"AGUEROOOOOOO!!!".
Every soccer fan remembers where they were when Sergio Agüero scored that goal. Personally, I remember jumping around the house with my father and brothers as if we'd just won the lottery – and I don't even support Man City!
Agüero produced arguably the most iconic moment in EPL history when he scored an injury-time winner to hand Man City the title in the final game of the 2011-12 season. But that was merely the beginning.
During his decade-long association with City, the lethal Argentine became the club's all-time top goalscorer – winning five Premier League titles along the way. With 184 EPL goals under his belt, he sits fourth on the league's all-time leaderboard.
Agüero holds countless EPL records, including most goals scored by a non-English player, most goals scored for a single club, and most hat-tricks (12). Those crazy numbers make him one of the best Premier League players in history.
8. Cristiano Ronaldo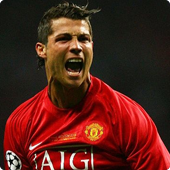 Club(s): Manchester United
EPL Appearances: 220
Goals/Assists: 96/48
EPL Titles: 3
There is no denying that Cristiano Ronaldo is one of the best soccer players of all time. The five-time Ballon d'Or winner has bagged an untold number of goals and titles over the past two decades – and he hasn't finished yet!
Ronaldo first joined Man Utd in 2003 and went on to win three consecutive EPL titles from 2007 to 2009. He humiliated opponents with his mesmerizing tricks and blistering acceleration as a youngster.
Between 2009 and 2018, Ronaldo fired Real Madrid to four Champions League crowns and two La Liga titles before winning back-to-back Serie A scudetti with Juventus. He then made an emotional return to Man Utd in 2021.
You may be surprised to find Ronaldo at #8 in my all-time EPL player rankings. But given that he spent the best part of a decade tearing up La Liga with Real Madrid, #8 feels like a fair reflection of his Premier League achievements.
7. Frank Lampard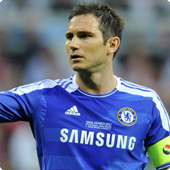 Club(s): Chelsea, West Ham, Manchester City
EPL Appearances: 609
Goals/Assists: 177/116
EPL Titles: 3
Frank Lampard is Chelsea's all-time leading goalscorer. Frank Lampard was also a midfielder. Just let that sink in for a second.
After making a name for himself at West Ham, Lampard joined Chelsea in 2001. The rest, as they say, is history. He played more than 400 EPL games for the Blues and helped them secure three top-flight titles in the mid to late 2000s.
MOST PREMIER LEAGUE APPEARANCES
Player
Appearances
Gareth Barry
653
Ryan Giggs
632
Frank Lampard
609
James Milner
584
David Hames
572
A classic box-to-box midfielder, Lampard had a habit of invariably being in the right place at the right time. Not only did he ghost into the box to score vital goals, but he also gained a reputation for netting incredible long-range strikes.
It is beyond dispute that Lampard is one of the best Premier League players of all time.
6. Ryan Giggs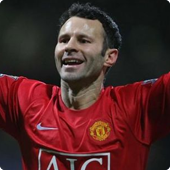 Club(s): Manchester United
EPL Appearances: 632
Goals/Assists: 109/162
EPL Titles: 13
In this day and age, very few players stay at the same club for the duration of their careers. The top Premier League players often make big-money moves, while others join European powerhouses like Real Madrid and Barcelona.
But Ryan Giggs was different. The Welshman spent the entirety of his playing career – and much of his coaching career – at Man Utd. Between 1990 and 2014, he made a mammoth 632 EPL appearances for the Red Devils.
It is hardly surprising that Giggs has won more Premier League titles than any other player with that in mind.
MOST PREMIER LEAGUE TITLES
Ryan Giggs: 13
Paul Scholes: 11
Gary Neville: 8
Denis Irwin: 7
Roy Keane: 7
Giggs also holds the record for most EPL assists, having racked up a colossal 162 assists. His nearest challenger – Cesc Fàbregas – registered 111. This highlights Giggs' phenomenal ability to set up goals.
He is best known for his speedy runs down the wing, Giggs is undoubtedly among the best EPL players ever.
5. Paul Scholes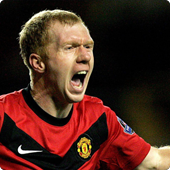 Club(s): Manchester United
EPL Appearances: 499
Goals/Assists: 107/56
EPL Titles: 11
Although Giggs accumulated more appearances, titles, goals, and assists than Paul Scholes, few would argue that Scholes does not deserve to sit higher in the all-time Premier League player rankings.
When Scholes was on the field, everyone played at his pace. The diminutive midfielder dictated the game's tempo and made the outrageously difficult look effortlessly easy.
Scholes received countless plaudits from managers and players throughout his career, including Barcelona legend Xavi, who described him as "the best central midfielder" he had seen in the past 15 to 20 years.
That is seriously high praise, given that Xavi is widely regarded as one of the greatest midfielders of all time.
4. Steven Gerrard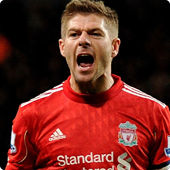 Club(s): Liverpool
EPL Appearances: 504
Goals/Assists: 121/98
EPL Titles: 0
Due to his loyalty to Liverpool, Steven Gerrard is arguably the best player to never win the Premier League. Even so, he must be viewed as one of the top Premier League players in history.
Gerrard was the complete midfielder; he truly could do everything. From his sublime long-range passing and 30-yard screamers to his immense ball-carrying and tough tackling, Gerrard had it all.
Is Steven Gerrard the best ever player NOT to win a Premier League title? ?

Or is it someone else…? pic.twitter.com/uPaQj1BJPB

— TEAMtalk (@TEAMtalk) April 3, 2022
Between 1998 and 2015, Gerrard racked up 504 EPL appearances for the Reds – bagging 121 goals and 98 assists in the process. The 2005-06 PFA Players' Player of the Year was named in the PFA Premier League Team of the Year on newer fewer than eight occasions for his troubles.
Liverpool finally lifted the Premier League trophy in 2020 – five years after Gerrard had left the club. Although he never managed to get his hands on the famous silverware, his ability cannot be questioned.
3. Wayne Rooney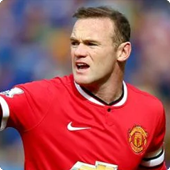 Club(s): Manchester United, Everton
EPL Appearances: 491
Goals/Assists: 208/112
EPL Titles: 5
On October 19, 2002, 16-year-old Wayne Rooney announced himself to the soccer world when he scored a memorable long-range strike against Arsenal. Everyone knew he was a star in the making at that precise moment.
After making a name for himself at Everton, Rooney joined Man Utd in 2004 and didn't look back. He became the Red Devils' all-time top scorer, surpassing legends such as George Best, Denis Law, and Bobby Charlton along the way.
Rooney also sits second in the Premier League's all-time scoring charts with 208 goals to his name. Keep reading to learn about the only player to have scored more EPL goals than Rooney.
2. Alan Shearer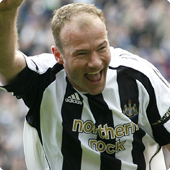 Club(s): Newcastle, Blackburn Rovers
EPL Appearances: 441
Goals/Assists: 260/65
EPL Titles: 1
It only makes sense that the Premier League's record goalscorer finds himself at the top end of the all-time EPL player rankings.
Having netted an unrivalled 260 goals in 441 Premier League appearances, Alan Shearer is the EPL's record scorer by a considerable margin. As you can see, no player has come close to overtaking Shearer since he retired in 2006.
MOST GOALS IN PREMIER LEAGUE HISTORY
Player
Goals
Appearances
Goals Per Game Ratio
Alan Shearer
260
441
0.59
Wayne Rooney
208
491
0.42
Andy Cole
187
414
0.45
Sergio Agüero
184
275
0.67
Harry Kane
178
274
0.65
Shearer fired Blackburn Rovers to their first and only Premier League title in 1995. After scoring 112 goals in 138 EPL games for the Lancashire club, the Tynesider returned home to Newcastle.
The prolific striker went on to net 148 goals in 303 Premier League appearances for the Magpies, raising his right hand to the Toon Army on an almost weekly basis between 1996 and 2006. Today, there is a statue of Shearer performing his iconic goal celebration outside St. James' Park.
So, how is Shearer NOT the best EPL player in history? Allow me to explain…
1. Thierry Henry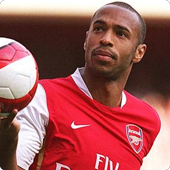 Club(s): Arsenal
EPL Appearances: 258
Goals/Assists: 175/83
EPL Titles: 2
In my eyes – and the eyes of many other soccer fans worldwide – Thierry Henry is the greatest English Premier League player of all time.
He may not have scored as many goals as Shearer or won as many titles as Giggs. But when it comes to ranking the best Premier League players in history, Henry comes out on top for many reasons.
Following his arrival at Arsenal in 1999, the Frenchman won four EPL Golden Boots in five years. On top of that, he scored 24+ Premier League goals in five consecutive seasons – firing the Gunners to EPL glory on two occasions during that period.
Henry boasted a lethal combination of lightning pace, dazzling dribbling, frightening finishing. His unparalleled attributes made him the deadliest forward in the Premier League throughout the 2000s.
Thanks to multiple Golden Boot-winning seasons, Henry must be regarded as the greatest EPL player ever.
More Top Premier League Players
Well, there you have it – that is my take on the best Premier League players of all time. Before I sign off, here are some honorable mentions that narrowly missed the cut.
Roy Keane
Ashley Cole
John Terry
Didier Drogba
Harry Kane
Kevin De Bruyne
Cesc Fàbregas
Andy Cole
Sol Campbell
David Beckham
Michael Owen
Ruud van Nistelrooy
Yaya Toure
Teddy Sheringham
Robbie Fowler
Virgil van Dijk
Luis Suarez
Robin van Persie
Robert Pires
As I already mentioned, this topic is highly subjective. If you can think of any names that I missed, why not let me know in the comments section below? I'm eager to hear about your top EPL players.
Finally, be sure to follow the links below if you enjoy betting on the Premier League. In addition to our EPL betting guide, our experts publish regular EPL predictions and picks.
September
Casino of the Month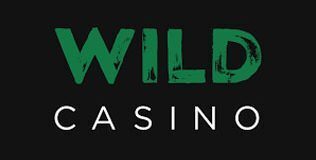 Welcome Bonus
250% up to $5,000