Hide Bonus Offers
| | | | | |
| --- | --- | --- | --- | --- |
| #1 | Bovada Sports | 50% Up To $250 | Visit Site | Bovada Sports |
| #2 | BetUS | 125% Up To $2,500 | Visit Site | BetUS |
| #3 | MyBookie | 100% Up To $1,000 | Visit Site | MyBookie |
| #4 | Everygame | 100% Up To $500 | Visit Site | Everygame |
| #5 | BetOnline Sports | 60% Up To $1,000 | Visit Site | BetOnline Sports |
How Many Grand Slams Will Nadal, Djokovic, Federer, and Zverev Win in 2019?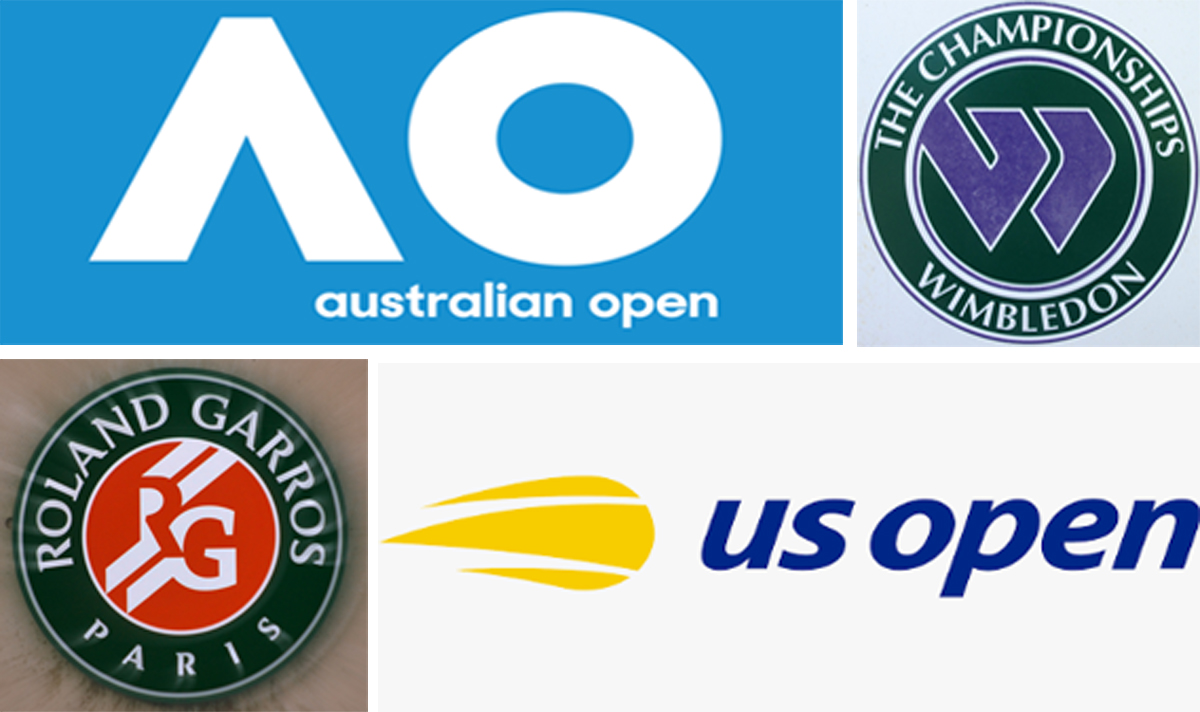 We all know that the Grand Slam tournaments are the most important in the world of tennis, and every player dreams of lifting the title in at least one of them.
Novak Djokovic was the man who won the first big event of the year, dominating the competition in the Australian Open, but there are three more Grand Slam tournaments left.
Since MyBookie offers betting odds for the number of Grand Slam tournaments won by Roger Federer, Rafa Nadal, Novak Djokovic, and Sascha Zverev in 2019, this is a good opportunity to analyze the chances of each of them.
Naturally, my main goal is to find some good value, so let's take a look at the prices and see if there's something interesting out there.
Roger Federer Grand Slam Odds and Predictions
I decided to order the players by age, so Roger Federer has to be first on the list. Here are the betting odds for him.
To Win No Grand Slams
-350
To Win One Grand Slam
+220
To Win Two Grand Slams
+2500
To Win Three Grand Slams
+15000
As you can see, the bookies expect to see the Swiss maestro struggle. The man will become 38 this year and has nothing left to prove. However, he won two Grand Slam titles in 2017 and another one in 2018.
No one saw that coming, so underestimating the man who many recognize as the greatest of all time will probably be a huge mistake.
Let's take a look at the three remaining Grand Slams and evaluate Federer's chances of winning them.
Can Federer Win at Roland-Garros?
After missing the entire clay court season for two years in a row, Roger Federer has announced that he will play in the French Open in 2019.
I think that he has reached a point of his career in which he simply does whatever he feels like doing. The man is obviously tempted to give the Roland-Garros another shot, and I certainly hope he performs well.
However, I don't think he has a realistic chance of winning it. Even during his best years, he never beat Nadal in Paris. The Spaniard is still the big favorite, and I don't think Federer can win against him right now.
Even if someone else knocks Rafa out, Federer will have to somehow reach the final and beat the likes of Djokovic and Thiem. I don't think that the Swiss maestro can do that on red courts, so I see no scenario in which he ends up winning the French Open.
Can Federer Win Wimbledon?
Roger Federer is the best player in the history of Wimbledon, winning the title eight times. He's exceptional on grass because of his strong service and aggressive style of play. I think that this is the Grand Slam tournament where Federer could make a deep run and even potentially win it.
But he will probably have to face the reborn Djokovic at some point, and there are other players that could eliminate him.
Let's not forget the fact that Federer spent the spring of the last two seasons in preparation for the grass season, and this will not be the case in 2019. Instead, he will play on clay, and this could harm his chances at Wimbledon.
And yet, I still believe winning Wimbledon is a somewhat realistic possibility for Federer.
Can Federer Win the US Open?
On the surface, the US Open is a tournament that should be winnable for Federer. He has lifted the trophy in New York five times already and is one of the best players ever on hard courts.
But the last time Fed won this particular Grand Slam was in 2008. That was ten years ago, and he hasn't even reached the last four since 2015. I think that the reason lies in the fact that the US Open is the last of the big four events.
It takes place at the end of the season, and Federer's body simply can't cope with the pressure at this point. I expect more of the same this year, so I don't think there is a high chance of Roger snatching the US Open.
Federer Prediction and Pick
All things considered, there are only two realistic options here. Most likely, Rodger Federer won't be able to win another Grand Slam in 2019. If he does, I don't see how it will be more than one, and it will most likely be Wimbledon.
The odds reflect that, as you can get -350 for the first option and +220 for the second. I think both prices are fair, and I would stay away, as there is no value to be found.
Rafael Nadal Grand Slam Betting Odds and Prediction
Next in line is Rafa Nadal, so let's start with the betting odds of him winning some Grand Slams.
To Win No Grand Slams
+160
To Win One Grand Slam
-125
To Win Two Grand Slams
+500
To Win Three Grand Slams
+5000
The start of the 2019 season showed us that Rafael Nadal is still capable of winning big tournaments. The Spaniard reached the final of the Australian Open, and only the unbelievable form of Novak Djokovic stopped him from claiming the title.
Rafa has reached at least the semi-finals of every single one of the last four Grand Slams he played in, so he's a threat for sure. Let's take a look at his chances in the different events.
Can Rafael Nadal Win the French Open?
When a man has the nickname the King of Clay and has won the Roland-Garros a record 11 times, including in the past two years, it's kind of compulsory to consider him a favorite.
Honestly, who would bet against Rafael Nadal in the French Open? If he is somewhat close to his best, no player can beat him on the clay courts of Paris.
On top of that, I'm pretty sure that the Spaniard will be extra careful to time his preparations in a way that will allow him to peak at the Roland-Garros. He knows that this is his best chance of winning a Grand Slam this season, and he will do everything to reclaim the title.
Can Rafael Nadal Win Wimbledon?
Rafa Nadal has managed to beat Federer in some epic Wimbledon games and lifted the trophy of the most prestigious tournament in the world twice already. Unfortunately for him, the last time that happened was in 2011.
Grass is simply not Nadal's surface, despite the improvements in his service in the last couple of years. He doesn't have the weapons to beat guys like Djokovic, Federer, and a couple of the younger players, at least at this stage of his career.
While Rafa is good enough to have a deep run, like last season, I don't think he stands a chance to win Wimbledon.
Can Rafael Nadal Win at Flushing Meadows?
The US Open is Nadal's second most successful Grand Slam tournament, both in terms of titles and overall win percentage. The Spaniard won there in 2017 and reached the last four in 2018, so he shouldn't be underestimated.
And yet, Novak Djokovic is back to his best, and the Serbian number one is simply out of this world on hard courts, as we saw in the Australian Open.
While Nadal is among the players that can take advantage if Nole slips up, his overall chance of success is slim.
Nadal Prediction and Pick
If Nadal is healthy, he's the top favorite for the French Open, but I don't think he's overly likely to win any of the two remaining Grand Slams.
This is why I see the price of -125 for him to triumph in one of the remaining events as quite solid. Rafa should be able to win in Paris, but the US Open is somewhat of an insurance if he doesn't.
PICK
Rafa Nadal to Win One Grand Slam
-125
Novak Djokovic Grand Slam Betting Odds and Prediction
I honestly thought that Novak Djokovic wouldn't be able to return to his best days, but, boy, he has proven me wrong. The Serb already has one Grand Slam this season, so let's take a look at the odds of him adding more.
To Win One Grand Slam
+200
To Win Two Grand Slams
+125
To Win Three Grand Slams
+275
To Win Four Grand Slams
+1000
Because he already claimed the 2019 Australian Open trophy, the first outcome essentially means that Djokovic won't win any of the remaining Grand Slams. If he stays fit for most of the year, I think that's close to impossible.
He is one of the few that can dethrone at the Roland-Garros and a main favorite in the other two Grand Slam competitions. I'm almost certain we'll see Djokovic win more of the big four. The question is how many.
Let's take a look at each event individually before moving on to my pick and predictions.
Can Novak Djokovic Win the French Open?
I think that there are only two players that can stop Novak Djokovic at the French Open.
The first one is Rafael Nadal for obvious reasons. The Spaniard is simply untouchable on clay, but he has been having various health issues in the past couple of years. If he's not at his best physically, Djokovic can certainly take advantage of that.
The second player that can beat the world number one is Dominic Thiem. The youngster loves the red courts in Paris and is certainly a threat. I think that Djokovic's experience will prevail, though, if they meet.
It's worth noting something else, too. Nole currently holds the other three Grand Slam titles, and he has the chance to simultaneously be the champion of every single event for the second time in his career.
I'm pretty sure that this will motivate him further, and he will push Nadal to the limit if they face each other in Paris. While Rafa is still the favorite, I wouldn't rule Djokovic out.
Can Novak Djokovic Win Wimbledon?
The simple answer is yes. Djokovic has already done it four times, including last year. If he is in the same shape, he will be unstoppable.
Sure, there are some players with big serves that could surprise him, and Federer should never, ever be underestimated on grass, but the Serbian number one is the major favorite here, and I wouldn't bet against him.
Can Novak Djokovic Win the US Open?
The only reason why I believe that Novak Djokovic might not win the US Open is related to the fact that there is a lot of time until the tournament in New York. He could get injured, or some other player could rise to the occasion, but it seems unlikely.
Based on the form Nole has shown this year, I can't see how he won't win the US Open. He's an absolute beast on hard courts, and he could be the best in history on this surface. If he's fit, Djokovic will once again triumph in New York.
Djokovic Prediction and Pick
Potential health issues aside, it feels inevitable to see Djokovic lift one or more Grand Slams by the end of the season. I would argue that the Serbian athlete should be able to claim two titles. This is the number that makes the most sense.
He is the huge favorite in London and New York, as well as one of the few that could stop Nadal in Paris. Winning all the Grand Slams in 2019 will be a bit too tough of a task, but winning only one more seems too few, considering his form.
Since the price for Nole to get three Slams in total in 2019 is +275, I simply can't pick any other option here.
PICK
Novak Djokovic to Win Three Grand Slams in 2019
+275
Alexander Zverev Grand Slam Betting Odds and Prediction
Since MyBookie has released the same market for Alexander Zverev, I decided to take a look and share my opinion on him, too. Let's start with the betting odds.
To Win Zero Grand Slams
-500
To Win One Grand Slam
+300
To Win Two Grand Slams
+3300
To Win Three Grand Slams
+15000
I really like Alexander Zverev, and the boy has a lot of Grand Slam wins in him, but I think he's far from being ready to conquer them right now. While he has a couple of prestigious titles in the Masters Series, Zverev doesn't seem ready for the three out of five format of the Grand Slams.
His best achievement was a quarter-final in Paris last year. As it stands, there are at least four to five players that are more likely to win any of the remaining Grand Slam tournaments.
Considering the fact that Zverev will be 22 this April, there is no shame in that. I expect to see him potentially reach the last four once this year and make a deep run, but I don't think there's a chance for him to win any of the big tourneys left.
In fact, the price of -500 is not that bad. However, I don't like playing at such short odds for futures and outrights.
Final Words
It's interesting how it's 2019, and we are still talking mostly about Federer, Nadal, and Djokovic when it comes to winning Grand Slams. It's about time for the younger generation to step up, but I don't think it will happen this season.
Nadal is still close to invincible on clay, Djokovic is back to his absolute best, and Federer is proving the old cliché that age is truly just a number. This is why I expect those three to win the remaining Grand Slam titles.
Do you agree with my expectations, or do you feel some of the young guns will actually rise to the occasion?
Feel free to share your opinion in the comments section below. Good luck!