Why the Golden State Warriors Can Survive Kevin Durant's Knee Injury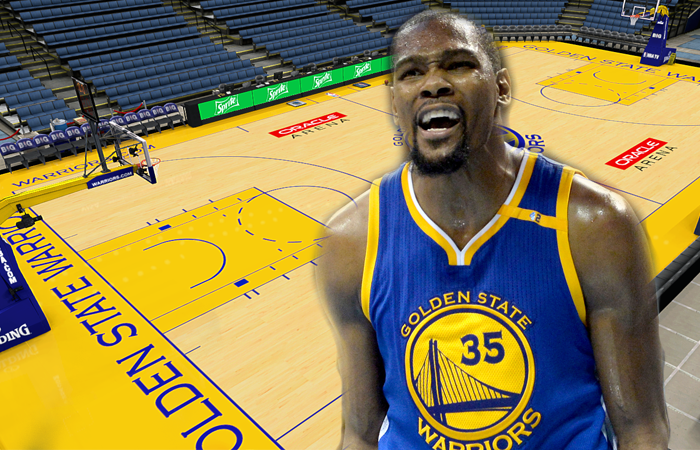 The Golden State Warriors are favored by many to work their way back to the 2017 NBA Finals and seek revenge for a 3-1 collapse against the Cleveland Cavaliers a year ago. After adding star forward Kevin Durant this past summer, the logic behind that narrative was plenty sound.
Now it's hit a roadblock.
Per reports, Kevin Durant hurt his left knee in Tuesday night's loss to the Washington Wizards when center Zaza Pachulia fell backwards into him. Durant left the game and would not return, while a Wednesday MRI revealed a sprained MCL and a bone bruise:
Due to the injury, Golden State is holding Durant out "indefinitely" and setting a return time table of approximately one month. Should Durant make a speedy recovery, that timeline could have him back before the end of the regular season and completely ready for the playoffs.
Of course, that's if everything goes perfectly. NBA fans saw how problematic sprained knees can be as they watched a less than 100% Stephen Curry in the postseason last year, while there's no guarantee KD will make it back in his given timeline, or if he'll stay healthy once he's back on the court.
While the instant prognosis isn't great, there is still plenty of reason for optimism and even reason to still back the Warriors for another championship run.
Vegas Still Likes Them
For starters, top NBA betting sites are (for now) still honoring the Dubs as the top pick to win it all this year. Bovada took their NBA Finals odds down to update them, but Golden State is still going to remain among the top threats to get back to the league's championship series.
The biggest reason why is the Warriors have gotten to the past two NBA Finals and they never had Durant before. Losing Durant for the rest of the year would probably have their title odds taking a much more serious hit, but considering he's due back at some point, the oddsmakers shouldn't move too much when it comes to their backing of Golden State.
It's Just a Sprain
Durant suffered a Grade 2 MCL sprain, as well as a bone bruise. He didn't suffer a complete tear and he's not out for the season. He's not even expected to miss "months" like some earlier reports suggested.
We shouldn't dumb it down completely as "just" a sprain, of course. Sprains can linger and they can get hurt further. Per Web MD, Grade 2 sprains improve in roughly a month and require a brace for walking, ice and most importantly, rest. Another breakdown of a Grade 2 MCL sprain suggests that, depending on the severity, a return can be prolonged for 8+ weeks.
None of that sounds great, but a sprain is a sprain, and not a complete tear. Provided Durant's is of the milder variety, his four-week return timeline makes plenty of sense and he'd be back before the playoffs even started.
Warriors Hold the #1 Seed
The good news is Duran probably will have all of the time he needs to make sure his knee is completely back to being 100%. The NBA playoffs arrive in over a month, but the Warriors currently hold the Western Conference's #1 seed.
Having that top seed is quite an advantage, and if the Dubs can hold onto it, they could be looking at an easy first round matchup with teams like the Denver Nuggets, Sacramento Kings, Dallas Mavericks, New Orleans Pelicans, Minnesota Timberwolves or the Portland Trail Blazers.
All of those teams are talented and can be dangerou offensively, but they also all have severe flaws – mostly defensive. None of those teams can stop the Warriors – with or without Durant – and while they'd have a chance at sneaking a win or two in their first round series, a full-blown upset would be beyond shocking.
The worry starts if the Dubs actually lose hold of that top seed. They currently hold a five-game lead over the San Antonio Spurs, who for now are the only realistic threat to that top seed. The Warriors posted the league's best ever record last year before they ever got Durant, however, so a sudden collapse wouldn't make much sense. It's quite likely they maintain a strong pace and hold onto that top seed. If so, they're in a great position to either slowly work Durant back into the rotation or delay his return until round two.
Better Now Than Later
It's always good to look at the bright side, and the good news with the Kevin Durant injury is similar to what the Cleveland Cavaliers and Toronto Raptors are dealing with. Both of those teams are down key players in Kevin Love and Kyle Lowry, respectively, but there is real hope both can return just in time for the playoffs.
That's the real silver lining here, that in addition to Kevin Durant's knee injury not being a complete tear to any of the ligaments, he got hurt early enough to allow plenty of time for a healthy return for when his presence will matter the most.
Durant Isn't Their Only Stud
Lastly, the Warriors remain stacked as a team. Stephen Curry has won back-to-back MVP awards, Klay Thompson is one of the league's top outside threats and even Draymond Green can now facilitate and attack more.
Durant is a huge loss across the board. He puts up over 25 points per game, snatches almost 9 rebounds per game and has also provided the Warriors with an effective shot-blocking presence. Durant gives the Warriors added versatility and one too many shooters for opposing defenses to handle.
But Durant isn't the Warriors. This is a team built to survive a devastating injury like this and now Golden State will simply ask more out of The Splash Brothers, while also leaning a bit more on their role players. The recent signing of versatile veteran forward Matt Barnes also helps them, as he's had a history of playing high level defense and knocking down open outside shots.
Barnes won't replace Durant by any means, but the Warriors will still run the same system and still put up loads of points. For the regular season, that should still lead to plenty of wins to lock up the top seed in the Western Conference and it would probably be enough to get them past whoever they face in round one, too.
Beyond that, of course, the Dubs certainly would want KD to feel good about their chances of getting to and winning the NBA Finals. This is still a team that could pull off a title run without Durant, but the fact that they should get him back at some point right around the start of the playoffs likely means we won't have to worry about an ugly hypothetical like that.