Hide Bonus Offers
| | | | | |
| --- | --- | --- | --- | --- |
| #1 | BetOnline Sports | 60% Up To $1,000 | Visit Site | BetOnline Sports |
| #2 | Bovada Sports | 50% Up To $250 | Visit Site | Bovada Sports |
| #3 | BetUS | 125% Up To $2,500 | Visit Site | BetUS |
| #4 | Everygame | 100% Up To $500 | Visit Site | Everygame |
| #5 | MyBookie | 100% Up To $1,000 | Visit Site | MyBookie |
Are the Giants a Threat to Win the NL West in 2021?

Who would have thought before the season that after about a quarter of the games played this year, the San Francisco Giants would be fifth in MLB wins?
I don't even think the Giants would have thought that, but here we are.
The Giants are 34-21 (.618 winning percentage) after 55 games played, and they have been fighting for first in the NL West. All eyes were on the star-studded Los Angeles Dodgers and San Diego Padres coming into the year, but time and time again, baseball proves to be unpredictable.
Coming into this season, the Giants opened at +8000 for their World Series odds, with their fellow division mates opening with the Dodgers +350 and the Padres at +800.
Are they a good bet to keep humming along and threaten for the division, or more? Let's see what has made them successful in 2021 and whether or not they can keep it up.
The Giants Have Fantastic Pitching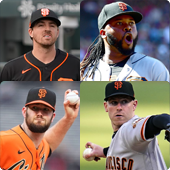 The Giants' early-season success has been due to their great off-season moves, such as the signings of starting pitchers; Anthony DeSclafani, Alex Wood, Aaron Sanchez, and Kevin Gausman.
They also signed Alex Dickerson, Jose Alvarez, Austin Slater, Donovan Solano, and more to boost their offense. All these signings completely flipped the Giants roster on its' head, and it has paid off so far this year.
But are all these signings enough? Can the Giants put up a fight for the whole season against the super teams in the Dodgers and Padres? So far, they have. But is betting on the Giants a smart thing to do?
When you look at their pitching, it really doesn't seem silly to bet on the Giants at all. It's honestly been tremendous so far in 2021.
Their new signings have been pitching quality innings and have been at the forefront of their 3.5 Runs Allowed per game, which is good for second in the entire league.
San Francisco's team ERA is sitting at a 3.28 (6th in the league), batting average allowed .227 (12th in the league), 1.14 WHIP (8th in the league), and their fielding percentage is 0.991, which is the best in the league.
There is no doubt that the Giants' run prevention has been the key factor to their early-season success.
Their starting rotation consists of Kevin Gausman, Alex Wood, Anthony DeSclafani, Johnny Cueto, Aaron Sanchez (currently on IL), and Logan Webb.
These pitchers also benefit from pitching in AT&T Park, one of the more pitcher-friendly parks across the league. Let's take a closer look at all of these hurlers and what they'd done to help the Giants win so far.
Kevin Gausman
Kevin Gausman accepted the qualifying offer from the Giants to earn $18.9 million, and he has been amazing so far this year. His career ERA sits at 4.09, but he has an ERA of 1.53 in 64.2 innings this year.
Since joining the Giants in 2020, he has thrown fewer fastballs and more split-finger fastballs. He also throws a slider and a changeup.
His pitch mix has allowed him to keep hitters off-balance, and it shows in his statistics. He has given up a 28.8% Hard Hit rate, which is the lowest of his career, and his xFIP is also the lowest of his career at 3.01.
He's been so good that he even won pitcher of the month in May.
Rich Hill: 0.78 ERA, 34.2 IP, 36 Ks@KevinGausman: 5-0, 0.73 ERA, 37 IP, 49 Ks

Your May Pitchers of the Month. ? pic.twitter.com/yaG1QTuUvz

— MLB (@MLB) June 2, 2021
Gausman has the highest K% of all the starting pitchers on the Giants at a 30.6% rate (18th best in the league among pitchers to throw at least 30 innings) and is a huge reason for their early success.
Alex Wood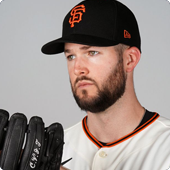 Alex Wood has had some problems staying healthy in his career, but he has been solid for the Giants this year.
Wood has always been a good pitcher with a career ERA of 3.39, but he has been hit hard in 2019 and 2020. It most likely was his injuries that were holding him back in those two years, not his skill.
His ERA in those two years was not like him at 5.80 (2019 in CIN) and 6.39 (2020 in LAD). His ERA so far this year is a superb 2.44 in 48 innings.
He has been on the "luckier" side of things when considering his BABIP allowed (.273) and his Left On-Base percentage (89.4%), but his Hard-Hit percentage is the lowest of his career since his rookie year in 2013, at 27.6%.
Wood also has had the highest K% of his career at 26.3%. Wood has remixed his curveball into a slider this year for his pitch mix, along with his sinker and changeup. He also has an insane groundball to flyball ratio at 2.41, which is the 6th highest in the league.
Logan Webb
Speaking of GB/FB ratio, the league leader in that category is non-other than San Francisco's Logan Webb.
Webb has a whopping 3.74 GB/FB ratio, which is .70 higher than the next pitcher in the league (Wade Miley, 3.04 GB/FB).
Webb has doubled his sinker usage, which is one of the main reasons why his GB/FB ratio is so high. Webb hasn't been as good as the other pitchers in their starting rotation, but he has been showing the capability of remaining in the rotation.
Webb made his debut in 2019, and he should provide quality innings for the Giants throughout his career there. Webb also features a fastball, changeup, and curveball with his sinker.
Anthony DeSclafani
Anthony DeSclafani has been yet another solid pitcher for the Giants. He signed with them after pitching for the Reds (and in a very hitter-friendly ballpark), and he has blossomed into a great pitcher this year.
He has pitched 56 innings to an ERA of 3.54 (which would look way better if he didn't get rocked for 10 runs in 2.2 innings against the Dodgers). His BABIP seems to be in his favor so far this year at .255, but his GB/FB ratio has increased to 1.42, and his line-drive percentage is the lowest of his career at 15.3%.
He features a fastball, sinker, slider, curveball, and changeup.
Johnny Cueto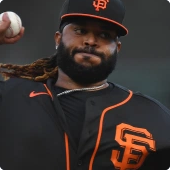 Johnny Cueto has been his usual self this year as well. He has pitched to an ERA of 3.86 in 37.1 innings, and you can make the argument that he has been unlucky regarding his BABIP.
His BABIP is at .351, which is on the higher end of things and could indicate that his ERA may drop as the year goes on. Cueto has already bounced around on the IL this year as he usually does, but when he's on the mound, he always seems to get the job done.
Cueto has an outstanding FIP of 2.64, which is the lowest of his career. Cueto's pitch repertoire includes a fastball, changeup, sinker, slider, and curveball.
Aaron Sanchez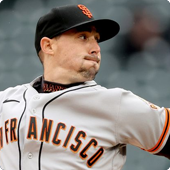 Aaron Sanchez is on a little bit of a lower scale, but similar to Alex Wood. Both Wood and Sanchez are good pitchers, but they haven't been able to stay healthy a lot in their careers.
Sanchez has only pitched 28.1 innings so far this year and is currently on the IL. Although he hasn't pitched as much as the other starters, he has a respectable ERA of 3.18 and FIP of 3.83.
No one should expect Sanchez to repeat his amazing year in 2016 with Toronto, when he won 15 games and only lost 2, with a 3.00 ERA.
Still, Sanchez is a sneaky option for the Giants and can provide a solid 4-5 innings every time he steps on the mound.
The Giants bullpen has been at the middle of the pack at 19th in positional WAR. Tyler Rodgers and Jake McGee are their two main guys, but if they are going to make a run at the postseason, they will have to make some deals at the trade deadline and bolster their bullpen.
The Giants Are Crushing the Ball on Offense
Now for the offense. San Francisco is understandably known for its strong pitching these days, and they operate out of a pitcher-friendly park. Despite that, they happen to have one of the best offenses in baseball right now.
Here's how they stack up in some key offensive categories.
| | | |
| --- | --- | --- |
| Stat Category | Production | MLB Rank |
| Runs Scored | 262 | 8th |
| Home Runs | 78 | 3rd |
| RBI | 248 | 9th |
| Walks | 216 | 6th |
The Giants haven't been near the league's top in batting average, but they have showcased plenty of power and general production.
A good amount of that has shockingly come from shortstop Brandon Crawford, who leads the team in home runs with 11.
Buster Posey is right behind him with 10, Evan Longoria has 9, Brandon Belt has 8. Mike Yastrzemski, Darin Ruf, and Austin Slater all have at least 6.
Buster Posey is hitting a whopping .315, but no one else has any eye-popping averages. Their wRC+ as a team sits at 13th in the league at 101, which is 1 point above average. Their BABIP is at .280, their K% is 6th highest in the league at 26.4%, and their Hard Hit % is 15th in the league at 31.7%.
Their defense is what has made them so good so far, and it should be their strength for the rest of the year. They have some work to do offensively, specifically in the strikeout category.
But the Giants are no slouches. They finished last year 29-31, but they appear to be way more of a threat this year.
Can the Giants Win the NL West in 2021?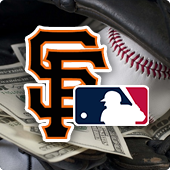 As good as the Giants look, I would not recommend betting on them to win the NL West or the World Series.
The Dodgers and Padres are my reason for this. Those two teams make it insanely hard for the Giants to win the division. The Giants will have to continue pitching at an absurd level, and their bats must produce more than they are now.
The Giants' current odds of winning the division sit at +2000 on most baseball betting sites; This seems disrespectful to a team directly in the mix for first place in their division.
Their World Series odds sit at +4000, which also seems intriguing to a team who is top-5 in winning percentage after 50 games. Even so, I would advise against betting on them unless you are hungry for betting on a dark horse team.
The Giants are a team to keep your eye on throughout the year, specifically at the trade deadline. I would not be surprised to see the Giants make it to the NL Wild Card series, but I am not betting on them to make it much farther than that.
The Dodgers have not been playing up to their "super team" abilities, but as we enter the dog days of summer, they could distance themselves from the Giants in the NL West Race. The Padres might also beat out the Giants throughout the year, as they have some incredible talent behind Fernando Tatis Jr.
I recommend betting on the Giants in MLB DFS or individual games rather than season-long baseball betting. The Giants have an underrated rotation and good power in their batting lineup; I just don't see enough for them to beat out the other powerhouses in LA and San Diego.