Hide Bonus Offers
| | | | | |
| --- | --- | --- | --- | --- |
| #1 | Bovada Sports | 50% Up To $250 | Visit Site | Bovada Sports |
| #2 | BetUS | 125% Up To $2,500 | Visit Site | BetUS |
| #3 | MyBookie | 100% Up To $1,000 | Visit Site | MyBookie |
| #4 | Everygame | 100% Up To $500 | Visit Site | Everygame |
| #5 | BetOnline Sports | 60% Up To $1,000 | Visit Site | BetOnline Sports |
How to Get Ready to Cash in on the 2018 World Series of Poker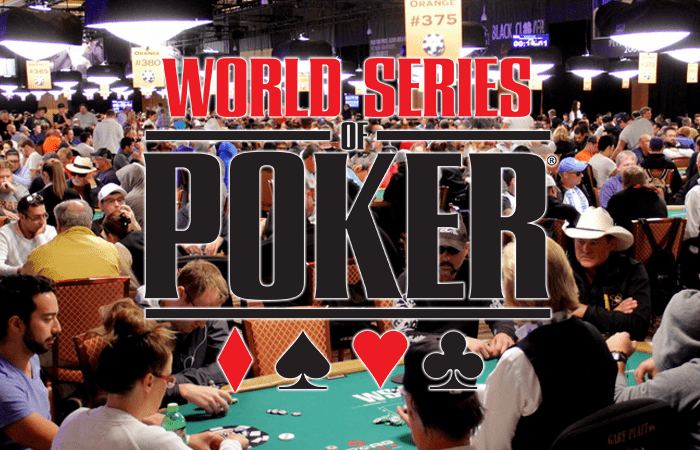 The World Series of Poker (WSOP) continues outdoing itself every year with more events and prize money. The 2018 WSOP will keep up with this trend by offering seventy-eight events.
This means that players will have plenty of chances to earn a life-changing sum of money. Even if you don't win one of the top prizes, you can still look forward to numerous opportunities to cash (win a share of the prize money).
If you're planning a trip to Vegas for the 2018 WSOP, then you'll certainly benefit by preparing beforehand. Keep reading as I cover the key things you should do to prepare yourself for this summer.
Map Out Your Tournament Schedule
The first thing that you want to figure out is what tournaments you'll be playing. Mapping out your schedule ahead of time will help you better prepare for both your trip and the specific tourneys you'll be playing.
Determining your 2018 WSOP schedule is a subjective matter because everybody values something different.
Perhaps your main goal is to find the lowest rake. Or maybe you want the biggest starting-chip stack and slowest blinds structure.
The great thing about the WSOP is that there's something for everybody. But the first step involves narrowing down what's important to you.
Of course, you also need to keep in mind that there are pros and cons to this process.
For example, tournaments with slower structures are good because they theoretically offer you more time on the felt. But the drawback is that a slower structure gives the best players a stronger chance to win.
If you're not a great poker player, then it'll be tougher for you to survive, when the pros can sit back and be more patient.
Another example involves looking for tournaments with soft fields. While the lower buy-in events can provide this, they also come with higher rake than the average WSOP tourney.
Since the point of this post is about preparing to cash in on the 2018 WSOP, you should consider smaller field sizes so that you'll deal with less variance. But the tradeoff is that most small tourneys don't offer massive payouts.
Again, everything comes back to looking for what you value most. But also consider the potential downsides when doing so.

Should You Play in Bigger Events?
The most attractive WSOP tournaments are those that offer the biggest prize pools. Examples include The Colossus, Main Event, Millionaire Maker, and Monster Stack.
These events all offer life-changing sums of money, relative to your buy-in. But the catch is that you'll have to play for several days if you have success in these tournaments.
Do you have the time and travel money to play a single poker tournament for five to seven days? If not, then you should stick with tourneys that only last two to three days.

Look for Stretches of Low Roller Events
Chances are, you're not a multi-millionaire poker pro who can drop $10k on any tournament you please. If this is the case, you'll want to center your poker schedule around clusters of low-roller events.
This gives you more options during a short trip to the 2018 WSOP. Here are some early events to target if you're dealing with a limited bankroll:
June 2 to 4 (Flights A to F) Colossus, $565 buy-in
June 2 Mixed Draw Lowball, $2,500 buy-in
June 2 com online Hold'em, $365 buy-in
June 4 Dealers Choice 6 handed, $1,500 buy-in
June 5 No Limit Hold'em, $1,500 buy-in
June 5 NL 2 to 7 Lowball Draw, $1,500 buy-in
June 6 HORSE, $1,500 buy-in
June 7 NL Hold'em 6 handed, $1,500 buy-in
June 8 Pot-Limit Omaha, $565 buy-in
June 9 and 10 (Flights A and B) Millionaire Maker, $1,500 buy-in
June 9 Eight Game Mix, $1,500 buy-in
June 11 The Marathon, $2,620 buy-in
June 11 Seven card stud Hi Lo, $1,500 buy-in
June 12 Pot-Limit Omaha, $1,000 buy-in
June 13 Limit 2 to 7 Lowball Triple Draw, $1,500 buy-in
June 14 Pot-Limit Omaha, $1,500 buy-in
June 14 Seven-Card Stud, $1,500 buy-in
June 15 Seniors Championship, $1,000 buy-in
Both the GIANT (Hold'em) and PLO GIANT are also great low roller events due to their $365 buy-in. But they're not good for short visits, because the starting flights are spread out over an entire month.
The GIANT tournaments are instead, for players who can afford to spend an entire summer in Vegas.
Consider Playing in 2018 WSOP Satellites
I just covered some different "low-roller" events that'll be running at the 2018 WSOP. Of course, the average poker player still sees $1,000 or $1,500 as a lot of money.
If you don't have this kind of cash to drop on one are more tournaments, then you can always go the satellite route.
You'll find WSOP satellites both online and at the Rio All Suite Hotel & Casino. The big difference between the two is the price points, with the Rio featuring higher buy-in satellites.
The Rio's Pavilion Room is where all of the satellite action goes down. This room has four sections that are split up based on structures and buy ins.
For example:
The Yellow section has sit and go style satellites
that feature buy-ins as low as $100.
If this is still too high, you can always look for satellites on WSOP.com (Nevada & New Jersey), 888poker, or offshore sites (for most Americans).
Many 2018 WSOP online satellites offer a prize package to the $10,000 Main Event. But you can also find prize packages to $3,000 and$1,500 events.
The main difference in playing for a $10k or $1.5k prize package is that the latter gives you a stronger chance to win for less money. But if you dream of collecting a multimillion-dollar payout, then Main Event satellites are nice.
If you're new to the satellite scene, then I recommend playing the cheaper events so that you can develop a strong strategy. After all, you don't want to show up to the Rio and blow $500 on your first satellite.
In any case, satellites provide you with a cheaper path to the WSOP than spending hundreds or even thousands of dollars on a single buy-in.
Practice Online (or Live) for the Tournaments You'll be Playing
I'm assuming that you already play live or online poker on a semi-regular basis. But if you're a recreational player who hasn't spent a lot of time with poker, then you'll definitely want to practice leading up to the 2018 WSOP.
Even if you're experienced, you can use online poker tournaments to work on strategy for a variation like Razz or Badugi.
Both live and online poker tourneys offer a nice way to practice. But keep in mind that a $50 buy-in event at your local casino doesn't measure up to the level of competition in a $1,500 multi-day event.
WSOP tournaments feature stronger players, bigger payout jumps, and tougher bubble decisions. Given that online poker offers stronger overall competition and affordable tournaments, I suggest dedicating the bulk of your time here.
Of course, it's good to mix in some live events so that you can get used to playing with others and reading them.
It also pays to work on your game by watching Twitch streams and YouTube videos.
Twitch is great because you can watch pros who'll actually be at the 2018 WSOP. Players like Jason "JCarver" Somerville and Jaime "PokerStaples" Staples offer excellent tips and thoughts while streaming their online poker sessions.
YouTube videos are good for learning situational play. If you're clueless on how to best check-raise the flop, for example, you can search this term on YouTube to find helpful videos.
The key is to avoid procrastinating on both practicing and studying strategy. Once the 2018 WSOP starts, you won't have a lot of time or mental energy to devote to improving your game.
Mental and Physical Preparation for the 2018 WSOP
Not everything about preparing yourself to cash involves what happens on the actual felt. You also need to prepare yourself from both a mental and physical standpoint.
As for the physical part, you want to focus on improving your diet leading up to the 2018 WSOP.
It's tempting to eat the quickest and unhealthiest food options after you've been grinding in a poker tournament for hours. But the downside of this is that you'll have less energy if you're eating greasy, fast foods and consuming sugary drinks.
It's also worth noting that the WSOP starts play at noon every day and only has one dinner break (7pm). This makes it imperative that you bring healthy food to the table.
Some of the best options include fruits, vegetables, nuts, and water. You can also drink coffee or energy drinks, but I suggest waiting until 5 or 6pm to avoid crashing.
Drinking caffeine at this point gives you a boost in the middle of the day, while still providing enough time for the caffeine to exit your system before bedtime.

Sleep is Essential During the WSOP
I'll spare you the lecture on getting seven to nine hours of quality sleep every night. But it's worth reiterating that you need a good sleep schedule during the WSOP.
After all, you can't expect to play your A-game for eight to twelve hour days when you're operating on four hours of sleep.
This process begins with having good sleeping habits prior to the 2018 WSOP. You'll not only feel rested at the start of the event, but you'll be more likely to continue getting enough sleep while you're in Vegas.
Again, WSOP tournaments start at noon every day. This means you want to get to bed by at least 2am in order to get enough rest and have some morning time.

Just Breathe
Sleeping and a good diet will help you prepare your body for poker tournaments. But what happens when you suffer a couple bad beats and start to lose it mentally?
This is where simple breathing exercises help you avoid tilt and blowing your buy-in.
The easiest thing to do is take three to five deep breaths during a stressful situation. Concentrating on your breathing will clear your mind and help you make better decisions.
You should also consider meditating prior to your tournament's noon start time. This helps you focus before the tourney and calm your nerves.

Focus on the Tournaments
It's easy to come into a WSOP tournament with the mindset that you're going to have supreme concentration. But it's a much different matter when you're playing late in Day 4 of a tourney.
This is when players begin looking at their smartphones more or even studying poker strategy at the table. While I applaud the later initiative, the truth is that you should be focusing as much of your energy and attention on the tournament as possible.
Any piece of information that you gain on opponents could be helpful down the line. Furthermore, you're more likely to play your best when you're only thinking about the tournament.
As for studying strategy away from the tables, most of your preparation should be done prior to the 2018 WSOP. After all, it takes a tremendous amount of energy to play late into these tournaments.
But if you feel like you have the mental stamina to continue learning, then, by all means, go for it. But if this is your first WSOP, then I suggest prepping beforehand and minimizing your strategy work during the event.
The one thing that you should do, though, is make mental notes of any mistakes that you have in tourneys. You can then think about these mistakes later and figure out how to better play the situations.
Playing Strategy for WSOP Tournaments
Odds are that you already have a pretty solid tournament strategy if you're thinking of playing the 2018 WSOP. But just in case, I'm going to discuss some strategy for WSOP events.
Many players like to show up late to deep stacked events because blinding off early won't hurt your chip stack too badly. But I strongly suggest that you show up on time if you're new to the WSOP or playing mixed games.
Playing the early levels helps you get acclimated to the Rio's bustling environment. It also helps mixed-game players reacclimate themselves with poker variations that they may be rusty with.
Once the tournament moves into the middle stages, chip stack sizes will greatly affect how many different ways you can play the same situation. For example, having six 7s in the cut off is a different hand when you have twelve big blinds versus forty.
For the most part, basic strategy applies to WSOP events, just like it would any other poker tournament.
You want to simplify things by playing for small pots in position. You especially want to be conservative early on in WSOP tourneys, because the buy-ins are significantly higher than what you're probably used to dealing with online.
But this isn't to say that you shouldn't take your shots when the opportunity arises. While I want you to cash in the 2018 WSOP, I also don't want to see you avoid being aggressive around the bubble.

Min Cash or Go for the Gold?
Playing just to cash isn't optimal poker tournament strategy in the long run. But the WSOP brings a different dynamic due to the amount of money involved.
Here's an example to illustrate my point:
You win a 2018 WSOP Main Event seat through a $100 online satellite.
The minimum cash for the 2018 Main Event is $15,000.
This represents a 14,900% increase on your original investment.
Cashing in the Main Event is an honor in itself – let alone when you're booking this kind of profit on your original satellite buy-in.
That said, min cashing isn't such a bad thing when it comes to many WSOP tournaments. You may tighten up around the bubble more than usual in order to make it into the money.
Conclusion
Given that many WSOP field sizes include hundreds or even thousands of players, the odds of you winning a gold bracelet are low. But thanks to the increased number of events in the 2018 WSOP, you have plenty of chances to at least cash.
Even cashing in a smaller $1,500 event can be enough to pay for your buy-in plus the trip expenses. That said, it's definitely worth putting the work into improving your game for the world's biggest poker event.
One more thing I'd like to cover in closing is the temptation to party in Vegas. Many players indulge in the Sin City nightlife while the WSOP is raging on, only to regret it the next day when they can barely focus on the tournament.
Let this be somebody else, while you focus on eating right, getting enough sleep, and playing your best game.
You can always party after your tournament schedule is over. But you should focus on the task at hand until that time comes.