The Gentle Art of Tipping in Resort-Casinos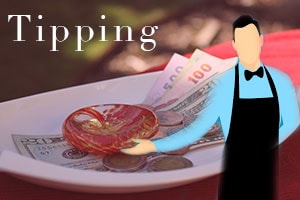 Okay, so you're in Las Vegas. Or Atlantic City. Maybe Macau or Monte Carlo.
Wherever. The location is not as important as the venue.
You're in a glitzy and glamorous hotel-casino for three glorious days — at the end of which you'll almost certainly need a team of bearers to carry your winnings back to your base camp (and when I say base camp, I mean, of course, your house back in Des Moines).
You probably didn't even notice the various people who made your trip so pleasant. After all, they worked while you slept, or gambled, or did whatever it is that people do when they attend a Cirque du Soleil show.
Not only did they work, but they worked hard. You may not be aware of this, but they are not rich people having a lark in the workaday world. This is not a J-Lo movie. They are hourly wage earners, and they tend to get paid a tiny bit more per hour than your average burger-flipper at a fast food franchise — but just a tad more.
Why? Even if you don't own a restaurant or bar or hotel, you can probably guess why. Hospitality workers traditionally receive tips (and I'm not talking about "Here's a tip: Don't iron in the nude").
For those three people on the planet still uncertain of what a tip is, I'll explain: it is a traditional payment, made at the discretion of the guest, paid in cash to a worker who has personally attended to the guest's comfort and enjoyment of the facilities.
The amount of the tip is usually based on some percentage of what the bill may be (as with restaurants and waiters), or it may be a customary but informal "fee" for performing a specific task, such as parking your car or bringing you a drink or giving you a guided tour.
Virtually everyone you come into contact with at the hotel-casino is paid an embarrassingly low per-hour wage. Employers in casino towns know that most hospitality workers receive tips, and so they adjust wages down to the lowest-allowable amount.
Would you be surprised to learn that some waiters make minimum wage and yet will have their houses paid off sooner than yours? And that they valet-park their 'Cedes every day when they come in to work?
Okay, maybe tips aren't quite that great, but a significant amount of a hospitality worker's real earnings comes from you and me — the guests.
Here's a comprehensive list of the worker-bees you'll likely encounter during your stay at your favorite resort-casino.
Tipping the Valet Attendant
The valet is the lady or gentleman who takes your car keys and then jumps behind the wheel, squealing away in an adolescent demonstration of "suckah!" No, actually, while valets do get behind the wheel of your car, they are vetted and trained to avoid the squealing away or any other signs of juvenile exuberance.
You can count on your car being returned to you in at least the same condition as when you surrendered your keys. Some valet services actually wash your car for you.
In any case, there are a lot of ways to tip valets. You can tip the valet who parks your car (before he or she leaves behind the wheel, of course).
Or you can wait to tip the valet who returns your car to you. Either way is perfectly acceptable.
The usual tip is anywhere from a rather stingy dollar to an exorbitant ten dollars. One caveat: The new "parking fees" being charged by resort-casinos do not go to the valets, so don't let your annoyance at this temper your generosity to a group of hardworking kids who could have taken your Kia to the Saturday night races but did not.
Should You Tip Your Tour Guide?
Depending on the tour, the rule of thumb is 10% to 20% of the cost of the tour, with obvious exceptions being if the tour helicopter crashed in a spectacular ball of fire just before it landed to pick you up.
Something like that earns beaucoup points in my book, and I would give all the money I had to the tour guide at that moment, mostly because I just used up my good luck for the entire trip.
Do You Tip Slot Attendants?
Virtually every slot and video poker player has had the hand-pay experience.
These days (in the US, anyway), this means any jackpot over the IRS-set minimum of $1,200 requires a W-9 — which requires a slot attendant or a floor boss (or both) to collect your identification and other appropriate tax information, visit the cashier cage, wait for a W-9 to be printed, and return with your copy and, of course, your winnings.
Some people do not tip the attendant or the slot host on the grounds that they (the player) have been inconvenienced by the delay, and they don't pay to be inconvenienced.
All right, fair enough, I suppose, except for the fact that the slot people are also inconvenienced by the payout. They are responsible for ensuring that you are who you say you are, that the jackpot you won you actually won, and that the cash they're about to hand you was counted correctly at the cage and correctly counted as they give it to you, bill by wonderful bill.
"Okay, I get the point," you say. "But there are two slot people here with my jackpot (maybe even three). Which one do I tip? All of them? That seems a little extravagant."
Okay, there is no rule or tradition for tipping slot employees. I can tell you that on a two-thousand-dollar win, I tend to tip 20 bucks each, which usually works out to $40 for the total tip.
For those math majors who are already shaking their heads, yes, I'm tipping a total of 2% of the win. I'm cheap, stingy, parsimonious — run to get your thesaurus; I'm sure there are more words to describe what a skinflint miser I am. Still, that tip seems fair to me.
Room Service Tipping at the Casino
Let's face it. Room service food is for people who shop for groceries at convenience stores. Still, the temptation is irresistible. You're on vacation, you're relaxing, you just won 50 bucks cash money at bingo… what the hell — let's order a $25 BLT with some $15 fries on the side, what d'ya say?
To make matters worse, most room service orders have a gratuity tacked onto the tab automagically.
So we have a bit of a dilemma, don't we? Tip, or no tip? I say always tip for extraordinary service, but if your BLT is simply delivered to your room within an acceptable time frame, then I'd let the automatically-imposed "gratuity" or "service charge" carry the day here.
Hey, we're not made out of money. At least, I'm not. Your mileage may vary.
Tipping the Housekeeping Staff
Those ladies who silently and efficiently clean your hotel room are perhaps the hardest-working people in the hospitality trade, and easily the most unsung. They perform a multitude of tasks, and they don't get tipped nearly often enough.
Think of all the stuff your mom did over the course of the week to keep your house neat and tidy. Now, imagine a maid who does that in 12 to 18 different rooms in the course of a single shift. However much you tip, I can guarantee your mom would say it's not enough.
But tip you should. The general rule is to leave a tip at the end of your stay. Put it inside a hotel envelope after clearly marking the envelope "Housekeeping."
Front Desk Tips
Those people standing and smiling behind the check-in desk in the hotel lobby? They get tips.
Maybe not from you or me, since this is the first we've heard of it, but people in the know will tip a front desk clerk for getting them an upgraded room, for example, or a room on a higher floor or with a view, or one that's the perfect distance from the elevator.
A tip for a front desk clerk who has provided service (or who you hope will provide service) above and beyond what you might expect should range between $10 to whatever you think is appropriate. Oh, and a clever way to tender this tip is in a "credit card sandwich" — cash wedged in between your credit card and your driver's license when the clerk asks for them. It helps to say as you hand the "sandwich" over, "Any upgrades available?"
Tipping the Casino Floor Cocktail Waitresses
Man, if there were ever an under-appreciated job at the casino, it's this one. Eight hours walking a never-ending circle among the slot machines, balancing a tray full of empties (or worse, one overfull with wine, coffees, and bottles of Coors) would take a toll on anyone's disposition, let alone physical well-being.
And yet, these women (and they are almost exclusively women) generally have a smile on their lips as they approach you and a "good luck" for you as they head on to their next mimosa order.
Plus, depending on the casino, the cocktail waitresses are barely dressed. Having grown up in Colorado, I'm familiar with the concept of "cold," and I can only assume that many of what I call "drink ladies" are moving quickly just to keep their extremities from getting frostbitten.
I always tip the drink lady. It may only be a buck per drink; it might be a fiver if the service has been consistently prompt and cheery. But in all cases, it's what I consider the sincerest form of flattery.
Should You Tip Casino Dealers?
Unlike many of their fellow employees, dealers have actually gone to a special school just to learn how to do their jobs. Granted, learning to deal blackjack isn't quite as much a life commitment as, say, learning the ins and outs of brain surgery, but hey — both jobs take smarts, a lot of practice, and manual dexterity to perform properly.
While you can tip a dealer after a good round of whatever you're playing, most people tend to tip as they're leaving the table. Either way (or both) is fine. It's your money, after all. Even if you're having a bad run of cards or dice, the thing to bear in mind as far as a tip to the dealer goes is if the dealer has made the experience less stressful or perhaps even enjoyable (yeah, who am I kidding here? Losing is never enjoyable).
Anybody can be generous and magnanimous when they're flush. The true measure of character is how one acts in the midst of defeat. Me, I tend to cry like a little girl, but that's just part of my charm.
Tipping the Resort-Casino Concierge
These are the relaxed-but-alert people tending a desk near the hotel lobby and assisting guests with a virtual laundry list of requests, from show tickets, transportation arrangements, and restaurant reservations to tee times, directions, and detailed information about the hotel and its casino and the surrounding environs.
The best way to describe a concierge's job is this: Whenever someone says "I know a guy" or "I got a guy," that "guy" is probably a concierge.
He or she is who you go to when you need to find something or get something but lack sufficient knowledge and experience with the local area to accomplish that.
If the concierge is able to get you linen-dinner reservations you didn't think were possible or tickets to a show that you were told was sold out, then by all means, tip.
Tipping Your Chauffeur
You must be somebody important — the last time I employed a chauffeur, I was worried about wearing a plaid cummerbund to prom.
Be that as it may, if you're at the level where you regularly employ the services of a chauffeur, then you know how much work he does as he (or she) whisks you about town in a madcap yet elegant manner. "To Tiffany's, Charles! I wish to breakfast on crepes!"
Sorry. No class envy here, eh? The chauffeur's job is manifold, and driving is only one of his skills. He also inventories and stocks the refreshments in the passenger cabin. He assists bellman in loading and unloading of luggage.
If his service is good (and generally speaking, it'll almost always be top-notch), tip him (or her) generously.
How Much to Tip a Butler
Well, look at you! In a fancy villa the rest of us didn't even know existed at the hotel. Aren't you special? Seriously, whether you had an extremely lucky run at the blackjack table, or you're one of the casino's regular high rollers, or even a celebrity (or some combination of any of those), you aren't staying in the perfectly fine hotel rooms.
You're staying in a special place within the hotel. It might be called Sky Suites, or The Mansion, or Skylofts — some name that carries a strong suggestion that you are someplace rich and high, like Mount Everest or Snoop Dog.
Your butler is charged with ensuring your every need is taken care of right now. Obviously, butlers are at the top of the hospitality food chain.
Some of them make six figures a year (and yes, all of those are to the left of the decimal point, smart guy). And yet, their base wage is usually between one and three dollars more than minimum wage.
How much do you tip a butler? Well, as they say, if you have to ask, you can't afford it.
Tipping the Bellman
These are the young (and not-so-young) gentlemen who pick up your luggage at the curb, take it up to your room, bring it back down when you're ready to leave, store it while you blow one last Benjamin in the high-limit room, and finally, load it into your car or taxi to the airport.
Should you tip them? I think we all know the answer to that one. Anywhere from a buck to five bucks a bag is acceptable.
One Last Tip
Having been on both the receiving and the giving ends of the great tip exchange, I can say with a great degree of certainty that tipping improves service.
That it happens at the end of your particular episode of service from one of the legion of hospitality workers is of little import; that valet or front desk clerk or slot attendant has been positively influenced by your tip and will approach the next guest with renewed attentiveness and perhaps a sharpened appreciation for providing quality service.
Whether you think of it as bread cast upon the waters, positive feedback, or simply good manners, your tip shows the employee that you recognize and respect good service.
Of course, if you're playing at the best online casinos then this is not an issue!
AUGUST
Casino of the Month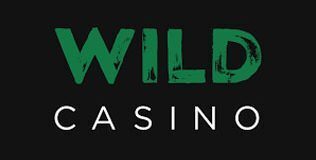 Welcome Bonus
250% up to $5,000
Read Review
Visit Site