Why Gambling is No Longer a Reason to Keep Pro Teams Out of Vegas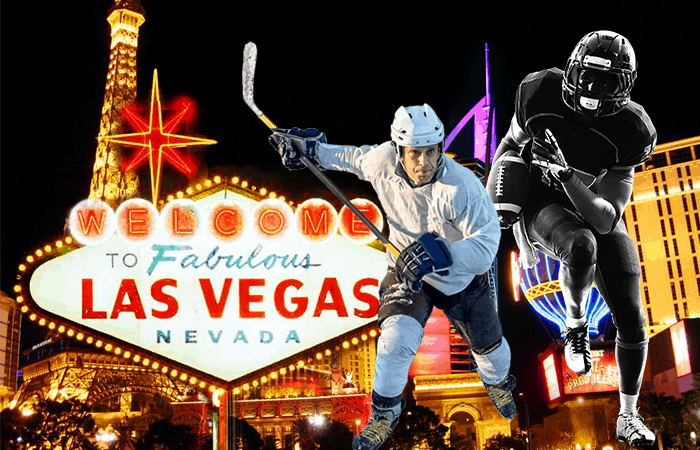 In the recent past, having a professional sports team seemed like nothing more than a pipe-dream for us Las Vegas locals. The legendary Oscar Goodman was always courting groups and trying his hardest to bring a team to the city, but the issue of gambling always appeared to be a non-starter. For us used to living in this magical valley, it always seemed like a ridiculous excuse to deny us professional sports.
So many of us can live our lives without throwing it all away at the tables. Most people I know rarely step foot in a casino or sportsbook at all. If fixed games were the concern, that never made any sense, to begin with. If someone was looking to fix a contest, the team didn't need to be in close proximity to The Strip to get that sort of thing done.
But time and time again we were turned away. Thankfully, all of that changed very recently. First, the NHL granted us an expansion franchise, The Golden Knights; and the city rallied to prove they would support the team. We pre-purchased season tickets in abundance. Next, the Raiders came knocking, and after some tumultuous negotiations, a stadium was approved as was their relocation.
Now that we have a couple of teams let's look back at the issues that have caused concern in the past and observe why the current gambling landscape leaves nothing to worry about for teams looking to move to Las Vegas. Hopefully, in the years to come, we will land a couple more sports teams, completing our identity as a sports town, which was traditionally just a collection of transients and out-of-towners with various sports allegiances from "back home."
Gambling Everywhere
When it comes to factors that traditionally thwarted Las Vegas' attempts at luring a professional sports franchise to the valley, perceived issues with gambling have always been number one. All of the major sports have strict anti-gambling policies in place, preventing their athletes from participating in sports wagering. However, gambling is no longer unique to Las Vegas.
While there are only four states with legalized sports gambling, there are casinos on Indian Reservations in 28 states. In fact, there are 486 Indian gaming operations total in the United States. The annual revenue generated from these properties is in excess of 31 billion dollars. So, any athlete that would be tempted to gamble on their sport while living in Vegas will have the same access to this activity in the cities already hosting professional sports teams.
Furthermore, online gambling has grown exponentially and is an easily accessible form of the activity for anyone. In fact, illegal gambling is a 150 billion dollar a year industry. With gambling becoming so widely available and convenient, the threat of Las Vegas tempting these innocent competitors is no longer a hurdle.
In fact, if anything, the city's gambling regulations provide more protection than athletes would be subject to elsewhere.
When asked about sports gambling, Roger Goodell has responded, "We are not changing our position as it relates to legalized sports gambling. We still don't think it is a positive thing. We want to make sure that the integrity of our game is the primary concern and we do everything possible to protect that: and that people are watching it for the outcome, and they know that it is not being influenced by any outside influences. We are very determined to continue that, and we will; that's a priority for us."
While this is his public opinion regarding athletes gambling, the actions of the NFL show that sports gambling and the NFL are a match made in heaven. Watch any commercial break during a football game (there will be plenty), and you will notice ads for Daily Fantasy Football. While not the same as placing a wager on a single game, participants do bet money based on player performances for the chance to win jackpots.
Also, look at the way injuries are documented and announced in the NFL. The injured body part and the degree to which the injury could potentially keep the player out of action are required to be released. These rules are mandated by the league and taken extremely seriously.
So, with all of that, the most substantial hurdle for Las Vegas was cleared. Gambling is now available everywhere to anyone with a smartphone or within driving distance to an Indian Casino. This fundamental objection to sports franchises near The Strip took quite some time to defeat, but thankfully the ever-expanding gambling industry accomplished this for us.
Can the City Support a Team?
Another common concern relating to professional sports in Las Vegas is whether the city would be able to support a team that came here. The jury is still out on this one, but so far, the results are promising. The Golden Knights sold more than 13,000 season tickets before ever playing a game.
After a tragedy galvanized the city, having a single city-wide identity was a cathartic experience, and it showed at the Golden Knights home opener. The packed stands were loud, emotional and most of all together. While the circumstances under which this came along were regrettable, the bond that the team immediately formed with the locals from the way they handled the tragedy will be lasting. I, for one, will not forget the class with which they treated the horrific event.
Talking to other locals, I believe this is a prevailing sentiment. I think it helps that the Golden Knights are an expansion team rather than a relocating team. They have no previous identity or fan base or traditions. They're just ours, and they couldn't have gotten here at a better time. I am confident they will have no issues finding support.
The Raiders, however, are coming to town with a long and storied history. It is my belief that this move will be an extraordinarily profitable one for both the team and the city. While they may not immediately give the city another galvanizing identity, they are still close enough to home to keep their current fan base.
Having the Raiders come to town is the equivalent of giving a city that thrives on tourism and conventions a minimum of eight more convention weekends, during the slowest part of our year. I'm not confident that the Raiders will ever appreciate the type of home-field advantage that teams like the Seattle Seahawks and Kansas City Chiefs have, I'm incredibly optimistic that every game will be a sellout.
What's more appealing than traveling to Las Vegas to make a weekend out of it when your team is playing the Raiders in Vegas?
Every transplant on the west coast will be coming here to see their team, spending money in our casinos, staying at our hotels and eating at our restaurants. No matter what jersey they are wearing on Sunday, the team will absolutely, financially, be supported.
As time goes on and the Raiders become a fixture of the city, more and more locals will adopt the team, eschewing their previous allegiances in the process. It will take some time, we've never had this opportunity before. But kids being raised on Raiders games will be the season ticket holders of the future.
The Wrap Up
Las Vegas finally has some professional sports teams, and I couldn't be more excited! Now that gambling is no longer unique to our little desert town, we have finally been given that last missing piece we needed to be a major city. And while the wait may have been extended and frustrating, these two franchises could not have come at a better time.
So, thank you to the Indian Casinos that have continued to spread throughout the country, thank you to the online casinos and thank you to Daily Fantasy Sports that have changed the landscape so drastically: leading the way for this to happen! But most of all, thank you to the NHL and the NFL for taking a chance on us! NBA, let's put that unfortunate 2007 All-Star game behind us and focus on the present. Because once you've seen what we do with these two teams, we'll be knocking on your door too!