Gambling Industry News Digest for May 11 – May 17, 2019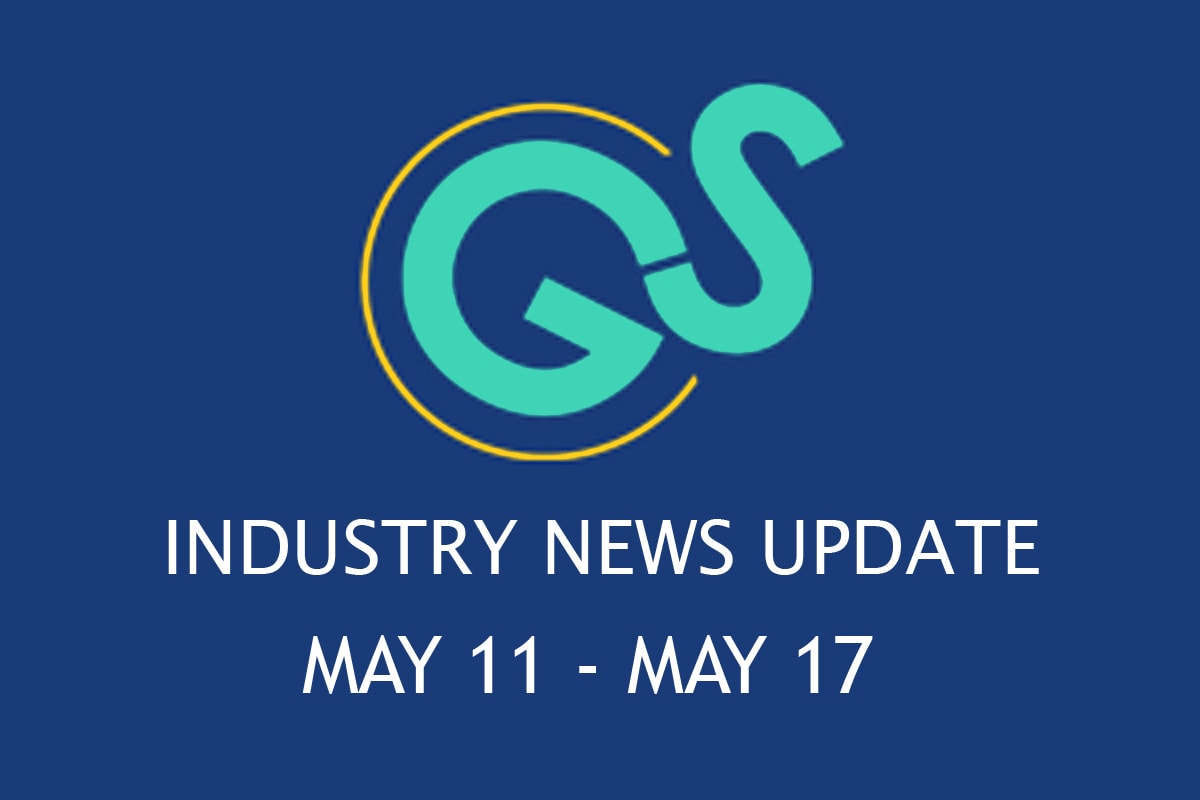 Has it been a week already?
More states are joining the sports betting gravy train — this week's State In The Spotlight: Iowa.
The UK has been busy this week, not only fining some online betting operations for not cleaving close enough to the standards of social responsibility expected but also banning an ad that seemed like absolute smut to no one but the UK's Advertising Standards Authority.
Elsewhere, Nigeria is very, very disappointed that one of its gambling operators is less than eager to meet with regulators to discuss its license, and New York joins many other states in the slow race to see which one will be next to legalize sports wagering.
Let's get started!
Iowa Becomes Latest State to Chase That Sweet, Sweet Sports Betting Money
What is it, eleven now? Or is it twelve? Well, whichever, Iowa is the latest state to legalize sports betting, both for the state's 19 brick-and-mortar casinos as well as a mobile option (tied to the casinos and requiring in-person registration for at least the next couple of years).
It was uncertain whether Iowa Governor Kim Reynolds would sign the legislation, but that uncertainty died on Monday, May 13, 2019, when she added her signature to the bill, which gives regulatory authority of sports betting to the state's Racing and Gaming commission (rather than the state's lottery, which several other competing bills would have done).
Like many other states, the plan is to have sports betting — in the casinos, at least — available by the time the NFL season begins in September.
The operators will need to pay an application of $45,000, with an annual renewal fee of $10,000.
Iowa's sports betting law does not require fees paid to fantasy sports leagues (as has been the case with many other states' sports wagering laws), nor is "official league data" required (the fee for which is often referred to as an "integrity fee").
College game wagering is permitted, but the law disallows "wagering on the performance of an athlete participating in a collegiate sporting event that includes a collegiate team from this state or in an individual Olympic event in which any athlete is under 18 years of age."
In terms of population, Iowa is a small state, with a mere three million citizens, but according to reports, legislators are confident that those three million people will place $4 billion in wagers every year, bringing in millions to the state through its new 6.75% tax on net sports betting receipts (gross wagers less pay-outs).
That 6.75% tax figure is somewhat misleading, since there's also a 0.75% tax (also based on net sports betting receipts) the wagering operators must pay to the state for "educational, civic, public, charitable, patriotic, or religious uses."
Whatever that means, one thing is clear: The tax rate for sports wagering operations in Iowa is effectively 7.5%.
Incidentally, since not all of those three million Iowans have reached their majority, the remaining adults have got their work cut out for them — so if you live in Iowa and are at least 21 years of age, you're going to need to rearrange your schedule. Think of the children.
Oh, don't look so sad. It's not impossible. Besides, according to reports, Nebraskans already spend about $300 million a year gambling in Iowa's casinos.
As they say, many hands make light work.
UK Fines Four Online Casinos for AML Violations
Four online casinos have been fined a total of £4.5 million (about $5.7 million US) for inattention to anti-money laundering (AML) regulations, requirements for customer due diligence, and something reports call "social responsibility obligations."
The four online casinos (all licensed by the UK Gambling Commission) are as follows.
InTouch Games Ltd (fined £2.2m)
Betit Operations Ltd (£1.4m)
MT Secure Trade (£700k)
BestBet (£231k)
The amounts noted are fines, with the exception of that paid by MT Secure Trade, which was a fee paid "in lieu of financial penalties."
After a lengthy investigation, the United Kingdom Gambling Commission concluded that InTouch, for example, showed "a degree of complacency" with its AML risk assessment, which was lax, the ASA said, because InTouch erroneously believed it was in a low-risk business.
InTouch apparently showed little interest, for instance, in why a particular customer increased wagers from an average of £200/month to £10k/month.
The UKGC said that InTouch had set financial triggers so high that it excluded most of its customers from reporting requirements.
BetIt was even more delinquent in responsibility, according to the UKGC. It found that the online operator, which runs both Kaboo.com and Highroller.com, had no money laundering or terrorist financing risk assessments in place, finding that in some cases, customers deposited tens of thousands of pounds with the online casinos (in some cases, in as little as 24 hours), which raised no alarms at either of the operators.
MT Secure Trade was likewise found to be negligent in establishing or following AML risk assessment protocols, in one case actually permitting one customer to deposit £38k in stolen money across four MTST brands — a move possible, the ASA said, only because MT Secure Trade did not investigate the sourcing of those funds.
BestBet, on the other hand, was found to have none of the UKGC's required risk-sensitive policies and procedures in place. Its employees were also discovered to be sadly lacking in AML and due diligence training.
According to reports, the UKGC hopes that the fines will show that it is losing patience with online casino operators, particularly those who fail to abide by its rules.
New York Slouches Toward Legalization
Despite Governor Andrew Cuomo's insistence that he will veto a sports wagering bill, legislators continue apace with legislation that would legalize online sports betting platforms for existing casinos in the state.
Cuomo says he wants New York voters to decide the issue, but some legal experts are advising the legislature otherwise, and to that end, the state Senate finance committee approved S17A, a bill that amends the state's "racing, pari-mutuel wagering and breeding law" to include regulations governing mobile sports wagering. The bill now moves to the full Senate for consideration.
According to reports, Governor Cuomo says the state's constitution requires a public vote — an argument echoing the position of the state's horseracing tracks and racinos, which already take sports bets with their respective operations via mobile apps and which believe an expansion of sports wagering beyond their own betting operations could negatively impact their business.
Even the bill's sponsor, New York Senator Joe Addabbo, is skeptical about the bill's chances, at least in its current form. "This is a cement that's nearly not yet hardened," he told reporters, "and hopefully we can mold it, and hopefully we can mold it to be more inclusionary."
As always, supporters of the bill hope it will be signed into law to take advantage of the 2019 NFL season, but that seems unlikely. Even if approved, there would only be a couple of months between the end of the state's legislative session in June and the beginning of the NFL season in September.
Sweden Cracks Down on Over-Generous Bonuses
Two licensed online casinos, Betway Limited and Mandalorian Technologies Limited, have been fined by Sweden's gaming regulator for offering over-generous bonuses to their customers.
Spelinspektionen (what the Swedes call their gambling regulator because their keyboards lack space bars) says that online casinos may offer only one bonus to customers — when they initially sign up with the casino.
The two operations were fined, according to the Swedish Gaming Inspectorate, because they each offered bonuses to customers on multiple occasions. Calling this a serious offense, the Inspectorate fined Betway SEK5m (about $520,000 US), and Mandalorian SEK9m ($940,000 US).
Sweden's gaming regulator insists that the one-time bonus restrictions strengthen consumer protection and reduce the negative effects of gambling.
Speaking of which, Sweden formed a legislative committee back in April 2019 to consider the comparative benefits of partial or even complete bans on gambling advertising.
According to reports, licensees have complained that the recent regulations requiring "moderation" in gambling advertising were too vague and that the period of trial and error discovering the boundaries of said moderation was proving to be expensive for those licensees fined for exceeding those boundaries.
Nigeria Threatens to Shut Down Casino
If Bet9ja won't accept the Nigerian government's invitation to discuss their wagering license, then Nigeria is just going to have to shut them down.
Otherwise notable only for its export of princes with money to hide, Nigeria is now trying to compel Bet9ja (which is owned by Italian operator Goldbet) to appear before its National Lottery Regulatory Commission to "verify" the company's license.
Obinna Ogba, chairman of Nigeria's Senate Committee on Youth and Sports, has already issued summonses to the nation's other online wagering licensees, and about 20 have shown up to verify that they indeed have a license.
Bet9ja is the sole holdout, which Nigeria apparently finds unacceptable, probably because Bet9ja accounts for a reported 60% of the nation's land-based and online gambling business.
"We want to see Bet9ja," Ogba declared to reporters recently. "They can't run away." He also said that he had asked government officials to issue a final summons to Bet9ja, indicating that if the company still failed to appear, "We will ask the National Lottery Commission to seal [their] offices."
The purpose for all the "verifications" is, according to Ogba, because while Nigerian wagering is reportedly in the neighborhood of $1 billion a year, the government has not been receiving what it considers its fair share of the proceeds.
Also, many operators have failed to launch their Nigerian operations within the one-year time limit imposed upon licensees.
New Hampshire Inches Closer to Sports Gambling Bill
While a bill working its way through the state legislature has been returned to the House after the Senate approved it (with some minor changes), New Hampshire is definitely an inch, perhaps two, closer to legalizing sports wagering within its borders.
The main change made to the sports wagering bill HB480 by the state Senate was the capping of the number of mobile operators allowed within the state to five. Representative Timothy Lang, who authored the bill, told reporters:
"I anticipate the House will concur with the Senate and it will pass. If it does go to a committee of conference, I expect they will work it out, but I honestly believe they will just concur on the House floor and be done."
Lang conceded that the change of the cap helped the bill meet with approval in the Senate.
A vote on the bill, as changed, probably won't take place before May 30. And a few of the other changes made to the bill while under consideration in the Senate make its passage anything but certain.
One change that may become a stumbling block to HB480's success is the Senate-added codicil permitting "tier two" wagers (prop bets) at brick-and-mortar sportsbooks after a similar permission had been removed by the state's House Ways and Means Committee.
But hopes remain high that the bill will eventually reach Governor Chris Sununu's desk for final approval. If signed into law, the bill could generate as much as $10 million in additional state tax revenues within a two-year period.
UK Discovers Sex-Gambling Link, Swoons
A text message alluding to the fact that some people might want a closer relationship with some other people was recently banned by the UK's Advertising Standards Authority (ASA).
Here's the text message, which appeared on Tinder during the Cheltenham Festival — a horse race held annually in Gloucestershire (and second only to the Grand National in the UK).
"Stuck in the friend zone? You won't be for much longer if you use this Cheltenham free bet offer."
Yes, that's the sort of smut we've all come to expect from William Hill, the sports wagering giant and, apparently, frustrated Certificate X author.
The ASA says the text message (what, no pix?) violated the part of the Committee's Advertising Practice Code that requires gambling advertisements to be socially responsible — which it defines as not linking gambling to "seduction, sexual success or enhanced attractiveness," according to reports.
William Hill's salacious Tinder text, the ASA says, "suggested those who gambled would be more likely to develop a friendship into a sexual relationship and therefore linked gambling with sexual success."
Oh. Em. Gee.
Because of this, the ASA banned the ad, declaring that it must not appear again in the form complained about and told William Hill to ensure it did not link gambling to sexual success in the future.
By the way, from all reports, it appears that there was only a single complaint about the text.
Spokesmen for Tinder said that the message was allowed publication on the platform because their initial reviews of the ad did not find it socially irresponsible or offensive or find that it targeted minors.
Tinder also noted that in any case, the ad was no longer live, and that it had received no other complaints about it.
Indian Gaming Chairman Position up for Grabs
The man who has headed up the US's National Indian Gaming Commission (NIGC) for the past three years is stepping down, and speculation is rampant over who President Trump will name to replace him.
Jonodev Osceola Chaudhuri, member of the Muscogee (Creek) Nation, began his tenure as chairman of the commission in 2015 when he was nominated by then-President Barack Obama and unanimously confirmed for the position by the US Senate.
The NIGC is part of the US Department of the Interior and is charged with overseeing all aspects of tribal gaming, which, according to a report released last year, accounts for nearly half of all legal gambling in the United States. (The report, from the American Gambling Association, notes that commercial gambling operations generated a little over $40 billion in revenue in 2018, while tribal gaming generated $32 billion.)
Three commissioners (a chairman, vice chair, and associate chair) oversee operations of 105 employees at seven regional locations throughout the US.
Two of the three commissioners must be Native American. Prior to assuming the office of Chairman, Chaudhuri served on the Indian Gaming Commission as both Vice Chair and Associate Chair.
Until President Trump nominates a new Chairman, current NIGC Vice Chair Kathryn Isom-Clause will assume day-to-day control of the commission, according to reports. Ms. Isom-Clause is a member of the Taos Pueblo tribe and has served on the commission since 2016.