Gambling Industry News Digest for April 20 – April 26, 2019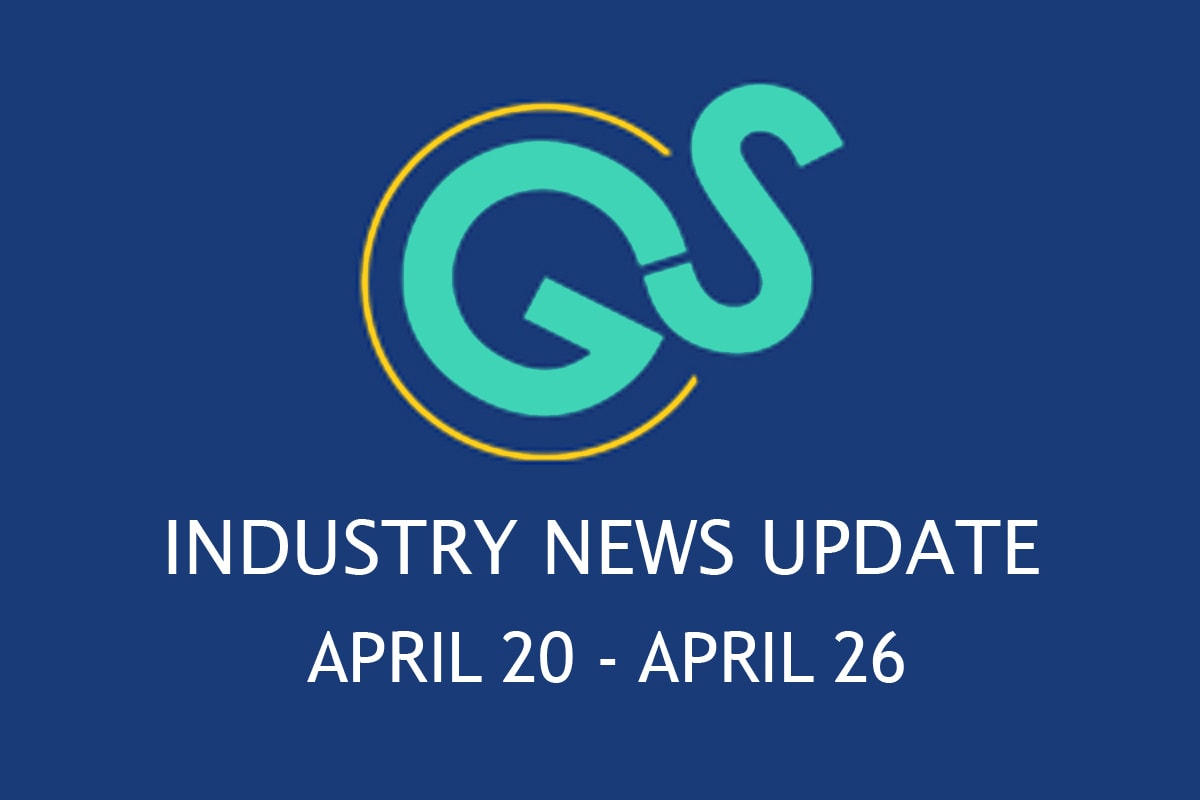 The news this week is full of states eager to cash in on sports betting, both online and off.
Indiana, Iowa, Tennessee, and Illinois all have bills slouching toward their respective governor's approval pens.
Additionally, Indiana and Illinois are very close to permitting riverboat casinos in their respective states to move to landlocked locations (otherwise known as brick-and-mortar casinos).
Coincidentally, a sportsbook giant is inducted into the Sports Betting Hall of Fame, and Guam struggles with the idea of gambling at games of chance at its apparently endless Liberation Carnival.
In the meantime, a former state's attorney-general and current counsel for "the Coalition to Stop Internet Gambling" applauds the DOJ's recent reversal of its interpretation of the Wire Act as only pertaining to sports wagering, citing dubious statistics and conflating several minor incidents in the UK to paint a horrifying picture of the online gambling industry's "vile" and "predatory" nature.
We've got trouble, my friends, right here in River City.
Oh, and just for a happy ending (of sorts), the presiding judge in the New Hampshire Lottery lawsuit against the Department of Justice has given the DOJ until the end of April to write a better and more clear opinion than the one it issued earlier this year.
Let's get started…
Indiana Passes Sports Betting, Casino Bill
The Indiana legislature recently approved the largest gambling expansion bill in the state's history, and it now sits on Governor Eric Holcomb's desk, awaiting his final signature to make it law.
The bill — HB 1015 — authorizes both land-based and mobile sports betting and authorizes the relocation of two riverboat casinos.
The two riverboat casinos, operated by Spectacle Entertainment, are both moored in Buffington Harbor on Lake Michigan, where they operate as a single casino even though each has its own operating license. HB 1015 would permit Spectacle to relocate one or both of the licenses to new land-based casinos — one located in Gary (for a fee of $20 million) and the other near Terre Haute in Vigo County.
In the case of the Terre Haute license, Spectacle might have competition because the bill allows the Indiana Gaming Commission to accept applications and proposals from other operators seeking an owner's license to operate an inland casino. Whoever wins that battle would have the privilege of paying the IGC a $5 million license fee.
The bill also allows racetracks to offer live table games and increases the number of casinos a single operator may own from two to six.
Provided the governor signs HB 1015 into law, the Indiana Gaming Commission could establish regulations and begin issuing sports betting licenses as soon as July 2019, according to reports.
Sources
Tennessee Online Sports Betting Clears Another Hurdle
The Tennessee House of Representatives recently passed House Bill 1 (it is the first bill of the current legislative session), which would legalize online sports betting in the state.
Sports betting at land-based casinos, however, would remain illegal.
The bill moved to the Tennessee Senate and was passed by the finance committee and forwarded on to the full Senate for a floor vote. If it passes the Senate, HB's next destination will be Governor Bill Lee's desk for signature.
HB 1 sets the gambling age at 21, or, as one report characterized it, "Individuals under the age of 21 would be prohibited from casting bets."
Backers of the bill say it could generate as much as $50 million a year in tax revenue, which of course would be set aside for education, local government, and gambling addiction treatment and counseling.
While Governor Lee has opposed previous efforts to further legalize gambling in his state, House Speaker Glen Casada, who voted in favor of HB 1, told reporters he did not expect the governor to veto the bill should it pass the Senate.
Source
On Gambling, Guam Not Even Near Tipping Point
So much time, so little to do.
Guamanian politicians are at loggerheads over the recent approval of gambling during its island-wide two-month-long Liberation Carnival.
Guam's Liberation Day is July 21st, and it commemorates the end of the Japanese occupation of the tiny island back in 1944. It was on July 21st of that year that American forces began battling the occupying Japanese, and it wasn't until August 10th that the Japanese were finally forced to vacate Guam.
Today, the Liberation Carnival stretches out over several weeks and features carnivals, festivals, parades, and other events.
Until a couple of years ago, the Liberation Carnival permitted some casino-type gaming to be offered at the various local festivals, but in 2017, the Guamanian legislature passed a law prohibiting games of chance during the carnival.
This year, however, a bill was passed in the Guamanian Senate (Guam has no House of Representatives) and signed by the governor that would again permit casino-style card games during the celebrations.
Bill No. 29-35 was signed into law on April 4, but the specific rules and regulations governing gambling were not included as part of the legislation.
The Mayor's Council of Guam, which consists of the mayors and vice-mayors of Guam's cities and which is charged with the implementation of the government's laws at the local level, is still waiting — rather impatiently — for those rules and regulations.
According to reports, the fear among supporters of the new law is that the rules and regulations will not be produced in time for carnival organizers to find, vet, and approve gaming vendors before the carnival starts.
Assuming all goes well and games of chance return to the Liberation Carnival itineraries, there are some changes and restrictions. Among them are greatly reduced allowable cash transactions at the festival, and to enforce this, all players of the various games of chance will need to purchase digital cards that function much like debit cards so that each game will have a record of all transactions.
Sources
Iowa One Signature Away From Sports Betting
Both the Iowa House of Representatives and Senate have passed a sports gambling bill, which now awaits Governor Kim Reynolds' signature. Reynolds has not indicated whether she will sign or veto the bill.
If approved, the bill would call on Iowa's Racing and Gaming Commission (IRGC) to begin establishing a regulatory framework for sports wagering. According to reports, bets would be permitted on professional, international, and college-level sports events, as well as motor racing and fantasy sports, but wagering on minor league games and in-state college events would be prohibited.
The bill also legalizes sportsbooks in the existing 19 casinos in Iowa, as well as sports betting via mobile apps.
Representative Bobby Kaufmann, who supports the bill as a way to reduce illegal gambling in Iowa, recently told reporters this.
"I'm thinking that we're kidding ourselves if we think we can make this go away. Doing nothing is not an option. Sticking our head in the sand is not [an] option. Hoping that people get help when they're placing bets in dark alleys with bookies whose collection method is a threat to kneecap you isn't good for anybody."
Source
"King of Bookmakers" Inducted Into Hall of Fame
Art Manteris, the man perhaps most responsible for the success of sports betting in the United States, was honored recently with induction into the Sports Betting Hall of Fame.
The induction celebrates the decades of work Manteris — who is often referred to affectionately in his trade as "King Arthur" — has put in to improve the state and status of sports books and sports betting in general.
Over the past 35 years, Manteris helped develop a number of technological innovations for the Nevada gaming industry, and he was instrumental in the development of the innovative theater-style concept for the world's largest sportsbook, the Las Vegas Superbook.
Prior to running Station Casino's sixteen sportsbooks in Nevada (a position he has held since 2012), Manteris worked at the sportsbook at Caesars Palace in Las Vegas and then the Westgate Las Vegas Superbook.
Two other figures were also inducted into the Sports Betting Hall of Fame: Former New Jersey Governor Chris Christie and Monmouth Park operator Dennis Drazin. Both are considered to have been instrumental in the legalization of sports betting in the US.
Fox News Pubs Anti-Online Gambling Screed
Claiming the Department of Justice's Office of Legal Counsel was way off base back in 2011 with its "decriminalization" of some forms of online gambling (a move which, of course, it recanted earlier this year), former Nebraska Attorney-General Jon Bruning seems dead-set on eliminating online gambling in its entirety.
Bruning, incidentally, serves as legal counsel to something called "the Coalition to Stop Internet Gambling."
Writing in an op-ed for the Fox News website, Bruning labeled the online gambling industry "predatory" and their tactics "vile."
"With a single click," Bruning says, "online operators offer kids and addicts easy access on a 24/7 basis without effective age verification or self-exclusion measures." Bruning says that he "applauds" the DOJ's recent reversal of opinion that, in his words, had allowed "a handful of states to unlawfully sanction online gambling."
"I'm grateful," Brining writes, "for DOJ's decision to protect the American children and problem gamblers most prone to what is a 'hidden epidemic' in the U.K. Now the center of the online gambling scourge, the U.K. has become the world's largest regulated online gambling market."
He goes on to cite some statistics (although he omits any reference to his sources), including "more than half of British 16-year-olds have gambling apps on their phones, while online casinos obtain more than half of their profits from problem gamblers."
He then goes on to point out that the US is headed down the same path, noting darkly that "ads for online casinos have been spotted on children's websites, as well as on webpages for problem gamblers."
Source
Illinois May Permit Riverboat Casinos to Operate on Dry Land
A bill is currently in the Illinois House of Representatives that would allow the ten riverboat casinos currently operating within the state to relocate to land anywhere in Illinois. The bill — SB0516 — has already been approved in the state senate.
If it passes the House, the final step for it to become state law will be the governor's signature.
The bill amends the Riverboat Gambling Act to permit gambling to be conducted at land-based casinos. Riverboats with a current license would be permitted to conduct land-based gambling operations upon approval by the Illinois Gaming Board.
Additionally, the newly-landlocked casinos would be permitted to operate temporary facilities during construction (or remodeling) of their permanent brick-and-mortar casinos. Naturally, the riverboats would be required to pay a licensing fee of $100,000.
Once signed by the governor, the amendments would take effect "immediately."
Sources
Judge Gives DOJ a Deadline to Rewrite Its Controversial Wire Act Reversal
The presiding judge in the New Hampshire Lottery Commission's lawsuit against the US Department of Justice has given the DOJ until the end of April to rewrite or otherwise clarify its recent opinion that reversed its 2011 interpretation that the Wire Act only pertained to sports wagering, which led to many states going online with lotteries, casinos, and poker products.
The reversal, which we covered back in March, dismissed the 2011 interpretation, claiming that the Wire Act actually does cover all forms of gambling conducted online, after all.
Despite later assurances from the DOJ that they weren't, of course, talking about state-run lotteries, many states with lotteries — New Hampshire among them — see the reversal as a danger to their thriving lottery ticket sales.
According to reports, Deputy Attorney General Rod Rosenstein recently told New Hampshire that state lotteries were never intended to be outlawed by the new opinion.
That wasn't enough for the presiding judge in the case, apparently, who told the DOJ it had until the end of April to come up with a written opinion that more clearly defined the affected industries.
Industry experts predict that the DOJ's new opinion will probably provide "wiggle room" for state lotteries while remaining hard against other online gambling activities.
Source