Fun Prop Bets for the 2019 Preakness Stakes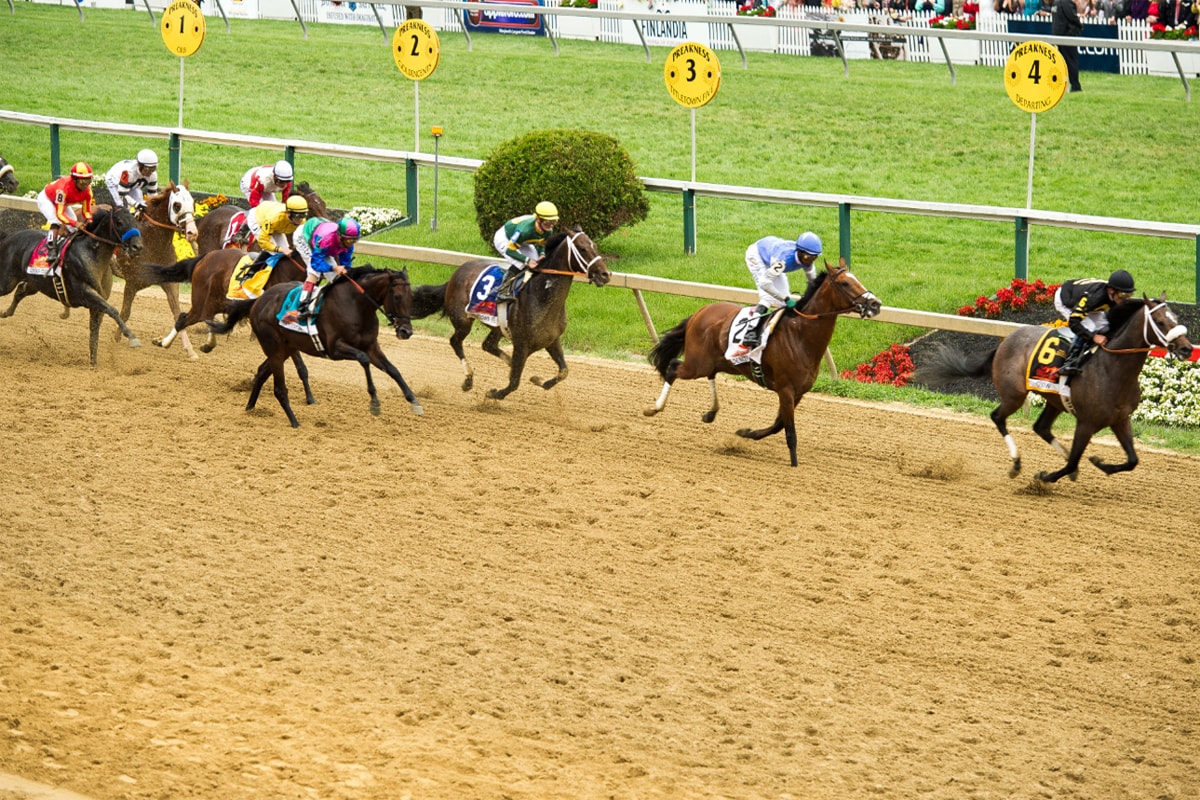 The 2019 Preakness Stakes will go down as a historical event in horse racing history.
It's not the first time a Kentucky Derby winner won't vie for the Triple Crown sweep, but it's a serious rarity.
That last happened in 1996 and will prevent the thrill of cheering for (or betting on) a Triple Crown sweep this year.
The fact that Country House won't hit the dirt to try to win again is one thing, but it's even crazier considering he stole the show by way of disqualification — the first win of its kind in Kentucky Derby history.
Maximum Security — the original winner — won't be on hand to give it another go during the Preakness, either.
That sets things up nicely for Improbable, who enters as the loose favorite in what looks like a wide-open field.
In this post, I'll take a look at the latest odds and where to find them, plus review some Preakness Stakes prop bets that could be fun to wager on.
Where to Bet the 2019 Preakness Stakes – Best Odds
Improbable enters as the top favorite after finishing fourth at the Kentucky Derby. That makes good sense, while the Bob Baffert trainee had previously finished second or better in every race it'd run.
Bettors will largely look Improbable's way, but before you put any money down on a winner, be sure to shop around for the best Preakness Stakes odds.
I've taken the liberty of finding the pricing at some of the best Preakness Stakes betting sites.
Here they are, along with their odds for the top three horses.
Who the top three horses entering the Preakness Stakes actually are can be subjective.
The odds say they're Improbable, War of Will, and Alwaysmining. However, some experts will disagree, and how the race itself actually unfolds could change our perception rather quickly.
Regardless, these are some of the top Preakness Stakes betting sites to work with, and as you can see, they offer some solid odds. Normally, I'd vouch for Bovada above all sites on even footing, but once you get past Improbable, their pricing isn't necessarily the best.
Instead, if you love War of Will, you're going to bet at SportsBetting.ag or BetOnline. If you like Alwaysmining, you'll go to MyBookie or XBet.
That can continue right down the line, depending on how you're planning on betting on the 2019 Preakness Stakes.
Whether you're searching for the Preakness winner or just want some 2019 Preakness Stakes sleepers, hopefully these sites end up serving you well.
I'll hand out my favorite pick before I'm done here, but there are also a bunch of fun Preakness wagers floating around that bettors may want to take advantage of.
Preakness Stakes Prop Bets for 2019
You can bet on the 2019 Preakness Stakes at just about any site that offers horse racing betting, but not all sites will be hosting Preakness prop bets.
SportsBetting.ag is doing just that right now, and some of them look like a ton of fun. A few even offer interesting upside, even though converting said wagers could be a bit difficult.
I'll leave the latter up for our readers to decide. For now, let's dive into the best Preakness Stakes props at Sportsbetting.ag and how you may want to wager.
Will Secretariat's Record Time Be Broken?
One fun wager to consider is whether or not the legendary Secretariat's record of 1:53.00 will be broken this year. Most horse racing fans would admit they doubt it will ever be broken, but bettors need to consider two things.
For one, there are skeptics who don't even believe that record time — which has stood firm for nearly 40 years — is even accurate. Second, it's not like no horse has come close to broaching the topic.
In fact, eight other horses have come alarmingly close with finishes around 1:54.00 or slightly better. The most recent came in 2007 when Steve Asmussen's Curlin won the Preakness with a dashing time of 1:53.46.
So, can Secretariat's 39-year-old record finally be broken? Here are the odds Vegas is comfortable with.
Obviously, the odds aren't great. However, there have been some horses that have pushed to break the record, and as recently as California Chrome in 2014 (1:54.84) did we get another relatively close call.
There is immense value in chasing history here. I don't think it actually happens, however, just because this isn't a loaded Preakness Stakes like we've had in the past. Feel free to attack it as a flier bet, but the logic doesn't support putting much cash into this one.
Will There Be an Inquiry?
My guess is this is referring to the debacle at the Kentucky Derby. Infractions in races — and sports in general — are very often subjective, so the Kentucky Derby being overturned was both historic and borderline egregious.
It happened, though, so the top Preakness Stakes betting websites are wondering if something similar will happen again. Value is on your side if you think it will.
This is another fun spot to potentially aim high and hope madness ensues. Hey, if Secretariat's record falls and there is a DQ of some sort in this race, then you're going to be rolling in all of the money.
It's a fun thought, but not a very realistic one. I wouldn't bank on lightning striking twice in a row during this year's Triple Crown.
Will the Winner Have Raced in the Kentucky Derby?
This is an interesting one to me, especially since Improbable finished fourth in the Kentucky Derby and enters the Preakness as the mild favorite.
It's even more compelling when you note that horses that didn't compete in the Kentucky Derby rarely go onto win the Preakness Stakes. Perhaps it's momentum, talent, or not facing that level of competition.
Whatever the case, SportsBetting.ag is playing the other side of this, suggesting that a winner emerging from the Kentucky Derby is not likely.
I'm not gaga about chasing crazy Preakness Stakes prop bets that probably have zero chance of converting. But this? This I like.
Most will say this is a numbers game. Just four horses are holdovers from this year's Kentucky Derby, after all.
True, but the favorite (Improbable) is one of them, and the top challenger (War of Will) also ran in the last race. Because of that, I like the value with the "yes" side of this wager. Although, to be fair, I'd be a bit more inclined to just go hard after one of these two horses.
What Will the Winner's Name Start With?
This is another potential numbers game. There are 13 horses, and just five have a name that starts with a vowel. That may favor the consonant side, but the top favorite is Improbable, and two of the top challengers fall on the "vowel" side of things.
Here are the odds for this Preakness Stakes prop bet.
I am of the belief that Improbable ends up living up to his favorite billing and wins this thing. You have a few other outs here as well, so betting on the vowel side isn't crazy.
Winning Horse's Time
You can try to bet on if a horse will break Secretariat's speed record, but the better play may be to just wager on if anyone will come remotely close.
That's what you can do here by betting on the winning horse's time, as the under actually offers nice value despite this happening numerous times in the past.
Here are the odds, per SportsBetting.ag.
The field is not as strong as it has been in the past; there's no getting around that. However, that doesn't mean the race won't be competitive, and that could play into the jockeys and horses burning rubber a little faster than usual.
Let's also not ignore that many Preakness winners have topped the 1:56.00 mark. In fact, Cloud Computing did that in 2017, Justify did it last year, and California Chrome did it in 2014.
In the past 18 years, this mark has been topped 14 different times. I'm willing to bet on it happening again.
Who Will Win the 2019 Preakness Stakes?
Preakness Stakes prop bets aside, the big question is who is going to win the Preakness Stakes. Improbable is the likely pick, as he's got a lot going for him.
Not only is this a Bob Baffert disciple, but Improbable ran the Kentucky Derby and competed well, finishing 4th. He's also finished 2nd, 2nd, 1st, 1st, and 1st in his only other five events.
Four of his six races were huge events, one of which he took second ahead of Kentucky Derby winner, Country House.
You will certainly want to put a little cash elsewhere and be on the hunt for some viable Preakness Stakes value plays, but Improbable (+225) offers plenty of value by himself.
When looking for a horse capable of winning a big race like this, you look for talent, pedigree, competitiveness, past competition, and past success. Improbable checks all of the boxes and also has a nice price. It's going to be hard to stray too far away from that.