Full 3-Round Mock for the 2022 WNBA Draft

The 2021-22 women's college basketball season concluded Monday night. South Carolina completed a near-perfect season, defeating UConn to win their second National Championship in school history.
Now, it's time to shift our focus to the upcoming WNBA season. We still have one major event before the start of the season, and that's the WNBA Draft.
The WNBA Draft is on ESPN on Monday, April 11 at 7 p.m. ET. My 2022 WNBA Mock Draft will give you the necessary draft information for the event. Let's start my 2022 WNBA Draft Mock by going over the first round.
In due time, you'll be able to bet on the 2022 WNBA Draft. For when props and odds pop up, be sure to check out the best WNBA Draft betting sites below.
My Recommended Betting Sites for the 2022 WNBA Draft
1. Washington Mystics: Rhyne Howard, G, Kentucky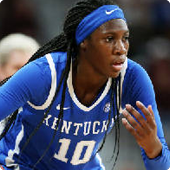 Kentucky guard Rhyne Howard has established herself as the top player in my 3 round WNBA Mock Draft.
It's hard to find a weakness in Howard's game. She has averaged at least 20 points in the last three seasons, shooting over 37 percent from the three-point range. She also does a great job on defense, averaging 2.3 steals in her four years at Kentucky.
It wasn't long ago that the Washington Mystics won the WNBA Championship. They have a few solid players in Elena Della Donne and Ariel Atkins. Howard could help them take the next step towards returning to playoff contention.
2. Indiana Fever: NaLyssa Smith, F, Baylor
The battle for the No. 1 spot is almost 50/50 between Rhyne Howard and NaLyssa Smith. The Indiana Fever have many holes, so they'll be content taking whichever player doesn't go No. 1 overall.
Smith was a bench player on Baylor's National Championship winning team in 2019. However, we've seen her blossom into one of the top WNBA draft prospects. Check out her senior year numbers.
22.1 points
11.5 rebounds
1.0 blocks
55.0 field goal percentage
Smith still needs to work on her shooting, but her dominance in the paint earns her a spot near the top of my 2022 WNBA Draft Mock.
3. Atlanta Dream: Shakira Austin, C, Ole Miss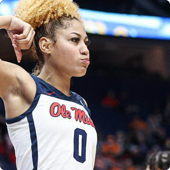 Shakira Austin might not be on the same level as the first two players, but she offers as much upside as anyone in the Women's NBA Draft.
What makes Austin such a high upside prospect is her 6'5" height. She is a great presence in the paint, averaging 8.6 rebounds and 1.9 blocks. Austin also has a nose for the ball, averaging 1.4 steals.
She has some work to do on offense. Her field goal percentage dropped from 51.9 to 46.3. The Atlanta Dream should give her some time to refine her offensive game.
4. Indiana Fever: Nyara Sabally, F, Oregon
Nyara Sabally is one of the more intriguing players in my full WNBA Mock Draft. Her talent has her among the best players in college basketball. However, she has missed a ton of time with multiple knee injuries.
Sabally averaged 14.2 points and 7.5 rebounds in 47 games at Oregon. Hopefully, the injuries are behind her, and she can focus forward on a WNBA career.
I see Nyara Sabally going anywhere from #3 to #7 in the #WNBA Draft. Really wouldn't be surprised if the Indiana Fever take her with one of their picks in the 1st round. They need a center.

— Women's Hoopz (@WBBWorldWide) March 29, 2022
We know the Indiana Fever need all the help they can get. After all, the early 2022 WNBA Final odds have them as the biggest long shot. Indiana can allow her to ease into the WNBA.
5. New York Liberty: Kierstan Bell, G, Florida Gulf Coast
It's not often you'll see a player from a smaller school go early in the WNBA Draft. However, Kierstan Bell's talent is too good not to have in the top 10.
Bell spent her freshman year at Ohio State before transferring to Florida Gulf Coast. Check out her numbers from the 2020-21 season.
24.3 points
10.6 rebounds
2.7 assists
2.3 blocks
1.9 steals
52.7 field goal percentage
Her numbers dropped last season as she dealt with a knee injury. Everyone knows about her talent, but how will it translate to tougher competition? That'll affect people's 2022 WNBA draft predictions.
6. Indiana Fever: Elissa Cunane, C, NC State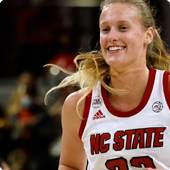 Elissa Cunane nearly led NC State to their first National Championship Game appearance in school history. NC State came up short, but Cunane is one of the top prospects in my full WNBA Draft Mock.
Cunane is one of those players that is better than the numbers show. She doesn't average many rebounds and blocks, but she's a great interior presence on the defensive end.
Her points per game dropped in her senior season, but she made over 40 percent on her three-pointers. That could lead to her WNBA draft projections moving her into the top five.
7. Dallas Wings: Naz Hillmon, F, Michigan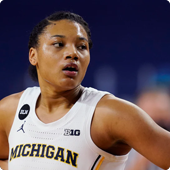 Naz Hillmon didn't receive as much attention as she should've at Michigan. She took a big step from her sophomore to junior season, nearly averaging 24 points and 11.4 rebounds.
Hillmon's numbers dropped in her senior season, but it's hard to be unhappy when your star player averages 21.0 points and 9.6 rebounds.
The biggest knock on Hillmon's game is her lack of perimeter shooting. She didn't attempt her first three-pointer until her senior year. She shoots well enough from the field to justify not shooting three-pointers.
Hopefully, that won't be an issue for the Dallas Wings.
8. Minnesota Lynx: Sika Kone, F, Mali
Sika Kone is the only player in the first round of my 2022 WNBA Mock Draft that didn't play college basketball. Because of that, it'll be interesting to see where she is in people's 3 round WNBA Draft Mock.
I'll probably watch more of Sika Kone than any other player between now & draft night. Her high risk, high reward prospect is such a fascinating dive.

— Hunter Cruse (@HunterCruse14) April 2, 2022
Kone has shown off her potential in the FIBA U19 World Cup. She had a great performance against France, scoring 26 points on 10/10 shooting. Kone is dealing with a knee injury, so there's a chance she will miss the start of the season.
Her upside might be too good for the Minnesota Lynx to pass up.
9. Los Angeles Sparks: Rae Burrell, G, Tennessee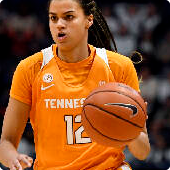 It'll be interesting to see how scouts view Rae Burrell. Burrell had a great junior season, averaging 16.8 points on 45.8 percent shooting and 40.2 percent three-point shooting.
Unfortunately, injuries took a toll on her senior season. Her points per game dropped to 12.3, and she shot below 37 percent from the field. That hurt her draft stock, but her upside is enough to justify keeping her in the top 10.
The Los Angeles Sparks desperately need help at the guard position. Do they have enough faith in Burrell to bounce back from a rough season? My Mock Draft WNBA says yes.
10. Indiana Fever: Emily Engstler, F, Louisville
Emily Engstler has made significant strides throughout her four-year career. She went through a transformation after her sophomore season, losing 40 pounds. That led to her having a big season with Louisville.
Check out her numbers between her junior and senior season.
| | | |
| --- | --- | --- |
| | Junior (Syracuse) | Senior (Louisville) |
| Points | 10.5 | 11.9 |
| Rebounds | 9.1 | 9.4 |
| Steals | 1.8 | 2.7 |
| Field Goal Percentage | 41.7 | 46.1 |
Engstler is one of the hardest working prospects in the WNBA Draft. The Indiana Fever has already selected multiple high upside players. Why not pick someone like Engstler? You never have to question her commitment to the game.
11. Las Vegas Aces: Nia Clouden, G, Michigan State
If you want a player that can score at a high clip, Nia Clouden should be your top pick. Clouden increased her points per game in all four seasons at Michigan State. She averaged 20.0 points on 39.6 percent three-point shooting her senior year.
Clouden made history with this performance against Florida Gulf Coast.
Michigan State's Nia Clouden put up a 50-piece this morning ? @HighlightHER

50 PTS
17/28 FG
61% shooting
6 REB pic.twitter.com/9n2tioRl1u

— Bleacher Report (@BleacherReport) December 20, 2021
Her game has aspects that need work, but you can never go wrong landing a player that scored 50 points in a game. I wonder if people's 2022 WNBA draft predictions will have Clouden in the top 10.
I doubt the Las Vegas Aces will mind Clouden falling to them.
12. Connecticut Sun: Veronica Burton, G, Northwestern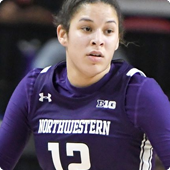 The Connecticut Sun don't have many needs, but Veronica Burton would help upgrade their depth.
Burton was always a defensive specialist, but she became a complete player on the offensive end in her junior season. She took it a step further last year, averaging 17.8 points and 6.4 assists.
She's not the best shooter, averaging 32.6. percent three-point shooting. Going to a team like Connecticut gives her time to refine that part of her game. Still, she'll make an impact on defense.
2nd Round WNBA Mock Draft for 2022
13. Minnesota Lynx: Evina Westbrook, G, UConn
14. Atlanta Dream: Christyn Williams, G, UConn
15. Atlanta Dream: Lorela Cubaj, F, Georgia Tech
16. Los Angeles Sparks: Olivia Nelson-Ododa, C, UConn
17. Seattle Storm: Destanni Henderson, G, South Carolina
18. Seattle Storm: Mya Hollingshed, F, Colorado
19. Los Angeles Sparks: Joanne Allen-Taylor, G, Texas
20. Indiana Fever: Lexie Hull, G, Stanford
21. Seattle Storm: Queen Egbo, C, Baylor
22. Minnesota Lynx: Bethy Mununga, F, South Florida
23. Las Vegas Aces: Aijha Blackwell, G, Missouri
24. Connecticut Sun: Jade Melbourne, G, Australia
The first round of the 2022 WNBA Draft featured four selections for the Indiana Fever. The second round sees teams like the Seattle Storm and Atlanta Dream take center stage.
We didn't have any UConn players in the first round of my 2022 WNBA Mock Draft, but they claimed three of the top four picks.
I had Christyn Williams as a steal in my 2022 WNBA Draft betting guide. Being a four-year starter at UConn is one thing, but Williams has shown she can play at a high level. Becoming more consistent will go a long way towards being an impact player.
Destanni Henderson is another player that deserves the spotlight.
Destanni Henderson DELIVERED on the biggest stage‼️ pic.twitter.com/rMapCLBhAY

— SportsCenter (@SportsCenter) April 4, 2022
She wasn't the best player on South Carolina, but she delivered in the National Championship Game.
Henderson's 5'7" height is smaller than you'd like, but she has become an elite three-point shooter. That could give her staying power as a second-round pick. I know the Seattle Storm would love her shooting.
WNBA Mock Draft 2022 – Third Round
25. Indiana Fever: Jasmine Dickey, G, Delaware
26. Phoenix Mercury: Hannah Sjerven, C, South Dakota
27. Los Angeles Sparks: Dre'una, F, Kentucky
28. Minnesota Lynx: Aisha Sheppherd, G, Virginia Tech
29. New York Liberty: Serena Kessler, G, France
30. Dallas Wings: Khayla Pointer, G, LSU
31. Dallas Wings: Victaria Saxton, F, South Carolina
32. Phoenix Mercury: Anastasia Hayes, G, Mississippi State
33. Seattle Storm: Macee Williams, F, IUPUI
34. Indiana Fever: Jordan Lewis, G, Baylor
35. Las Vegas Aces: Jenna Staiti, C, Georgia
36. Connecticut Sun: Kayla Wells, G, Texas A&M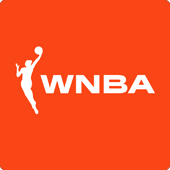 The third round wraps up the WNBA Mock Draft full. The third round will likely feature moving parts as teams trade picks. We do have one team making their first pick with the Phoenix Mercury.
Phoenix is coming off a surprise run to the WNBA Finals, but they could use a few upgrades. I have them taking Hannah Sjerven and Anastasia Hayes.
Last season, Sjerven put up solid numbers, averaging 15.1 points, 7.7 rebounds, and 1.5 steals. She doesn't attempt many threes, but she knocked down 35.2 percent of her attempts.
Hayes played for three different schools in her four collegiate years. She averaged 26.5 points in her junior year, dropping to 18.5 points in her lone season with Mississippi State. Hayes needs to work on her three-point shooting.
The Connecticut Sun made Kayla Wells the final pick of the 2022 WNBA Draft.
Betting on What Happens at the 2022 WNBA Draft
Unfortunately, we haven't seen any betting options for the 2022 WNBA Draft. I can tell you that our sports betting blog will update you if and when those options become available.
Hopefully, my 2022 WNBA Mock Draft for all rounds gives you a better idea of which players will go where. I have a good feeling about the first round, but anything can happen in the second and third rounds. We should all keep an open mind on that front.
September
Casino of the Month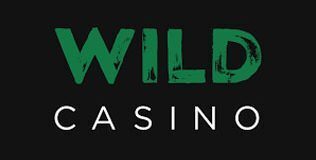 Welcome Bonus
250% up to $5,000