UFC 210 Preview: Odds and Predictions for the Full Fight Card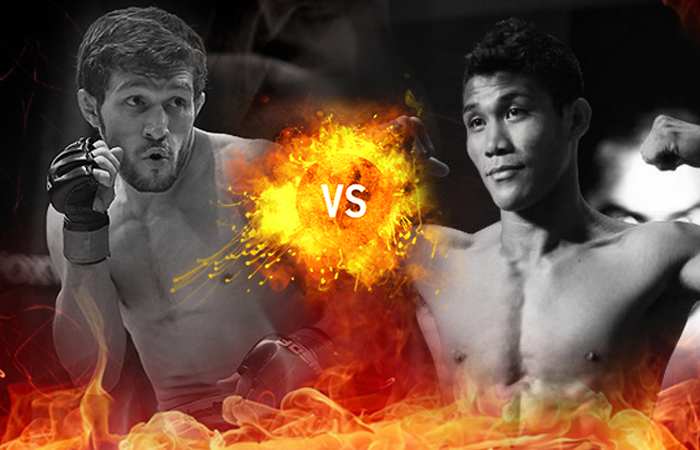 MMA fans were collectively disappointed with UFC 209, as Tyron Woodley again defeated Stephen Thompson and Khabib Nurmagomedov ruined a potential two-title fight heavy-hitter due to health concerns.
Looking back, UFC 209 wasn't a success and fans have to be wondering aloud if something similar will derail UFC 210. That is always a possibility, but on the surface this looks like an even better event than what we got the last time out, as Daniel Cormier will put his light heavyweight title belt back on the line in a rematch with Anthony Johnson.
Cormier got an easy out the last time he defended his title, as a regressing Anderson Silva stepped into the cage once Jon "Bones" Jones was take away from the card due to drug violations.
Things may not be so easy this time around, as he'll be tasked with taking out Johnson, who he submitted in round three of their initial meeting back in 2015 at UFC 187.
This actually could end up being a severely underrated rematch, as Cormier is one of the more disliked UFC champions and Johnson is a hulking brute that will be hard-pressed to get some revenge.
What's even better is the headlining title fight is just one piece to a really stacked UFC 210 fight card. Of course, as strong as this card looks, it doesn't feel overly predictable. That could make for a tough UFC betting scene if we're not careful.
To hopefully give us an edge in the betting game, let's take a quick look at all of the fights currently scheduled for UFC 210 and gauge which way we'll want to lean with our bets:
Jenel Lausa vs. Magomed Bibulatov
The Demolition Man (7-2) will shoot for his sixth straight win at UFC 210, as he could potentially open up a loaded fight card against Magomed Bibulatov (13-0). Lausa got his MMA career off to a rocky start, but has been unbeatable ever since, ripping off five straight wins due to an eclectic skill-set.
As good as Lausa has been lately, it's going to be very tough to deny Bibulatov, who has been dominant – and perfect – in his pro MMA career. The Gladiator hasn't dominated with his striking, but he's a willing hitter who has killed it on the ground (5 submission wins) and also has showcases his toughness and defense with six Decision wins.
Bibulatov easily matches Lausa's versatility here and brings a pretty impressive resume into his UFC debut. There is a chance at an upset here for Lausa, but Bibulatov should be able to squeak out a Decision win.
Pick: Bibulatov via Decision
Katlyn Chookagian vs. Irene Aldana
Katlyn Chookagian enters UFC 210 after sustaining her first career MMA loss, a tough Decision effort to the veteran Liz Carmouche. That's not a bad loss, but Chookagian nevertheless will look to dust herself off and get back on track versus Aldana (7-3).
Chookagian was looking like a rising star for a second there, but her first loss might take her down the ladder a bit. Naturally she'll be out to prove she should have been handed a win in her last match and that could be bad news for Aldana, who is a nasty striker but doesn't have a great ground game and some KO defeats already in just 10 fights.
There are two compelling narratives at play here, as Aldana is a vicious hitter that could be looking early to take out a big name, while Chookagian will badly want to get her MMA career back on track. This is just a tough matchup for Chookagian and if there is a crease for Aldana, there's a good chance she finishes this match in round one.
Gregor Gillespie vs. Andrew Holbrook
We could have an interesting Prelim fight at UFC 210, as the undefeated Gregor Gillespie (8-0) tries to stay perfect against Andrew Holbrook (12-1). Gillespie's versatility and confidence could give him an edge here, as he continues to try to prove himself in the UFC. Holbrook won't be taken lightly, of course, as the more experienced fighter that can be especially dangerous on the ground.
Holbrook shouldn't take much heat for his lone MMA loss, either, having gotten KO'd by the undefeated Joaquim Silva. He's otherwise been borderline flawless, executing at a scary rate on the ground, scoring an insane 9 submission wins to this point. Gillespie could keep his record unblemished here, but his floor game doesn't meet up with Holbrook's. If this one gets to the ground, we like Holbrook.
Pick: Holbrook via Submission
Josh Emmett vs. Desmond Green
Emmett is another unbeaten fighter (11-0) that will aim for new heights as he takes on Desmond Green (19-5) at UFC 210. Green has certainly been a tough out (zero KO losses) and presents a challenge for Emmett, even though he has some nice striking power and a pretty balanced MMA skill-set.
Green might have a distinct edge here, of course, as he's fighting in his own backyard and has proven to be the tougher fighter. He knows how to dish (and take) a beating, proving his worth by grinding out an insane 13 Decision wins. That isn't to say he can't be rolled up and stunned with a submission loss, but Green knows how to control a fight and pick his spots.
The undefeated Emmett certainly is a problem for Green, but we like his power and control. He's a solid bet to nab another Decision win and if he waits for the perfect opening he just might end this thing early.
Patrick Cummins vs. Jan Blachowicz
The early fights on the UFC 210 card could be toss-ups, which is part of what actually makes them so compelling. This bout between Cummins (8-4) and the hard-hitting Blachowicz (19-6) certainly fits the bill, as Cummins comes in sluggish (1-3 in his last four contests) and will be taking on a dangerous striker that can also take the fight to the ground.
Cummins could get it going here, but the versatility of Blachowicz is a little easier to get behind.
Shane Burgos vs. Charles Rosa
UFC 210 has another fun early match set up between Burgos (8-0) and Rosa (11-2). Burgos hasn't lost yet and will likely come in as the slight favorite. A versatile skill-set that includes a superior submission game could put Burgos in the driver's seat for yet another win.
Rosa shouldn't be taken lightly, of course. He's proven to be quite formidable in his pro MMA career, losing two Decisions but never being taken out yet by fist or submission. It's tough to keep an undefeated streak alive, but Burgos feels a little more dangerous in this spot. He'll have to be careful to avoid Rosa's heavy fists, but we think he can work his way to another win.
Pick: Burgos via Submission
Kamaru Usman vs. Sean Strickland
The Nigerian Nightmare touches down at UFC 210, as Kamaru Usman (9-1) prepares to wage war with the seasoned Sean Strickland (18-1). Strickland has quite a bit more experience between the two, but both of these fighters are extremely dangerous strikers. Usman comes in a little hotter, having won each of his last eight bouts. Strickland has been pretty unstoppable for the majority of his MMA career, however, with a tough Decision loss back in 2015 his lone hiccup.
While both fighters can end fights with their hands, Strickland has proven to be the more versatile threat to this point with four submission victories. That could be a problem for Usman, who saw his lone pro loss come by the hands of Jose Caceres via – you guessed it – submission.
Usman can be a lot to handle when the fight stays standing up, but Strickland has a better history of winning fights more than one way. We'll take Strickland's experience and versatility over Usman's 8-fight surge.
Pick: Strickland via Submission
Myles Jury vs. Mike De La Torre
We get another interesting one when Myles "Fury" Jury puts his solid 15-2 record on the line versus Mike De La Torre (14-6). Jury was really ascending the UFC ranks until just recently, as he started off his UFC record at 6-0 and was 15-0 before finally going down to the seasoned and versatile Donald Cerrone at UFC 182. He was unable to bounce back from there, losing his second pro bout ever in his next match when Charles Oliveira pulled off a Guillotine Choke for the win at UFC on Fox 17.
While Jury has slipped up lately, he did so against high level competition. One of the losses saw him go toe to toe with a great fighter in Cerrone and he at least made it to the finish line. He didn't have quite as much luck against Oliveira, but this is one of the game's nastiest submission experts (13 career submissions).
Jury still needs to iron out some wrinkles to his game, but that shouldn't make him a tough bet to trust against De La Torre, who has been on a downward slide since 2014. Since then, El Cucuy is just 2-3-1. He's still a very talented and dangerous fighter, but Jury packs a more impressive punch and will want to get his career back on track. We think he can do that with a knockout.
Cynthia Calvillo vs. Pearl Gonzalez
The second female fight at UFC 210 could be better than the first, as the undefeated Calvillo (4-0) gets tested versus the 6-1 Pearl Gonzalez. We don't really know what we have yet in Calvillo, but she certainly packs a punch and can win in a variety of ways. Does that make her a threat to dispatch the slightly more experienced Gonzalez in just her second UFC bout?
That's tough to say, but we know Pearl Gonzalez isn't a fighter to be taken lightly. She hasn't lost since her pro debut back in 2012 and she's also showcased elite submission skills. Gonzalez has also proven to be tough as nails in seven career MMA matches, losing just once by Decision and angling he way to four submission wins.
Experience and skill-set could shine through here, as Gonzalez might actually be a little underrated in this spot. She has a pretty nasty floor game that will likely pop up in a fight where Calvillo will likely try to end things early with her fists. If this one gets to the ground, it's hard to see an ending that doesn't have Gonzalez coming out on top.
Pick: Gonzalez via Submission
Will Brooks vs. Charles Oliveira
Speaking of Oliveira, one of mixed martial art's deadliest ground gurus is back at it again at UFC 210, as he prepared to take on the battle tested (and elite) Will Brooks. Brooks just got taken out by Alex Oliveira, but had been riding an awesome 9-fight winning streak. He could be looking to start it back up in this fight, where his versatile skill-set and toughness could be challenged.
Brooks is easy to get behind when you look at his resume and his ability to finish fights in a variety of ways, but this feels like a tough spot to trust him in. Oliveira (21-7) loves to end fights on the ground (13 submissions), but he's just as capable of ending them early with his fists. It's tough to downgrade him for his recent hiccups, too, seeing as his only three defeats in his last eight bouts have come against huge names like Ricardo Lamas, Anthony Pettis and Max Holloway.
Brooks isn't that far off from that group, but Oliveira is due a win and this matchup tends to favor him a little more on paper. This could be a tough one, seeing as Brooks has been amazing at avoiding submission exits. The first one has to come eventually, though, and Oliveira is skilled enough to be the first to trip Brooks up on the ground.
Pick: Oliveira via Submission
Thiago Alves vs. Patrick Cote
UFC 210 is pretty loaded, as we can see, but it also includes some big names. Thiago Alves (21-11) certainly qualifies, as the Pitbull has dealt with some bad luck late in his career. Alves remains a highly skilled fighter and tough out, but he's seen losses due to Decisions (twice), doctor stoppage and submission across his last four losses.
While none of that looks good on his resume, it's not like Alves is getting slapped around repeatedly. He still owns three solid wins over his last seven bouts and has the goods to turn things around yet at 33 years old.
That could be why he draws a pretty interesting fight with Patrick Cote (20-10), who is arguably just as dangerous when it comes to his striking ability. Both of these fighters are on the outside looking in when it comes to the top contenders in the welterweight class, but a win here could vault either of them into a much bigger fight. Alves has historically been the bigger name and is a vicious finisher, so we don't mind backing him one more time to see if he can right the ship.
Chris Weidman vs. Gegard Mousasi
We get a very nice secondary headlining act at UFC 210, as Chris Weidman (13-2) will try to work his way back to a championship fight after losing two bouts in a row. Weidman started his MMA career off nicely with a 13-0 run, but got rocked by both Luke Rockhold and Yoel Romero in his last two fights.
Weidman is still a big name and a dangerous fighter, but his skid has many thinking Gegard Mousasi (41-6-2) might be the safer bet. So far Vegas agrees, with Weidman coming in as the mild underdog with -110 odds and Mousasi entering as the slim -120 favorite.
Mousasi should be an even easier call than this, though, seeing as he's the much more experienced and versatile talent. Mousasi has impressively been knocked out just once in 49 professional MMA bouts, while he's dished out 22 knockouts and 12 submission wins.
The reality here is Weidman is a falling star that is trending in the wrong direction. After getting blasted in each of his last two fights, are we to bank on him suddenly bouncing back against such a tough opponent? It's doubtful.
Light Heavyweight Title Fight – Daniel Cormier vs. Anthony Johnson
Cormier (-115) prepares to defend his light heavyweight title belt against Johnson (-115), giving UFC fans a sick rematch and a title showdown, all in one. It's also an insanely close bout in the eyes of the UFC betting world, with neither fighter currently being held as the favorite when you look at the top UFC betting sites like Bovada.
There should be very real concern that Cormier could lose for just the second time in his career, as the 33-year old Johnson gave him a fight the first time around and has some ferocious power (16 KOs). Johnson's big problem for most of his career is he gets tripped up easily on the ground (four career submission losses), and that's precisely how he fell to the more versatile Cormier in the first meeting.
Cormier's ground and pound style is ugly, but effective, so he'll likely try to get the fight to the ground per usual. This time, it's quite possible it doesn't work as planned. Johnson is a nasty challenge and Cormier is due for a good beating. That doesn't necessarily mean Cormier will be handed his first knockout loss of his career, but a strong showing by Johnson could still get him the win, via Decision.
Pick: Johnson via Decision
That does it for our look at a jam-packed UFC 210 slate. There's no denying the big title fight carries the weight for this UFC event, but it's still a loaded card that should be a ton of fun to watch and bet on. Hopefully we provided a little insight to help you make your final picks. Be sure to be on the lookout for cancelled fights and potential replacements. Good luck with your UFC 210 betting!