Hide Bonus Offers
| | | | | |
| --- | --- | --- | --- | --- |
| #1 | Bovada Sports | 50% Up To $250 | Visit Site | Bovada Sports |
| #2 | BetUS | 125% Up To $2,500 | Visit Site | BetUS |
| #3 | MyBookie | 100% Up To $1,000 | Visit Site | MyBookie |
| #4 | Everygame | 100% Up To $500 | Visit Site | Everygame |
| #5 | BetOnline Sports | 60% Up To $1,000 | Visit Site | BetOnline Sports |
UFC 209 Betting: Alistair Overeem vs. Mark Hunt Odds and Prediction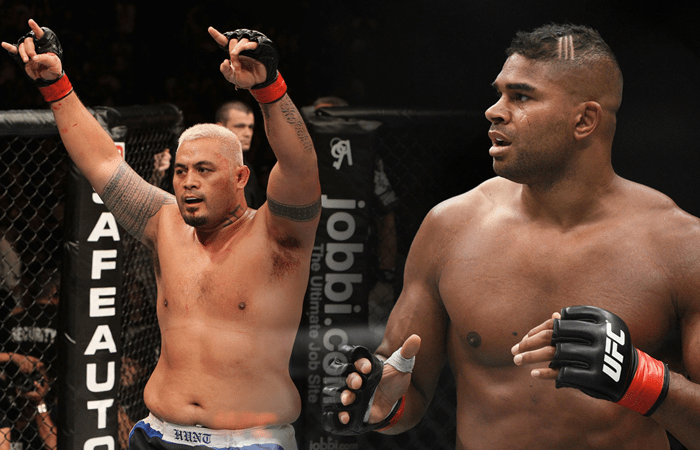 The top two draws at the upcoming UFC 209 event are undoubtedly the title fights, one being a rematch between welterweight champion Tyron Woodley and Stephen Thompson and the other an interim lightweight title showdown between Khabib Nurmagomedov and Tony Ferguson.
As huge as those title matches are, of course, there is another fight at UFC 209 everyone will be itching to see; the heavyweight clash between Alistair Overeem and Mark Hunt.
Two veterans of the MMA industry, Overeem and Hunt will face off for the right to inch up the heavyweight rankings inside the UFC. The 36-year old Overeem is as battle tested as anyone, having fought a ridiculous 57 times as a professional MMA fighter, while he won't have an easy out against the seasoned Hunt, who has hit the canvas 23 times as a pro.
Unfinished Business
There is unfinished business existing on both sides of this bout, as Mark Hunt will return with vengeance on the brain. This will be the second meeting between these two MMA legends, as Overeem submitted Hunt back in 2008:
This isn't just about Hunt's path to revenge, however. The more chiseled and powerful Overeem has another title shot on the brain, having recently been taken out by current UFC heavyweight king, Stipe Miocic.
That loss marked Overeem's first defeat since 2014, as he had been on an impressive 4-fight run with big wins over Andrei Arlovski, Junior dos Santos and Roy Nelson during that span. Needless to say, Overeem has proven in the past two years that he can make some big heads roll and the #3 ranked heavyweight MMA fighter will be aiming for a return to the biggest stage.
UFC 209 – Overeem vs. Hunt Odds
The early betting action is in favor of Overeem, who did win the first meeting eight years ago and is set up to sweep the series with Hunt. Here's the current odds, per Bovada:
Overeem to Win (-140)
Hunt to Win (+110)
This is a surprisingly close fight when you look at the odds, as Vegas can't discount the fact that Overeem has fallen to some top notch strikers in his day. It's not like Hunt is some scrub, either. He certainly doesn't look imposing at first glance, but Hunt has some terrific striking power and has stolen 75% of his 12 MMA wins via knockout.
That's a dangerous stat in this particular matchup, as Overeem has displayed a fairly soft jaw in spots during his career, giving way to an incredible 10 KO defeats. Overeem is probably an even more powerful striker, of course, while his elite grappling and submission game make him the more well-rounded athlete and more skilled MMA talent.
On paper, Overeem is the easy, knee-jerk pick. He can either crush Hunt into oblivion standing up, or he can work the fight to the ground and submit him, just like he did back in 2008.
From a betting perspective, this isn't a really grabby set of odds. Putting big money on Hunt as he underdog doesn't offer much return and on the surface this doesn't feel like a great spot for him to get a win. Overeem doesn't return a whole lot unless you lay down some serious cash, either, but for strict UFC betting purposes, he feels like the cleaner, more logical play.
Can Mark Hunt Stage the Upset?
Vegas doesn't love Mark Hunt here, but as we touched on, there is a very good reason the oddsmakers aren't also running away with Overeem as an insanely heavy favorite, either.
It's a two-way street here, as Hunt can be a vicious hitter, knows how to defend and Overeem's suspect defense and soft chin make him constantly vulnerable to that one big blow that could end the fight prematurely.
First Meeting Breakdown
If you want a good idea of what to expect, just look back at the footage from the first go-around. When standing up, Hunt showed surprisingly good quickness, good defensive awareness and a nice aggressiveness. He came at Overeem, got a couple of clean punches in and took him to the ground where he can often grind out a win with punches.
Of course, it didn't work out quite as Hunt had hoped. See for yourself:
Hunt has the size, strength, striking ability and defense to stand toe-to-toe with Overeem. The mistake he made here is he may have gotten a little too aggressive too early and he fell right into Overeem's elite groundwork.
Overeem can certainly crush a guy like Hunt with his raw knockout power (18 career knockouts), but Hunt took this fight to the ground against a guy who is in a lot of ways even better (19 career submissions) on the ground. Overeem countered beautifully and took a severe advantage Hunt had and turned it against him.
That could force Hunt to try to keep this fight standing up this time around, and if he can accomplish that, it could potentially end differently. The problem is Hunt's game isn't nearly as versatile, so he either needs to land some good blows while on his feet and/or avoid a submission while trying to execute the ground and pound strategy on the canvas.
Skill Matchup
We've touched on both fighter's strengths a bit, but let's break it down again: Overeem is the vastly superior striker and submission expert, he's got a laundry list of huge wins and he's bigger, stronger and has a longer reach.
Hunt's main objective this time could be to keep the fight standing up, but if he does that it still could play right into Overeem wants to do. Hunt will be looking for that 11th KO on Overeem, but Overeem really just needs one clean window to hand the same ending right back to Hunt. And if Hunt again tries to take things to the ground, we've seen how quickly the crafty Overeem can flip the script.
As we noted, however, there is still room for Hunt to pull off a shocker. Hunt still delivers some serious punching power, knows angles about as good as anyone, is tough to knock out himself and is probably as good (if not better) at registering and defending takedowns. He won't be aiming for a submission if he gets the fight to the ground, but it's not like he hates being there. He's comfortable there and if he can avoid mistakes once on the ground, that's still a spot he can be quite effective – and even win.
Alistair Overeem vs. Mark Hunt Prediction
These are two fairly evenly matched fighters who can drop any fighter with one punch and also be dropped, themselves. Both fighters have strong narratives working for them, too, as Overeem has been in a groove outside of his title match loss to Miocic and Hunt hasn't been bad, either.
Hunt ended up getting a no contest in his last battle with Brock Lesnar, and is otherwise 2-0 in his previous two bouts with wins over Frank Mir and Antonio Silva. His two losses before that were to elite competition in Miocic and Fabricio Werdum, as well.
Needless to say, while the 42-year old Hunt doesn't look like much and doesn't have an amazing record, he is absolutely a dangerous threat for Overeem. That being said, Overeem is young, the better athlete, a little more powerful, certainly more skilled and has a clear path to another title shot if he can build some momentum back up.
Hunt would love to stick this feather in his cap, both for some revenge and to ruin Overeem's current career path, but he's past his prime and is the underdog here for a reason. We could see a shocking KO here, but it's not very likely. Instead, we like the powerful Overeem to get back to his winning ways. With Hunt carefully avoiding takedowns this time around, Overeem may have a better shot at ending this fight early with his fists.