Free Printable Super Bowl 54 Prop Bets Sheets

Update: We have new printable Super Bowl prop bets sheets for 2021.
Are you looking for a printable Super Bowl 2020 props sheet? If that's the case, you've come to the right place.
I have three different prop bet sheets for Super Bowl 54 for you that can add a little extra fun to the big game. Whether you want to challenge your friends and family or win some beer money from your colleagues, I've got you covered.
Each Super Bowl 2020 props sheet features 20 different questions, based around the best prop bets for Super Bowl 54. You can download and print these sheets in a matter of seconds.
The main difference between the three variations is the type of props. The first features mostly traditional props, the second one is all about fun Super Bowl props, and the third one is a mixture of both.
Traditional Super Bowl 2020 Prop Bets Sheet
Let's begin with the printable Super Bowl 54 prop bets sheet that has more traditional questions. You can pick the MVP winner here, the NFL champion, and other props that are more conventional.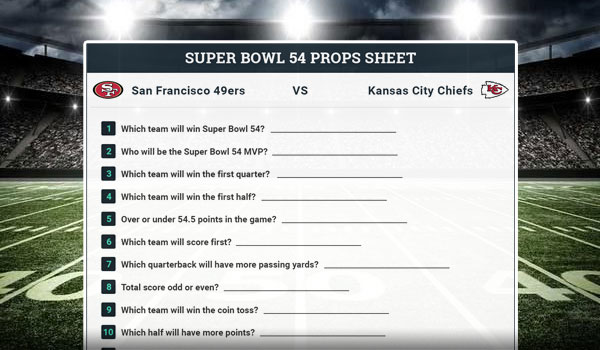 I like this version of the props sheet, as it involves more strategy. You can research most of the questions and make a choice based on reason and logic.
If there's money on the line or you want to play with people who are NFL experts, that would be my recommended Super Bowl props sheet.
Fun Super Bowl 54 Prop Bets Sheet
If you are looking for mindless entertainment, I think this printable Super Bowl props sheet is the best for you. It features all kinds of crazy questions related to the commercials, Donald Trump, the National Anthem, and more.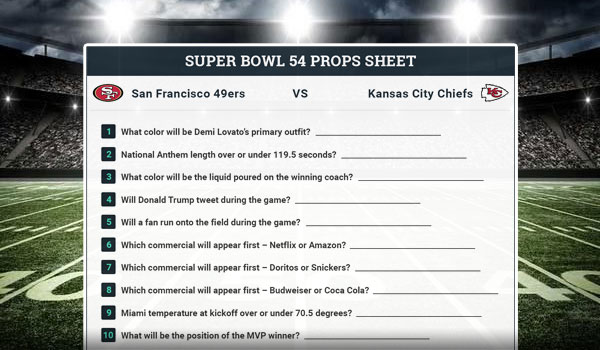 This sheet is perfect if you are hosting a wild Super Bowl party. I guarantee that the guests will enjoy it. If you want more tips for hosting a night to remember, I recommend you take a look at these Super Bowl party tips by one of my fellow writers.
Mixed Super Bowl 2020 Props Sheet
Some of you might want both the funny and serious questions. That's why I have prepared the mixed 2020 Super Bowl props sheet. You will find traditional stuff here but some of the wild props too.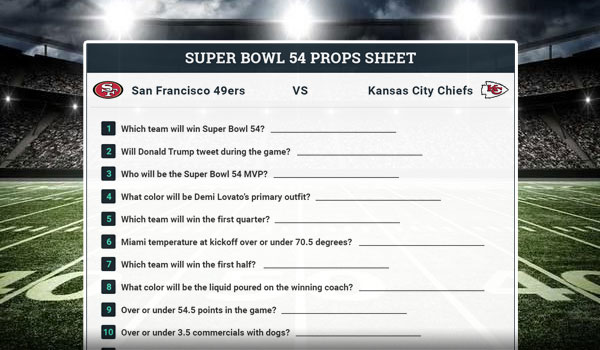 If I have to be honest, this is my favorite Super Bowl prop bets sheet. I love the fact that you can still have a strategy for some of the questions, but there's good potential for laughter in there too.
Betting on Super Bowl 2020 Props Online
If you are looking to bet on Super Bowl 54 props online with real money, there are plenty of options available. We rank the best of them here.
There are lots more ways to bet on the Super Bowl, too. You'll find some examples on our page dedicated to the best bets for Super Bowl 2020.
Finally, another way to have Super Bowl fun with friends and family is to play squares. Check out our downloadable templates for 2020 if that's your thing.