Soccer Betting Preview: English Premier League Games April 15th – 17th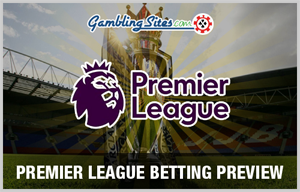 It's been an eventful few weeks in the English Premier League, with several key games being played. There's still a lot to play for some teams, so the next few weeks could be very interesting too.
The title race is technically still on, but Chelsea don't look like dropping enough points to give Spurs a real chance. They do face Manchester United this weekend though, in one of their last big tests of the season. If they drop points at Old Trafford, it might just give Spurs a glimmer of hope.
The race for a top four position is much more open. Chelsea are as good as guaranteed a place in next season's Champions League, but the next three spots are up for grabs. The teams from second place down to seventh are all in with a chance, and it would take a brave man to predict how things are going to end up.
It's equally uncertain down at the bottom of the table. Any team from 12th position and below could still get sucked into the relegation battle, so there's sure to be plenty of twists and turns to come. I think Sunderland are doomed now, but that's about all I can be confident about at this stage.
Things might be a little bit clearer by Monday, as there's a full round of games being played this weekend. And, as always, I've previewed each one of them. See below for my thoughts on how the games are going to play out, along with some recommended wagers.
Tottenham Hotspur vs Bournemouth
Game Odds
Tottenham Hotspur to win: 1.25
Bournemouth to win: 12.00
Draw: 6.50
It's hard to know what the Tottenham players will be feeling right now. They're currently on a run of six straight wins, and have only lost one league game since January. They've been playing brilliantly for weeks, so they SHOULD be very proud. Might they be feeling a little frustrated though? The kind of form they're in would usually be good enough to win the title, but it looks like they're going to fall just a little short.
They can't give up though. There's only a small chance that they can catch Chelsea, but there IS a chance. They've just got to keep on winning games and hope that Chelsea drop some points.
Tottenham should certainly be able to beat Bournemouth at home. I watched them against Watford last week, and they played exceptionally well. The final score was 4-0, but it could easily have been a bigger margin. It wouldn't have flattered them if they'd have scored five or six.
It wouldn't surprise me to see a repeat performance this weekend. Bournemouth play an open game, and that will suit Tottenham perfectly. I think they'll win by at least two goals, so a bet on the handicap seems like good value here.
Prediction & Recommended Bet
><
Tottenham 3 – Bournemouth 0
Tottenham to win (-1) @ 1.70
Crystal Palace vs Leicester City
Game Odds
Crystal Palace to win: 1.75
Leicester City to win: 75
Draw: 4.00
What a couple of weeks Crystal Palace have had! In their last three games they've managed to beat Chelsea at Stamford Bridge, and thrash Arsenal 3-0 at Selhurst Park. It's hard to believe that this is a team currently in a relegation battle.
Are they still in danger of going down?
It's easy to assume that Crystal Palace are safe now, but I don't think they are. Although they've won five out of their last six games, there's still just six points separating them from the relegation zone. It will only take a couple of losses and they'll be right back in trouble. They've got some tough fixtures to come too, starting with this game.
Leicester City have also won five of their last six games in the league, and they could do with a few more points to avoid relegation themselves. So they're not going to make things easy for Crystal Palace here. This will be a very competitive game, and it's a tough one to call.
The deciding factor could be the fact that Leicester City played in the Champions League on Wednesday. The players put a lot of energy into that game, and I think there'll be some tired legs in the team. This should give Crystal Palace a bit of an advantage, so I'm going with them for the win. The odds of 1.75 are perhaps on the low side, but I think they're just about worth backing.
Prediction & Recommended Bet
><
Crystal Palace 1 – Leicester City 0
Crystal Palace to win @ 1.75
Everton vs Burnley
Game Odds
Everton to win: 1.45
Burnley to win: 8.00
Draw: 4.50
This is one of the easier games to predict this weekend. I've been impressed with Burnley when they've been playing at home this season, but they've been pretty bad on the road. I can't see them getting anything at all from an in-form Everton team.
Although I'm confident that Everton will win this one, I don't think they'll win easily. Burnley HAVE been poor when playing away from home, but they rarely concede a lot of goals. They'll make Everton work hard for the victory here, and I think there'll be only a single goal in it.
For this reason I think that under 2.50 goals represents better value than the Everton win. The odds of 2.05 are quite generous in my opinion, so that's where my money's going for this game.
Prediction & Recommended Bet
><
Everton 1 – Burnley 0
Under 2.5 goals @ 2.05
Stoke City vs Hull City
Game Odds
Stoke City to win: 1.95
Hull City to win: 4.20
Draw: 3.50
Stoke City are always tough to beat at home, and they're a better side than Hull. However, I'm a bit surprised that they've been made such big favorites to win here this weekend. They're in terrible form, and have lost each of their last four games. Their last win was six games ago, so I really don't see why they're favored quite so heavily.
It's like the bookmakers have completely ignored what's been happening in the last few weeks.
It was only a couple of months ago that Stoke City looked safe in mid-table, and Hull City looked almost certain to be relegated. Things don't look like quite the same right now though. Stoke City's bad run of results has seen them slip down to 13th in the table, and they could easily be dragged into the relegation battle. In contrast, Hull City have been winning some big points and now have a real chance of staying up.
Hull will look at this game and think it's one they can win. Whether they will or not remains to be seen, but they're definitely CAPABLE of getting a result. The Stoke players are low on confidence, and they haven't shown any signs of improving their recent form.
I'm going to be a bit contradictory with my prediction and recommended bet here. I think the most likely outcome is probably a draw, and that's what I'm going with for my prediction. However, I think that Hull are overvalued for the win at 4.20. So my recommended bet is actually a Hull City win, just for the value.
Prediction & Recommended Bet
><
Stoke City 1 – Hull City 1
Hull City to win @ 4.20
Sunderland vs West Ham
Game Odds
Sunderland to win: 3.10
West Ham to win: 2.37
Draw: 3.50
Sunderland HAVE to win this game. I think they're pretty much certain to be relegated anyway, but any small chance of survival they have left will be gone if they don't get a victory here. There simply aren't enough games left for them to get the required points.
Unfortunately for them, there isn't much to suggest that they will get the win here. They've lost five out of their last six games, and are showing no signs at all of actually putting up a fight. I don't want to believe that the players have given up already, but it's starting to look that way. Manager David Moyes is going to need a minor miracle to turn things around from this point.
This is not the worst fixture for Sunderland when they're in such desperate need of a win, as West Ham have been in poor form themselves recently. They finally recorded a win at the weekend though, when they beat Swansea at the London Stadium. That could be the catalyst for some improved performances, and they've definitely got enough quality to play better than they have been doing.
I really hope that Sunderland go out there this weekend and give it their all. If they do, they might just get the result they need. I have to go with West Ham though. I just don't think the Sunderland players have the belief that they can win games any more, and that's hard to overcome.
Prediction & Recommended Bet
><
West Ham to win @ 2.37
Tottenham to win (1) @ 1.75
Watford vs Swansea City
Game Odds
Watford to win: 2.50
Swansea City to win: 3.10
Draw: 3.25
This is another big game for the relegation battle. Watford are up in tenth and probably safe, but Swansea are in the bottom three and in need of a win. They had a good run of form earlier in the year, but they seem to have hit a wall in recent weeks. It's now five games since they last tasted victory.
Can Swansea get back on track here?
They've got a chance for sure.
Watford have got a lot of injuries at the moment, especially in defense. They don't have a particularly deep squad, so this is really hurting them. The players coming into the team just don't look Premier League quality to me, and I think Swansea can take advantage here and get some points.
The big question is whether the Swansea City players have the mental strength to start performing well again. I don't think they've given up, but there seems to be a real sense of anxiety when they play. They need to stop worrying about the possibility of losing, and just focus on what they need to do. They're definitely capable of playing better than they have been.
If Watford were at full strength then I might feel differently, but I think this game is there to be won for Swansea. Although this is one of those games that could go either way, I'm going to put my faith in Swansea. I predict that they'll get the win they need to keep their survival hopes alive. I'm going to back them too, as I think the odds of 3.10 are pretty appealing given Watford's injury problems.
Prediction & Recommended Bet
><
Watford 0 – Swansea City 2
Swansea City to win @ 3.10
Southampton vs Manchester City
Game Odds
Southampton to win: 4.50
Manchester City to win: 1.80
Draw: 3.90
There's not a lot to say about this game really. It should be a routine victory for Manchester City. They're easily the better of the two teams, and they still need points in their fight for a top four place. Southampton have found a bit of form recently, winning their last two, but they've got nothing left to play for. They can't match Manchester City for quality, and I doubt they'll match them for intensity and desire either.
The big question here is what bet to make. I think the odds on a Manchester City win are quite generous at 1.80, so that's an appealing wager for sure. If you're looking for a relatively safe wager at reasonable odds, that's the one to go for.
I prefer a slight more adventurous option here though. I'm expecting Manchester City to win this by at least two goals, and they're 2.87 at -1 on the handicap. That seems like a really big price to me, so that's where I'll be putting my money. There's a little more risk involved, but better overall value in my opinion.
Prediction & Recommended Bet
><
Bournemouth 1 – Manchester City 3
Manchester City to win (-1) @ 2.87
West Brom vs Liverpool
Game Odds
West Brom to win: 4.20
Liverpool to win: 1.90
Draw: 3.70
There's no way that Liverpool should be as short as 1.90 to win this game. This is EXACTLY the kind of game they struggle with. West Brom are excellent at restricting their opposition to few chances, and Liverpool have consistently played poorly against defensive teams this season.
I'm not saying that West Brom should be the favorites, or that Liverpool have no chance of winning here. I just think that each team's chances of winning are much closer than the odds suggest. Liverpool are definitely the better team in terms of pure quality, but West Brom are more than capable of getting a result.
I actually think that West Brom WILL get a result. They're one of the most prolific teams in the league at scoring from set pieces, while Liverpool are one of the worst at defending them. I can easily see West Brom getting a set-piece goal at some point, and then just shutting up shop and frustrating Liverpool.
The big danger is that Liverpool get an early goal and mess up West Brom's plans. They've got some injuries to deal with though, most notably with Sadio Mane missing. They'll struggle to create chances without him in my opinion, so I'm reasonably confident in my prediction here. There's certainly no doubt that West Brom represent value at 4.20
Prediction & Recommended Bet
><
West Brom 1 – Liverpool 0
West Brom to win @ 4.20
Manchester United vs Chelsea
Game Odds
Manchester United to win: 2.70
Chelsea to win: 2.87
Draw: 3.20
This is the game I'm most looking forward to this weekend. Unfortunately, it's being played on Easter Sunday. My wife has made plans with the family for that day, so I'm not sure I'm going to get to watch it. I'll have to settle for checking the score on my phone every few minutes!
One of the reasons I'm so looking forward to it is because I have no idea how it's going to play out. I've spent more time thinking about this game than any of the other weekend's fixtures, and I just cannot make a call. There's only one definitive conclusion I've managed to come to.
This is NOT a game for betting on.
I haven't found a single wager that I could place with any kind of confidence. I can't work out who's going to win, how many goals there are likely to be, or anything at all really. It's an absolute lottery, so I'm saving my money here.
Based on form alone, Chelsea are the most likely to win. Manchester United have been struggling to perform to the level they're capable of, and they've been especially disappointing at home. They're defensively sound, but they just can't seem to score enough goals. They've only scored 46 in the league all season, compared to Chelsea's 65.
Manchester United also had a midweek fixture to content with. They had to travel to Belgium for their Europa league tie against Anderlecht, and that will have taken a lot of out of the players. Chelsea, on the other hand, had a free week. That gives them a clear advantage.
It might sound like I'm edging towards a Chelsea victory, but I'm really not. There's another big factor to consider here, and that's Jose Mourinho. Having been sacked by Chelsea last season, there's no way he'll be happy seeing them win the league this year. He will have his Manchester United team VERY motivated to get a result here, and there's every chance he'll blow the title race wide open.
I have to make a prediction of course, so I'm going to sit on the fence and go with a draw. Honestly, though, there isn't a single result that would surprise me in this game. I think it's going to be great to watch, and I'm so disappointed that I'll be missing it!
Prediction & Recommended Bet
><
Manchester United 1 – Chelsea 1
No recommended bet
Middlesbrough vs Arsenal
Game Odds
Middlesbrough to win: 6.00
Arsenal to win: 1.57
Draw: 4.33
This game is an important one at both ends of the table. Arsenal need a win to stay in the race for a top four position, and Middlesbrough need a win to keep their survival hopes alive. Neither team will be looking forward to it in my opinion, as they'd both rather be facing opposition without so much at stake.
Under normal circumstances, I'd back Arsenal 100% to get the job done here. They've been brilliant at putting away the lower quality teams in this league for years now. Something's not right at the club at this moment though. The uncertainty surrounding the future of manager Arsene Wenger has created a difficult atmosphere among the fans, and it's definitely affecting the players. They got beaten 3-0 by Crystal Palace last week and it was a truly awful performance. It's just not what you expect from Arsenal.
I don't know they're going to react in this game. Part of me thinks that they'll come out all guns blazing and try to get back on track, but part of me thinks they might be really lacking in confidence and unable to lift themselves. If it's the former, they should have no problem getting the win. If it's the latter, the question is whether Middlesbrough can take advantage.
I've got a feeling that this is going to be a very nervy game, with both teams reluctant to take risks for fear of making mistakes. That could lead to very few chances being created, so I don't think we're going to see a lot of goals here. In fact, I'm going with a 0-0 draw for my prediction. I can't recommend a bet here though, as the game could easily play out very differently. It really depends on whether Arsenal can rediscover their form or not.
Prediction & Recommended Bet
><
Middlesbrough 0 – Arsenal 0
No recommended bet