Hide Bonus Offers
| | | | | |
| --- | --- | --- | --- | --- |
| #1 | Bovada Sports | 50% Up To $250 | Visit Site | Bovada Sports |
| #2 | BetUS | 125% Up To $2,500 | Visit Site | BetUS |
| #3 | MyBookie | 100% Up To $1,000 | Visit Site | MyBookie |
| #4 | Everygame | 100% Up To $500 | Visit Site | Everygame |
| #5 | BetOnline Sports | 60% Up To $1,000 | Visit Site | BetOnline Sports |
Free Dota 2 Betting Tips for ROG DreamLeague Season 8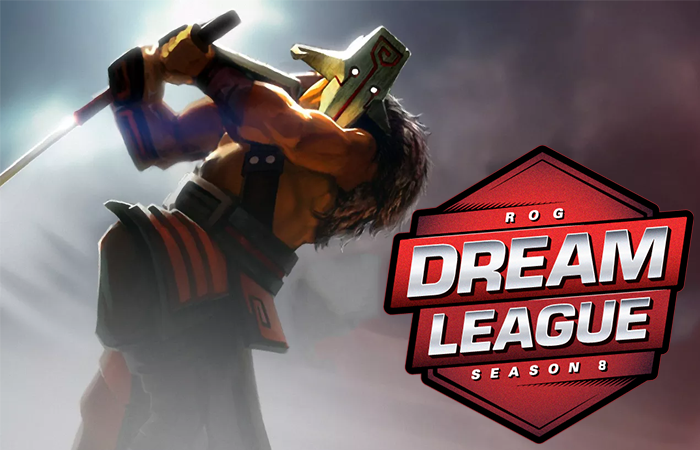 DreamLeague Season 8 is the 6th Dota 2 LAN event of the 2017-2018 competitive season.
It falls under the "Majors" category within the Dota Pro Circuit, having a prize pool of 1 million dollars.
The tournament will be held in Jönköping, Sweden between December 1st and December 3rd.
Points and Prize Distribution
Because it belongs to the Dota Pro Circuit, DreamLeague Season 8 offers not only prize money, but qualifying points as well. These points will be used at the end of the season to determine the teams that will receive a direct invite to The International 2018.
This is the tournament's prize pool and points distribution:
1st place: $500,000 / 750 points
2nd place: $200,000 / 450 points
3rd place: $100,000 / 225 points
4th place: $70,000 / 75 points
5th– 6th place: $45,000 / 0 points
7th– 8th place: $20,000 / 0 points
Tournament Structure
DreamLeague Season 8 features 8 teams from 6 different regions:
North America: Evil Geniuses
Europe: Team Liquid, Team Secret
CIS: Virtus.pro, Natus Vincere
China: Newbee
South America: Infamous
Southeast Asia: Fnatic
There were no direct invites offered by the tournament organizer (DreamHack), so everyone had to qualify for the event.
DreamLeague Season 8 will be played in a double elimination bracket format. Initially, all 8 teams start in the upper bracket. With the exception of the Grand Finals (which is a Bo5), every series is a best of three (Bo3).
The first 4 matches of the tournament are the following:

Virtus.pro vs Natus Vincere
Virtus.pro are regarded as clear favorites in this dispute, being the number one team at the moment in the Dota Pro Circuit rankings.
Be cautious though, because Virtus.pro lost their last 2 matches against Na'Vi: 0-2 in the qualifier for this tournament and 1-3 in the Adrenaline Cyber League LAN Finals. Both matches took place in the last 15 days.

Team Liquid vs Fnatic
This is going to be an interesting encounter, simply because Fnatic have recently made a roster change, bringing in a formidable mid player (Abed "Abed" Yusop) and starting to show clear signs of improvement.
The Fnatic from one month ago would have gotten destroyed by Team Liquid, but now the strength difference between these two teams is significantly smaller.
Still, Team Liquid should emerge victorious, as they are simply too good right now. And not just for Fnatic, but for most of the other teams as well.

Team Secret vs Evil Geniuses
This is one of the El Clasico's of Dota 2, and the victory could easily go to either of these teams. On paper, Team Secret have a slight advantage due to their great form and better past results in the Dota Pro Circuit. But the match will no doubt be close.

Newbee vs Infamous
This match should be the most one-sided of the 4. Infamous are nowhere near Newbee's strength at the moment, so I don't think there will be any upsets here.
Analysis of the Teams
Here's a short analysis of the 8 teams participating in the DreamLeague Season 8 Major:

Team Secret
After a rather disappointing last season and a poor result at The International 2017 (9th-12th place), Team Secret changed 2 of their players (Maurice "KheZu" Gutmann and Pyo "MP" No-a), bringing in a new offlaner (Adrian "Fata" Trinks) and a new carry (Marcus "Ace" Hoelgaard).
With this new roster, Secret have managed to secure tickets for 6 out of the first 9 tournaments of the Dota Pro Circuit this season, including both Majors: ESL One Hamburg and DreamLeague Season 8.
So far, they've had a good run in the Dota Pro Circuit and are currently occupying the number 2 spot in the circuit's rankings.
At ESL One Hamburg (the previous Dota 2 Major), Team Secret came close to winning the title but eventually lost the Grand Finals to Virtus.pro. However, they defeated teams like Evil Geniuses, Newbee and Team Liquid to get there.
At the European/CIS qualifier for this Major (DreamLeague Season 8), Team Secret won their group without losing a single match.
As a result, they are expected to get at least a top 4 finish at the tournament.

Team Liquid
They are one of the best teams in the world at the moment and display an enormous amount of skill in almost all of their games. At the recent Midas Mode tournament, Team Liquid won the title and dropped only one game during the entire competition.
And they did it while randoming most of their heroes and even swapping roles (KuroKy playing mid and Miracle- playing support for instance).
Team Liquid's recent results have been consistently good: 1st place at StarLadder i-League Invitational #3, 3rd-4th place at ESL One Hamburg, 1st place at AMD SAPPHIRE Dota PIT League, and 1st place at Midas Mode.
Going into this DreamLeague Season 8, Team Liquid are expected to get at least a top 4 finish.

Evil Geniuses
So far, they've been struggling this season. A 3rd-4th place at PGL Open Bucharest and a 5th-6th place at ESL One Hamburg are their only notable results. In total, they gathered 90 points in the Dota Pro Circuit rankings, making them a top 10 team.
In spite of this, it is still very risky to bet against them, as they have some of the best players in the world on their roster.

Newbee
After their disappointing season start, Newbee have been on the rise, getting closer and closer to their TI 7 level. At the moment they're a top 5 team in the Dota Pro Circuit rankings, having 585 points.
Going into this Major, Newbee are expected to perform well and achieve a top 3 finish.
Their first match should be easy, but the second one will be much tougher, no matter who they face.

Natus Vincere
Na'Vi is another team that has been on the rise lately, and their participation at this Major clearly proves it. Na'Vi changed 2 of their players prior to the start of the new season, replacing their carry (Per Anders Olsson "Pajkatt" Lille) and position 5 support (Malthe "Biver" Winther) with Vladislav "Crystallize" Krystanek (carry) and Vladimir "RodjER" Nikogosyan (support). The organization also brought in Alexander "XBOCT" Dashkevich as their new coach.
In the wake of these changes, Na'Vi started to strengthen at a rapid pace and qualify for Dota Pro Circuit events. How high they can climb in rankings at the international level is yet to be revealed, but they've definitely surprised people with their recent performances.

Virtus.pro
They are the ESL One Hamburg champions and the highest ranked team in the Dota Pro Circuit rankings going into this Major. At least in theory, they are a top contender for winning the competition. But we'll have to see if they can actually do this, as their recent performances haven't been their best.
Their first match against Na'Vi will be particularly difficult, as their regional opponents bested them twice in their last 2 encounters.
Did Virtus.pro become complacent after winning the ESL One Hamburg Major or did they simply not want to reveal their best strategies prior to DreamLeague Season 8? We'll have to see.

Infamous
They're a South American team with a newly formed roster, so the squad has very limited experience playing together.
Infamous are almost for sure the weakest team in this competition and are expected to be eliminated after their first 2 matches.

Fnatic
Fnatic is another team that struggled during the start of the new competitive season, failing to qualify for Dota Pro Circuit events but still taking part in two, as a result of other teams' misfortunes: HappyFeet encountered visa problems and couldn't attend the ESL One Hamburg Major, while Mineski cited personal problems for one of their players and couldn't attend the AMD SAPPHIRE Dota PIT League Minor.
Fnatic replaced both teams at these tournaments but didn't manage to win a single match, being eliminated each time right from the start. Things were not looking good for Jacky "EternaLEnVy" Mao's new club.
But then a much-needed change happened: Fnatic's midlaner (Steve "Xcalibur" Ye) became a substitute for the team and the organization brought in one of the best Dota 2 players in the world: Abed "Abed" Yusop.
After his transfer, Fnatic managed to secure tickets for two important tournaments: DOTA Summit 8 and DreamLeague Season 8. They're still an underdog going into this tournament, but they might just surprise us with some good lower bracket results, as I don't think they will beat Team Liquid in their first upper bracket match.
Betting Tips
Here are a few betting tips and tactics that you can use when betting on matches during the DreamLeague Season 8 Major:
Try not to bet on a game until you've seen the drafting phase. During this stage, a team will often outdraft the other and gain an important advantage. If you can't figure out which team has the better hero composition, listen to what the analysts are saying and look for signals that one team clearly has a better draft than the other. The ideal scenario you're looking for is one in which the better team also has the better draft. In such a case, you should bet on the result of the particular game you are watching.
If you want to bet on the result of a match in which one team is much stronger than the other, you can get improved betting odds by betting on a game event that is consistent with the result of the match. For example, betting that team 1 (if it's significantly stronger than team 2) will be the one to destroy the first set of barracks is a game event consistent with a victory in its favor. But the odds of this event will be significantly higher than the ones associated with a victory for team 1.
Look for drafting strategies that revolve around securing the first Roshan and putting early game pressure on the enemy team's structures. In these scenarios, the team that goes for the early push draft will often be the one to kill the first Roshan. Especially if it's also the stronger team.
If you happen to place a bet on a top team who is playing against a much weaker opponent and the match starts to go heavily in their opponents' favor, you can often cancel out the bet by betting enough money on the opposing team during the match, while it still has good enough odds to allow you to do this. Make sure however that when you place this second bet, the stronger team doesn't have a line-up that could easily come back from the brink of defeat and win the game.