Free Dota 2 Betting Tips and Tournament Preview for Captains Draft 4.0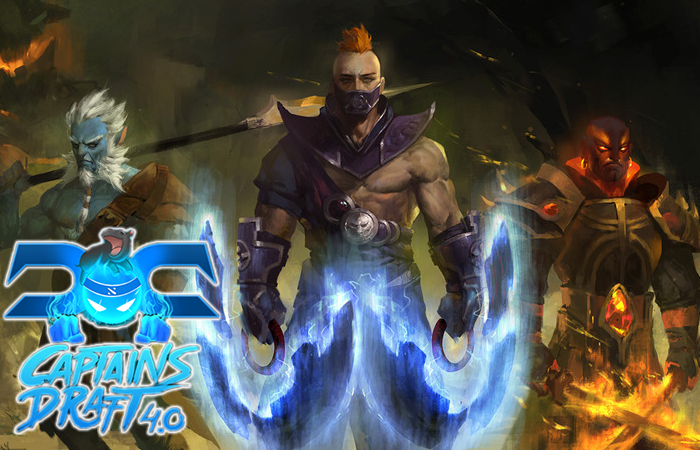 Captains Draft 4.0 is the 9th Dota 2 LAN event of the 2017-2018 competitive season. It falls under the "Minors" category within the Dota Pro Circuit, having a prize pool of 300.000 dollars and awarding participating teams with 300 qualification points. The tournament will be held in Washington DC, USA at the DC Armory venue, between January 4 and January 7. The event is organized by DotaCinema and Moonduck.
Points and Prize Distribution
Since it belongs to the Dota Pro Circuit, Captains Draft 4.0 offers participants not only prize money but qualification points as well. These points will be used at the end of the season to determine the teams that will receive a direct invite to The International 2018.
This is the tournament's prize pool and points distribution:
1st place: $108.000 / 150 points.
2nd place: $69.000 / 90 points.
3rd-4th place: $37.500 / 30 points.
5th-8th place: $12.000 / 0 points.
Tournament Structure
Captains Draft 4.0 features 8 teams from 6 different regions:
Europe: OG, Team Secret.
CIS: Team Empire.
China: Vici Gaming.
North America: Evil Geniuses, compLexity Gaming.
Southeast Asia: Mineski.
South America: paiN Gaming.
Initially, the teams will be divided into 2 groups of 4. In each group, the teams start in the upper bracket and play a mini-tournament in a GSL format. During this stage of the competition, all matches will be Bo1.
The Playoffs pairing will be done based on the Group Stage results: 1st in Group A (named Horse) will play against 4th in group B (named Hippo), and so on.
Playoffs will be played in a single elimination bracket format. All matches will be Bo3, with the exception of the Finals, which will be a Bo5.
Throughout the entire Captains Draft 4.0 Minor, matches will be played in the Captain's Draft game mode. This means that for each game, only a number of 27 heroes (taken at random) will be available. This particular aspect of the tournament favors the more experienced and versatile teams, as it makes it impossible for competitors to bring their highly rehearsed strategies with them. Everyone has to adapt on the spot and work with whatever is available.
Initial Matches
The first 4 matches of the tournament are the following:

Team Secret vs Team Empire
Given Team Secret's excellent form and Team Empire's lack of it, this match should be a pretty one-sided affair.

Mineski vs Vici Gaming
These two teams have roughly the same strength at the moment, so anything could happen in this dispute.

OG vs paiN Gaming
OG is definitely the better team, so in theory, they should easily win this match.

Evil Geniuses vs compLexity Gaming
This will be another close match, simply because Evil Geniuses made some big staff and roster changes recently. In my opinion, these changes will weaken their gameplay in the short run, so I would put the odds at 40/60 in favor of compLexity Gaming.
Analysis of the teams
Here's a short analysis of the 8 teams participating in the Captains Draft 4.0 tournament:

OG
After struggling for the first few months of the new competitive season, OG finally had their breakout moment at MDL Macau, winning the competition and getting some much-needed qualification points for the next TI.
OG's latest LAN event was DOTA Summit 8, where they performed pretty well and finished 3rd-4th.
Given that most of their competitors at Captains Draft 4.0 are not stronger than them (at least on paper), OG should be able to get a top 4 finish again.

Vici Gaming
This is an almost entirely different team from the one that failed to qualify for The International last season. Only one player (Zeng "Ori" Jiaoyang) and the team's coach (Zhi Cheng "LaNm" Zhang, who has transitioned to the role of support) have remained. The other three roles have been filled by well known top Chinese players from other teams.
Locally, Vici Gaming is performing well, defeating strong teams, and qualifying for big events. In terms of their results at Dota Pro Circuit LAN events, they have obtained two second-place finishes so far (at AMD SAPPHIRE Dota PIT League and Perfect World Masters) and are currently sitting at number 7 in the Dota Pro Circuit rankings.

Team Secret
This is the best team in the world at the moment, sitting at the number 1 spot in the Dota Pro Circuit rankings with 3690 points. Their current roster seems to be synergizing very well, with every member of the team playing his role to perfection.
Team Secret made it to the Finals of the ESL One Hamburg 2017 Major, and then went on to win the second Major of the season (ROG DreamLeague Season 8) by defeating Team Liquid in the Finals without dropping a single game.
In addition to their excellent form, none of Team Secret's top competitors will be present at Captains Draft 4.0. Team Liquid, Virtus.pro and Newbee either didn't care about this Minor or simply failed to qualify. As a result, Clement "Puppey" Ivanov's team has the highest chances of winning this competition, at least on paper.
Keep in mind however that although Team Secret is in top form and have little competition going into Captains Draft 4.0, their performances at Minor Dota Pro Circuit events have been quite poor so far: 3rd-4th place at StarLadder i-League Invitational Season 3, 5th-6th place at PGL Open Bucharest and 5th-6th place at Perfect World Masters.
It looks like Puppey either doesn't want to reveal his best strategies in these less important tournaments (keeping them for the Majors), or simply treats such competitions as no more than a testing ground for his team.

Team Empire
After their 7th-8th place finish at The International 2017, Team Empire lost all momentum, constantly losing against their regional rivals from Virtus.pro and Natus Vincere. As a result, this is actually their first Dota Pro Circuit LAN event of the season.
Team Empire recently won the ROG MASTERS 2017 tournament, defeating OpTic Gaming in the Finals, but that event was not exactly a competition that brought together the best teams in the world. Subsequently, not much can be said about the CIS roster based on this achievement.
Overall, Team Empire is one of the underdogs going into Captains Draft 4.0 and they will have to play much better than they usually do if they want to stand a chance against the other teams present at this tournament.

Evil Geniuses
They are for sure the most interesting team to watch going into this LAN event, simply because of the massive staff and roster changes they recently went through. The team's coach is now Kanishka "BuLba" Sosale and the roster is looking highly unusual compared to the classic EG. Saahil "UNiVeRsE" Arora left the team, Rasmus "MISERY" Filipsen joined as the new captain and position 5 support, Sumail "Sumail" Hassan moved from midlane to offlane, and Clinton "Fear" Loomis is now playing mid.
EG's level of strength is quite uncertain at the moment, not only because of the changes mentioned above but also because of their inconsistent results throughout the season.
My expectation going into Captains Draft 4.0 is that they will either do spectacularly well or fail miserably (no pun intended).

paiN Gaming
This is a South American team with a newly formed roster and this is their first important tournament at the international level. In principle, given their lack of experience and the value difference between their region and the rest of the world, they shouldn't stand a chance against the other teams present at Captains Draft 4.0.

compLexity Gaming
After bringing back the Swedish Blomdin brothers (Rasmus "Chessie" Blomdin and Linus "Limmp" Blomdin), who were with the squad back in the 2015 (when compLexity placed 9th-12th at The International 5) the North American team has been on the rise, qualifying for Dota Pro Circuit tournaments and actually earning points in them. They finished 3rd-4th at StarLadder i-League Invitational Season 3 and 4th at Perfect World Masters. More recently, they qualified for ESL One Genting 2018 and finished 5th at DOTA Summit 8.
At the moment they're sitting at number 13 in the Dota Pro Circuit rankings and are an underdog going into Captains Draft 4.0. Their strength and ranking relative to their opponents is around 5/8.

Mineski
After a very bad 2016-2017 season, Mineski resurfaced with a new roster and had a formidable start in the Dota Pro Circuit, finishing in second place at StarLadder i-League Invitational Season 3 and winning the PGL Open Bucharest Minor. But immediately after these consecutive successes, they vanished. Their latest Dota Pro Circuit LAN event participation was at Perfect World Masters, where finished 7th-8th after losing against Vici Gaming and compLexity Gaming.
Arguably, they've not been at the top of their game recently, but that could change at Captains Draft 4.0.
Betting Tips
Here are a few betting tips and tactics that you can use when betting on matches during the Captains Draft 4.0 Minor:
Keep in mind that for 2 of the participants (Team Empire and paiN Gaming), this is their first tournament of the Dota Pro Circuit. So their strength relative to the other rosters is yet to be revealed. To avoid taking big risks, watch at least one of their games before deciding whether to bet on or against them. In principle, both teams will turn out to be quite weak at this level of competition.
This is the first Dota 2 LAN event since the launch of the 7.07d patch, which nerfed a lot of highly popular heroes. As a result, you should be more careful during the first day of the tournament and only place low-risk bets until the smoke clears and the teams' new strategies are revealed.
Try not to bet on a game until you've seen the drafting phase. During this stage, a team will often outdraft the other and gain an important advantage. If you can't figure out which team has the better hero composition, listen to what the analysts are saying and look for signals that one team clearly has a better draft than the other. The ideal scenario you're looking for is one in which the better team also has the better draft. In such a case, you should bet on the result of the particular game you are watching.
If you want to bet on the result of a match in which one team is much stronger than the other, you can get improved betting odds by betting on a game event that is consistent with the result of the match. For example, betting that team 1 (if it's significantly stronger than team 2) will be the one to destroy the first set of barracks is a game event consistent with a victory in its favor. But the odds of this event will be significantly higher than the ones associated with a victory for team 1.
Look for drafting strategies that revolve around securing the first Roshan and putting early game pressure on the enemy team's structures. In these scenarios, the team that goes for the early push draft will often be the one to kill the first Roshan. Especially if it's also the stronger team.
If you happen to place a bet on a top team who is playing against a much weaker opponent and the match starts to go heavily in their opponents' favor, you can often cancel out the bet by betting enough money on the opposing team during the match, while it still has good enough odds to allow you to do this. Make sure however that when you place this second bet, the stronger team doesn't have a line-up that could easily come back from the brink of defeat and win the game.