Hide Bonus Offers
| | | | | |
| --- | --- | --- | --- | --- |
| #1 | Bovada Sports | 50% Up To $250 | Visit Site | Bovada Sports |
| #2 | BetUS | 125% Up To $2,500 | Visit Site | BetUS |
| #3 | MyBookie | 100% Up To $1,000 | Visit Site | MyBookie |
| #4 | Everygame | 100% Up To $500 | Visit Site | Everygame |
| #5 | BetOnline Sports | 60% Up To $1,000 | Visit Site | BetOnline Sports |
Four Predictions for What's in Store for the US Gambling Industry in 2019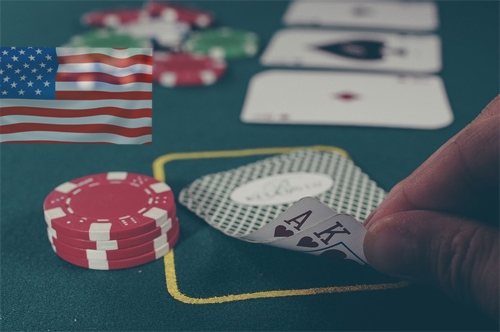 2018 was an eventful year for gambling in the United States.
You can read my year in review blog post for the details, but we saw a little bit of everything from sexual harassment scandals to the first tri-state poker site launching in Nevada, Delaware, and New Jersey.
Arguably the most impactful news from last year was the Supreme Court of the United States (SCOTUS) overturning the PASPA.
The result was that we saw several states pass bills that legalized sports betting. I expect more states to follow suit in 2019, too.
That's only one of four things that I predict we'll see happen this year.
The following are the most impactful events I predict we'll see take place in the United States gambling industry in 2019.
Several More US States Will Pass Sports Betting Legislation
This is the most obvious prediction I can make for this year. It's too hard for states to ignore the extra revenue they can earn (like states New Jersey and Delaware have) with legal sports betting. This is why we'll see several states pass sports betting legislation in 2019.
The following are the states I expect to see pass new gambling legislation first.
Kentucky
The state failed to make traction with their betting bill in 2018. Then lawmakers studied the upsides and downsides to passing sports betting legislation in June. They held a hearing the following October, and the attorney general gave the go-ahead in November.
Two bills – BR 15 and BR 320 – are up for review. Both discuss the framework for betting in Kentucky, including how'd they create a commission to regulate it.
Only time will tell if they manage to pass either one.
Ohio
Ohio introduced a joke of a bill in 2018. I say it was a joke because it was only one sentence long. That bill didn't go anywhere, to no one's surprise.
However, Senator Bill Coley attended a sports betting policy summit in November 2018. He spoke highly of legalizing sports betting and expressed his desire to share data with other states to reduce suspicious betting activities.
Two sports betting bills are currently on deck in Ohio, H 714 and S 316.
Missouri
It's obvious to anyone paying attention that lawmakers want to pass sports betting legislation in Missouri. They presented at least six bills, although they didn't go anywhere.
Currently, there is only one bill on deck in 2019 – S 44. Maybe the seventh time's the charm?
Virginia
Experts believe that Virginia will be pressured to pass a sports betting bill because neighboring states have already passed one or are strongly considering passing one. That includes Washington DC.
The only bill currently on file in 2019 is H 1638. What's unique about this bill is that it's an online-only bill. Even more unique is the fact that Virginia doesn't have any casinos, race tracks, or other gambling establishments in the state.
Tennessee
Tennessee is unique in that the state law prohibits all forms of gambling. Any changes require voting at the county level.
However, a new bill has been filed for 2019 – H 1 / S 16. This bill would create a new agency, the Tennessee Gaming Commission. This commission would regulate both offline and online mobile betting.
And those are the states I predict will pass betting laws first in 2019. There are several runner-up states that I can see maybe passing legislation. Those states include Illinois, Indiana, and Massachusetts.
More States Will Legalize Online Casino Gaming and Poker
We're more likely to see new sports betting legislation pass than general online gambling legislation. However, in some states, these bills are one and the same. Then there are states that have been working on general gambling legislation for years and are just now seeing the fruits of their labor.
The following are the states I wouldn't be surprised to see pass gambling legislation of any kind in 2019.
Connecticut
Experts believe the state is a lock to legalize sports betting in 2019.
The state's two tribal casinos, Foxwoods and Mohegan Sun, would offer it. Other forms of gambling are a possibility, but they will be much harder for the state to pull off.
West Virginia
West Virginia passed their sports betting laws in 2018, and it's available in each of the state's five casinos. Now the state has their eyes on passing online casino and poker legislation. They introduced a bill the first week of January which would allow each of their five casinos to get in on the action.
It's in the air whether they'll be successful. They've tried to introduce similar bills in the past with no luck. But since they've recently passed a sports betting law, there's reason to think that the next bill they introduce is more likely to gain traction than those they've introduced in the past.
New York
Senator Joseph Addabbo filed legislation that would legalize and regulate online poker. His bill was introduced on January 9th, 2019.
This bill will make it so that players need to be 21 years old to play poker from within the state. Operator licenses will cost $10 million (which will cover the first five years of their operation) and will pay 15% of their gross revenue in taxes.
This bill also has a stiff bad actors clause that will deny a license to any person or company that accepted wagers from people in the USA after 12/31/2006.
This is the sixth year in a row that a bill has appeared, so it's hard to say if this bill will tank or if lawmakers are worn down enough and willing to deal.
Michigan
Michigan is questionable, as they recently tried to pass legislation only for their last bill to be vetoed by Governor Rick Snyder as he finished his term.
This was surprising (not to mention disappointing) to lawmakers, as they thought they alleviated any concerns people had.
The plan now is to reintroduce online gambling in addition to a sports betting bill in 2019. And lawmakers hope that incoming Governor Gretchen Whitmer will be more open to the idea of legal online gambling in Michigan than Snyder.
Pennsylvania Will Launch Online Gambling
Pennsylvania passed their gaming expansion bill in 2017. This bill included slot machines, table games, and online poker, as well as daily fantasy sports and sports betting since the PASPA was lifted in 2018.
Sports betting went live in the state in brick-and-mortar casinos in November 2018. Online gambling is expected to go live in early 2019.
There are 12 casinos in the state (a 13th is under construction in Philadelphia) that are expected to participate to some degree. Those casinos include the following.
Valley Forge
Harrah's
Hollywood
SugarHouse
Stadium Casino
Lady Luck Nemacolin
Meadows
Sands Bethlehem
Rivers
Mohegan Sun Pocono
Mount Airy
Presque Isle Downs
Parx
Each of these casinos is able to obtain poker, slots, table game, and sports betting permits. However, only Parx, Hollywood, Harrah's, Valley Forge, and SugarHouse will offer all gambling options under one roof.
And every casino, regardless of the types of gambling they offer, will work with major brands for their games and betting platforms.
For example, Harrah's will work with 888 and Scientific Games. Hollywood will work with IGT and William Hill, and Mount Airy will work with PokerStars and BetStars.
The bottom line is that Pennsylvania gamblers will have plenty to look forward to in 2019.
The state will have plenty to look forward to, too. Pennsylvania made more than $385 million since passing their expansion bill into law. This comes out to more than $1 million per day. Most, if not all, of their revenue has come from the licensing fees and tax revenue.
I only expect the state to make even more money in 2019.
Offshore Gambling Sites Will Continue to Thrive
Despite all the progress being made as far as gambling legislation goes, offshore US gambling sites will continue to thrive. They will make millions of dollars serving online US gamblers while operating in a gray area (at best). There are a couple of reasons why.
For one thing, there will be people who will have no choice but to continue to play at these sites. That's because there are some states that appear to have no interest in legalizing online gambling.
This leaves players with few options. They can choose not to play, or they can play at an offshore site. Left with those two options, I have no doubt that most players will choose the latter option.
Then there are the people who prefer to play at offshore sites. You might be wondering why people would choose those sites over legal and regulated sites.
I can think of several reasons.
Offshore sites don't report your wins/losses to the IRS. They leave this up to their customers to do. How many people do you think report their winnings so that they can give Uncle Sam half? I doubt it's very many.
You have more choices for where you can gamble and what you can gamble on when you play at offshore sites. You won't have to worry about your state's betting limits or what software providers they say that casinos can work with. Ultimately, when you gamble at offshore sites, the options you have increase tenfold.
You can play games from software providers not available from regulated casinos. This includes software providers like RealTime Gaming, Betsoft, and Rival.
The promotions at offshore sites are way bigger. For example, you can claim a $50 or $100 at a Harrah's online casinos, or you can claim several thousand dollars from a site like Bovada. And that's on top of other offers such as VIP programs, cashback, rebates, free spins, bets, and more.
Of course, there are plenty of benefits to playing at legal and regulated sites. For example, you'll be gambling legally, staying safe, and you'll get to play games or bet on sports from top-name casinos and software providers.
However, that's not an option for every US citizen. And even for those who can play at these sites, many people will choose to play at offshore sites for the reasons mentioned above.
That's why I expect US-facing offshore sites to continue to thrive in 2019.
Conclusion
Things look interesting for the US gambling industry in 2019.
On a macro level, we're going to see more states pass legislation that legalizes different forms of gambling. Sports betting is the best bet. However, don't be surprised if we see a state or two pass legislation for online casino games or poker.
On a smaller level, all the legislation we've seen passed and casinos we've seen launched will spur new partnerships. For example, we recently saw PokerStars partner with the UFC, and Caesars recently became the NFL's first casino sponsor.
While this certainly means we're going to see an increase in advertising, it also means that we'll see an increase in promotions. No one is likely to complain about that.
As I said, things are looking up for US gamblers. I, for one, am excited to see how things unfold in the gambling industry in 2019.