Four MLB Teams Poised for a Letdown in 2021 – Boston Red Sox and Other Overperformers

With the first month of the 2021 campaign just about in the books, division standings are starting to take shape.
The Yankees and Twins are in unexpected holes, while the Tigers and Rockies are exactly who we thought they were. The Dodgers are doing what we all anticipated and remain the WS favorites.
As for the World Series pretenders?
Among the early surprises, Milwaukee has built a viable product and has the tools in place to remain a sincere contender. On the flip side, I'm a little less confident about some of the other division leaders.
After getting off to quick starts, here are four MLB teams destined to fade.
*All stats and records through Tuesday
Boston Red Sox
Sitting with a cushy three-game lead in the AL East, Boston's sudden resurgence is a result of dramatic improvements across the board.
Steady production from the bullpen has propelled the Red Sox team ERA to 3.81. That's 5th in the American League – a far cry from their 5.58 team ERA (28th in the league) in 2020.
As solid as the pitching staff has been for Alex Cora thus far, the ramped-up activity at the plate is the main reason the BoSox are tied for the best record in baseball.
Boston's leading the league in batting average and is second in runs scored, but here is what's not sustainable over the long haul.
Red Sox 2-3-4 Hitters – By the Numbers
Player
2021 Batting Average
Alex Verdugo
.325
J.D. Martinez
.353
Xander Bogaerts
.353
I had pegged Martinez as one of my MLB candidates to bounce back, but 61 total bases in 22 games with an eye-popping 1.145 OPS are beyond anyone's wildest expectations.
It's only natural for the Red Sox hitters to start coming down to Earth. At the same time, Toronto and New York should heat up in what many believe is the toughest division in baseball.
In case you were wondering who else expects Boston to fade down the stretch, one look at the AL East odds tells you everything you need to know.
AL East Odds (as of 4/28/21)
Team
Odds
New York Yankees
-115
Boston Red Sox
+360
Toronto Blue Jays
+400
Tamba Bay Rays
+575
Baltimore Orioles
+12500
Look for the Rex Sox 7-1 road record to start evening out.
Kansas City Royals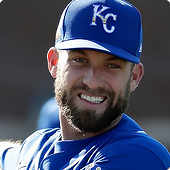 Speaking of another team that the top MLB betting sites foresee stalling out, you can latch onto the Royals at +500 if you're looking to back Kansas City to win their division.
Leading the AL in stolen bases has allowed Mike Matheny to "small ball" his way to the top of the AL Central for now, but there are some glaring deficiencies once you start assessing this lineup.
Most blatantly, this team does not hit for power. Currently slotted dead last in the American League in home runs, the Royals are one of seven teams in the majors sporting a sub-.300 OBP.
Any hopes that Andrew Benintendi would be revived after getting shipped out of Beantown are slowly starting to dissipate.
The 26-year-old left fielder is batting .227 with 1 HR and 6 RBI 20 games into his service time in KC.
The Royals have received a massive lift from Danny Duffy, but it's only a matter of time before the 32-year-old southpaw starts to regress.
Batters are hitting .212 and slugging .259 against Duffy through his first four starts.
Per ESPN's David Schoenfield, that is distinctly lower than the expected numbers based on the quality of contact (.260 and .458).
San Francisco Giants
Perhaps sitting out in 2020 was exactly what Buster Posey needed to reignite the flames. The 34-year-old backstop is hitting .351 with five homers in 63 plate appearances.
The power surge is especially surprising given Buster has never been known to be a HR hitter. Posey's 7.9% HR Rate is dramatically higher than his marks in 2018 (1.1%) and 2019 (1.6%).
On top of getting extraordinary contributions from their aging catcher, the Giants are one of two MLB teams that can claim team ERAs under 3.00.
But do we really expect San Fran's starter to continue their torrid pace?
Alex Wood – 0.75 ERA
Anthony DeSclafani – 1.50 ERA
Johnny Cueto – 1.80 ERA
Kevin Gausman – 2.14 ERA
Aaron Sanchez – 2.22 ERA
These are video-game-like numbers that simply cannot be prolonged. Not when you have to deal with the Dodgers and Padres lineup on a consistent basis.
My preseason projection of the Giants winning fewer than 75 games may not come to fruition, but I'd pump the brakes on any thoughts that this team will genuinely challenge in the NL West.
I still think they'll finish under .500.
Oakland Athletics
Staying in the Bay Area only moving a little bit east, the Oakland A's enjoyed a 13-game winning streak that has vaulted them ahead of all AL West competition.
It's one thing to get hot for a couple of weeks in April – it's another to maintain a winning product for 162 games.
The Athletics are hitting .216 as a team and are rocking a 4.31 ERA. To add to the anomaly of this club sitting pretty with a 15-9 mark, check out their run differential compared to some other AL contenders.
MLB Run Differential in 2021 – How the Al Contenders Stack Up
Team
Run Differential
Houston Astros
+23
Boston Red Sox
+21
Chicago White Sox
+18
Toronto Blue Jays
+15
Kansas City Royals
+3
Oakland Athletics
-2
What can we gather?
This is an average batting order (at best) and a squad that has been outscored by their opponents in 2021.
Unless Jesus Luzardo (5.40 ERA) and Frankie Montas (6.20 ERA) get things turned around, it won't be long until the A's are staring up at the Astros in the standings.
My 2021 World Series Prediction
Forecasting ahead to October, I see the Blue Jays and White Sox battling it out for the rights to the AL Pennant.
My heart wants to say that the Padres will be waiting on the other side, but my brain tells me that it'll be the Braves or the Dodgers.
Taking the betting upside into account, pencil me in for a Blue Jays vs. Braves Fall Classic. Bet you didn't see that one coming.