Four Unlikely Contenders for Super Bowl 53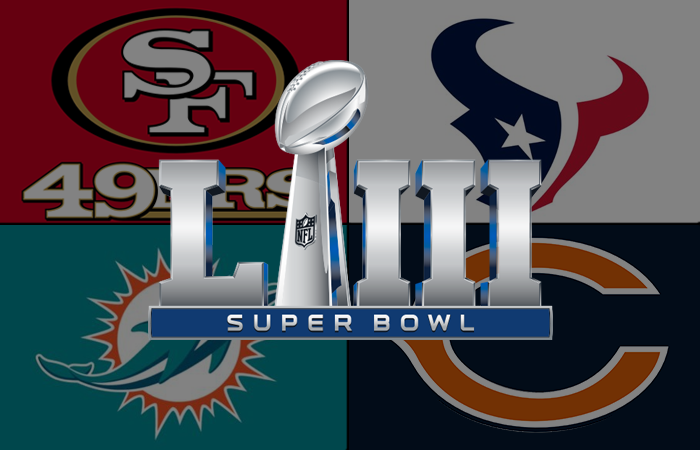 Any NFL team's fortunes can change in the blink of an eye.
There is a lot to be said about big changes in a franchise's front office or on the sidelines, while in-house player development can play a huge hand in a bad team turning into one of the league's best.
Fans and bettors alike saw it in 2017 when the previously awful Philadelphia Eagles turned into arguably the best team in the league.
Philly was built so well under the watch of head coach Doug Pederson, too, that they were able to take down the New England Patriots in Super Bowl 52.
They got there without franchise passer Carson Wentz (torn ACL) as well, further propping up the idea of a strong team coming together for a common goal.
Developing Trend
This shouldn't be news to NFL bettors, and it's a spreading epidemic in the NFL.
Previous losers like the Los Angeles Rams, Jacksonville Jaguars, New Orleans Saints, and the Minnesota Vikings all rose from the ashes in 2017, morphing into legit title contenders in a matter of 365 days.
Past years have produced nice surprises, too.
The Atlanta Falcons had missed the playoffs for three straight years before exploding and reaching Super Bowl LI.
The Denver Broncos were on the last legs of the Peyton Manning era and shocked with a Super Bowl 50 win, while in that same year the Carolina Panthers got to the league's title game, going 15-1 a year after barely qualifying for postseason play.
This isn't to suggest it's a guarantee that a non-playoff threat will emerge and compete for a title in 2018, let alone win it all.
It does serve as a reminder that the NFL is about as fluid of a professional sports league as it gets, and it's important to note both the top threats and the teams that could be on the rise.
The trick, of course, is identifying which teams are about to explode into a legit title threat.
Super Bowl 53 Odds
Early signs from the top Super Bowl betting sites are that a newcomer won't make as much noise as some did a year ago.
The New England Patriots remain the best bet to win it all in 2018 over at BetOnline, while most of the top Super Bowl 53 contenders are teams that have been on the radar for a while now.
Take a look at the latest 2018 Super Bowl odds.
Jacksonville Jaguars
+2000
Los Angeles Chargers
+2000
Tampa Bay Buccaneers
+6600
The main point I'm trying to illustrate here is that Vegas favors the best teams from previous seasons and often has knee-jerk reactions to big free agency signings or draft picks.
It's kind of their job, but looking at the top-10 Super Bowl candidates at BetOnline, eight of them were in the playoffs a year ago.
New England and Philly are rightful favorites for the AFC and NFC, while the top NFL sportsbooks probably do have it right in nailing down the main threats.
That being said, there is some obvious value available to bettors, and if this recent trend of bad/average teams rising in the ranks continues in 2018, there could be even more upside to be had.
Due to that, I'm digging through the odds and team construction to gauge which "awful" teams from 2017 and/or the past few years could make for the most interesting Super Bowl wagers.
San Francisco 49ers (+2000)
It probably all starts with the Niners, who were truly horrendous in 2017, going a paltry 1-10 through their first 11 games.
Things changed for the better once the 49ers acquired former Patriots backup signal-caller Jimmy Garoppolo, though. Jimmy G started the team's final five games, and San Francisco responded with a 5-0 run.
During that stretch, the Niners executed far better on offense and matured on the defensive end.
Wins over the likes of the Titans, Jaguars, and Rams (all playoff teams in 2017) may have displayed San Francisco's great and overall progress.
That doesn't alone make the Niners a lock to compete for a title or even make the playoffs, of course. The NFC West is still pretty loaded, and the Niners are a young team with a lot of moving pieces.
Still, the 49ers added Jerick McKinnon to their offense and have some young defensive pieces that could quickly turn that side of the ball into a serious strength.
If Jimmy G is the stud passer the 49ers just paid him to be and his supporting cast rallies around him, the 49ers could offer solid value as a +2000 Super Bowl 53 bet.
Houston Texans (+2000)
I wouldn't sleep on Houston, either. The Texans have three playoff wins in their franchise history, but they've been waiting for that marquee quarterback to really take them to the next level.
Injuries derailed Houston in 2017, but this year, they get back Deshaun Watson, J.J. Watt, and D'onta Foreman, all at full strength.
On paper, the Texans still have one of the nastiest defenses in the NFL. If Watt can be the pass rushing presence he used to be, the Texans will be disruptive up front, and their offense won't feel as much pressure.
It may not matter, of course, as Watson was a true sensation as a rookie last year and could be even better in year two.
With plenty of weapons via DeAndre Hopkins, Will Fuller, Lamar Miller, and the aforementioned Foreman around him, Watson is set up to succeed.
This is without a doubt the most talented unit head coach Bill O'Brien has had since arriving in Texas back in 2014, so even though the Texans were just 4-12 last year, the expectations are great.
Again, that doesn't make them a Super Bowl lock, but a Texans team at full strength is talented enough to make that huge leap. At +2000, there is worse Super Bowl betting value to be had this year.
Miami Dolphins (+10000)
Here's where the Super Bowl wagering ideas start to get bold. Miami was even worse than the Niners and Texans last year, and that's despite somehow finishing with a better record than both teams.
The Dolphins barely survived a full season of Jay Cutler, but with franchise quarterback Ryan Tannehill returning from a knee injury, Miami's struggling offense could find new life in 2018.
Tannehill is not wanting for weapons. DeVante Parker gives him a go-to possession receiver, Kenny Stills can stretch the defense down the field, and Kenyan Drake has proven he can be an explosive, dynamic rushing threat.
That's not even factoring in the presence of veteran running back Frank Gore, rookie rusher Kalen Ballage, or slot demon Danny Amendola.
Head coach Adam Gase finally has all of the weapons in place to construct a creative and opportunistic offense, while the Fins have gotten better on the defensive side of the ball as well.
Rookie defensive back Minkah Fitzpatrick adds to a somewhat underrated Miami defense that may have the pieces in place to perform better if their offense can take the next step.
Overall, Miami is certainly tough to trust. However, if Gase can put the offense in position to succeed, the Dolphins could be a far more balanced and effective group than we saw a year ago.
Chicago Bears (+10000)
Of every possible Super Bowl 53 sleeper, the Bears might be my favorite. Chicago showed glimpses of brilliance in 2017, as they were a very young group across the board and were still very competitive for much of the year.
The Bears started a rookie quarterback in a year where John Fox was obviously a lame duck coach, yet they still won five games and stayed within one touchdown in six of their 11 losses.
Second-year passer Mitchell Trubisky is the clear key to this whole thing, but there is real optimism he breaks out in 2018 for three reasons.
Offensive guru Matt Nagy takes over as head coach
Chicago can run the football
Trubisky finally has legit weapons
The first one is probably the biggest deal, as Nagy led a very dynamic Chiefs offense and brings a creative scheme to the table.
Nagy has some offensive talent to work with, too.
Obviously Trubisky has a good arm and can make plays on the run, but the Bears brought in solid free agents like Allen Robinson and Trey Burton, while former 1st-round pick Kevin White still has a chance to pan out in the best system he's seen as a pro.
Chicago already showed serious signs of improvement in 2017, as their running game tied for 11th in yards per carry, and they also punched in the 11th-most scores on the ground.
Often playing from behind, the Bears probably lost out on better rushing numbers, but they have the tools via Tarik Cohen and Jordan Howard to be even better in that department in 2018.
It does all come back to Trubisky and the passing game. However, at least in theory, Trubisky has the talent, system, and supporting cast to take a huge Carson Wentz-like leap this season.
Factor in Chicago's improving defense (9th in scoring, 7th against the pass, and 11th against the run), and it's pretty arguable the Bears are one of the top Super Bowl 53 sleepers to keep an eye on.
I do think the 49ers and Texans are safer bets if you're looking for that huge turn-around, but the Bears certainly can't be ignored.
Summary
If you want even more Super Bowl 53 sleepers, consider the New York Giants (+2800), Kansas City Chiefs (+3300), and Washington Redskins (+7500).
New York was atrocious last year but still has the framework of a strong defense. They get a healthy Odell Beckham Jr. back and added a potential rookie sensation in running back Saquon Barkley.
KC has the same team that won the AFC West, with their big change being placing second-year passer Patrick Mahomes under center. How fast he develops could decide whether they're a legit title threat or not.
The Redskins shouldn't be completely ignored, either. They traded for former Chiefs passer Alex Smith and may have one of the more balanced rosters in the entire league.
Adding stud rusher Derrius Guice could improve an awful running game, while Washington may have the talent on defense to take over the NFC East.
Overall, all of these teams have at least a mild argument to be considered when you start thinking about what you want to do with 2018 Super Bowl betting.
That doesn't have to mean these are the teams you go hard at (the Pats are probably still winning it all), but a few flier bets are worth doing each year.
Based on the way the league has been working for several years now, 1-2 wagers on would-be "bad teams" isn't such a terrible idea.