Hide Bonus Offers
| | | | | |
| --- | --- | --- | --- | --- |
| #1 | BetOnline Sports | 60% Up To $1,000 | Visit Site | BetOnline Sports |
| #2 | Bovada Sports | 50% Up To $250 | Visit Site | Bovada Sports |
| #3 | BetUS | 125% Up To $2,500 | Visit Site | BetUS |
| #4 | Everygame | 100% Up To $500 | Visit Site | Everygame |
| #5 | MyBookie | 100% Up To $1,000 | Visit Site | MyBookie |
The Food and Exercise That Keep Cristiano Ronaldo on Top of His Game

He makes more money than almost every other athlete in the world. He is a soccer god to fans on six continents. And although Cristiano Ronaldo has been playing soccer professionally for more than half his life, he shows no signs of slowing down.
As we know, elite athletes take their physical health more seriously than any other aspect of their career. Without their bodies in fighting form, their career and income will come to a rapid halt.
But with bodies given every advantage of fitness and nutrition, they can resist injury, keep their stats up, and continue to dominate their sport.
Here's a look at Cristiano Ronaldo's fitness and nutrition habits.
Ronaldo's Diet
Ronaldo appears to have a very elaborate lifestyle, with homes scattered on different continents and a garage stocked with a Rolls Royce, a Maserati, and various other supercars. However, his diet is the complete opposite.
Juice and Water and Nothing Else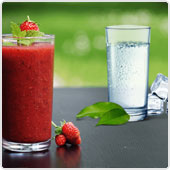 Cristiano reports that he only drinks water throughout the day, with the exception of citrus or pineapple juice in the morning. He is well known for his avoidance of alcohol. Both of these factors improve his hydration levels.
Hydration is more critical for elite athletes than the average healthy person who works out three to four times a week. Thermoregulation—the ability to keep the body temperature within an appropriate zone to avoid exhaustion—is helped dramatically by being hydrated. Avoiding exhaustion lets an athlete play longer and better.
Twice as Many Meals as the Average Person
Ronaldo reportedly eats six times a day. Pasta supplies the bulk of his carb requirements, and chicken is his preferred source of lean protein.
According to the Cleveland Clinic, smaller, more frequent meals will keep the blood sugar and energy stable. Avoiding energy crashes and food coma is critical for an athlete who trains daily, either on the soccer field or in his own personal workouts.
Low Sodium and Grilled Protein
Ronaldo avoids making a habit of red meat, choosing chicken and fish as his primary sources of protein and making sure his meals are prepared with very little salt. He knows that any bloating or water retention caused by excessive sodium intake is only going to slow him down.
In addition to adhering to a low-salt eating plan, this soccer superstar avoids foods cooked in or dressed with oil.
Ronaldo's Fitness Regime
Ronaldo gets a world-class workout with his professional soccer team, the Italian football club Juventus. However, that's not enough for Cristiano. He adds his own warrior-worthy workouts to his already-grueling team practice.
Perhaps it's this commitment that has made him an international household name over the past two decades. If you bet on soccer, this is the type of player to get behind.
The Juventus Training Regimen
You've seen kids' soccer teams practicing at the park. They work on their dribbling, heading, passing, and fake-out moves.
The Juventus workout is no different. Only, instead of learning the basics of the moves, these world-class players are refining their split-second timing, their muscle memory, their intuition, and their humility.
The players may be multi-millionaires, but they know that there are thousands of up-and-coming soccer players training daily, ready to step into an open spot on the team if a pro player shows any sign of flagging talent.
Thus, you'll see Ronaldo and his Juventus teammates playing keep-away, doing basic goal shots, working on precision headers. It's a blend of cardio and skill work, and it keeps the players huffing and puffing.
Pilates
Ronaldo incorporates Pilates into his fitness regimen. Reportedly developed during World War I, Pilates was created to help soldiers returning from the front to heal from their war wounds.
Pilates improves balance and flexibility. Balance will improve any soccer player's ability to change direction on a dime. It creates more options when stealing the ball from an opponent and helps a player position himself precisely when jumping to make a head shot on goal.
Flexibility allows Ronaldo—and any other players who use Pilates to stay fit—to avoid injury. Injury is considered by professional athletes to be the single most feared aspect of sport. Everything an athlete has worked for can be gone in an instant, with one snap of a small bone in the foot, with one tear of a hamstring.
With increased flexibility, a person's musculature supports bone integrity, preventing breaks and fractures. Flexibility helps athletes fall properly and to take hits intelligently. According to the Mayo Clinic, stretching increases joint health and improves the performance of athletes.
Swimming
Ronaldo has attested that swimming is an integral part of his workout routine. Most of us know that swimming is a no-impact cardio exercise, but few of us realize that swimming increases lung capacity. Increased lung capacity creates greater oxygen intake, which prevents cramping and reduces fatigue.
Gym
Cristiano also hits the gym most days per week. It is reported that his trainers are hard-pressed to keep the soccer player from overtraining.
It takes a great deal of determination to work out in a variety of training modalities after coming home from team practice. But Ronaldo does it. His clean diet likely gives him the energy to stay poised in the area of peak performance.
Naps
Ronaldo wakes up at the same time in the morning, after a solid eight hours of sleep. He also helps his muscles repair by taking a daily nap. According to the Sleep Foundation, naps improve performance and alertness, both of which are critical components of a successful athletic career.
Wrapping It Up
Ronaldo has scored more goals than anyone else in Portugal's history. With more than twenty years playing for national and professional teams, he's figured out how to carve out a long and profitable career by focusing unwaveringly on his body, inside and out.