Hide Bonus Offers
| | | | | |
| --- | --- | --- | --- | --- |
| #1 | Bovada Sports | 50% Up To $250 | Visit Site | Bovada Sports |
| #2 | BetUS | 125% Up To $2,500 | Visit Site | BetUS |
| #3 | MyBookie | 100% Up To $1,000 | Visit Site | MyBookie |
| #4 | Everygame | 100% Up To $500 | Visit Site | Everygame |
| #5 | BetOnline Sports | 60% Up To $1,000 | Visit Site | BetOnline Sports |
Floyd Mayweather vs. Conor McGregor: Who Would Win Superfight?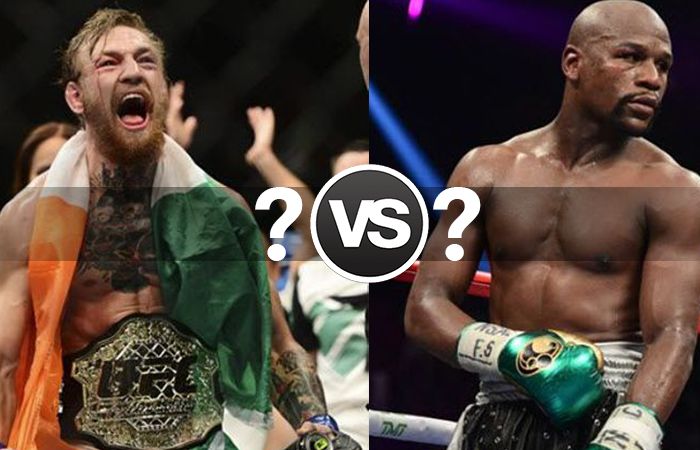 Conor McGregor lost his last fight and just got booted from the upcoming UFC 200.
Floyd Mayweather Jr. out-lasted Manny Pacquiao and then took down Andre Berto, heading into a would-be retirement tied with Rocky Marciano for the best perfect boxing record (49-0) in history.
More history is set to be made.
Mayweather could be ready to come out of a brief retirement to team up with UFC superstar Conor McGregor for a superfight the two sides have been negotiating "for a while". The suggested billion-dollar boxing match would go down in Las Vegas, Nevada.
Chasing History
But why? Reports suggest Mayweather lost it when McGregor made comments about being able to take the legendary boxer out in, while his marketing team has been promoting trademarks "TMT 50" and "TBE 50" which suggest Mayweather is still interested in chasing a perfect 50-0 record.
Currently tied for the best undefeated boxing record in history, a win over McGregor could take care of three things at once: make Mayweather a ton of money, give him the chance to beat down a guy he clearly doesn't like and also achieve even further greatness.
The fight makes less sense for McGregor, who is not perfect even in his own sport, and also doesn't seem to have the boxing chops to hang with arguably the best boxer ever – let alone defeat him.
Of course, the personal vendetta goes both ways, as Mayweather insinuated that the brash and outspoken Irishman doesn't catch as much heat from the media and fans due to race. McGregor balked at the notion and informed Mayweather that he'd be down for a fight anytime. It's starting to look like the man known as Money finally obliged.
More Money
Defeating Mayweather may not really be part of the long-term plan, though, and even if it is, it probably doesn't matter. This showdown is mostly about money, something "Money" Mayweather knows a lot about.
Mayweather would figure to be the key draw because this is his sport, and estimates per The Sun suggest he could pull in over $140 million. McGregor, on the other hand, despite playing his role as a key cog in a huge boxing/mma cross-over fight, could be looking at just around $10 million.
As crazy as it sounds, this fight might actually be happening. All that is left, per reports, is the two fighters agreeing on the fight purse. That could potentially be an issue with such a wide gap in payment, but The Sun suggests the deal is "imminent".
Mayweather vs. McGregor
The interesting part of this is really the fight itself, which would demand Notorious to drop roughly 25 pounds in a match that would be restricted to pure boxing.
That's a bunch of bad news for McGregor, who recently beefed up for a fight with Nate Diaz and was unsuccessful in his bid to up a level in the UFC. Dropping back down would counter his current goals in his own sport, and while he is probably much more comfortable at a lighter weight, it could be another unwanted obstacle as he prepares to take on a stud in the boxing world.
But even past that, would McGregor stand a chance in this epic bout? Simple logic says no. Mayweather has dispatched elite boxers throughout an unblemished career because of three very good reasons: he has undying confidence, he is constantly moving and he very well may be the best defensive boxer we've ever seen.
McGregor would not come into the bout with a great chance to win, but that doesn't mean he couldn't compete. A terrific stand-up brawler, McGregor packs a serious punch despite not being a massive guy and he also incorporates speed and good movement. That punching speed and power will be awfully difficult to maximize in the ring with Mayweather, of course, who is virtually unhittable.
Fighter Breakdown
Conor McGregor Stats:
Age: 27
Born: Dublin, Ireland
Height: 5'8"
Weight: 170 lbs
Nickname: Notorious
Record: 19-3 (17 KO/TKO)
Notable Win: KO over Jose Aldo
Floyd Mayweather Stats:
Age: 39
Born: Grand Rapids, Michigan
Height: 5'8"
Weight: 151 pounds
Nickname: Money
Record: 49-0 (26 KO)
Notable Win: Decision, Manny Pacquiao
Fight Odds and Pick
This fight isn't even official, but we still want to know what the betting prospects look like, right? Naturally, there is going to be a lot of hype around McGregor going into this, for a variety of reasons. For one, he is a great stand-up boxer in his own right, doesn't lack confidence at all, much like his competition in this superfight, and a lot of people want Mayweather to be shut up for a change. Can McGregor do that? There might be a sliver of a chance, but odds are his best bet will simply be avoiding a knockout and gassing his way through a full fight.
Mayweather is going for the same thing, as his mission here is to not give up a crease to allow McGregor's power shock the world. So far, so good in Money's last seven fights dating back to 2012 – all of which have gone the full 12 rounds and ended with a coined Mayweather win.
The guy just knows how to stay alive and he can wear opponents down, both offensively and defensively. That, plus McGregor's inexperience, makes Money the easy favorite. For now we'd give Mayweather the overwhelming odds to keep McGregor at bay and out-last him in a full 12 rounds.

Our Pick
A knockout for the first time in four years wouldn't be crazy considering McGregor's step outside of his comfort zone, but he handled himself fairly well against the bigger Nate Diaz and can take a punch or three. A full fight could be in order, but McGregor accomplishing what 49 other more polished boxers could not is highly unlikely.
Via Bovada:
Mayweather Wins -2000, McGregor Wins +900