Five Reasons Why Conor McGregor Won't Retire in 2021

I recently provided five solid reasons in favor of why Conor McGregor will retire in 2021.
From a lack of motivation to a new addition to the family, I looked at these sound and logical factors that could contribute to why "The Notorious" ducks out of the game this year.
Well, to provide a fair and balanced perspective, I have decided to put together this piece that outlines several reasons why Conor McGregor will not retire in 2021. By the time you finish up, you will know where I'm leaning concerning the question of his retirement.
Rather than listing any old crud, I opted for five strong examples in favor of the Irishman keeping his hands in UFC gloves beyond the end of this year. And I think the supporting points and factors make for some strong arguments. Still, I want you to be the judge of that.
Let's get started on why McGregor will not retire in 2021 with a look at his brand.
McGregor is Still Big Business
Although he has enjoyed the career of a demigod, the Dubliner is unquestionably a mortal.
Therefore, the question is not if McGregor will retire, but when? Now, as I previously covered, there is a lot to suggest that he could bounce at some point this year. But I can't deny the fact that there are also reasons which go against this narrative.
Perhaps the most convincing of them all is that McGregor is still big business. I mean, if there is someone that could still sell out stadiums and shift major pay-per-view points despite picking up multiple negative results/losses, it's the Irishman.
Sure, fans will soon lose interest in the former two-weight UFC champion if he continues to lose, but he's still got life in him. We know that he is not the killer he once was, but his profile is still sky-high. He is a legendary figure in mixed martial arts, and as such, people will still pay to see him fight.
I mean, people part with good, honest money to watch Floyd Mayweather fighting YouTubers, so it's not as though there is a market saturated with big names. Thus, McGregor's gift for shifting pay-per-views is safe for a while.
But as we know, when McGregor does retire, he will have several chances to embark on celebrity fights and these excruciatingly awful exhibitions that are en vogue in the world of combat sports.
He could ditch the UFC for the sole reason of taking on the Paul brothers, or whoever else is looking to make big bank off these so-called "fights."
With that said, I don't think that still being a hugely marketable fighter is the only reason why McGregor will not retire in 2021. Several things could keep him in this game, with his desire for a smoother exit from the promotion one of the most crucial.
The Legacy of The Notorious?
If you're thinking of things to support why McGregor won't retire in 2021, his legacy is one of them.
Now, I get it. There are two sides to every coin, and McGregor losing more fights will not add anything to his position in the pantheon of the most memorable UFC fighters in history.
Hanging around too long could have an adverse effect when it comes to his legacy, but his competitive nature will not allow him to leave his gloves inside the Octagon until it's blatantly obvious that the well has run dry.
As things are, the lightweight contender is still in a position where he could end his career on a winning streak. So, when McGregor retires from the UFC, it might not be under the long, gray cloud that some think.
When you remove the likes of Georges St-Pierre, Khabib Nurmagomedov, and Demetrious Johnson, very few of the departed greats have left the promotion with pristine or even highly respectable resumes.
I mean, check out the records of these UFC greats in their last five fights.
| | | |
| --- | --- | --- |
| Fighter | Overall Record | Last Five Fights |
| Chuck Liddell | 21-9 | 1-4 |
| BJ Penn | 16-14-2 | 0-5 |
| Anderson Silva | 34-11-1 | 1-4 |
Now, this goes to show that most fighters experience a decline towards the end. And although fans have suffered from watching fighters go on a little too long, I don't think the Irishman is quite in that same bracket. Yet.
McGregor will not retire in 2021 unless certain boxes go unticked. The first of which is to get his revenge over Dustin Poirier at UFC 264 on Saturday, July 10.
If he can come out of that fight with a win, then I see a lot of things changing.
He Can Beat Poirier in the Trilogy Fight
But make no mistake — I favor Dustin Poirier to get the win against McGregor in the trilogy fight.
He's hungrier, larger, and simply a better fighter at lightweight than The Notorious. But it's a fight, and anything can happen, as we have seen so many times before.
Additionally, I could decide to ignore the fact that McGregor was finding range with his shots in the first round of their rematch at UFC 257 in January. He was landing some big hits that might have had more of an impact if they had been timed a fraction earlier or later.
McGregor's retirement from the UFC doesn't exactly balance on the result of this fight. There is no shame in losing to Poirier for a second time, and it will hardly see him demoted to bum status if that should happen.
Sure, there will be no question around the Crumlin man's status as a non-elite fighter if he picks up a second loss on the bounce. But it's hardly enough to provide a solid, reasonable argument for why McGregor will retire this year.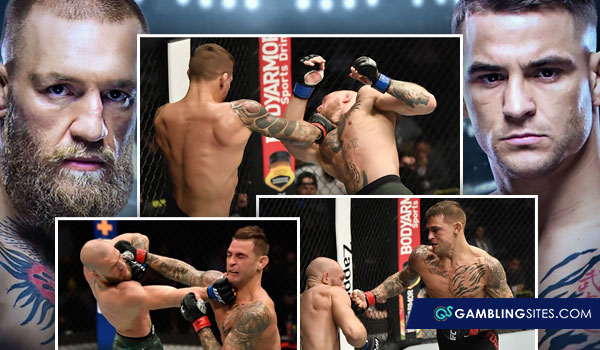 If Poirier knocks McGregor out again, then I believe we could see the Dubliner think differently. I pointed out in the piece I did in favor of him retiring that family life might be a lot more appealing than being locked inside the cage with a monster like Poirier again, and it's a fair point.
Still, McGregor's days in the UFC are not exactly done and dusted, are they? There are plenty of winnable fights and opponents that would provide him with the opportunity to out in style.
On a personal level, I think fans would be cheated if we didn't get to see him fight one of Justin Gaethje, Tony Ferguson, or Michael Chandler.
Regardless of what happens with McGregor, there is one fight that is almost guaranteed to go down before he finally lays down his gloves to the canvas.
I think any betting man worth their salt would lean towards McGregor not retiring in 2021 because a third fight with Nate Diaz has to happen first.
With McGregor vs. Poirier 3 going down in July, you could argue that this bout could be squeezed in around November/December. But there has not been even a modicum of hype around it, thus I'm confident we'll have to wait a little while longer to see it happen.
McGregor vs. Diaz 3 Must Happen
I believe this is one of the strongest indicators of why McGregor won't retire in 2021. Let's think about the facts for a moment.
The UFC knows that they likely have the highest-generating fight in the history of the sport in the bag, ready to pull out when the time is right.
I don't think we're there just yet. I mean, we might get a better idea of when McGregor vs. Diaz 3 happens after the Poirier scrap, but it's not going to happen this year.
Look, McGregor cannot retire until he fights Diaz for the third time, and vice versa. Like it or not, these two are inextricably linked in the minds of many fans of the promotion.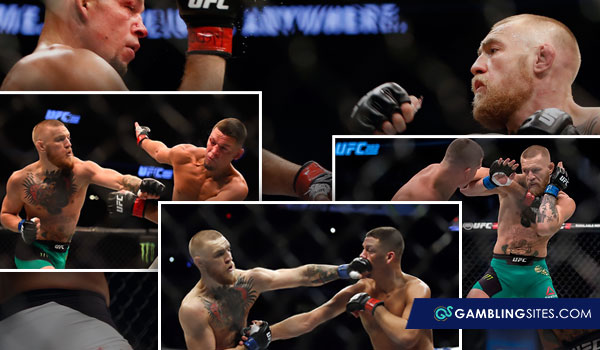 A lot of that has to do with the fact that many modern UFC fans were converted by Conor, while many old-school fans that loved Nate before their first fight essentially canonized him as a saint for handing the Irishman his first loss.
In choking McGregor out at UFC 196 on just weeks' notice, Diaz — who was 18-10 and making a pittance compared to his opponent — transformed from a cult hero to a global superstar. The fight brought in over 1.3 million pay-per-view buys, too. A record number for the UFC.
The popularity of that fight had a lot to do with the back-and-forth between the pair in the build-up to the big night. So, when the opportunity for a rematch was on the table, there was no question that it would happen.
Low and behold, Diaz vs. McGregor 2 was even bigger than their first encounter. Commercially, it was the most important event the company had ever put together, creating a huge ceremonious showdown that would go on to break the record set in the first fight, with 1.6 million buys.
For perspective, Floyd Mayweather's highly-anticipated clash with Canelo Alvarez a few years before shifted 2.2 million points. The UFC knew it had a winning recipe with this one, but there were other avenues for McGregor to explore that were viable with victory in the rematch.
He went on to become the first fighter to hold titles in separate weight classes simultaneously and made a kingdom of cash from his boxing bout with Floyd Mayweather.
But his pay-per-view numbers were there for all to see. And until Khabib vs. McGregor, Diaz was the perfect opponent from a commercial standpoint.
Pay particular attention to the dates and the pay-per-view sales for both McGregor-Diaz fights, below.
| | | | |
| --- | --- | --- | --- |
| Opponent | Where? | When? | PPV Units Shifted |
| Khabib Nurmagomedov | UFC 229 | Oct 6, 2018 | 2.4 million |
| Nate Diaz | UFC 202 | Aug 20, 2016 | 1.6 million |
| Donald Cerrone | UFC 246 | Jan 18, 2020 | 1.35 million |
| Nate Diaz | UFC 196 | Mar 5, 2016 | 1.32 million |
| Eddie Alvarez | UFC 205 | Nov 12, 2016 | 1.3 million |
The third bout in the series was put on ice and would be put together once McGregor's standing as a titlist and elite fighter had faded.
Even with both men's age and abilities diminished since UFC 202, I would be shocked if McGregor vs. Diaz 3 doesn't sell at least 2.5 million pay-per-views.
We're close to this one happening, but it won't be this year. Thus, I think it's safe to say that McGregor will not retire from the UFC in 2021.
There are Some Boxes Still to Tick for McGregor
McGregor is a very polarizing character in his homeland.
Many of his fellow countrymen flat out hate the former two-weight kingpin and are not shy in expressing their disdain for him whenever his name is brought up. And this is not exactly a recent thing.
The Crumlin-native was accused by some of his compatriots of being a national embarrassment for both the manner with which he handled himself and his unofficial status as an ambassador of the country.
But many Irish adored McGregor, given his standing as an elite martial artist from such a small nation.
One of McGregor's longstanding wishes was to fight in Dublin. This was achieved back in 2014 when he stopped Diego Brandao, much to the delight of his supporters.
But that was a small venue, Fight Night event. The Notorious wants a stadium gig with a big-name opponent, and I believe his gloves will not gather dust until he gets this done.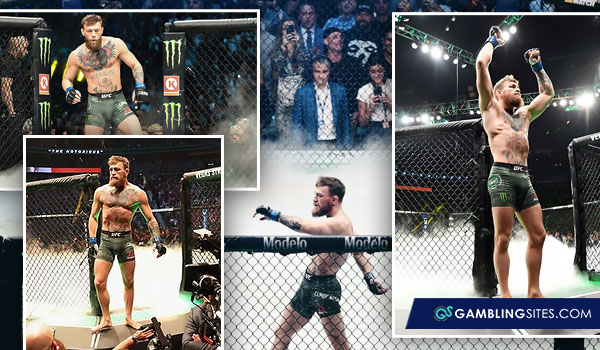 Perhaps even more importantly is McGregor's desire to get another title shot. A win over Poirier would almost certainly land him a crack at incumbent UFC lightweight champ, Charles Oliveira. But if he fails to beat Poirier, he's going to have to find another way of trying his luck.
He would almost certainly score an instant title shot if he was prepared to drop down to 145. But I'm not about to put my chips in for such an unlikely scenario.
The probability is that McGregor won't retire in 2021 because he believes he has a shot at winning another title. And while he would be absolutely annihilated by welterweight champion Kamaru Usman if he moved up to 170, a loss by Usman could open the door for him to fight whoever can beat "The Nigerian Nightmare."
It's unlikely, but not out of the question that this could happen.
It seems McGregor misses the adulation of the fans and could get bitten by the bug when he fights in front of a full capacity crowd in July. Who knows what other things he will want to accomplish when he feels that shiver climb up his spine once more.
All I can say on the matter is that McGregor will not retire in 2021 with these loose ends to tie up.
When Will McGregor Retire?
OK, so if Conor McGregor won't retire from the UFC in 2021, when will it happen?
I guess that's the million-dollar question. It's one that is hard to answer, given that there are ample reasons for staying in the game of mixed martial arts. I mean, even though there are convincing factors in favor of why he could hang up the gloves this year, they are balanced out by fair counterarguments.
Ultimately, the man has made himself extraordinarily rich. But in doing so, he has also turned himself into a commodity. When it comes to any product of major value, it tends to get squeezed until there is nothing left to give. And, as things stand, the McGregor brand can still yield some juice.
Let's see how McGregor's retirement plans look at the end of the year. Although I would be surprised to see him walking away without first making sure he's taken all he can get his hands on.
Although my original piece on McGregor's retirement in 2021 had some good points, I believe the factors above are more convincing. Therefore, I must lean towards Conor McGregor not retiring in 2021.
For more UFC predictions, views, picks, and opinions, make sure to check in with the following sections of our site.